Cowboys vs. Bengals: Dallas' Biggest Winners and Losers from Week 14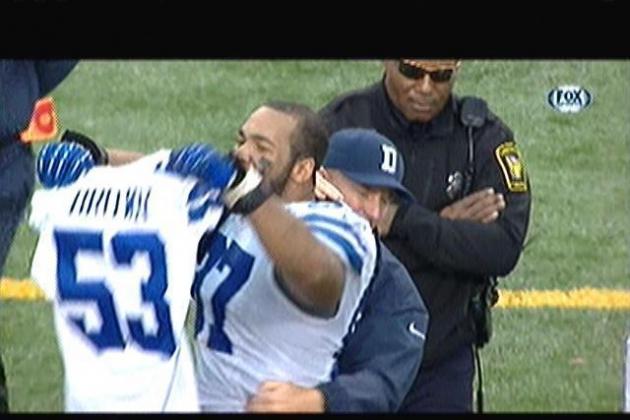 John Grieshop/Getty Images

After beating the Cincinnati Bengals on Sunday to improve to 7-6 on the season, the Dallas Cowboys took off for Dallas with hearts full of mixed emotions. They were able to keep their slim playoff hopes alive by beating a pretty decent Bengals team, but they did so by carrying a huge emotional weight.
As soon as the whistle blew to end the fourth quarter, the Cowboys sideline erupted with joy, but head coach Jason Garrett simply dropped his headset and burst into tears. The heaviness of the past two days was simply too much for him to handle.
His team would emerge victorious in memory of their fallen teammate, but the win would do little to sooth the pain that the team and two families are feeling tonight.
Cowboys practice squad player Jerry Brown passed away early Saturday morning after the car he was riding in lost control, crashed and burst into flames. The driver of the vehicle was Cowboys nose tackle Josh Brent, a former college teammate of Brown.
So much to deal with in such a small window, it's a wonder the Cowboys were able to hold it together to get through Sunday's game. Same for the Kansas City Chief's last week as they dealt with the tragedy of Javon Belcher.
Cowboys defensive end Jason Hatcher marched off the field with Brown's jersey as well as linebacker DeMarcus Ware. It was that kind of day.
For the game, the Cowboys had some players who played well when it counted, but some who may find themselves on the bench come next week.
Here are the top winners and losers from Sunday's win against the Bengals.
Begin Slideshow

»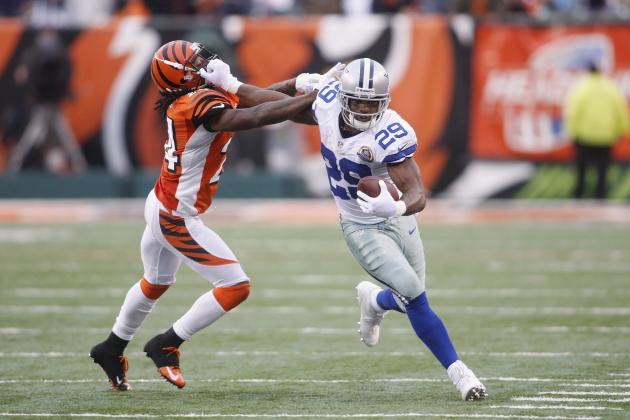 John Grieshop/Getty Images

Looking at Murray's stat line, he was just about below average. He rushed for just 52 yards on 21 carries. He averaged a paltry 2.5 yards per rush, and his longest run of the day was seven yards.
But he came through when it counted.
Murray's yards on the game's very last drive helped push the Cowboys to victory. He converted two first downs and his last run put Cowboys kicker Dan Bailey just 40 yards away from winning the game.
Since Murray's return, the Cowboys are 2-0. His presence makes them that much better as evidenced by the win on Sunday.
Head coach Jason Garrett has full trust in Murray. The run didn't work for the Cowboys all game, yet Garrett stuck with it.
If not for Murray's legs, I'm not sure that the Cowboys would be in the win column after Sunday's game.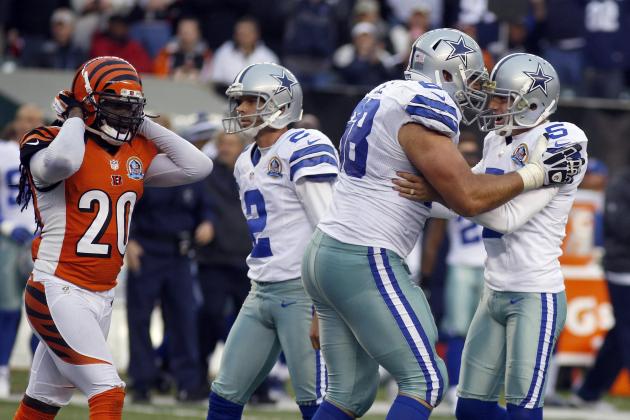 USA TODAY Sports

Free was moved in and out of the game with tackle Jermey Parnell. It shows that Garrett is thinking of making a change away from Free due to his play as of late. Free is the most penalized player in the NFL with 15, hence the possible change.
He was flagged for holding just once in this game, but that may have been due to the rotation.
I'm sure that Free got the message as he did not want to comment after the game, so we will see if his play improves when the Cowboys face off against the Pittsburgh Steelers next week.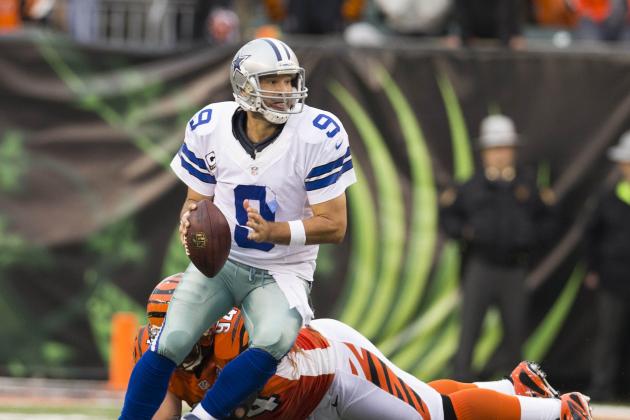 USA TODAY Sports

Each week, it seems that Romo is being criticized or defended by some player or former player. He is nothing short of a hot button when his named is mentioned.
His performance on Sunday should give him at least a week of praise from his detractors. Romo had a turnover, but it was a heave down the field to basically end the first half.
Outside of that, Romo was great. He ended up throwing a touchdown and passing for 268 yards. His poise on the last drive of the game was flawless. He connected with three different receivers on the game-winning drive and navigated his team to a win due to his play.
He was great, and for those keeping count, that is a win in December for the Cowboys and Tony Romo.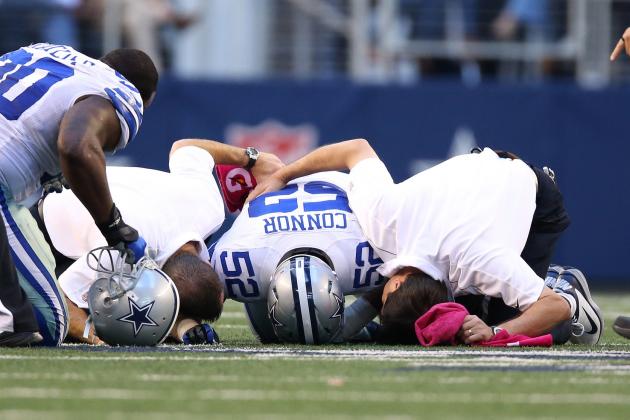 Matthew Emmons-USA TODAY Sports

The infirmary report for the Cowboys is probably two pages long at this point in the season. Dallas lost cornerback Morris Claiborne in the third quarter due to a cut to the face.
The injury looked so bad at one point that a stretcher was brought on the field because Claiborne wasn't moving. Once he hopped up and began to walk off the field, he had a towel covering his mouth, but blood was still pouring from his face.
Dallas saw linebacker Ernie Sims leave due to a hand injury, guard Nate Livings to a knee, safety Gerald Sensabaugh to a hand, DeMarcus Ware's shoulder and Dez Bryant's finger. All were able to come back, but you get where I'm going.
It's almost amazing that the Cowboys have been able to win seven games with so many injuries.
They lost linebackers Sean Lee and Bruce Carter to injuries earlier this season, and cornerback Orlando Scandrick broke his hand a few games ago.
It has been that type of season for Dallas, but they have persevered.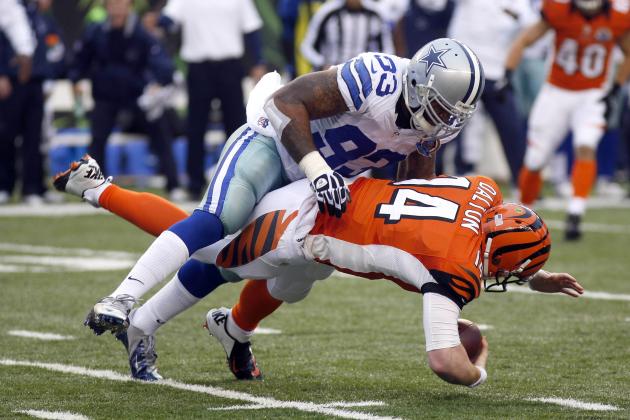 USA TODAY Sports

It is really tough to define winners and losers in a game of this caliber. I'm sure the Cowboys players left everything they had on the field and left emotionally drained.
One of those players was Anthony Spencer. He led the team with 11 tackles and had two sacks. That takes his total up to 8.5 sacks, a career high for the former Purdue Boilermaker.
He has played great for the Cowboys this season and is on his way to having a career high in tackles as well. It will turn out to be a career year for Spencer, and that should result in the long-term deal he was looking for from the Cowboys.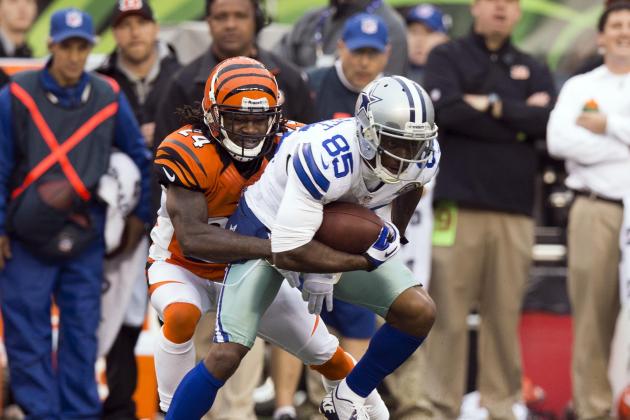 USA TODAY Sports

I think Kevin Ogletree's play as of late will force the Cowboys to look elsewhere for a slot receiver. He caught two balls for just 28 yards on Sunday.
Second-year player Dwayne Harris had a better day with three catches for 33 yards, and Harris also returns kicks.
Ogletree is closing in on 400 yards receiving for the season, but after his 100-plus-yard performance in the season's first game, many were hoping for much more.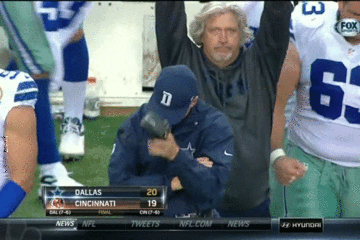 It was an emotional day for the coach that many refer to as a robot. He let his tears go after the game was over and still allowed his emotion to show in the postgame presser.
He was able to guide his team to a victory after learning of the death of a teammate this morning.
The Cowboys may not make the playoffs, and some will blame Garrett for the Cowboys' inability to achieve, but he gave his all on this Sunday, and for that, he should be commended.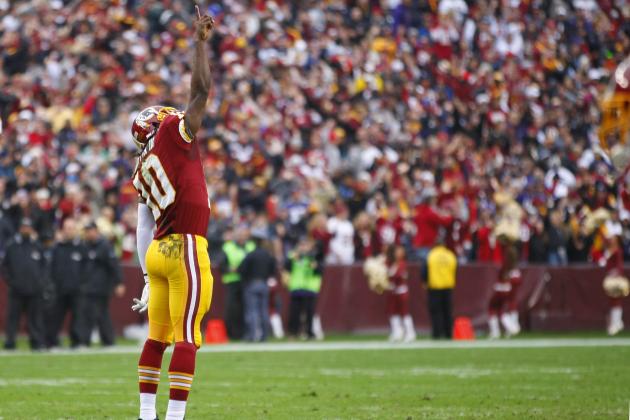 Geoff Burke-USA TODAY Sports

Dallas won and kept pace with the Redskins for a possible playoff berth, but because the Giants destroyed the Saints, their chances shrank.
The Seahawks won as well and they currently hold the last wild-card spot in the NFC. They are 8-5, and the Cowboys are 7-6. Dallas will have to beat the Steelers, hope that the Seahawks and Giants lose and pray that the Redskins slip up as well.
Keep the optimism strong, Cowboys fans, but just remember the Cowboys will need a lot of help to make it to the playoffs.
Oh, and that upcoming game against the Redskins, that just may turn out to be a play-in game for the team who wins.