Heart of Dallas Bowl 2013: 5 OK State Starters Better Than Purdue Counterparts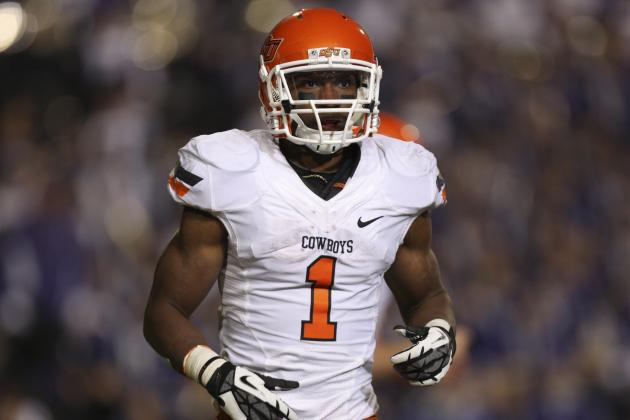 Ed Zurga/Getty Images

When the Oklahoma State Cowboys face the Purdue Boilermakers on the first day of 2013 in the inaugural Heart of Dallas Bowl, they will have a decided advantage at many key positions.
If we are being honest, the Heart of Dallas Bowl was really not where the Cowboys were hoping to end up when their season started. Injuries and a few bad losses are what put them there, but there is no doubt that this team still has much of the talent that made it the Big 12 champion a few years ago.
Purdue is a team that is just happy to be in a bowl game, and will have a tough time competing with the Cowboys talent-wise. The overall team mismatch will be accentuated by five key matchups at important positions that heavily favor the Cowboys.
Begin Slideshow

»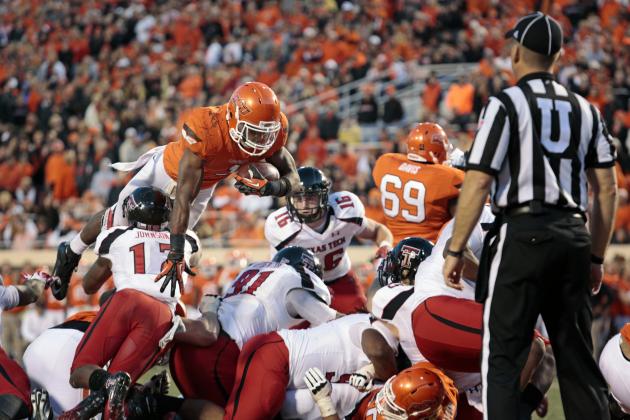 Brett Deering/Getty Images

Very few teams could hope to have a running back as good as Joseph Randle is for Oklahoma State. The junior is in his third year of playing significant time for the Cowboys, and it has been his best year yet.
Purdue's ground attack is led by a pair of Akeems—senior Akeem Shavers and sophomore Akeem Hunt have combined for 1,113 yards and eight touchdowns on the ground. On the other side, Randle has accounted for 1,351 yards and 14 touchdowns on his own.
While Shavers and Hunt do make a pretty good combo, neither is of Randle's caliber. In fact, even when you combine the two, they still do not measure up to the play of Randle.
Cooper Neill/Getty Images

The 2012 season has been a coming out party for Josh Stewart, who has lived up to the expectations he set during his promising 2011 freshman campaign.
Stewart leads the Cowboys with 96 receptions for 1,154 yards and seven touchdowns this season. Purdue's leading receiver is Antavian Edison, who is similar in size and skill set to Stewart. However, Edison is not the same caliber of player.
The senior has tallied 57 catches for 625 yards and eight touchdowns for Purdue. Although he does beat Stewart in scores, that is not indicative of who wins this individual matchup. Stewart's speed and ball-catching skills surpass those of Edision, who does not have to share the ball with nearly as many other talented receivers as Stewart does.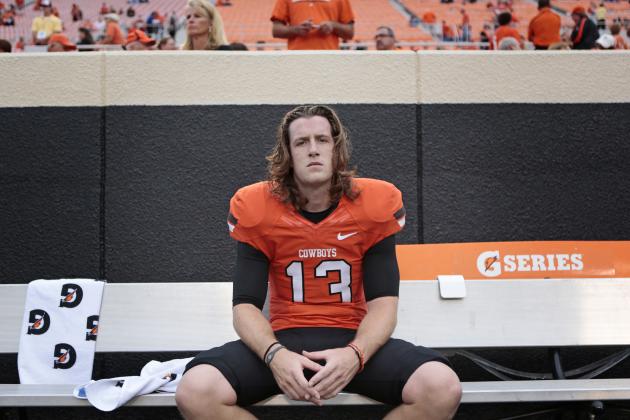 Brett Deering/Getty Images

No team that took the field against Oklahoma State this season had even an equal counterpart to Quinn Sharp on its side. With his kicking and punting skills, Sharp gives the Cowboys a big advantage in every contest.
This contest with Purdue will be no different. Purdue punter Cody Webster has punted 25 times more than Sharp has, but Sharp still holds the edge in the average of each punt and the amount of punts blocked. When you break down those stats per punt, it is clear that Sharp is the superior punter.
The same is true for the kicker matchup. Sam McCartney and Paul Griggs have each spent significant time kicking for Purdue this season, combining to hit 69 percent of their field-goal attempts. Sharp has hit 83 percent of his and also beats their season-long of 46 yards (Sharp's is 51).
Ed Zurga/Getty Images

Ever since Shaun Lewis started as a freshman in 2010, Cowboys fans knew he would be a special player. He did not disappoint in his junior season, as he became one of the leaders and biggest playmakers on the Cowboys defense.
Lewis accounted for 56 total tackles, 7.5 of which were tackles for loss. He also had 2.5 sacks and one fumble recovery. Purdue's best linebacker is Will Lucas, who put up similarly impressive numbers.
As Purdue's best linebacker, Lucas totaled 63 tackles, 6.5 for losses with one interception and two fumble recoveries. The difference between Lucas and Lewis is small. Both are under 6'0" and both are explosive players who are difference makers. Lewis gets the nod, though, because of his superior ability to get in the face of opposing quarterbacks.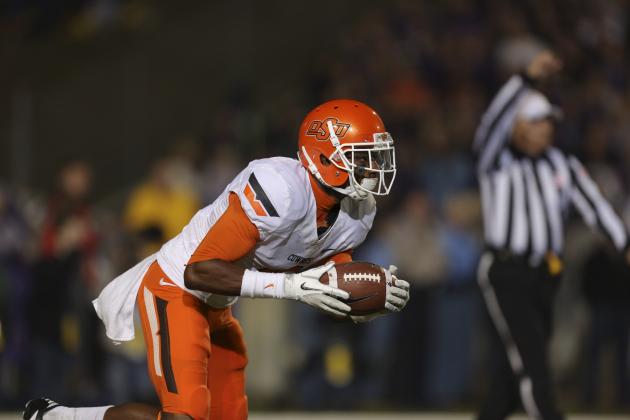 Ed Zurga/Getty Images

Justin Gilbert is probably the best defensive back in this game, but his biggest contribution in the contest will likely be his big-play ability as a kickoff returner.
Sophomore running back Akeem Hunt has been the primary kick returner for Purdue this season, and he has been good, averaging 22.1 yards per return and scoring one touchdown. However, Gilbert gets the nod here.
The junior cornerback has averaged 26.4 yards per return and has matched Hunt's mark of one touchdown. Gilbert also has superior vision of the field and is a bigger player who can really use his body to his advantage.