Vince Young is apparently ready to work, and he let Arizona Cardinals wide receiver Larry Fitzgerald know it via Twitter.
The former Tennessee Titans and Philadelphia Eagles quarterback tweeted the following on Sunday:
@larryfitzgerald you know I can help tell coach.

— Vince Young (@VinceYoung) December 9, 2012
This came on the heels of a somber joke from Ken Whisenhunt in the press conference following Arizona's 58-0 loss to the Seattle Seahawks. NFL.com's Dan Hanzus made note of the interaction and wrote:
In a nice bit of Gallows humor, a reporter asked Whisenhunt who will start at quarterback next week against the Detroit Lions.

Replied the coach: "Do you play?"
It was difficult to imagine that the Cardinals could have sunk any lower than their 7-6 loss to the New York Jets last week in which they gained just 137 yards in total offense, but Arizona resoundingly trumped that performance against Seattle.
The Cardinals managed to gain 154 yards in total offense this week, but they also committed eight turnovers, and much of the blame for the team's struggles can be place on poor quarterback play.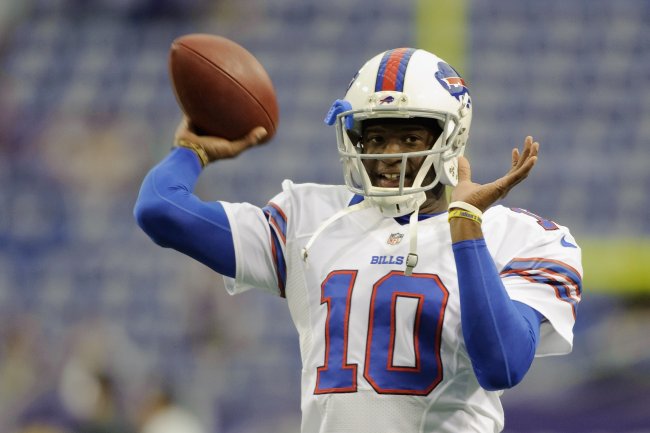 Hannah Foslien/Getty Images
John Skelton started the game under center, but he was taken out after four interceptions. Rookie Ryan Lindley didn't commit any turnovers, but he also did not do anything even remotely noteworthy.
The Cardinals' nine-game losing streak is the longest in the NFL, and this was the worst shutout loss in franchise history, according to ESPN. This is what rock bottom looks like.
For any other team, Young's tweet would be laughable, but for Arizona, no options should be taken off the table. However, there are still plenty of concerns over signing Young, most of which have to do with his personal life.
Should the Cardinals give Vince Young a call?
Young's last NFL action came in a failed tryout for the Buffalo Bills, and as Clay Travis of OutKickTheCoverage.com reported earlier this season, Young has spent all the money he earned as a player.
Among the many ridiculous expenditures that depleted his fortune was his habit of racking up thousands of dollars in restaurant and bar tabs at the Cheesecake Factory. As USA Today's Chris Chase notes, "There are five Cheesecake Factory locations within a 25-mile radius of downtown Phoenix."
This would be one of many concerns that the Cardinals would have over giving Young a chance, and it is highly unlikely that the team will explore the former Texas star as an option. We can't blame Young for trying though.