Las Vegas Bowl 2012: 5 Boise State Starters Better Than Washington Counterparts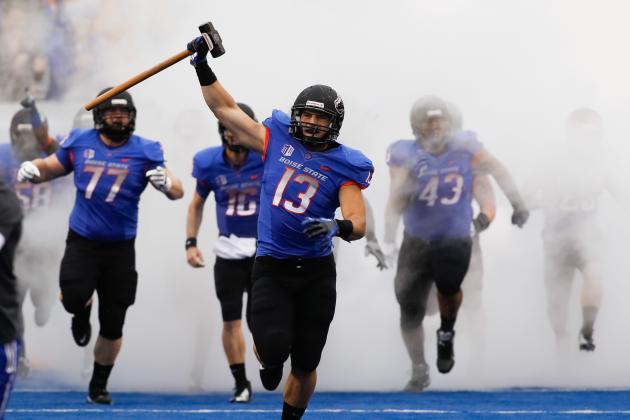 Otto Kitsinger III/Getty Images

When Boise State and the University of Washington line up opposite each on December 22 for the Maaco Bowl Las Vegas, there will be key matchups up and down the line of scrimmage. But let's look at the counterpart matchups between the Broncos and the Huskies and, in particular, the Broncos that outshine their counterparts on the Washington team.
In many areas, and key ones at that, there is a wash. For example, at quarterback, Huskies' Keith Price is averaging only 207 yards passing a game and, for the season, has thrown 11 interceptions and 18 touchdowns. Boise State's Joe Southwick is averaging 205.5 yards passing a game and on the season has thrown 17 touchdowns against seven interceptions. That's more or less a wash.
On offense, Washington in only averaging 347.4 yards per game on offense while allowing 352.2 yards defensively. The Broncos are averaging 390 yards per game on offense while allowing 304.7 yards per game defensively. Boise State averages 30.4 points per game while the Huskies are averaging 23.8 points per outing.
Those are the generalities, now let's look at some key areas where the Broncos are better than Washington in terms of players.
Begin Slideshow

»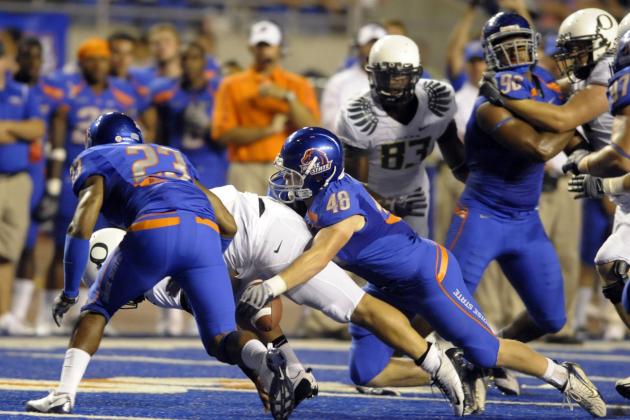 Steve Dykes/Getty Images

Travis Feeney and John Timu were the two starters at linebacker in the Huskies' final regular-season game (an overtime loss to in-state rival Washington State). Timu leads the Huskies' defense in tackles with 76 and Feeney sits at 67.
Timu also has a pair of interceptions, four pass breakups, six pass deflections, one forced fumble, a quarterback hurry and a sack. He has two tackles for loss for minus-11 yards.
Feeney has four sacks, five total tackles for loss, two interceptions, two pass deflections and one forced fumble.
Neither of the Bronco linebackers, J.C. Percy or Tommy Smith, have an interception. Percy, though, has 101 tackles for the year with a fumble recovery, a quarterback hurry, a pass breakup and 3.5 tackles for loss that includes a sack.
Smith has 55 tackles on the year, four tackles for loss with one sack, three pass breakups and one quarterback hurry.
For those too lazy to do the math, the Timu-Feeney duo has 143 tackles on the season and the Percy-Smith tandem has 156.
Great linebackers are fun to watch, and both teams have some good ones. The edge, though, goes to Boise State.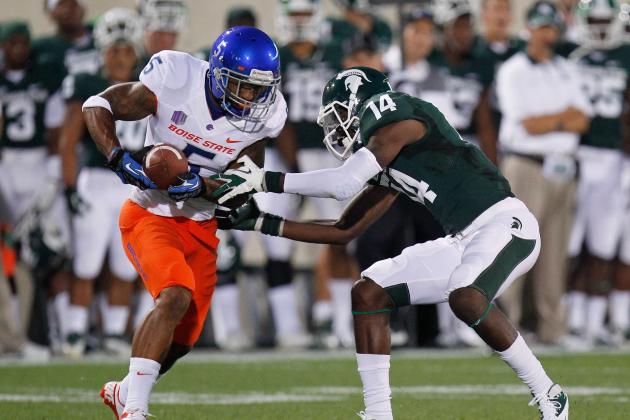 Gregory Shamus/Getty Images

Boise State's Jamar Taylor plays at the corner in the defensive secondary. The senior has had an outstanding season for the Broncos. He has 47 tackles on the season, 3.5 tackles for loss including 2.5 sacks, three interceptions for 54 yards in returns, eight pass breakups and three forced fumbles.
Dennis Trufant leads the Huskies in the secondary with 64 tackles on the season. He also has .5 tackles for loss, two interceptions for a combined return of seven yards, 14 pass break ups, 16 deflections, two fumble recoveries and two force fumbles.
Trufant is tougher to throw against with quick hands able to knock the ball away and if the Broncos attempt to squeeze the ball into receivers that Trufant is covering, the likely result will be an incompletion-in a best of the worst case scenarios. When it comes to coming off the corner on the blitz, Taylor is better.
This one is real close but the edge might swing toward Taylor.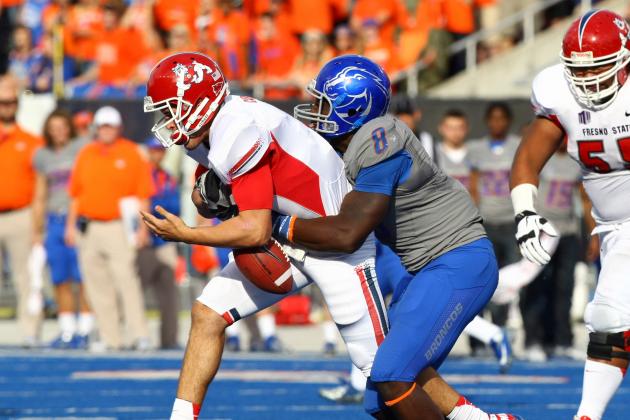 Brian Losness-USA TODAY Sports

Demarcus Lawrence is one of the top sackmeisters in the nation. Lawrence finished the regular season tied for No. 18 in the nation in sacks with 9.5, with eight of those solo. He also has 13.5 tackles for loss.
On the other end, Sam Ukwuachu has seven tackles for loss and 4.5 sacks per game. Between the two, they have 79 tackles for the season.
Washington's ends, Andrew Hudson and Talia Crichton, have 7.5 sacks between them, with Hudson garnering 6.5 of that total. For the season, Hudson and Crichton have 53 tackles. Semisi Tokolahi has also played end for the Huskies, and he has 16 tackles on the year with no sacks and 1.5 tackles for loss.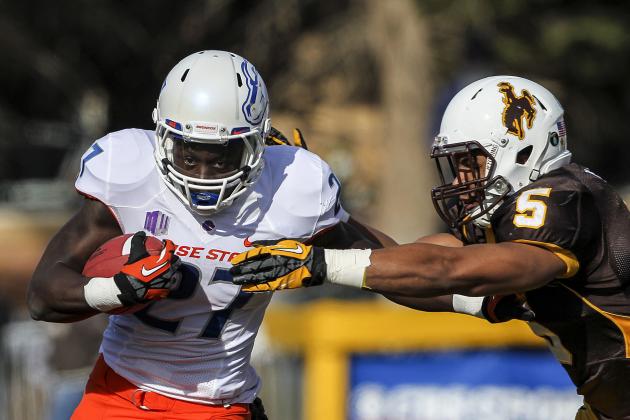 Troy Babbitt-USA TODAY Sports

When it comes to a single running back, Washington's Bishop Sankey has better stats than Boise State's D.J. Harper. Sankey is averaging 4.8 yards per carry and 102.8 yards per game with a net season total of 1,234 yards and 15 touchdowns. His longest run of the season is a 61-yard jaunt.
For the Broncos, Harper finished the regular season with 1.065 yards net, an average of 88.8 yards per game with 15 touchdowns and a long run of 80 yards.
Sankey also holds the edge in receptions and receiving yardage.
Drop it down a notch though. If Sankey or Harper have to take a rest, for whatever reason, who gets to tote the pigskin after that? For Washington, the second leader rusher is Kendyl Taylor with 34 carries for 207 net yards and 17.2 yards per game with no touchdowns.
Boise State goes to Jay Ajayi, a redshirt freshman, who has 78 carries for 541 net yards, a 6.9 yards-per-carry average, four touchdowns and an average per game of 54.1 yards.
When it comes to running backs, the backup to the starter can get significant playing time, and in this case, the edge goes to the Broncos for the tandem.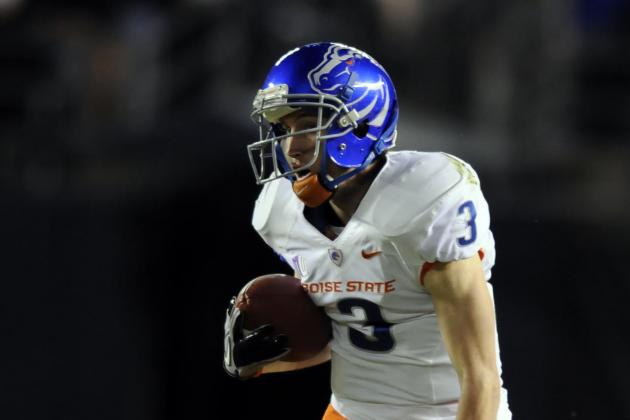 Christopher Hanewinckel-USA TODAY Sports

Cody Bruns, a 5'11", 183-pound Washington senior, is averaging 8.3 yards per punt return on 10 returns for the season. His longest is 31 yards.
Boise State has Chris Potter back fielding punts and the 5'9", 159-pound senior has 24 returns on the season for an average of 11.8 yards with his longest of 37 yards.
The top kickoff return specialists for the Huskies are Jaydon Mickens and Marvin Hall. They have 33 returns between them, and Mickens is averaging 22 yards per return while Halls is at 22.3 yards per return.
On the Broncos' side of the ball, Shane Williams-Rhodes and D.J. Harper are the top duo, but only have 15 returns between them (Boise State has only had the opportunity to return 22 kickoffs all year). Williams-Rhodes is averaging 23.6 yards per return while Harper is averaging 26.9 per return.
Even though the difference is only a couple of yards, the Broncos still have a bit of an edge.