UFC on FOX 5 Results: Top 10 Welterweights in the UFC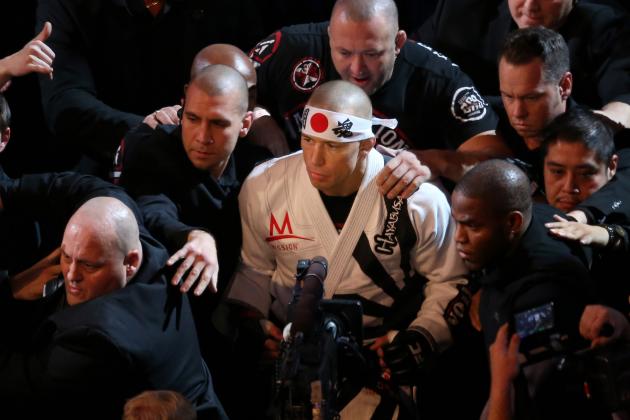 Tom Szczerbowski-USA TODAY Sports

UFC on Fox 5 showed what could be a changing of the guard in the welterweight division. Rory MacDonald, all of the age of 23, defeated former UFC welterweight champion BJ Penn by unanimous decision. It was MacDonald's most dominant performance inside the octagon. What's next for MacDonald? He called out former interim champion Carlos Condit, so time should tell if that rematch from UFC 115 takes place.
Who are the top 10 welterweights right now in the UFC? Maybe MacDonald and Condit are in there. Let's take a look and see.
Begin Slideshow

»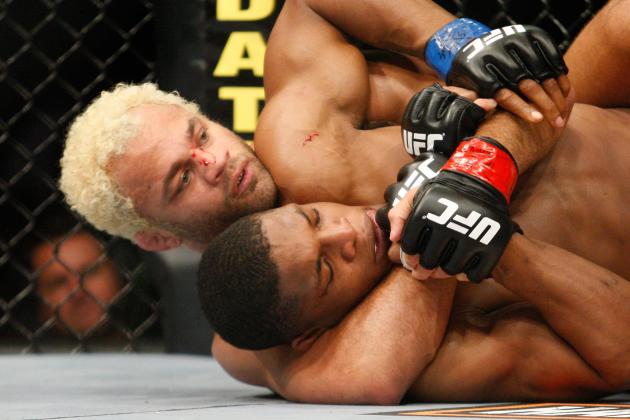 Richard Wolowicz/Getty Images

This was a hard decision to go with Koscheck here. Matt Brown was under heavy consideration after he won his fourth straight after Mike Swick last night. Koscheck, though, is the choice here.
Koscheck lost to current UFC welterweight champion Georges St-Pierre at UFC 124. The California native has gone 2-1 since that fight, defeating Matt Hughes and Mike Pierce before losing to Johny Hendricks in May at UFC on Fox 3. Koscheck was supposed to face Jake Ellenberger at UFC 151 until a back injury forced him out of the fight.
The former title challenger hasn't announced a return yet to the octagon.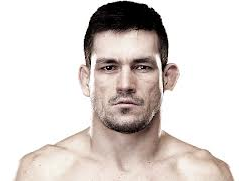 Photo from UFC.com
Competing in a higher weight class and then dropping down a weight class doesn't always mean you are going to be successful. After two fights at welterweight, however, Demian Maia has so far shown it is a piece of cake.
Maia dropped to 170 after losing to Chris Weidman in January at UFC on Fox 2. The former middleweight title challenger made his debut at welterweight defeating Dong Hyun Kim in 48 seconds at UFC 148 when Kim suffered a rib injury after a shot by Maia.
To prove the Kim win wasn't a fluke, Maia defeated Rick Story by submission 2:30 into the first round at UFC 153 in October, making it two wins and both by stoppage on the trek at 170 for the Brazilian.
Maia will now face former welterweight title challenger and perennial top-10 welterweight Jon Fitch at UFC 156 in February.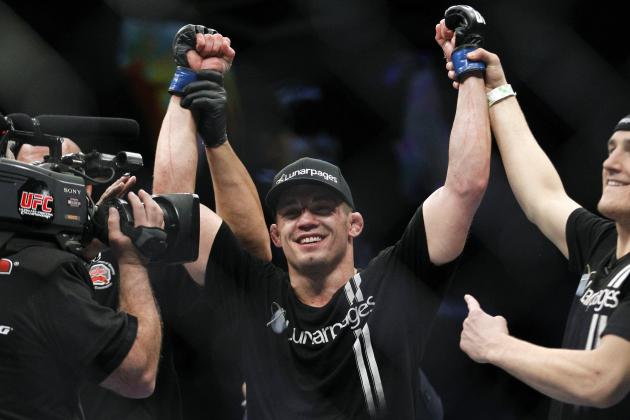 Matt Ryerson-USA TODAY Sports

If you were going to do an article on this six months ago, this isn't the spot Jake Ellenberger would be at. He was heading into his fight with Martin Kampmann at The Ultimate Fighter Live Finale in June, needing a victory to put himself in a spot to where he could be fighting to be the No. 1 contender.
After winning the first round and almost stopping Kampmann, Ellenberger lost to Kampmann in the second round by TKO.
The Nebraska native was supposed to face Josh Koscheck at UFC 151, but a back injury forced Koscheck off the card and he was replaced Jay Hieron. UFC 151 ended up being cancelled and the fight was rescheduled for UFC on FX 5.
Ellenberger defeated Hieron by unanimous decision at that event. No fight has been scheduled yet for Ellenberger as he looks to climb back into title contention.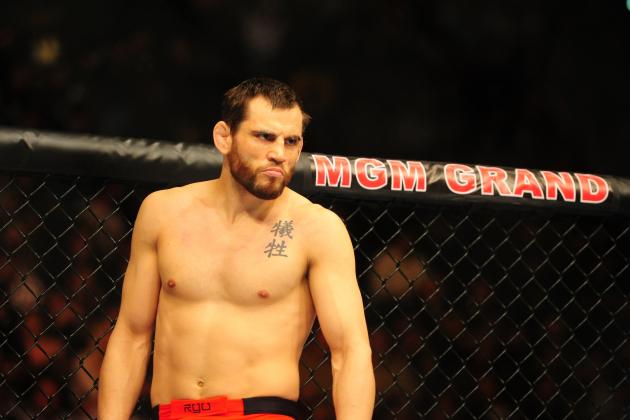 Mark J. Rebilas-USA TODAY Sports

One year ago, Jon Fitch was the No. 2 welterweight in the world. After going 5-0-1 in his previous six fights and not being able to secure a rematch with welterweight champion Georges St-Pierre, Fitch was paired with rising contender Johny Hendricks at UFC 141 last December.
Fitch was the favorite heading into the fight, but in MMA, one punch can change everything. One left hand by Hendricks not knocked Fitch out and his positioning in the division.
Being sidelined by a knee injury and contenders fighting at 170, Fitch came back to a new division as he squared off with rising prospect Erick Silva at UFC 153 in October.
It was a must-win fight for the Indiana native and he put on one of his performances. Fitch ended up defeating Silva by unanimous decision in the Fight of the Night.
Fitch is trying to get back to position in fighting for the belt as he squares off with Demian Maia at UFC 156 in February.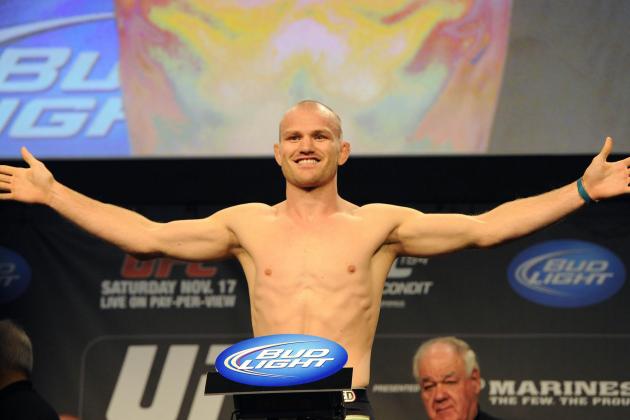 Eric Bolte-USA TODAY Sports

Some will say Martin Kampmann at the very worst should have already fought for the UFC welterweight championship. A lot of people thought he defeated Jake Shields at UFC 121 and beat Diego Sanchez at UFC Live on Versus 3.
Kampmann, though, battled back and won three straight heading into his fight with Johny Hendricks last month at UFC 154. It was speculated that the winner of this fight could potentially fight for the title against the winner of the main event between Georges St-Pierre and Carlos Condit.
Unfortunately for the native of Denmark, it wasn't his night as he was knocked by Hendricks 0:46 into the fight. Considering the high stakes of the fight, the "Hitman" doesn't fall too far among the welterweights in the UFC.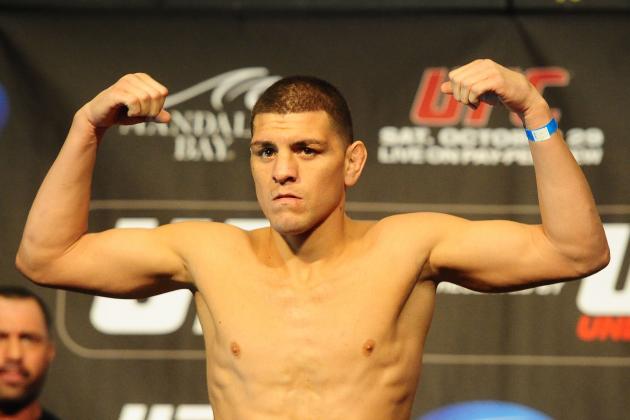 Mark J. Rebilas-USA TODAY Sports

People are looking at this spot and wondering why Nick Diaz is only at No. 5. The former Strikeforce welterweight champion hasn't competed inside the octagon since he lost a unification bout against Carlos Condit at UFC 143 in February.
The reason for that is Diaz took a post-fight drug test and failed due to marijuana metabolites in his system. Guys have fought and won to leapfrog Diaz in the division. Nevertheless, it looks like the Stockton, California native is going to leapfrog the other guys in front of him on this list.
UFC President Dana White stated this past week that Diaz's next fight after he comes off suspension in February will likely be against UFC welterweight champion Georges St-Pierre. The champion requested the fight with Diaz as St-Pierre told White he has "unfinished business" with Diaz.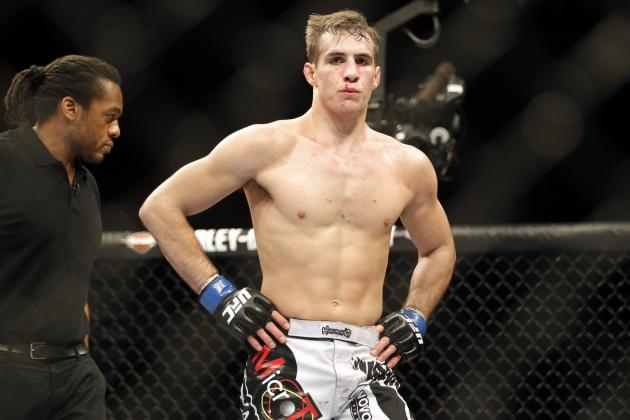 Joe Nicholson-USA TODAY Sports

Well, if you made it this far since the beginning of the article, Rory MacDonald has made it to this spot. The Canadian put in quite arguably his best performance as he defeated former UFC welterweight champion BJ Penn by unanimous decision last night at UFC on Fox 5.
Some people may feel this spot may be too high for the 23-year-old, but if it weren't for a last-second submission win by Carlos Condit at UFC 115, MacDonald would have an undefeated record.
MacDonald told UFC announcer Joe Rogan after the Penn fight last night that he wants to avenge his loss to Condit by fighting the former interim UFC welterweight champion in March. Condit hasn't responded to the challenge at this time. If that fight happens, the winner could be in line for a title shot.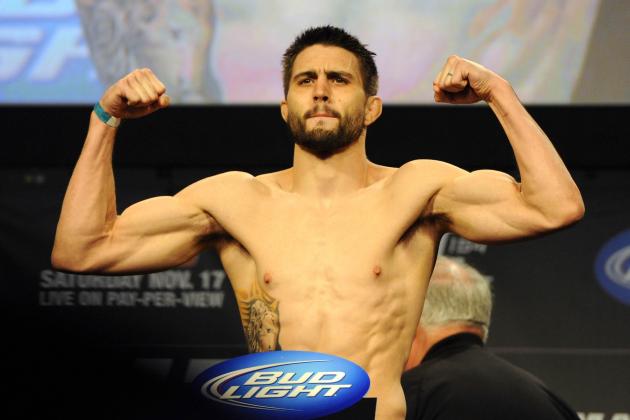 Eric Bolte-USA TODAY Sports

People will probably be upset with Condit not falling too far on this list. The former UFC interim welterweight champion lost to welterweight champion Georges St-Pierre last month at UFC 154 by unanimous decision.
Condit, though, put the champion in his most dangerous spot since the loss to Matt Serra, when Condit landed a head kick that knocked down the champion and put him in trouble. St-Pierre was to able to get out of dodge and won the fight.
The Albuquerque native won a lot of fans last month with providing a stiff test for the champion. Condit hasn't stated when he will fight next, but was called out by Rory MacDonald last night after his victory over BJ Penn at UFC on Fox 5.
If the MacDonald fight does materialize, the winner could be fighting for the title.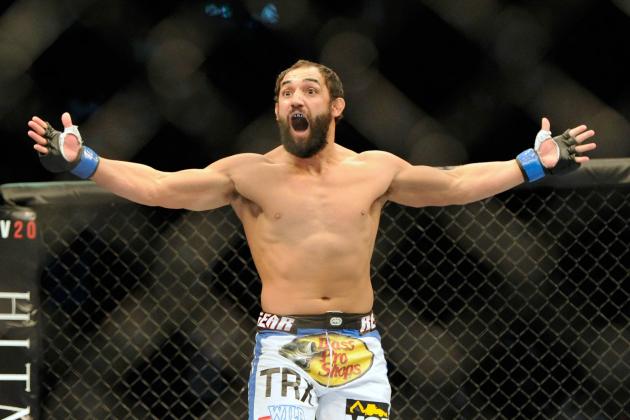 Eric Bolte-USA TODAY Sports

You look at the list and see that Johny Hendricks is at No. 2 and Nick Diaz is at No. 5. By looking at that, you would think Hendricks would be fighting Georges St-Pierre next for the welterweight championship.
For Hendricks, that isn't the case. UFC President announced last week that Hendricks will have to wait as St-Pierre will be fighting Diaz sometime in 2013. Hendricks told Bleacher Report on Friday that he felt the champion didn't want to face him due to him being the harder fight.
In his last three fights, Hendricks has defeated Jon Fitch, Josh Koscheck and Martin Kampmann. He knocked out Fitch and Kampmann in a total of 59 seconds.
Hendricks doesn't have a fight announced at this time and it will be interesting to see whom he is paired with next.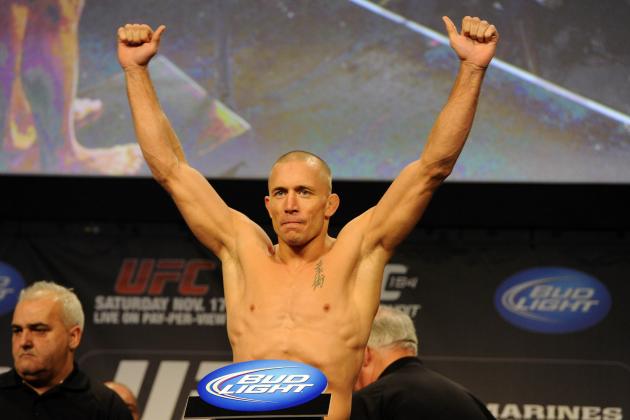 Eric Bolte-USA TODAY Sports

This was an absolute slam dunk No. 1. You have to always go with the champion in this spot. Georges St-Pierre is pound for pound one of the best fighters in the world. Some people say he is one of the best of all time and the best ever in the welterweight division.
St-Pierre, after a 19-month layoff due to a knee injury, returned last month and defeated Carlos Condit by unanimous decision to become the undisputed welterweight champion. "Rush" has won 10 fights in a row since the loss to Matt Serra at UFC 69.
Rumors had been swirling that St-Pierre would face Anderson Silva next in a superfight. St-Pierre threw the MMA world a curveball as he told UFC President Dana White that he wants to face Nick Diaz next due to "unfinished business" with Diaz.
The fight hasn't been given a date, but it will be one of the most highly anticipated fights in 2013.