UFC on Fox 5 Results: 10 Memorable Moments from Saturday's Card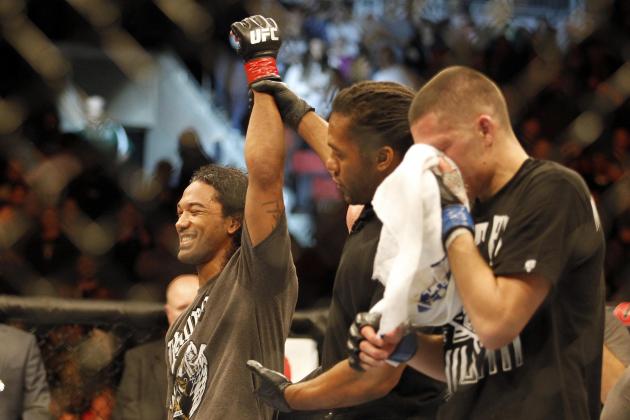 Joe Nicholson-USA TODAY Sports
UFC on Fox 5 was a night that MMA fans will remember for a long time.
Now that's more like it.
If the UFC can produce more high-caliber events for free television like UFC on Fox 5, this whole thing with the Fox Network just might work out after all.
From the first fight to long after the end of the card, there were many unique spots of the night that MMA fans will remember for good or ill.
At the end of the day, that's what makes the sport worth watching.
Well, enough mushy stuff.
Without further ado, here are the 10 most memorable moments of UFC on Fox 5.
Begin Slideshow

»
Photo Credit: Yahoo News
It's a common theme that Eminem music is pretty much a death knell for the fighter walking out it.
Well, we've found something even worse.
John Albert started off the night by walking out to "Gangnam Style" in Seattle, a rather curious choice which even UFC color commentator Joe Rogan called out as poor taste.
It was pretty embarrassing, but not as embarrassing as what would happen to Albert next.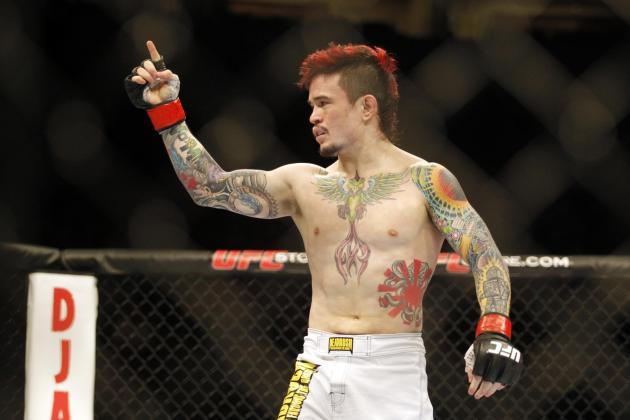 Joe Nicholson-USA TODAY Sports

Honestly, the first (and only) round of this fight was one of the most exciting five minutes of the night.
Albert probably knew that he was heavily outmatched but still took the fight to Jorgensen, pushing scrambles on the mat and almost locking in some sweet-looking triangle chokes.
Alas, that "Gungnam Style" karma came back to bite Albert, as Jorgensen muscled his way out of the submissions, reversed the momentum on a dime and finished Albert with a rear-neaked choke.
It wasn't the submission that was special, but the finish itself, as Albert tapped at 4:59 on the clock.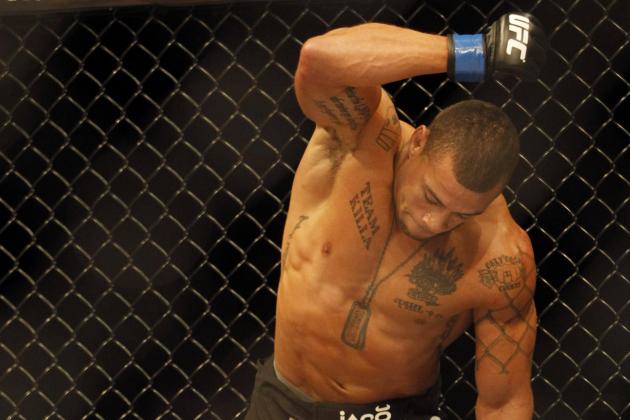 Joe Nicholson-USA TODAY Sports

Abel Trujillo's UFC debut couldn't have gone any better.
Poor Marcus LeVesseur simply had no answer for the Blackzilian, losing an extremely one-sided fight that saw his wrestling utterly fail him.
When that happens, a prepared fighter relies on his other tools.
Unfortunately, LeVesseur (who came into the bout with 24 hours notice as a last-minute replacement) had nothing to fall back on as he eventually fell to his knees, turtling up with Trujillo throwing knee after knee after knee straight to the body.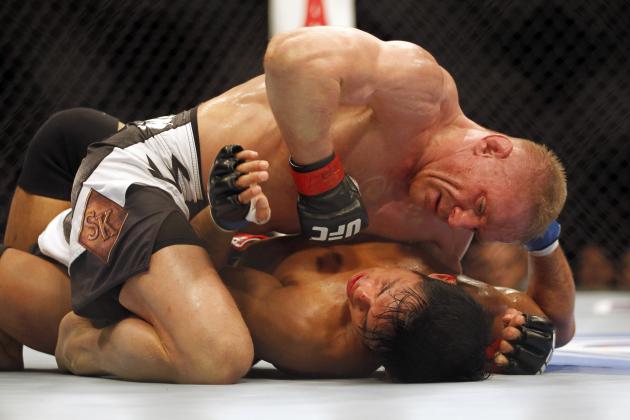 Joe Nicholson-USA TODAY Sports

How can a human body take that much punishment and live?
From pillar to post, Dennis Siver brutalized a helpless Nam Phan with crippling strikes and smothering top control, grinding the Ultimate Fighter alumnus into the mat.
But you've got to hand it to Phan.
He was outclassed by a man descending from a larger weight class, a world-class kickboxer with a vastly, vastly superior striking arsenal—nothing wrong with that.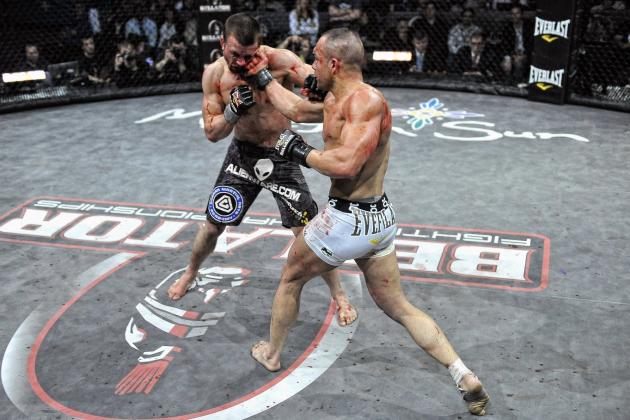 Photo Credit: Bellator FC
This UFC vs. Bellator war just got a new wrinkle.
Instead of seeing BJ Penn and Rory MacDonald walk out to the cage, TV viewers were instead treated to an ad for Bellator Fighting Championships.
And just in case anyone missed it, the out-of-place advertisement would repeat during the broadcast at least a couple times more.
Did anyone else think that was weird? True, Rupert Murdoch's News Corporation may not turn down advertising money very often, but it seemed like a huge oversight considering how Fox and Spike TV are setting themselves up to go into a ratings war next year.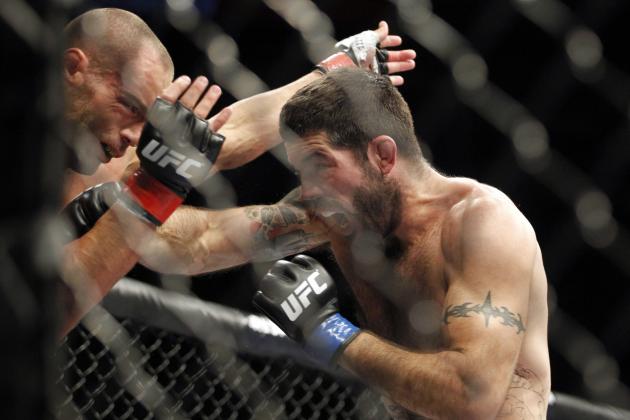 Joe Nicholson-USA TODAY Sports
Pictured: Mike Swick (left), Matt Brown, (right).
Going into this fight, Mike "Quick" Swick hadn't lost a fight by knockout since 2004.
Brown apparently doesn't care for history.
Following a series of extremely tight submission attempts from both men, a drained-looking Swick came out of his corner in the second round visibly wobbling on his feet.
It didn't take long for Brown to pick up on that, landing a clean shot straight to the grill to drop Swick like a brick, notching himself his very first four-fight winning streak.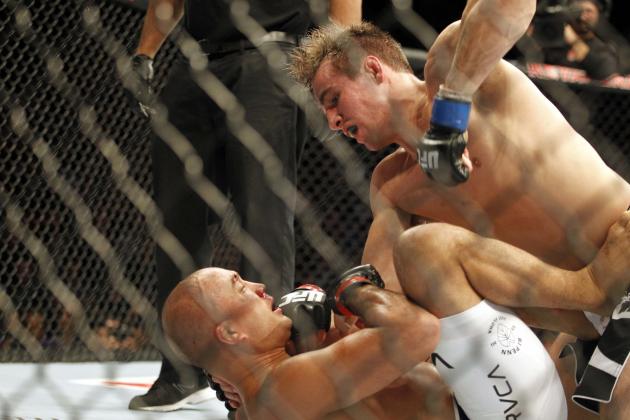 Joe Nicholson-USA TODAY Sports

It didn't take long for Rory Mac to establish his dominance over BJ Penn. After initially having some trouble on the feet, Rory started to land hard shots and plenty of kicks to the face, picking Penn apart on the feet.
But Penn really started to come apart in Round 2, when MacDonald landed a short left elbow that staggered "The Prodigy" significantly. It was a sobering exchange, one that reminded us how far the UFC legend has fallen.
Oh, and it got worse.
Penn suffered the rest of the fight, even getting to a point where Herb Dean almost stopped the fight standing as BJ Penn huddled over in pain. It was arguably the night's most dominant victory.
But after the fight, an eerily calm MacDonald took to the mic:
"I want my revenge. Carlos Condit, I want a rematch. Accept my challenge."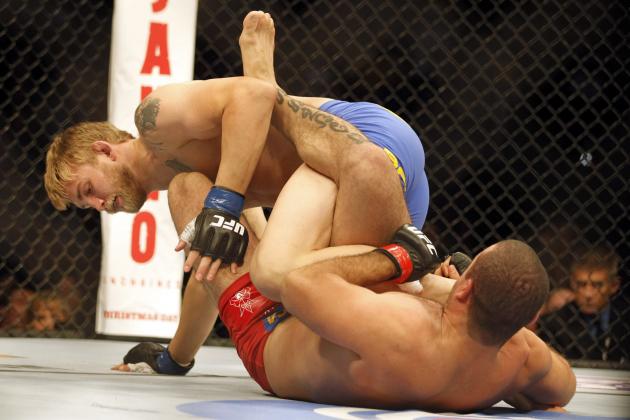 Joe Nicholson-USA TODAY Sports

Unfortunately for Mauricio Rua, his best chance to win this fight was early in Round 1.
Gustafsson blasted Rua with a hard shot that nearly ended the fight, but "Shogun" grabbed a submission, snaking his arms and legs around the Swede's massive knee, shin and foot. It almost worked, as the wily veteran nearly locked it in.
Gustafsson eventually worked his way free, though, in an impressive show of calm.
From that moment onward, the fight slowed down to a gritty brawl as Shogun tried to time his overhand right and put "The Mauler" down for good. It wasn't meant to be, as the PRIDE legend was peppered through three rounds in an admirable defeat.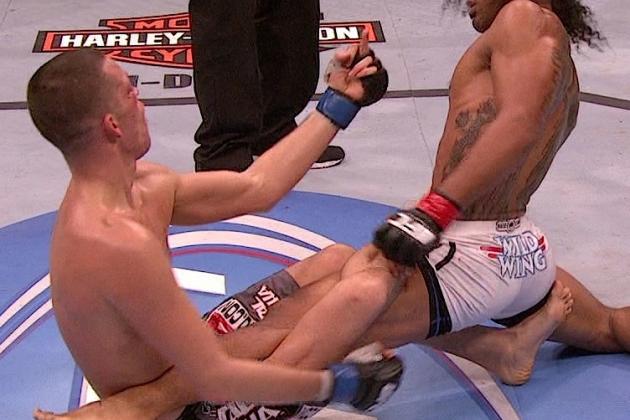 More than a few times during the lightweight title fight between Nate Diaz and Ben Henderson, the broadcast cut out to a wide-angle shot of the arena.
At first, it seemed like a production error.
But upon repeated viewings, the answer was much more simple.
Nate, like his older brother Nick, wasn't afraid to profanely taunt his opponent during the fight (despite explicit instructions from Fox against doing so), giving blatant middle finger after middle finger to his stronger, superior foe.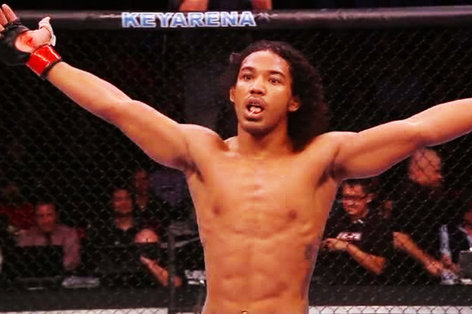 Ben Henderson fights with a toothpick in his mouth.
Let's repeat that.
In a sport where the main activity is punching people in the face, the UFC Lightweight Champion fights with a sharp piece of wood in his mouth.
According to the champ himself, it's a bad habit from training.
Technically, it's also illegal.
That little stunt from Mr. "Smooth" might simultaneously be the most ballsy and most unintelligent thing that any UFC fighter has ever done in the Octagon yet.