Wayne Rooney: Brilliant Derby Display Underlined Why He Is the EPL's Best Player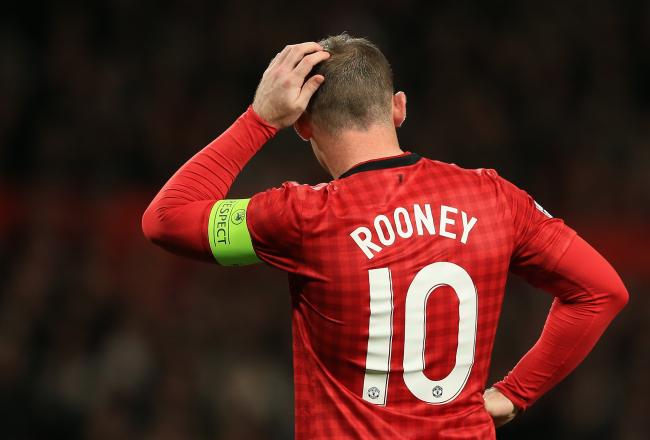 Richard Heathcote/Getty Images
Just over two years ago Manchester United were on the brink. After losing quite possibly the world's best player to the Galactico revolution, their poster boys head was also turned by the greener grass of the other side.
Wayne Rooney, disillusioned by a perceived lack of ambition shown by the Old Trafford club, became frustrated; he wanted to leave.
It was dark days to be a Manchester United fan. With Rooney gone the overabundance of true world-class talent that Manchester United once took for granted would be no more. The departure of the club's best player would set an unerring precedent for the future of the football club. A once great club shunned by the world's best, no longer a match for their lofty ambitions.
Rooney stayed, however, and the countdown to doomsday was reset.
Unsurprisingly, the wounds of an impassioned fan-base took time to heal. Such is the deep feeling of attachment that bonds fans with their clubs, Rooney's wandering eye was a personal affront, a show of rejection for the club who had facilitated his development.
Football is fickle. Indiscretions, no matter how major, are all so easily forgotten by crucial goals or commanding displays. Wayne Rooney, the darling of the Stretford End, very quickly won back the supporters who once called for his head.
With the passing of time, logic is far more easily administered.
Wayne Rooney was wrong to so publicly announce his desire to leave, aware as he undoubtedly was of the ramifications of his actions. Yet, in a world where pampered footballers live the life of luxury, Rooney is one of a dying breed, a player who simply plays football for the love of the game.
Ever since he burst onto the scene with a stunning goal against Arsenal, we knew that Rooney, then of Everton, was destined for greatness.
Suddenly thrust into the spotlight Rooney, became the talisman for a disillusioned England, the great white hope. His subsequent transfer to United, a record fee for a teenager at the time, simply validated the ardent fervor surrounding his potential.
In the intervening period, Rooney's star has soared.
Whilst his international career has been hit by a myriad disappointment in major tournaments, on all other fronts Rooney has sat astride the pantheons of greatness.
Sunday's Manchester derby was a reminder of just how far Wayne Rooney has come from the fresh-faced teenager who so shocked the world back in October 2002. Rooney is now both the youngest ever 150-plus Premier league goal scorer and the highest scoring Manchester United player of all time in the derby, with 10 goals.
He has grown up since his days as an Everton boy wonder. Tales of debauchery and childish petulance are behind him. Now a dad, Wayne Rooney looks to sculpt the legacy for which he will be forever remembered.
Much about Rooney has changed since that day 10 years ago. Older, wiser and a more mature, cultured footballer, Rooney is currently adapting to a more withdrawn role where his creative predilections will be given opportunity to flourish.
Yet Wayne Rooney is still the boy of 2002. When he plays, the intense burning passion for the game still burns brightly in his eyes, he plays the game for the sake of the game. Hassling, hurrying, chasing, charging, the young boy who grew up to love football from the streets of Liverpool has not grown out of his childhood rapture.
English football is now blessed by some of the world's finest talent. From Sergio Aguero to Yaya Toure, Robin van Persie, Eden Hazard and Juan Mata, it is a role-call of the highest calibre. Yet, to me, Wayne Rooney is the best.
RVP, Aguero et al are supremely talented football players, the like of which any team in the world would be delighted to call upon.
However, the cosmopolitan surfeit of wonderful talent is not a new reality in England's best league. From Eric Cantona, Dennis Bergkamp and Thierry Henry to today's incumbents, the talent pool shows no sign of drying up. Yet Rooney is one in a generation.
Wayne Rooney is unique. The dogged insatiability and never-say-die attitude of the quintessential English fighting spirit gushes through his veins. Rooney's cathartic love of the game comes through in every straining sinew, every sweaty pore and every heaving breath. He plays the game at its most raw and basic level.
The relationship between player and league is symbiotic. Just as much as it has defined his early years, he now grows to define it. Talent can be replaced, but without Wayne Rooney the English Premier league just wouldn't be the same.
This article is
What is the duplicate article?
Why is this article offensive?
Where is this article plagiarized from?
Why is this article poorly edited?

Manchester United: Like this team?