Predicting the Top Sports Power Couples of 2013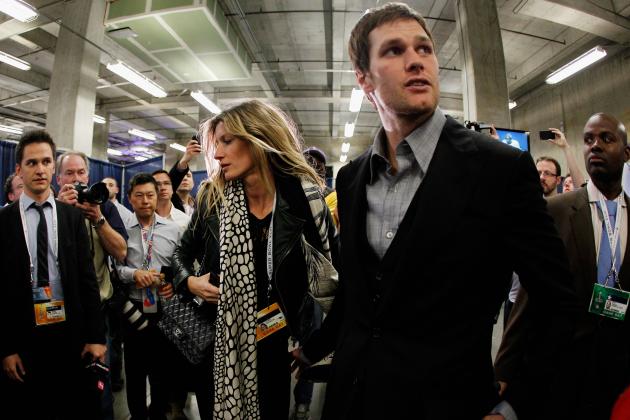 Rob Carr/Getty Images

With the new year comes a shift in the sports power couple hierarchy. It's not like an official thing that happens on January 1st, but rather a subtle shift in relevancy that has come as a result of the previous year. Some of sports long-time power couples have divorced, faded into retirement or just become boring.
But not all of them, of course. There are a few couples who have been sports royalty for years and will maintain their respective thrones for years to come. Plus, there are plenty of fresh-faced newbies kicking around, ready to step out into the spotlight as one of sports power couples and claim all the attention and perks that come with it.
So let's take a look at who I predict will be the top sports power couples of 2013.
Begin Slideshow

»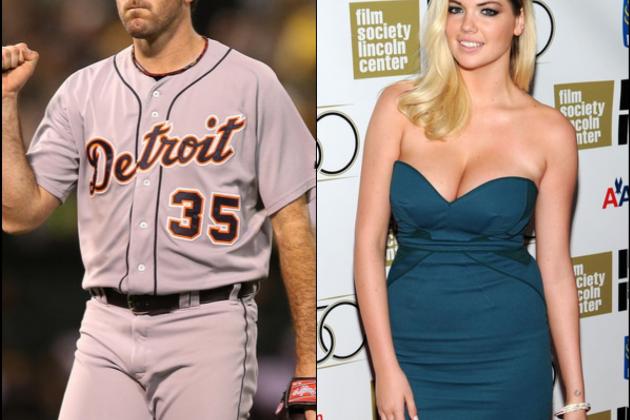 Images via Getty Images North America
Looking Back
Tigers ace Justin Verlander was first rumored to be dating Sports Illustrated Swimsuit Edition cover model Kate Upton in July 2012. The pair were spotted at an Aerosmith concert in Michigan and then went barhopping with some friends after. Rumors of a red-hot romance faded away for a few months before heating up again in October.
Neither half of the couple have issued any official confirmation, but Verlander's grandfather officially spilled the beans for them.
Looking Forward to 2013
Who knows what the future holds for this couple, but some public sightings would be a good start, with a little hand holding on the red carpet or a little smooching at the movies—something!
Upton is probably not looking to settle down at age 20, but you don't need to be married to be one of sports power couples. So just get out there and give us something to gossip about you kids.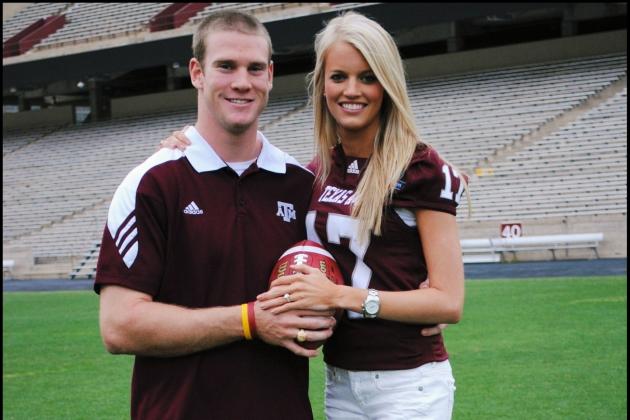 Image via Image via LauraKUrk.Com
Looking Back
Texas A&M talent Ryan Tannehill switched from wide receiver to quarterback midway through his junior season in 2010 and started all 13 games of his senior season in 2011. Tannehill quickly found himself moving up many draft boards and was selected in the first round of the 2012 NFL Draft by the Dolphins. Draft day was obviously a pretty big deal for Ryan, but it was his beautiful blonde wife Lauren who stole the show.
Looking Forward to 2013
There are still questions about Tannehill's long-term prospects in Miami; Adam Schefter says he may not be the answer and Trent Dilfer says he's going to be a rockstar. Either way, the Tannehill's aren't going anywhere for quite awhile. Ryan is just a rookie, and it will take more than a year to fix what has been ailing the Dolphins for the last decade.
In the meantime, Lauren, who has modeling aspirations, will continue to be a fixture in the stands and will likely see her fame grow by leaps and bounds if she doesn't trade in the modeling track for the mommy track in 2013.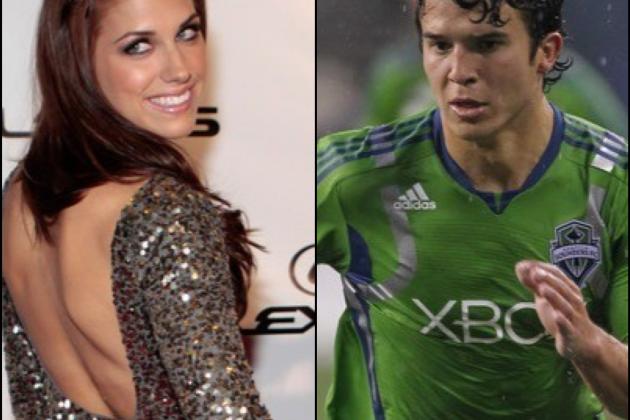 Images via Getty Images North America
Looking Back
When global soccer stud David Beckham signed a deal worth upwards of $250 million with MLS's L.A. Galaxy in 2007, he and wife Victoria became America's first couple of soccer by default. It was nice while it lasted, but in December 2012, Beckham announced that he would not be returning to the Galaxy in 2013 and was hoping to play in the Champions League again before retiring.
Looking Forward to 2013
Considering the popularity, or lack thereof, of soccer in the U.S., I'm not certain we need a first couple of soccer, but if anyone is going to get the honors, it's Olympic gold medalist Alex Morgan and her boyfriend Servando Carrasco. Morgan, a certified American treasure, met Carrasco as freshman at Cal, Berkley, and have been dating for over four years.
The couple may be heading for an engagement, which would keep them in the headlines for months. Engagement or no, one thing for certain is that Hope Solo and Jerramy Stevens were never in the running.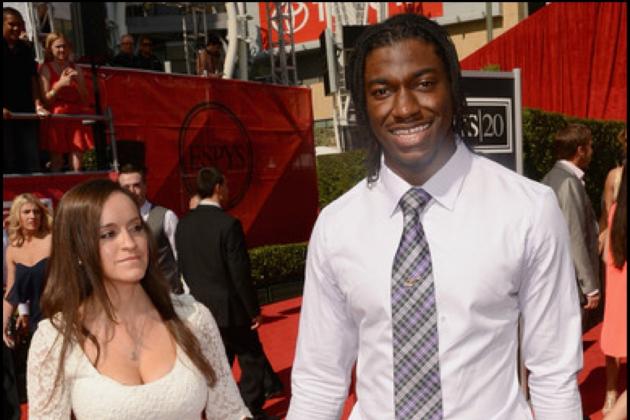 Image via Jason Merritt/Getty Images North America
Looking Back
Just over a year ago, a relatively unknown quarterback out of Baylor was suddenly thrust into the national spotlight. Robert Griffin III, a fourth-year starter for the Bears, had by far the best season of his career in 2011 and managed to come out of nowhere to beat Andrew Luck, the long-coveted quarterback out of Stanford, to capture the Heisman Trophy.
RG3 was chosen second overall by the Redskins in the 2012 NFL Draft, and today, with the Skins (currently) in the midst of a four-game winning streak and seriously in the playoff hunt for the first time in forever, has become one of the most buzzed-about players in sports. And his fiancé, Rebecca Liddicoat, has come along for the ride.
Looking Forward to 2013
Griffin and Liddicoat dated all through college and have been engaged since 2011, so one will be expecting a wedding in 2013. The Griffin's will be second only to the Obama's as D.C.'s most famous power couple.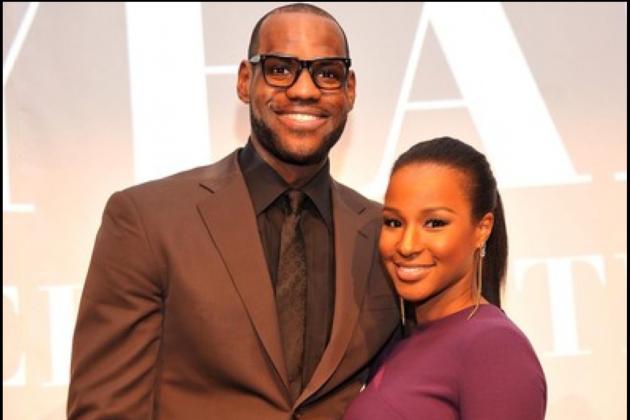 Image via Stephen Lovekin/Getty Images North America
Looking Back
Heat superstar LeBron James proposed to his longtime love and the father of his sons, Savannah Brinson, in the early minutes of New Year's Day 2012. It must have been good luck, because the year that followed could be best described as "The Year of LeBron."
James won his third NBA MVP award, his first NBA Championship, was named the MVP of the NBA Finals, won an Olympic gold medal and was named Sports Illustrated's 2012 Sportsman of the Year. A busy year that probably didn't leave a lot of time for wedding planning.
Looking Forward to 2013
There will be nuptials worthy of a king and his queen, no doubt. James isn't known to be shy or particularly private, so I wouldn't expect these two to run off and elope quietly. My guess is we're waiting on an extravagant summer wedding that Ms. Brinson has been mentally planning for over a decade.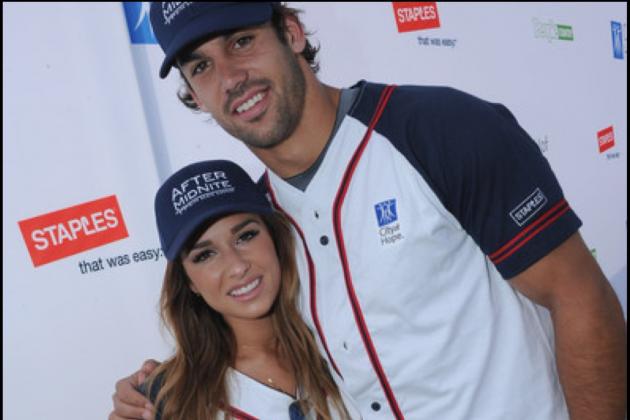 Image via Rick Diamond/Getty Images North America
Looking Back
In 2011, Broncos wide receiver Eric Decker sure didn't see much action with Kyle Orton and Tim Tebow behind center, but his fortunes changed in 2012. Decker gained a future Hall of Fame quarterback when Peyton Manning decided to go to Denver after being released by the Colts following a year-long injury. He also gained a fiancé when he became engaged to country singer Jessie James in April 2012.
Looking Forward to 2013
Decker has had the best season of his three-year career in 2012 and if Manning stays healthy, his stats and notoriety will only be heading up—especially if the Broncos make a deep run into the playoffs. Expect an offseason wedding with as much media coverage and celebrity attendees as publicity hungry James can attract.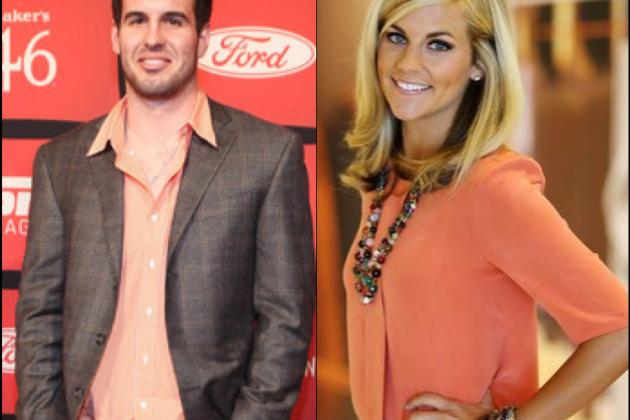 Images via Getty Images North America and US Presswire
Looking Back
Remember back in 2012 when Donovan McNabb was the starting quarterback of the Vikings and Erin Andrews was the golden goddess of ESPN's College Game Day? Well what a difference a year makes. Today, Cristian Ponder is the Vikings starter and Samantha Steele has officially become "the next Erin Andrews," having taken Andrews place following her departure for FOX Sports in early June 2012.
Oh, and they're engaged!
Looking Forward to 2013
Ponder, eager to shout his good fortune from the rooftops, outed their relationship in October 2012, and to the chagrin of Steele, their engagement was announced just six weeks later, which means this "biblically chaste courtship" is heading for a trip down the aisle in 2013—and the sooner, the better.
The devoutly Christian couple's big-white wedding will undoubtedly take place during this NFL offseason and will make them place holders as the Evangelical community's favorite couple in sports. Place holders until one Mr. Tim Tebow finally finds that special lady to finally call his forever lady.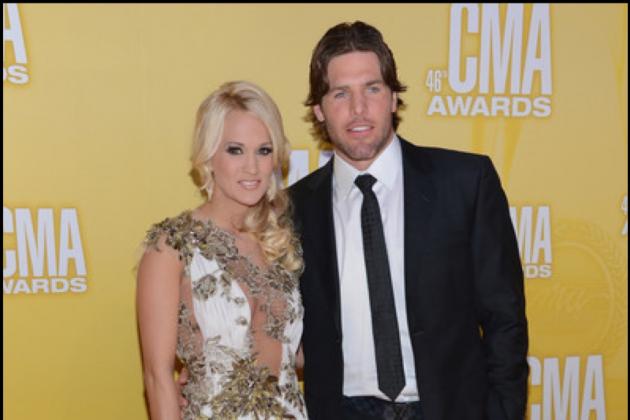 Image via Jason Kempin/Getty Images North America
Looking Back
Country cutie Carrie Underwood first gained fame as the winner of FOX's American Idol in 2004. She quickly became one of the most successful winner's in the show's history and gained even more notoriety in 2007 when she and Cowboys quarterback Tony Romo became an item.
The Romo romance didn't last, and in 2008, she met NHL player Mike Fisher and the pair married two years later in July 2010. They've been arm-and-arm at every award ceremony and red carpet event ever since looking like they've found their happily ever after.
Looking Forward to 2013
The pair have been together for over four years and are both hugely successful in their respective careers. With Underwood approaching her 30th birthday in March, nobody would be surprised her sporting the all-mighty "baby bump" in 2013.
For whatever reason, the media is absolutely obsessed with babies and pregnancy, which means if Underwood gains so much as a pound, she and Fisher will become an instant obsession. It will definitely raise their status as a "power couple," but something tells me that won't quite make up for the invasion of privacy.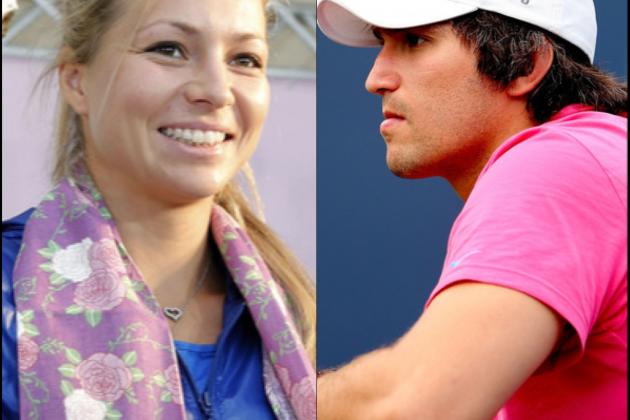 Images via Getty Images North America
Looking Back
Count me among the skeptics on the staying power of this Russian relationship when Capitals superstar Alexander Ovechkin announced he was dating tennis player Maria Kirilenko in November 2011.
Ovi tweeted, "Me and my girlfriend Maria…she is my queen!!!" along with a photo of himself and his lady for proof. The pair weren't seen together much, if at all, until summer 2012 when they seemed to be inseparable.
Looking Forward to 2013
What once looked like a little fling now looks like it could be the real thing. Ovechkin, once Russia's most eligible bachelor, has been spending almost every waking moment of the NHL's lockout with Kirilenko, and he was her biggest cheerleader at the 2012 Olympics in London. It's not hard to imagine that in 2013 this bachelor may come off the market for good.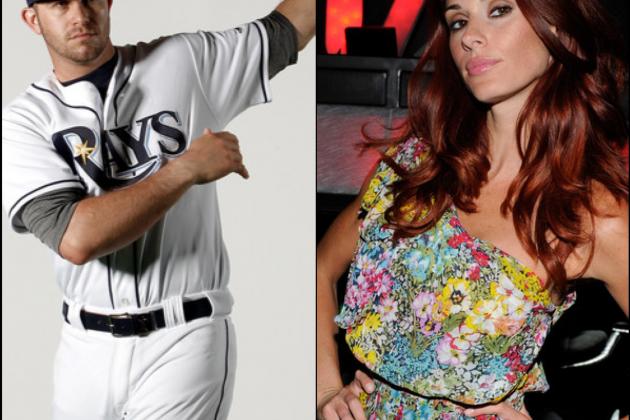 Images via Getty Images North America
Looking Back
Rays third baseman Evan Longoria started off 2012 with a bang when he officially confirmed in February that he was dating Playboy's most ravishing redhead, Jaime Edmondson. The pair had been spotted together in the months prior, so who's to say when this coupling actually began, but as of December, they were still going strong.
Looking Forward to 2013
Having been together for nearly a year or more, there's no chance that Longoria (age 27) and Edmondson (age 32) have yet to have the talk about where all this is going. An engagement, a big Playboy wedding and perhaps a bun in the oven could all be in the cards for this red-hot couple in 2013.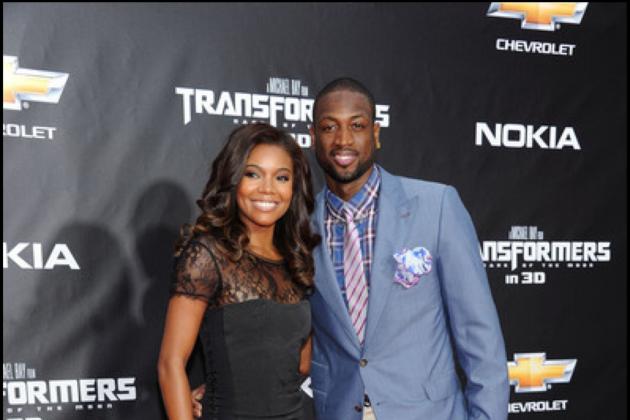 Image via Jason Kempin/Getty Images North America
Looking Back
Actress Gabrielle Union has been dating Heat superstar Dwyane Wade since 2009. The pair got together on the heels of his messy divorce from high school sweetheart Siohvaughn Funches.
Funches claims that the timeline of their relationship actually overlapped with her marriage to Wade; a claim Union says has hurt her career.
Whatever the case may be, the couple have been going strong ever since, and Union has been front and center at Heat games supporting her man for years. In fact, her over-the-top enthusiasm got her banned from courtside seating in May 2012.
Looking Forward to 2013
My prediction is that this relationship is going to come to a head in a big way in 2013. Wade's NBA career is winding down, he's got sole custody of his sons from his previous marriage and he and Union live together. They've been together for over three years and Wade told Oprah that she "makes (his) eyes sparkle."
It sure would seem that a trip down the aisle or at least a the purchase of a big-ass diamond is imminent. But Wade is 30 years old and Union, believe it or not, is a decade his senior at age 40. Perhaps he's just being cautious and waiting for the right time, or maybe that 10-year age gap is making them both wonder?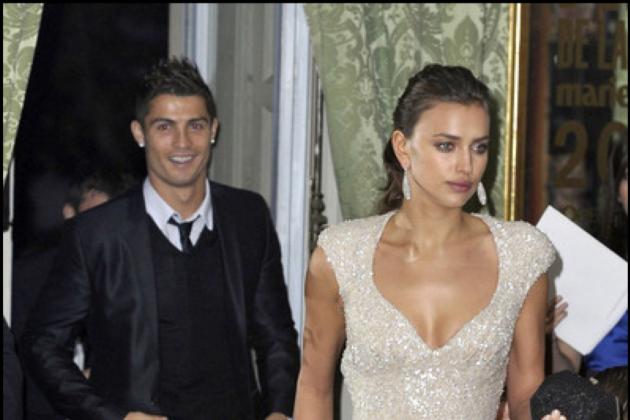 Image via PacificCoastNews.com
Looking Back
Real Madrid forward Cristiano Ronaldo has been one of the biggest superstars in soccer for nearly a decade, and he has been linked to some of the most beautiful women in the world.
Ronaldo had dated countless models, actresses, socialites and call girls before seemingly settling down with Russian beauty Irina Shayk, a former Sports Illustrated Swimsuit Edition cover model in 2010. Despite cheating accusations that rocked the couple in August 2012, the pair remain together and seemingly unfazed.
Looking Forward to 2013
Ronaldo and Shayk have been raising his two-year-old son together for years now, and he has recently hinted that he might like it enough to put a ring on it. If these two get engaged, it will be a big freaking deal all over the world.
Ronaldo doesn't strike me as a long engagement type either, but rather a controlling "groomzilla" who will quickly assume most of the wedding details; assuring his over-the-top nuptials are the social spectacle of the year.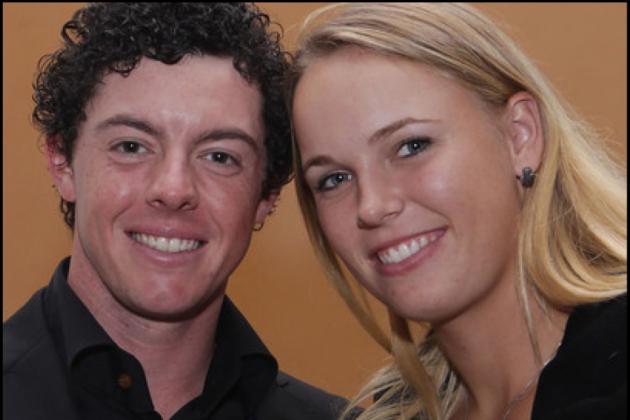 Image via Ross Kinnaird/Getty Images AsiaPac
Looking Back
Danish tennis cutie Caroline Wozniacki has been dating Irish golf superstar Rory McIlroy, often prematurely referred to "The Next Tiger Woods," since July 2011. The pair got close in a hurry, and within a year they were spending so much time together that many in the media were asking if their relationship was negatively impacting their respective careers.
Considering their ages, Wozniacki is 22 and McIlroy is 23, and the time and travel demands of their careers, the staying power of their relationship has come as a surprise. But the globetrotting duo don't show any signs of saying goodbye.
Looking Forward to 2013
Wozniacki and McIlroy aren't listening to anything but their hearts when it comes to their relationship, and they are still going strong.
McIlroy credited Wozniacki's influence on his work ethic after being voted the PGA Tour player of the year in December 2012.
These two have been popping up together all over the world for the last 18 months, routinely making global headlines in the process. I wouldn't see it as a surprise if McIlroy pops something else in 2013—like "the question."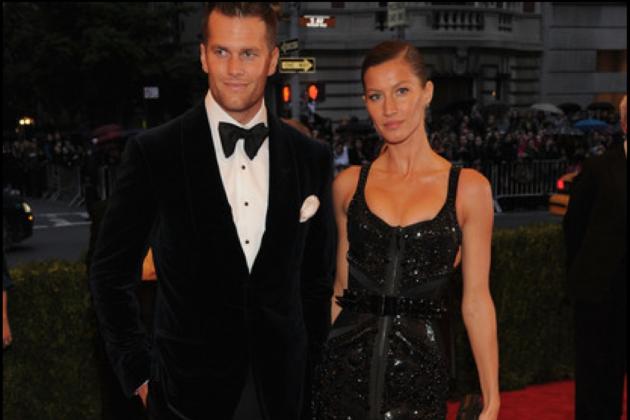 Image via Larry Busacca/Getty Images North America
Looking Back
Patriots quarterback Tom Brady and Brazilian supermodel Gisele Bundchen have been together since late 2006. The timeline of their relationship is hazy, but seems to briefly overlap with Brady's relationship with actress Bridget Moynahan, who was pregnant with his child when they broke up.
A little scandal didn't faze Brady and Bundchen, and the pair were married in February 2009. The two are still going strong and welcomed their second child in December 2012.
Looking Forward to 2013
The beautiful Brady and Bundchen will keep making appearances on the red carpet. They'll keep being photographed at exotic locations they visit during the offseason, and they'll keep getting endorsements and making money. Basically, they'll just continue to make us all hatefully jealous in 2013 and beyond.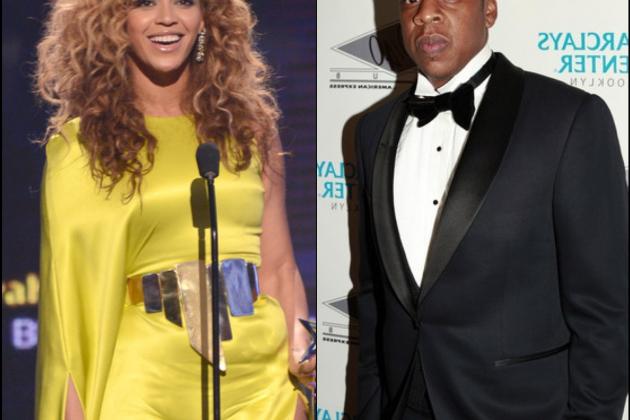 Images via Getty Images North America
Looking Back
Rap mogul and minority owner of the Brooklyn Nets, Jay-Z, and musical megastar Beyonce Knowles have been together for over a decade and married since 2008. The couple welcomed their first child, daughter Blue Ivy Carter, in January 2012. Jay-Z was the primary driving force behind the Nets move from New Jersey to Brooklyn.
Looking Forward to 2013
Well first and foremost, there will be Beyonce's much anticipated half-time performance at the 2013 Super Bowl. Then who knows—these two are always on the move.
Maybe there will be a global tour, maybe the Nets will make the playoffs, or maybe they'll welcome another baby. One thing is for sure: No matter what they do in 2013, everyone will be watching.