Rory MacDonald would like all the fans that showered him with boos on Saturday night as he put a beating on BJ Penn to know one thing—he doesn't care about your opinion.
As for those who cheer him on, well, the acknowledgement is most likely appreciated, but it's not something the rising star of the UFC's welterweight division is all that concerned about.
After sending Penn to the hospital, MacDonald appeared at the UFC on Fox 5 post-fight press conference nattily attired and looking all business. If it wasn't for the slight bruising on his face, you would never guess that the 23-year-old Canadian punches people in the face for a living. But that he does, and it's something he does very well, better than most, actually. However, if you think he's doing that work for anything other than the love of the sport, you'd be wrong.
People could love me or hate me. I fight for myself because I love it. I don't care (about people booing). As long as I fight well, and I think I did, if they don't like me, I can't do anything about it. I just have to be me.
MacDonald's stance is refreshing. The sport of mixed martial arts has its fair share of fighters who seem to have some odd desire to be loved and accepted by those that fork over the cash to see them compete. MacDonald isn't one of those people. Take him or leave him, he couldn't care less.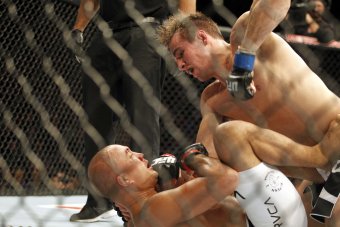 Joe Nicholson-USA TODAY Sports
In some respects, MacDonald seems to be headed down the same path that UFC light heavyweight champion Jon Jones took, but without the public relations mishaps or attempting to be someone other than himself.
He's a young guy rolling through his weight division with a steely focus on being the best fighter he can be, and he's not afraid to vocalize those goals. And just like Jones, MacDonald is going to pick up his fair share of detractors as he moves toward realizing his goals.
Where the two differ is that, for a time, Jones tried to appease those detractors, something that only resulted in many calling the young champion a fake and a fraud. MacDonald isn't making that same mistake; his focus isn't on anything but continuous improvement, moving toward a goal of being the best fighter he can be. Doing his job in a ruthless and efficient manner. Stacking bodies like cordwood on his way to a UFC title.
MacDonald's no-nonsense attitude may rub some fans the wrong way, and it could result in some sort of backlash against him as a person, but the odds are that he won't notice that at all, not as long as he keeps improving as a fighter.