A team's ability to keep its stars healthy is instrumental to its success, and a few stars' injuries will have a massive impact on which NFL teams will make the playoffs in 2012.
With just three weeks remaining after Monday, each game for the teams on the precipice of a postseason berth will be extremely important.
The NFC wild-card race is wide open with seven teams right in the mix for the last four spots. The AFC playoff picture is much clearer, and in all likelihood, the first five seeds are set with the Pittsburgh Steelers and Cincinnati Bengals left to battle for the final place.
Here are the injuries that will have the most influence on this year's playoff races.
Robert Griffin III, QB, Washington Redskins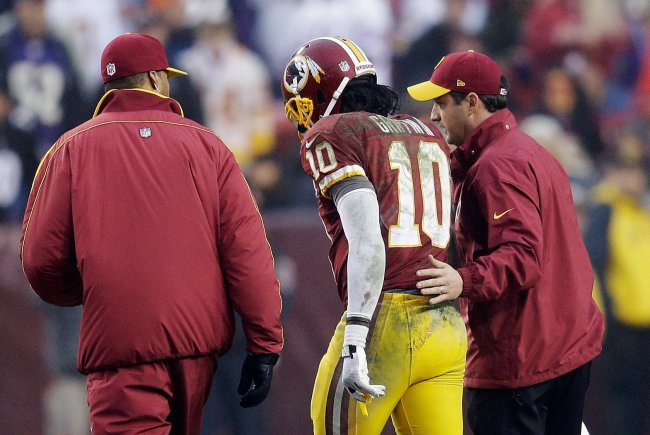 Rob Carr/Getty Images
No injury will have a greater impact on a team's chances to reach the playoffs than Robert Griffin III's hurt knee.
The rookie signal-caller left the Redskins' game against the Baltimore Ravens in the fourth quarter with a knee injury that does not seem to be serious. Fox Sports' Jay Glazer reported the following:
RG3 had his MRI and it showed NO torn ligament. Right now they are calling it a knee sprain

— Jay

Glazer

(@JayGlazer) December 10, 2012
At 7-6, Washington is very much alive in the race for a wild-card spot as well as the NFC East title, but it has almost no room for error going forward. While Kirk Cousins did throw a game-tying touchdown pass in the 31-28 victory over Baltimore, he will not be able to lead the Redskins to the playoffs.
If Griffin misses time, Washington will miss out on the chance to extend its season.
Jay Cutler, QB, Chicago Bears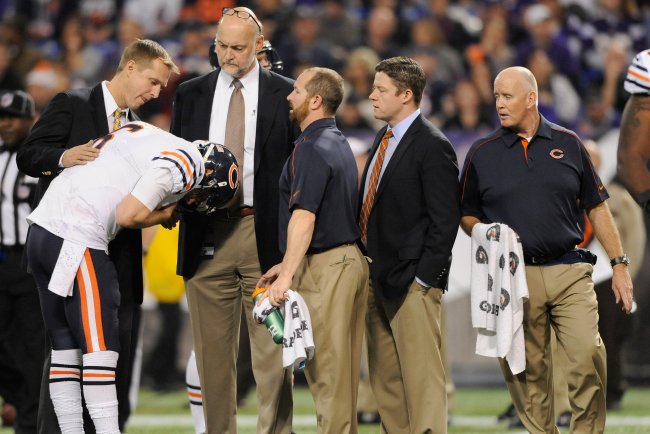 Hannah Foslien/Getty Images
The Chicago Bears have lost four of their last five games and this worrisome slide started when Jay Cutler went down against the Houston Texans.
The franchise quarterback once again failed to finish a game this week, as he left the Bears' 21-14 loss to the Minnesota Vikings with a neck injury. CBS Sports' Jason La Canfora reported the following on Cutler's injury:
Bears are calling it a neck injury for Jay Cutler, who has a history of concussions. his removal seemed at least in part precautionary

— Jason La

Canfora

(@JasonLaCanfora) December 9, 2012
Jay Cutler's neck will be further evaluated on Monday. Team believes he may be suffering from whiplash and appears as if he will be okay

— Jason La

Canfora

(@JasonLaCanfora) December 9, 2012
The news surrounding Cutler currently suggests he should be able to play next week, but Chicago's chances at making the postseason have gone from a virtual lock to anything but certain.
A hugely important game against the Green Bay Packers is next up for the Bears, and if they are unable to beat their NFC North rivals, Chicago will be on the verge of completing a major collapse. Cutler's presence under center will be vital to turning the team around.
Ray Lewis, MLB, Baltimore Ravens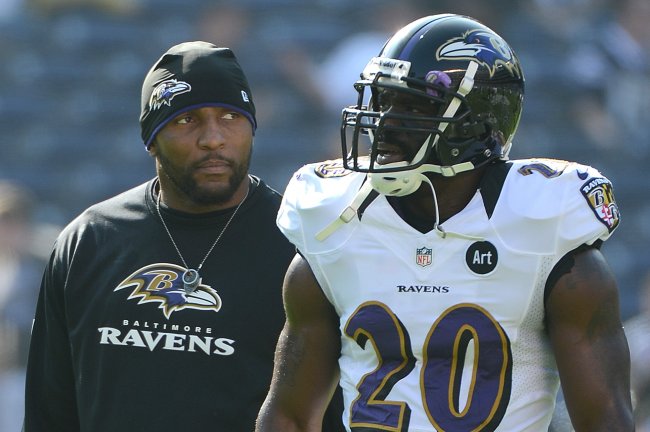 Donald Miralle/Getty Images
The Baltimore Ravens are in an extremely favorable position to make the playoffs at 9-4, but after a two-game skid, the team is not in the clear just yet.
Which player is most vital to his team's playoff chances?
It has three tough matchups left on the schedule and will have to take on the Denver Broncos, New York Giants and Cincinnati Bengals in the next three weeks. The Ravens need to get their emotional leader back in order to improve on their disappointing recent performances.
According to The Baltimore Sun's Aaron Wilson, Ray Lewis is practicing again and will be eligible to return against the Broncos.
Lewis' presence would provide an immediate boost for Baltimore and help the team get wins in these tough games. His ability to be on the field will determine whether the Ravens are able to seal their spot in the postseason.