Alamo Bowl: 5 Texas Starters Better Than Oregon State Counterparts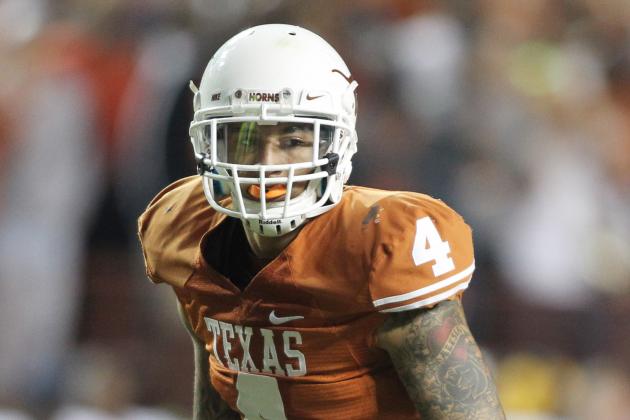 Tim Heitman-USA TODAY Sports

The stage is set for the 2012 Alamo Bowl with the No. 23 Texas Longhorns facing the No. 13 Oregon State Beavers. Judging by the disparity in proven talent between the two teams, Longhorn fans could be disappointed at the end of their team's last game of the season.
This past week the Big 12 released its all-conference teams for the 2012 season. The Longhorns had only two players on the All-Big 12 First Team and Second Team combined, the lowest representation of any school in the conference.
The Pac-12 also released its all-conference teams for the season about two weeks ago. The Beavers, on the other hand, had three players on the First Team alone and had four all-conference players in total.
This may or not be a sign of the times but the main point here is that the Beavers field more talent than the Longhorns, who are going to have to play their best to win this game. What is even scarier for Texas fans is that comparing these two starting lineups the 'Horns have an advantage at only five individual positions.
Here are those five Longhorn players and what they can do to give their team the best chance to win on December 29 in San Antonio.
Begin Slideshow

»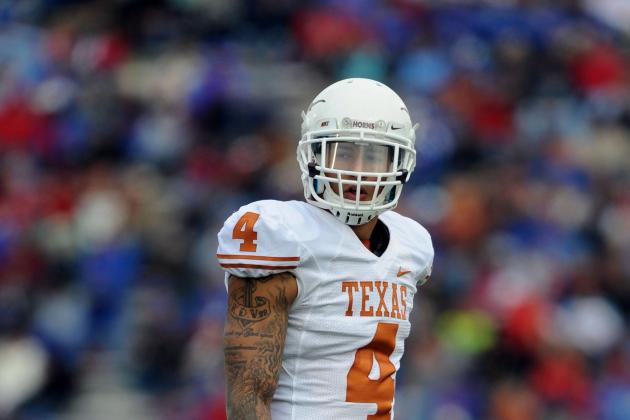 John Rieger-USA TODAY Sports

Counterpart: Ryan Murphy
One Longhorn who is decidedly better than his Oregon State counterpart is senior Kenny Vaccaro, the lone Texas player on the All-Big 12 First Team.
This is not a slight to OSU's Murphy, who was third on the team with 62 tackles in 2012, but a compliment to Vaccaro's play throughout the rough season. Texas' enforcer in the secondary was second on the team in tackles and was instrumental in holding the team together after Jordan Hicks' injury left the defense crippled.
Vaccaro, who is a top-20 prospect in this 2013's draft according to both Mel Kiper and Todd McShay, will have to provide a lot of help in coverage against the Beavers, who have two 1,000 receivers. His services will be also be needed inside, but not as much as previously with the development of linebackers Steve Edmond and Peter Jinkens.
Given how Texas has struggled against the run all season, Oregon State will probably look to run the ball much more than usual. But both receivers Markus Wheaton and Brandon Cooks can get behind the defense in a hurry, so Vaccaro's primary task will be help out his teammates on the outside.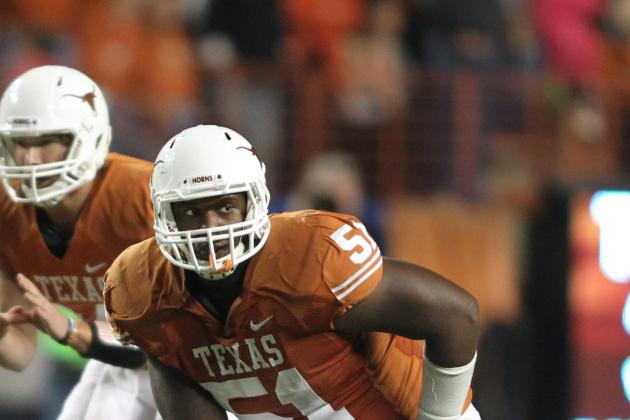 Tim Heitman-USA TODAY Sports
Hawkins has been a rock on the offensive line throughout the season and needs to continue to be agains the Beavers.
Counterpart: Michael Philipp
The Longhorn offensive line has drastically underperformed in big games this season, but JUCO transfer and left tackle Donald Hawkins has been a bright spot. Hawkins will have to step it up against Oregon State sack maven Scott Crichton.
The big tackle Hawkins was brought in to protect whoever was under center for the Longhorns and he has done just that. The Longhorns are tied for No. 20 in the nation for sacks allowed with 14and Hawkins' effort on the left side is a big reason why.
But Hawkins faces one of his toughest tests of the year against Scott Crichton, an All-Pac-12 First Team selection after recording nine sacks in the regular season. The last thing the Texas quarterbacks can afford is to be constantly under pressure, so Hawkins needs to hold Crichton at bay. Especially with Trey Hopkins, the Longhorn offense's lone all-conference selection, out with a stress fracture.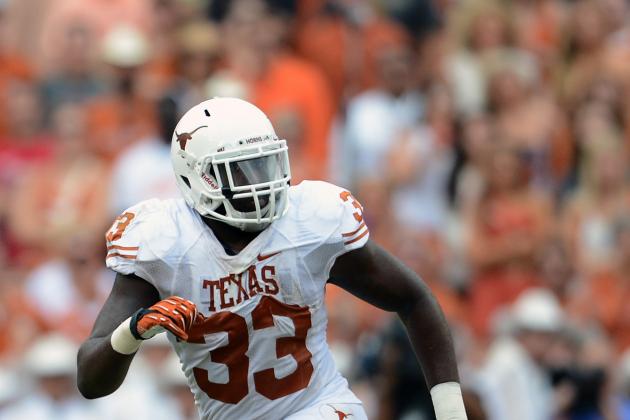 Matthew Emmons-USA TODAY Sports

Counterpart: Reuben Robinson
Sophomore linebacker Steve Edmond had to grow up considerably after Jordan Hicks' injury against Ole Miss. He has, and is now one of Texas' more reliable defensive and will need to continue his growth against the Beavers.
Edmond has to be Texas' most improved player on either side of the ball. He has gone from playing with his hand down in high school to starting for the Texas Longhorns to being the most reliable linebacker the team has on its roster. Not only that, but he leads the team in tackles with 101.
The Beavers are going to try to run on the Longhorns and their hundredth-ranked rushing defense. Edmond needs to continue to effectively communicate with the rest of the defense and finish tackles. Expect the linebackers to play one of their better games of the year behind Edmond and freshman Peter Jinkens, who has likely earned a starting spot for next season with his late-season play.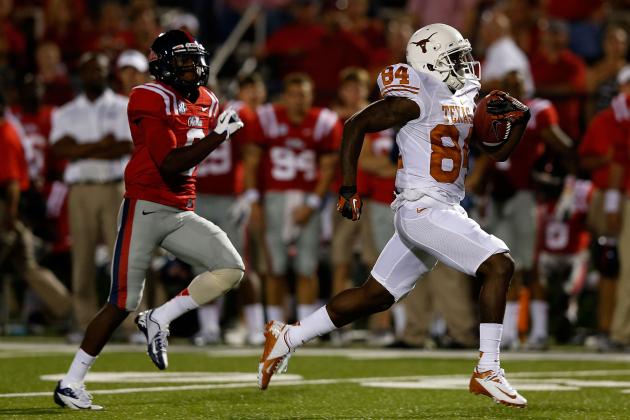 Scott Halleran/Getty Images

Counterpart: Kevin Cummings
Oregon State has a clear advantage at both outside wide receiver positions with Markus Wheaton and Brandon Cooks. However there is a decent drop-off at the No. 3 wide receiver position, a spot where Texas senior Marquise Goodwin will be looking to end his football career on a high note.
Texas has two very solid wideouts in Mike Davis and Jaxon Shipley on the outside, but Oregon State has an obvious advantage at both positions with two 1,000-yard receivers at those positions. But Texas does have an advantage at the slot receiver spot over Kevin Cummings, who averages fewer than 20 receiving yards per contest.
Goodwin, one of three players that run faster than 4.3 in the 40 for Texas, does it all in averaging 56.2 all-purpose yards per game. He has good hands, two rushing touchdowns and is an accomplished kick returner as well.
He had a big game in last season's Holiday Bowl win over Cal, so do not be surprised if he turns it up again for his last game in the burnt orange.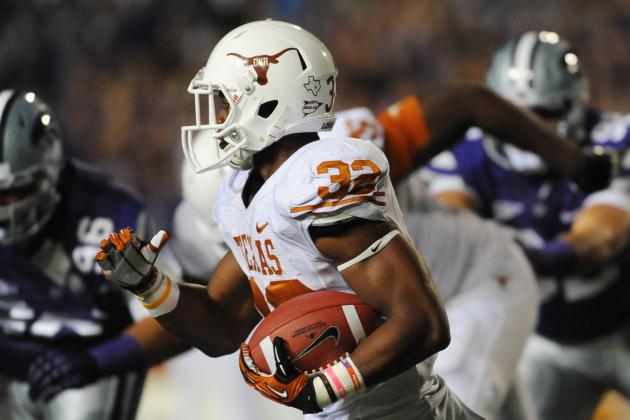 Denny Medley-USA TODAY Sports

Counterpart: Storm Woods
The final Texas starter who holds an advantage over his Oregon State counterpart is freshman tailback Johnathan Gray, who has been a consistent bright spot for the Texas offense.
This is probably the closest to call as Storm Woods has had a very good season in carrying the ball 171 times for 822 yards. But Woods does not share the load with multiple backs the way Gray does and has gotten his carries from the onset of the season, while Gray got his opportunity through injury.
Since starter Malcolm Brown went down with an ankle injury against Oklahoma State, Gray has averaged 5.2 yards per carry and has two 100-yard games, each greater than Woods' output for the season. The main advantage Woods holds over Gray is the touchdown department, where he has an 11 to three edge. However, this discrepancy can be attributed to Texas' goal line back Joe Bergeron, who has 16 touchdowns on the season.
Gray is also a superior receiver to Woods and effectively runs Texas' Wild formation as a freshman, which takes considerable discipline. He will be asked to do all of the above for his team that has struggled to establish the run against better defensive fronts.
The same goes for the sophomore Brown should he regain his starting spot during bowl practice.