Milwaukee Bucks vs. Brooklyn Nets: Live Score, Results and Game Highlights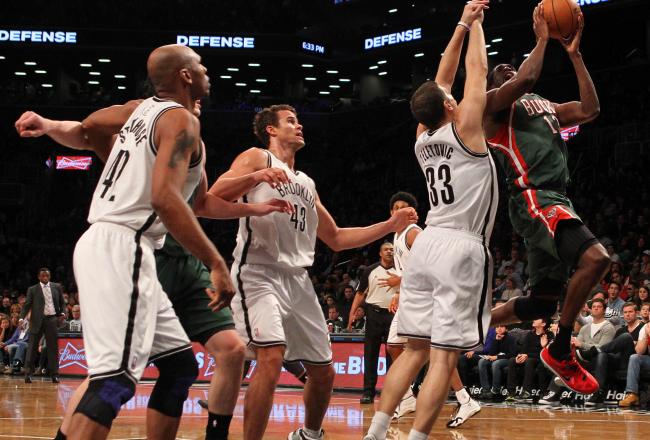 USA TODAY Sports
Final score: Bucks 97, Nets 88.
The Brooklyn Nets made a few courageous runs towards the end of the second half, but the Milwaukee Bucks handled the Nets' attack pretty handily with some fireworks of their own.
In what looked early on like a game that was sure to be a route, the Nets made a run at Milwaukee late. Their first half ineptitude was just too much to recover from, and the Bucks pulled out the W tonight.
Bucks win! Beating the Nets 97-88 tonight in Brooklyn. Brandon Jennings 26p/7a/6r and Monta Ellis 24p/5r to lead Milwaukee. #MILvBKN
— Milwaukee Bucks (@Bucks) December 10, 2012


Final Score: #BrooklynNets 88, @bucks 97. Gerald Wallace paces the #Nets with 16 pts & 16 rebs, @deronwilliams adds 18 points & 8 dimes.

— Brooklyn Nets (@BrooklynNets) December 10, 2012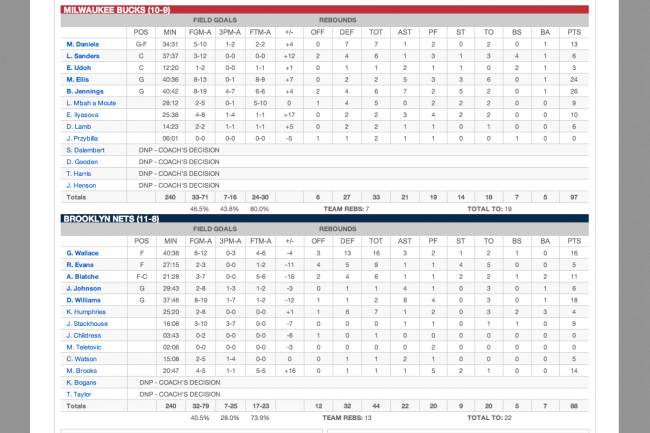 The Bucks proved they had the better backcourt tonight, and really dominated from wire-to-wire, except for a few Nets runs at the end.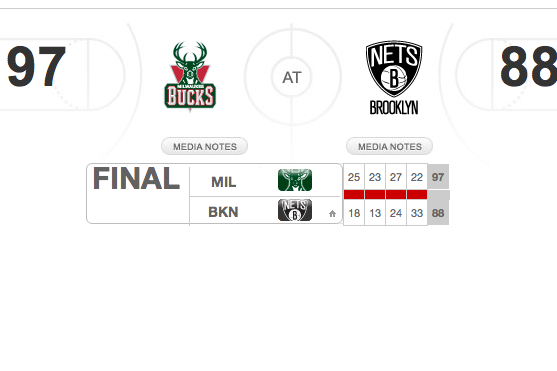 The Nets battled hard in the second half, but to no avail. Their first half doldrums were just too much to recover from.
MarShon draws contact and makes a pair of free throws, but there's now very little time left on that clock. Mbah a Moute is fouled, makes one, and this one is over.
BUCKS 97, NETS 88 — FINAL
Nets aren't quitting just yet, but they're in a position where they have to foul. They wack Ellis, and he makes both.
BUCKS 96, NETS 86 — :44.7 LEFT IN THE 4TH QUARTER
Lead back up to 10 after a Sanders back-door cut and a feed from Jennings. Brooks answers back with a trey, but Marquis Daniels gets those three back on his own. Williams answers back with a two. Mbah a Moute makes the lead 10 with a potential dagger.
So many buckets, very little stops.
BUCKS 92, NETS 84 — 55 SECONDS LEFT IN THE FOURTH QUARTER
What was a six-point lead is back to eight after an Ellis basket assisted by Jennings. Ellis has 20, Jennings has 26.
Wallace leads the Nets with 14. D-Will has 11 and 5 assists.
BUCKS 87, NETS 79 — 2:24 LEFT IN THE 4TH
Gerald Wallace turns down a wide open three in favor a of a colossal dunk! The Bucks follow with a turnover, and the Nets are down eight with MarShon Brooks fouled.
BUCKS 85, NETS 77 — 3:16 LEFT IN THE FOURTH QUARTER
Crash! Goodness! #Nets

— Mike Mazzeo (@MazzESPN) December 10, 2012
THREE-WILL knocks down a triple! Nets down by just eight, until the Bucks answer back with two. Still a game with lots of time left.
BUCKS 85, NETS 75 — 4:00 LEFT IN THE 4TH QUARTER
It's down to 11 after a MarShon Brooks floater. Chants of Brooooooklyyyyyyyn force a Bucks turnover. I think. Nets ball.
BUCKS 83, NETS 72 — 5:10 LEFT IN THE 4TH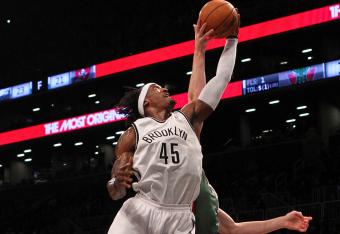 Crash drives, Crash scores. Lots of contact but no call on Ilyasova. This game is now moderately interesting with a half-quarter left to play.
BUCKS 82, NETS 70 — 6:24 LEFT IN THE 4TH QUARTER
Brandon Jennings silences the crowd with a three, the lead is 19 again. Brooklyn just can't put together a solid run on Milwaukee.
BUCKS 82, NETS 68 — 6:45 LEFT IN THE 4TH
Wallace sinks a pair, cutting it to 16. Another stop on defense, leading to a fast break. Wallace to Brooks for the layup—and the foul. He makes the free throw. The crowd is alive!
BUCKS 79, NETS 66 — 8:06 LEFT IN THE 4TH
Nets cut it to 18 and finally get a stop on defense. Wallace goes coast-to-coast and gets fouled. He'll be shooting freebies on the other end of the commercial break.
BUCKS 79, NETS 61 — 8:33 LEFT IN THE 4TH QUARTER
Gerald Wallace does one of the most Gerald Wallace things ever. Saves a loose ball (straight to a Buck) and lands on some unlucky fans in the first, second, and maybe third row. Water bottles everywhere.
I guess Joe Johnson heard me. He sinks a three to cut it to 18, but the Nets need stops. They can't get them, Daniels sinks one to push it back to 20.
BUCKS 79, NETS 59 — 9:41 LEFT IN THE 4TH
Turnover by Brooks leads to a Monta Ellis runner. He has 20, Jennings has 23. Bucks are up big, still. For all the talk about these two great backcourts, only one came to play today.
BUCKS 77, NETS 56 — 10:49 LEFT IN THE 4TH QUARTER
If Brooklyn can't snap out of their funk, and this turns into a four-game losing skid, they could look at this as one of their mot painful losses on the year.
There's no 'might' about it. It tiz. RT @stephenhaynes4: This might be worse than that Timberwolves loss.

— Rod Boone (@rodboone) December 10, 2012
Brooks can't get a last-second attempt to go down, and the quarter ends with the lead at 20. Heading into the final period, do they Nets have a miracle come back in them?
BUCKS 75, NETS 55 — END 3RD QUARTER
Every bounce going the Bucks' way tonight. Stackhouse steals from marquis Daniels, but has it bounce off of him and go out of bounds. Bucks ball. They follow by scoring after a lose ball, and the lead is back to 20.
BUCKS 75, NETS 55 — 10 SECONDS LEFT IN THE THIRD
Humphries checks in for Reggie Evans as the Nets are desperate for offense. Stackhosue misses a three, but Wallace hauls in the board and puts it back for two more.
Doron Lamb silences the crowd by sinking a layup with contact. Three-point play. Nets keep chipping away though.
BUCKS 73, NETS 55 — 1:20 LEFT IN THE 3RD
Nets chip away at the Bucks lead as Drake blares through the Barclays speakers. Milwaukee can't tell the Nets to "Take Care" just yet. (You can "Thank Me Later" for that one.)
BUCKS 70, NETS 52 — 2:42 LEFT IN THE 3RD
Off a jump ball won by Evans, the Nets come down and reward the big man with a feed down low. He comes through, using glass, and cuts Brooklyn's deficit a bit. Scott Skiles calls timeout as the 29-point lead has shrunk to 21. Sound the alarms!
BUCKS 68, NETS 47 — 4:54 LEFT IN THE 3RD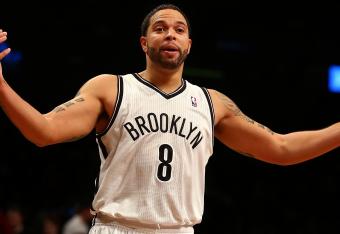 D-Will draws the offensive foul on Jennings, then posts him up for two on the other end. Nice work by the vet.
BUCKS 68, NETS 45 — 5:46 LEFT IN THE 3RD
MarShon giveth, MarShon taketh away. He gets fouled on offense and knocks down a pair, then "fouls" Ellis on a suspect call. Ellis sinks the shot, and one. Ellis gets back on offense for two more on the net possession.
BUCKS 68, NETS 39 —6:51 LEFT IN THE 3RD
This article is
What is the duplicate article?
Why is this article offensive?
Where is this article plagiarized from?
Why is this article poorly edited?

Brooklyn Nets: Like this team?