Messi Makes History, but Barcelona Struggle: Takeaways from the Win at Betis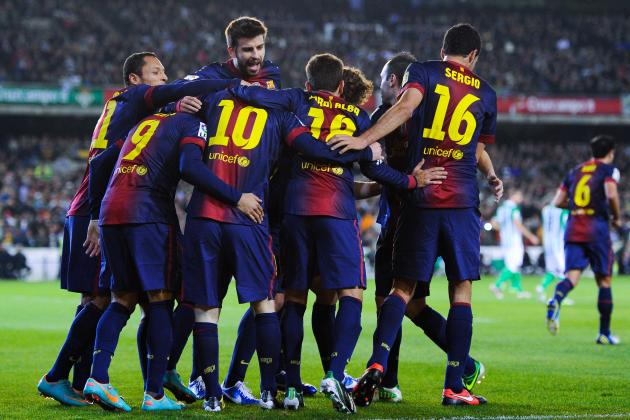 David Ramos/Getty Images

Lionel Messi didn't take long to break Gerd Muller's calendar-year goal record, scoring his fifth straight brace in La Liga inside the first half-hour against Real Betis Sunday night.
The goal that broke the record, in particular, was a true beauty, with a strong run forward from Adriano and a cheeky back-heel assist from Iniesta to set up La Pulga.
But throughout the second half Barcelona faced one of their toughest tests yet in La Liga and can count themselves lucky to have escaped with a narrow victory.
Post-match reports will surely focus on Messi's sensational achievement, but Barcelona would be wise to look ahead and take some lessons from the match.
Begin Slideshow

»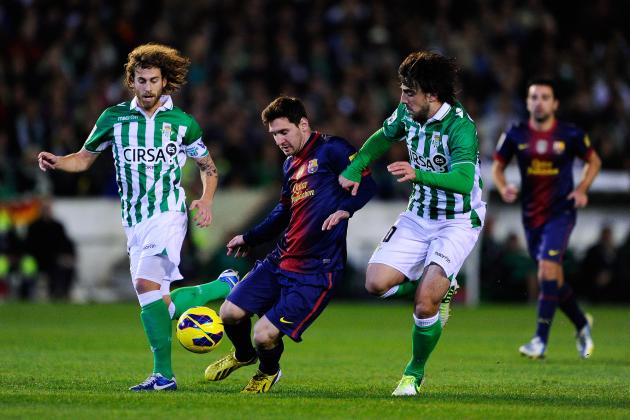 David Ramos/Getty Images

It's hard to criticize a man who scored two goals in a single match to break such a significant and longstanding record. In the spirit of playing devil's advocate, though, I'll come right out and say it: Messi was far from his best at the Benito Villamarin.
Especially in the second half, many Barcelona attacks ended at his feet when he tried to force passes through the middle into the penalty area where a swarm of Betis defenders stood waiting.
Though he did set himself up for what could have been a brilliant third goal five minutes from final time, Messi was uncharacteristically uninvolved throughout the second half as Barcelona rather struggled not only to create chances but to retain possession of the ball, as well.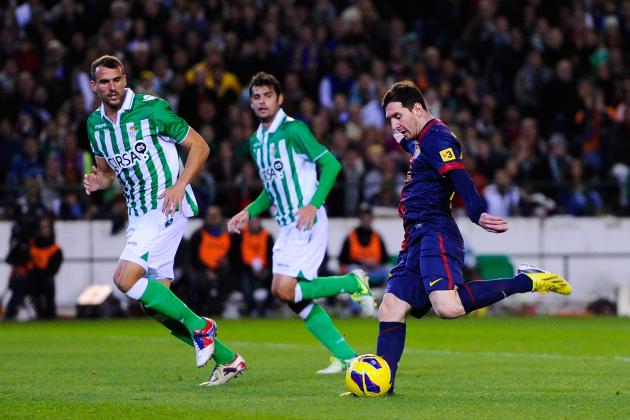 David Ramos/Getty Images

While we're being honest with each other, let's go ahead and admit it: The first goal, far from a Messi classic, was a gift.
When Lionel Messi—Best Goalscorer on Planet Earth—receives the ball just outside your penalty area, and the closest defender is at least three steps away, you know something has gone horribly wrong.
And things only got worse from there, as Messi passed close to four defenders and darted into the area without a single defender even attempting to make a challenge. In fact, not a single player even came within an arm's length of him.
Messi, of course, was well placed to take advantage of his early Christmas present and produced a fine finish.
And, yes, Alexis deserves credit for making a run across Javier Chica. But should the right full-back really be giving priority to the cross-field run when Messi is within shooting distance with the ball at his feet?
Messi was lucky enough to find himself on the ball without a defender right on top of him; but to waltz all the way through without so much as an attempted tackle?
Muller must be shaking his head in disbelief.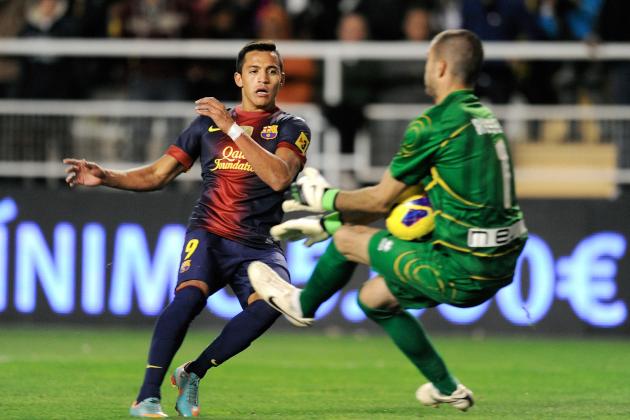 Denis Doyle/Getty Images

Tito Vilanova again preferred Alexis Sanchez to David Villa when Cesc Fabregas went down injured, and the rest of the world was left to ask: Why?
Don't get me wrong. Alexis is a strong attacking player in his own right. He makes clever runs, and he makes them tirelessly.
But with only one goal and three assists in 15 appearances this season, Alexis's output pales in comparison to Villa's (eight goals, with many after coming on as a substitute). More often than not this season, his touches and passes have led to nothing.
Alexis made a hash of more than a few passes that came his way Sunday night, including two crucial giveaways in the second half that led directly to chances for Betis.
Like David Villa, he's not a particularly great passer of the ball. Unlike Villa, though, he simply hasn't made good on his threat to the back line against the teams he has faced and doesn't link up as well with the likes of Iniesta and Messi the way Villa does consistently.
The Chilean's continued inclusion at the expense of the Spanish marksman is approaching the bizarre.
How many chances will he get before Villa ascends in the pecking order?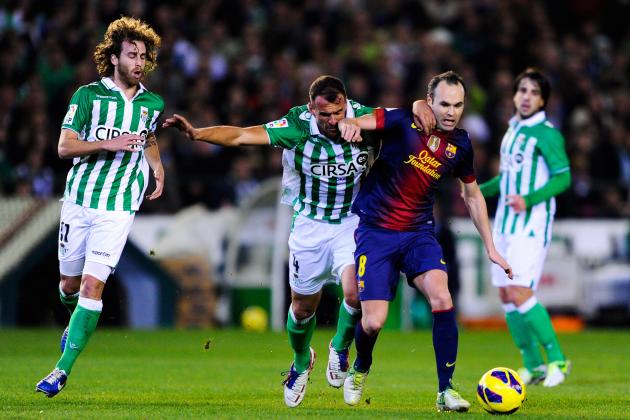 David Ramos/Getty Images

Thank God for Andres Iniesta.
As he showed again today, he is an absolutely crucial player to the Blaugrana, wherever he plays.
His audacious back-heel flick-back set up Messi's record-breaking strike, but he was just as important as a calming influence in midfield throughout the match.
Especially with Fabregas subbed off with a thigh injury and the ineffective Alexis brought on as his replacement, the bulk of the midfield passing duties were left to Iniesta and Xavi.
And while the pair didn't have their best match either—far from it—Iniesta in particular was able to retain possession at key moments, including in the second half when Barcelona looked to be on the brink.
And as usual, he provided plenty of threat going forward, not only through his assist to Messi, but also with his cheeky chip minutes later that forced a diving save from Casto.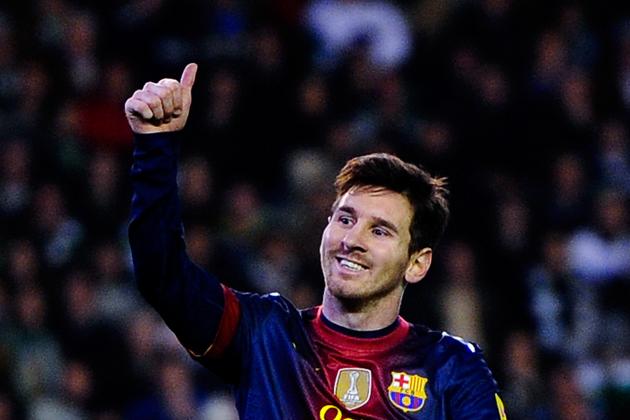 David Ramos/Getty Images

Now that I've finished criticizing Messi for what I thought was—by his own astronomical standards—a subpar performance, I have to admit: he deserved the hat-trick.
Xavi was left with a bit too much time in the center circle at 29 minutes, and he spotted Messi's run behind the Betis back four, finding him with a perfectly timed chip. Messi was well clear of the Betis defenders with only Casto to beat but, unfortunately, was pulled back by the flag from the assistant.
We'll never know if Messi would have gone on to score in the absence of the flag—but at the very least he would have had a great chance to increase Barca's lead to three.
Referees inevitably make mistakes in football matches. Quite often, though, botched offside calls like this one get lost in the final reckoning, because Messi wasn't allowed to carry through and attempt a finish.
If nothing else, people should pay more attention to mistakes like this one, because they have just as much potential to affect the outcome of a match as these ones.