Outback Bowl 2013: 5 Michigan Starters Better Than South Carolina Counterparts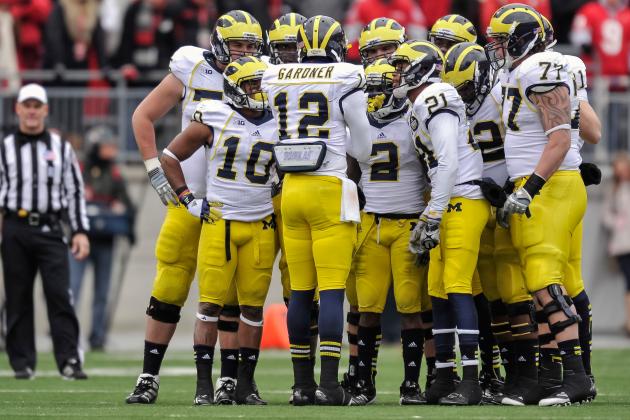 Jamie Sabau/Getty Images

South Carolina, with its potent offense, solid defense and SEC "superiority" is a 5.5-point favorite to beat Michigan in the upcoming Outback Bowl.
The Gamecocks, however, will be playing without running back Marcus Lattimore, arguably their top offense player. Michigan, meanwhile, will most likely be without running back Fitz Toussaint, who is recovering from a lower leg injury suffered in the win over Iowa Nov. 17.
In addition, a nerve injury to quarterback Denard Robinson's throwing arm won't keep him out of the lineup, but he hasn't thrown a competitive pass since the Oct. 27 meeting with Nebraska.
Meeting another SEC team could be no picnic for the Wolverines, who were crushed by Alabama in the season opener and by Mississippi State in the Gator Bowl two years ago. The SEC has also won six straight national championships and is often proclaimed as the best conference in college football.
But the Wolverines have won five of their last seven bowl games against SEC rivals, often showcasing some great players.
Who can forget Chad Henne's 373 passing yards in Michigan's win over Florida in the 2008 Capital One Bowl or Tom Brady's 369-yard passing performance in the 2000 Orange Bowl win over Alabama?
There's no doubt Michigan will have to play a near-perfect game game to secure an upset.
Granted, South Carolina has superior or similar personnel at several positions, but the Wolverines have their share of great ones.
Here are five of them who are better at their respective positions than their South Carolina counterparts.
Begin Slideshow

»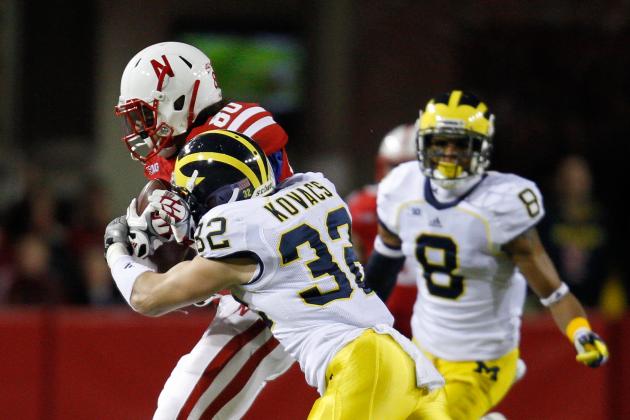 Bruce Thorson-USA TODAY Sports
Jordan Kovacs (32), now wears No. 11 to honor the "Michigan Legend" Wistert brothers.
Fairy tale? For sure.
Jordan Kovacs began his career as a walk-on, and he's ending it as Michigan's Most Valuable Player.
The senior strong safety spent two seasons under Rich Rodriguez and the final two under Brady Hoke.
While Kovacs' play and responsibilities have grown, it's also obvious the team's defense has improved. In 2010, Kovacs was realistically Michigan's last, and sometimes only, line of defense. He was forced to make 116 tackles, many of the solo variety.
Kovacs had plenty of help the last two seasons, both in scheme and personnel. Last year's tackle count was 75, and this year's dropped to 65.
The senior from Curtice, Ohio totaled two sacks, seven tackles for loss and one interception for the 2012 Wolverines, who statistically rank second in NCAA pass defense (155.2 yards per game) and 20th in scoring defense (18.7 points per game).
Kovacs' dad was also a walk-on defensive back for Michigan nearly 30 years ago.
Rick Osentoski-USA TODAY Sports
Will Hagerup and Brady Hoke
Will Hagerup's fine freshman year was upset by a four-game suspension at the outset of his sophomore season. His poor karma continued as he suffered what is commonly known as a sophomore slump.
All is well for the junior since he had one of those bounce-back seasons. Hagerup's 45.0 punting average is tops in the Big Ten, and he's been named to the first-team all-conference squad.
Let's not forget, however, that Hagerup receives a little help. Matt Wile, who normally handles kickoffs and an occasional long field goal attempt, is the designated "pooch" punter. Wile targets the shorter punts inside the 20 with uncanny accuracy. Of nine tries this season, seven have hit the target.
The duo's value could be of utmost importance if the game turns into a defensive struggle. Since both teams allow less than 20 points per game, it's entirely possible.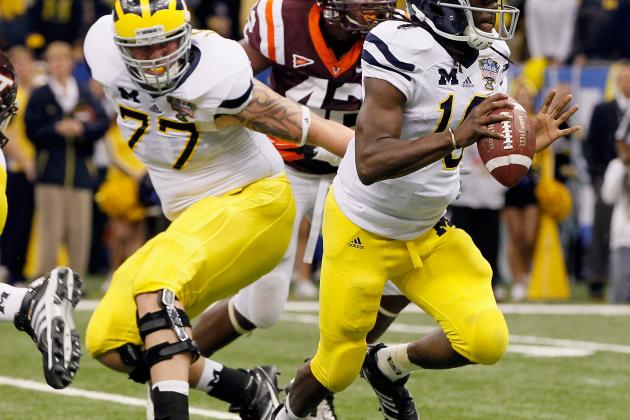 Kevin C. Cox/Getty Images
Taylor Lewan (77)
In recent weeks, Taylor Lewan has been thinking about foregoing his his senior year to enter the NFL draft.
The first-team Walter Camp All-American and Big Ten Offensive Lineman of the Year also has something else to worry about. When Michigan and South Carolina take the field in Tampa, Michigan's outstanding left tackle will most likely face off with Jadeveon Clowney, the Gamecocks' outstanding sophomore defensive end. Like Lewan, Clowney has also been named to the Walter Camp All-American first team.
Clowney's job will be to disrupt the Michigan quarterback duo of Denard Robinson and Devin Gardner. Lewan's job is to protect their backsides.
Even though Lewan is projected to be drafted in the first round, his job will be a tough one. Clowney himself has 13 of the team's 40 sacks. (Michigan, by the way, has totaled only 15.)
Should Lewan somehow battle Clowney to a stalemate, it would be a huge victory for Michigan.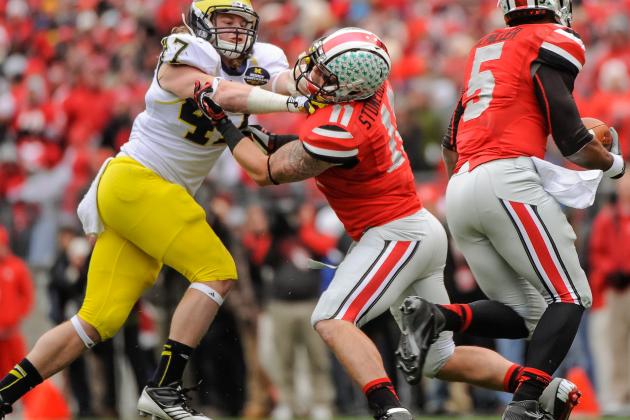 Jamie Sabau/Getty Images
Jake Ryan (47)
A somewhat under-the-radar scout.com 3-star recruit, Jake Ryan was first noticed by Michigan fans when he intercepted a Devin Gardner pass in the 2011 spring game.
Apparently, Ryan became a fan of the spotlight and has regularly played his best in big games.
In last season's Sugar Bowl, four of Ryan's seven tackles were behind the line of scrimmage.
This season, the redshirt sophomore made 10 tackles against Michigan State and nine against the Buckeyes.
For the season, the Cleveland native leads the team in tackles with 84, and also in tackles for loss with 14.5.
An All-Big Ten Second Team coaches' selection, Ryan brings another challenge to the Gamecocks. In addition to lining up at weakside linebacker, he also plays defensive end.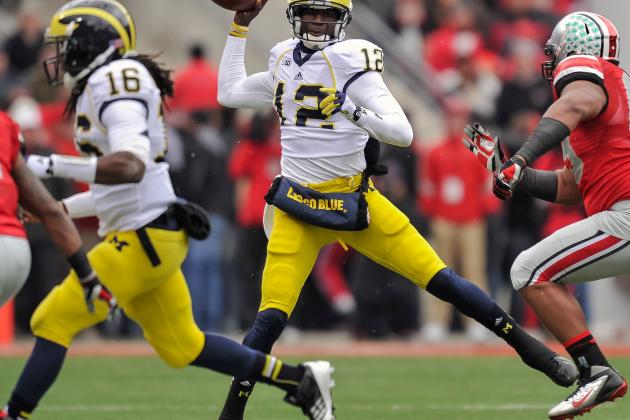 Jamie Sabau/Getty Images
Denard Robinson (16) and Devin Gardner (12)
When Denard Robinson's late-season elbow injury tossed a wrench into Michigan's Rose Bowl plans, it also opened the door for Devin Gardner's future as Michigan's quarterback.
As the Outback Bowl nears, it is likely Michigan will play two relatively healthy quarterbacks at the same time.
Sure, Michigan displayed it against Iowa and Ohio State, but this time, Robinson may contribute with his arm, too.
The threat of two arms in the game at the same time should worry the South Carolina defense. But let's not kid ourselves. The Gamecocks are mostly concerned with Robinson's legs. After all, how many times in his illustrious career has "Shoelace" Robinson won a game all by himself?