NFL Rookie of the Year 2012: How Playoff Race Will Affect This Year's Outcome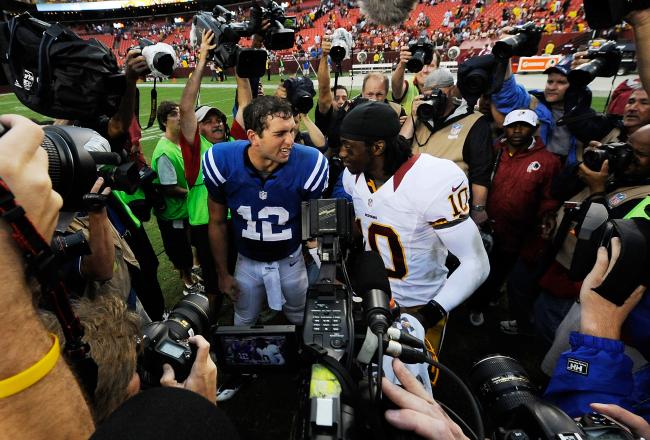 Patrick McDermott/Getty Images
The race for the NFL Rookie of the Year will be a two-horse race between Robert Griffin III of the Washington Redskins and Andrew Luck of the Indianapolis Colts. With both quarterbacks having equally impressive seasons, this race could come down to who makes the playoffs.
Luck has been outstanding for the Colts this season, especially considering that he has helped the Indianapolis faithful forget all about that Peyton Manning guy. Luck has thrown for 3,596 yards with 17 touchdowns and 16 picks through 13 games. He has also run it into the end zone five times.
Clutch performances late in games is an important part of Luck's resume, as the Colts signal-caller has orchestrated six fourth-quarter comebacks this season.
Griffin III has thrown for 2,660 yards with 17 touchdowns and only four interceptions. But what Griffin III lacks in passing yardage, he makes up for with 714 yards on the ground and six touchdowns through 13 games.
RG3 has quickly become one of the most explosive players in the NFL today and has created countless headaches for opposing defenses and their coordinators.
Something has to give in this matchup, as these two young stars are having sensational rookie seasons. The biggest factor in the race will be which quarterback can lead their team to the playoffs.
The Colts are in a better position than the Redskins at the moment.
With a Week 14 win, Indy is comfortably in the first wild-card spot, two games ahead of the Pittsburgh Steelers. As for Washington, the 'Skins are still on the outside looking in but well within reach after beating the Baltimore Ravens in Week 14. They remain just one game out of the NFC East lead.
It's almost a certainty that Indianapolis will go to the playoffs while the 'Skins still have some work to do. With that being said, Luck has the edge over RG3 at the moment, but that will change if Griffin III can match his Rookie of the Year counterpart.
What will make this race more interesting is if both RG3 and Luck make the playoffs. Then it will come down to numbers, and that's where the Colts quarterback has an advantage, however slight it might be.
Luck (3,812) has compiled more total yardage than RG3 (3,374), but Griffin III has thrown 12 less interceptions and has one more touchdown in total. To help override RG3's advantage in those categories, Luck has proven to have the clutch gene as mentioned above, which is a trait not easily found in rookie quarterbacks.
On top of that, upon Luck's arrival, the Colts went from being the worst team in the NFL to a playoff team in just one season. That's not even mentioning the shoes that Luck had to fill when he was drafted No. 1 overall last year.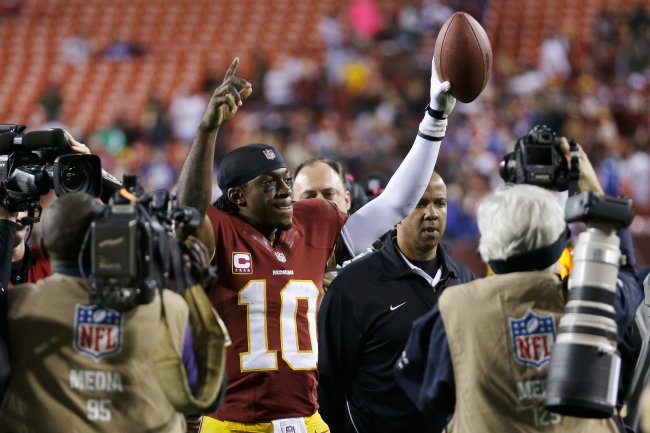 Rob Carr/Getty Images
Griffin III certainly didn't have quite the same shoes to fill, but that doesn't take away from the fact that this race will be incredibly close.
Luck is smashing rookie records by the day, as he has the Colts' record for passing yards by a rookie and most 300-yard games from a first-year player already in his pocket. He is also on pace to smash Cam Newton's record for most passing yards by a rookie in a NFL season.
Who will win Rookie of the year?
RG3, on the other hand, has and will continue to shatter the single-season record for rushing yards by a rookie quarterback, also taken from Newton.
There's no question that both of these quarterbacks are special, and a legitimate case can be made for either to win the NFL Rookie of the Year in what should be the closest race that the award has ever seen. Most importantly, let's hope that the injury that Griffin III sustained against the Ravens isn't serious, or that could throw a wrench into all of this.
The only factor that can wrap this up for good is if one of these rookies leads their team to the playoffs while the other fails to do so.
This article is
What is the duplicate article?
Why is this article offensive?
Where is this article plagiarized from?
Why is this article poorly edited?