World Football Diary: December 10 to 16
David Ramos/Getty Images

With another record out of the way, Lionel Messi can turn to more pressing matters this week: a personal duel with Radamel Falcao.
Messi would never admit to anything of the sort, of course, but that doesn't mean we have to go along with it. Barcelona and Atletico Madrid are set to play this week in La Liga, and all eyeballs will be on the two teams' in-form strikers.
Not surprisingly, the Barca-Atleti tilt tops this edition of the B/R World Football Diary. It's by no means the only big event on the horizon, though. Keep reading for all the biggest fixtures on the horizon this week.
Begin Slideshow

»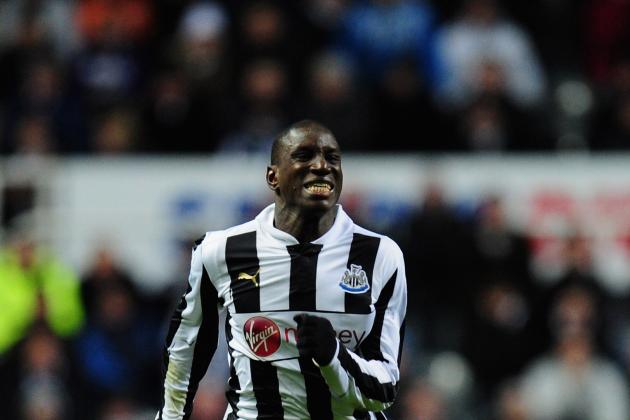 Stu Forster/Getty Images

What to watch: Fulham vs. Newcastle United, English Premier League, 3 p.m. ET (ESPN2, ESPN3)
It's a battle of Premier League strugglers. Fulham are winless in seven matches, and Newcastle just ended a four-match losing run last Monday. Meanwhile, it's also a battle of the league's 13th-placed and 14th-placed teams.
Don't be fooled, though. Newcastle's Demba Ba (pictured) entered the weekend as joint top scorer in the league with 10 goals (he's tied for third now), including three braces. He suffered a hamstring injury last time out, but returned to training this week (via Yahoo! Sport).
Both clubs have struggled this season, but both have also played entertaining matches. Expect some early-season tension at Craven Cottage.
What else is going on (all times Eastern)

La Liga: Rayo Vallecano vs. Real Zaragoza, 3 p.m. (beIN Sport); Serie A: Sampdoria vs. Udinese, 1 p.m. (beIN Sport), Bologna vs. Lazio, 3 p.m. (beIN Sport); Russian Premier League: Rubin Kazan vs. Spartak Moscow, 8:45 a.m., Zenit St. Petersburg vs. Anzhi Makhachkala, 11 a.m.
Happy birthday
Gonzalo Higuain (Real Madrid, Argentina), 25; Neven Subotic (Borussia Dortmund, Serbia) 24; Charlie Adam (Stoke City, Scotland) 27; Wilfried Bony (Vitesse Arnhem, Ivory Coast) 24.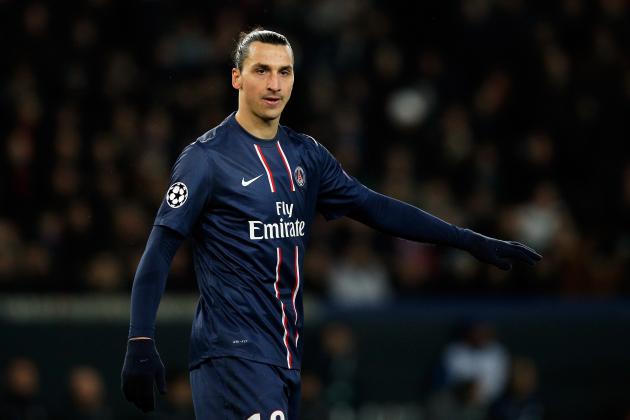 Dean Mouhtaropoulos/Getty Images

What to watch: Valenciennes vs. PSG, Ligue 1, 1 p.m. ET (stream)
Flush with new money, Paris Saint-Germain have flashed enough cash these past few years to buy a continent. In football terms, the injection of cash has translated into a second-placed league finish last season, a trip to the knockout stages of the Champions League this term and another fight atop Ligue 1.
Last season, plucky Montpellier denied PSG the French title. This season, Lyon top the table by five points as the halfway point approaches. PSG are second once again, and Valenciennes are only three points further behind.
Led by Foued Kadir (six goals), Anthony Le Tallec (five) and Gregory Puyol (four), Valenciennes' balanced attack has produced 29 goals, joint-most in the league.
Of course, Valenciennes don't have anyone quite like PSG's Zlatan Ibrahimovic (pictured). Few teams—and few leagues—do. With Zlatan playing, there's a good chance you'll want to watch.
What else is going on (all times Eastern)

English Capital One Cup quarterfinals: Bradford City vs. Arsenal, 2:45 p.m. (beIN Sport); Coppa Italia: Roma vs. Atalanta, 3 p.m. (beIN Sport 2); Copa del Rey (Spanish Cup): Osasuna vs. Valencia, 2 p.m.
Happy birthday
Fabrizio Ravanelli (retired) 44; Leighton Baines (Everton, England) 28; Javier Saviola (Málaga, Argentina) 31; Ari (Spartak Moscow, Brazil) 27; Fabian Johnson (Hoffenheim, USA) 25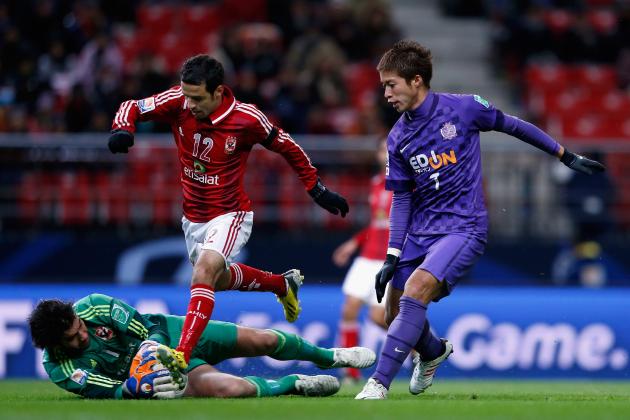 Lintao Zhang/Getty Images

What to watch: Al-Ahly (Egypt) vs. Corinthians (Brazil), FIFA Club World Cup semifinals, Toyota Stadium, Tokyo, Japan, 5:30 a.m. ET (television listings TBA)
Sure, it's not exactly the World Cup. Still, whenever clubs come together on a neutral site to (supposedly) determine the best in the world, we'll probably be interested.
Problem is, this match will be at 5:30 in the morning on the American East Coast. So brew up some coffee and get ready to scout some up-and-coming Brazilian players on Corinthians' roster.
If that's not your bag, there's plenty else scheduled for this busy Wednesday…
What else is going on (all times Eastern)

Copa del Rey, Round of 16 first leg: Cordoba vs. Barcelona, 2 p.m. (beIN Sport); Mallorca vs. Sevilla, 2 p.m.; Atletico Madrid vs. Getafe, 4 p.m.; Celta Vigo vs. Real Madrid, 4 p.m. (beIN Sport); Copa Sudamericana final, second leg: São Paulo (Brazil) vs. Tigre (Argentina), 6:50 p.m. (0-0 after first leg); Women's international friendly: United States vs. China, 8:30 p.m. (Fox Soccer).
Happy birthday
Gary Breen (retired) 39; Daniel Agger (Liverpool, Denmark) 28; Victor Moses (Chelsea, Nigeria) 22; Guilherme (Lokomotiv Moscow, Brazil) 27; Mario Felgueiras (CFR Cluj) 26; Giannis Zaradoukas (Olympiakos, Greece) 27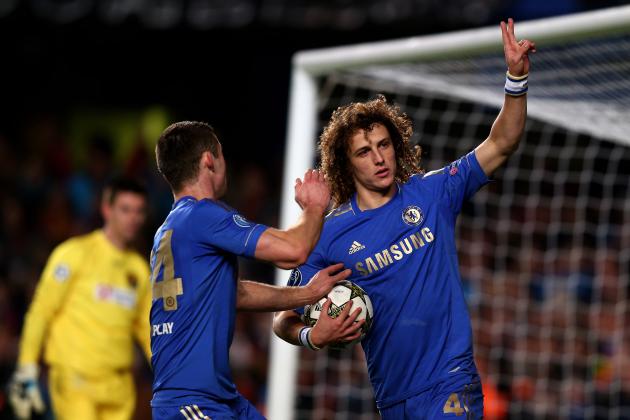 Clive Rose/Getty Images

What to watch: Monterrey (Mexico) vs. Chelsea (England), FIFA Club World Cup semifinals, 5:30 a.m. ET
This is the second semifinal from the FIFA Club World Cup, and it's easily the more intriguing.
Chelsea won the European title last season, but sacked manager Roberto Di Matteo last month. Rafa Benitez took over and immediately faced the scorn of the fans. In recent weeks, the Blues have fallen off the pace in the Premier League and crashed out of the UEFA Champions League.
Will they redeem themselves or prompt further wrath from oil tycoon owner Roman Abramovich?
Monterrey, meanwhile, won the 2011-12 CONCACAF Champions League and finished second in the 2012 Mexican Clausura.
What else is going on (all times Eastern)
Copa del Rey, Round of 16 first leg: Levante vs. Real Zaragoza, 2 p.m., Las Palmas vs. Real Betis, 4 p.m.; Ligue 1: Bordeaux vs. St. Etienne, 3 p.m.
Happy birthday
Santi Cazorla (Arsenal, Spain) 28; Mikael Lustig (Celtic, Sweden) 26; Michal Kadlec (Bayer Leverkusen, Czech Republic) 28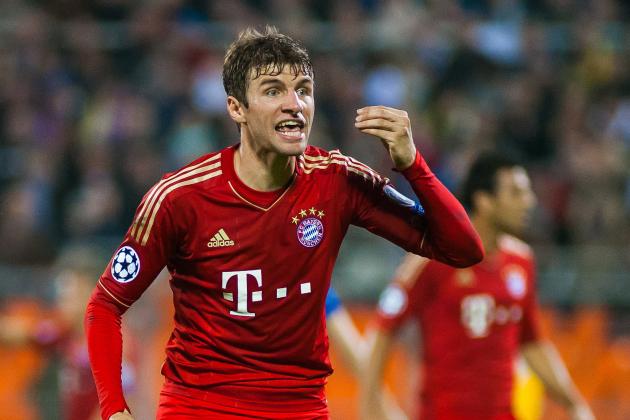 EuroFootball/Getty Images

What to watch: Bayern Munich vs. Borussia Monchengladbach, Bundesliga, 2:30 p.m. ET (television listings TBA)
While most European clubs prepare for their weekend matches, one of the continent's best teams will play Friday afternoon. Lucky us.
Bayern Munich (41 points, 43 goals scored and six conceded), who started the Bundesliga in record form, hold an 11-point lead after 16 matches, just one match before the halfway point of the season. Friday's match is Die Roten's last before the winter break, and you can bet they'll want to go out with a bang.
Thomas Müller (pictured) lobbed a preemptive volley at Borussia Dortmund over the weekend, saying the two-time defending Bundesliga champs are already out of the title race (via Sky Sports).
He and Bayern will have another chance to back up the talk when eighth-placed Borussia Monchengladbach (17 points behind Bayern) visit the Allianz Arena for the Bundesliga's Friday showpiece.
Happy birthday
Chris Waddle (retired) 52; Michael Owen (Stoke City) 33; Jakub Blaszczykowski (Borussia Dortmund, Poland) 27; Markel Susaeta (Athletic Bilbao, Spain) 25; Jean-Alain Boumsong (Panathinaikos, France) 33; Camilo Zuniga (Napoli, Colombia) 27; Steve Sidwell (Fulham) 30.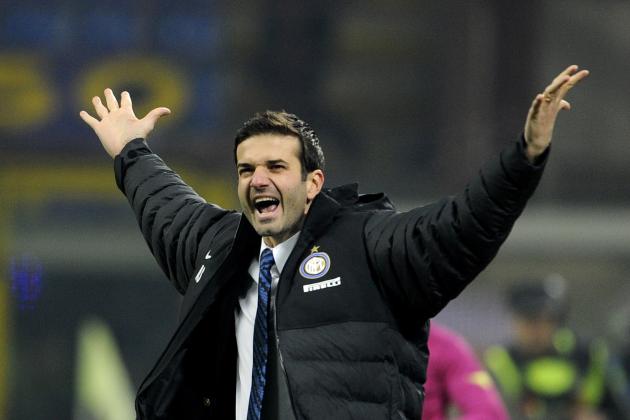 Claudio Villa/Getty Images

What to watch: Lazio vs. Inter Milan, Serie A, 2:45 p.m. ET (television listings TBA)
After a miserable season in 2011-12 that featured a couple of managerial changes, Inter Milan are back in Italy's Serie A. Through 15 matches, young manager Andrea Stramaccioni (pictured) has the Nerazzurri in third place, four points behind leaders and defending champs Juventus.
Diego Milito has seven league goals, while Antonio Cassano and Rodrigo Palacia have chipped in with five apiece. Cassano also has a team-high four league assists.
Part of Inter's success this season has come from strong away form (six wins in eight matches). Sixth-placed Lazio, with the ageless Miroslav Klose leading the line (nine goals, third in Serie A), should provide a stiff test.
What else is going on (all times Eastern)
La Liga:Sevilla vs. Málaga, 4 p.m.; Bundesliga: Bayer Leverkusen vs. Hamburg, 9:30 a.m., Schalke vs. SC Freiburg, 12:30 p.m.; Premier League: Newcastle United vs. Manchester City, 7:45 a.m., Chelsea vs. Southampton, 10 a.m., Manchester United vs. Sunderland, 10 a.m.; Eredivisie: NEC Nijmegen vs. PSV Eindhoven, 2:45 p.m.
Happy birthday
Allan Simonsen (retired) 60; Dennis Wise (retired) 46; Martin Skrtel (Liverpool, Slovakia) 28; Roman Pavlyuchenko (Lokomotiv Moscow, Russia) 31; Steven N'Zonzi (Stoke City) 24.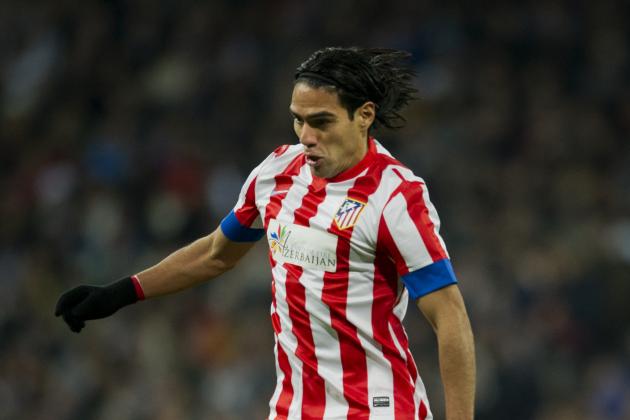 Jasper Juinen/Getty Images

What to watch: FIFA Club World Cup final, Teams TBA, International Stadium Yokohama, 5:30 a.m.
We don't know who will be playing yet, so…
What else to watch: Barcelona vs. Atletico Madrid, La Liga, 3 p.m. (television listings TBA)
Now here's a league match worth salivating over—even in December. Barcelona lead Spain's La Liga by six points over Atletico Madrid (Atleti's crosstown rivals Real are 11 points behind Barca). Coincidentally enough, the top two play Sunday at Barca's Camp Nou.
From what we can tell, Lionel Messi has recovered from his scary-looking knee injury. His last time out, he only scored twice and set a new all-time record for most goals in a calendar year. Oh, and Barca beat Real Betis 2-1.
Atletico kept pace with a 6-0 whupping of bottom feeders Deportivo La Coruña. Hotshot Colombian striker Radamel Falcao (pictured) scored five goals—five!—to give him 16 on the season, second only to Messi in the La Liga stats.
Buckle up. This one could be intense.
What else is going on (all times Eastern)
FIFA Club World Cup: Third-place match, Teams TBA, International Stadium Yokohama, Yokohama, Japan, 2:30 a.m. ET; La Liga: Real Zaragoza vs. Levante, 6 a.m., Valencia vs. Rayo Vallecano, 11 a.m., Real Madrid vs. Espanyol, 1 p.m.; Serie A: Fiorentina vs. Siena, 6:30 a.m., AC Milan vs. US Pescara, 9 a.m., Juventus vs. Atalanta, 9 a.m., Parma vs. Cagliari, 9 a.m., Napoli vs. Bologna, 2:45 p.m.; Ligue 1: Lyon vs. PSG, 3 p.m.; Bundesliga:TSG Hoffenheim vs. Borussia Dortmund, 9:30 a.m.; Premier League: Tottenham vs. Swansea, 8:30 a.m., West Brom vs. West Ham, 11 a.m.
Happy birthday
Francesco Graziani (retired) 60; Mats Hummels (Borussia Dortmund, Germany) 24; Sylvain Distin (Everton) 35.