The 6 Teams Arsenal Could Face in the Champions League Last 16 Previewed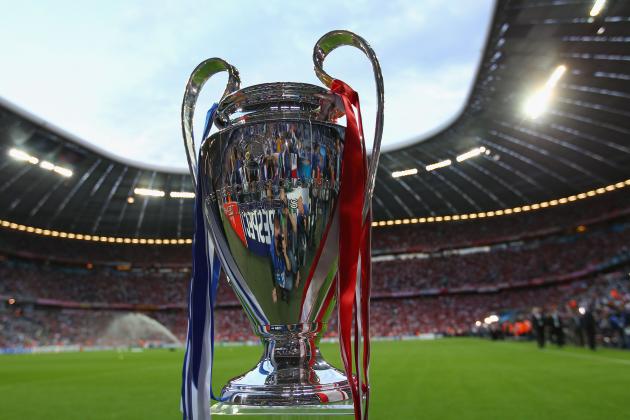 Alex Livesey/Getty Images
The prize Arsenal are fighting for
Arsenal's second-place finish in the Champions League group stage leaves them in a somewhat precarious position. They had originally intended to take a strong team to Olympiacos and give their all to win the group.
Instead, a combination of tired legs and poor domestic form meant that Arsene Wenger had to field a significantly weakened side in Greece. The 2-1 defeat they suffered allowed Schalke to retain their spot at the top of the group, and means Arsenal now face the daunting prospect of a tie with one of six group-winners.
They cannot be drawn against the winners of their own group—Schalke—or a team from the same association, which rules out Manchester United. Instead, they will come up against one of the following:
Paris St-Germain
Malaga
Bayern Munich
Barcelona
Over the following slides I'll be assessing the strengths and weaknesses of each of these teams, and trying to determine the dream scenario for Arsenal fans for the draw on December 20.
Begin Slideshow

»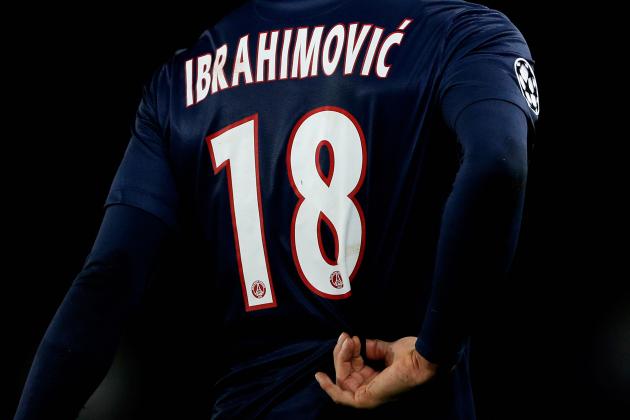 Dean Mouhtaropoulos/Getty Images
Zlatan Ibrahimovic is PSG's dangerman
Strengths
Paris St. Germain's occasionally indifferent domestic form has landed their manager, Carlo Ancelotti, in hot water. However, it is impossible to argue with their phenomenal record in this season's Champions League.
Despite it being their first time in the competition since the Qatari takeover of 2011, they finished the group stage with 15 points—the highest total across the entire competition.
Weaknesses
Perhaps the greatest danger to PSG is that the club could be destabilised during the January transfer window. The team seems to be beginning to form an identity; bringing in a host of new players, or indeed a new manager, could endanger that.
There are also question marks over whether or not they are too reliant on the totemic Zlatan Ibrahimovic.
Dangerman
Undoubtedly, Zlatan is the key man for PSG.
His enormous price tag brought with it a similarly huge degree of expectation, and remarkably the Swedish forward has thus far delivered. He also has previous success against Arsenal, scoring two goals at the Emirates for Barcelona in 2010.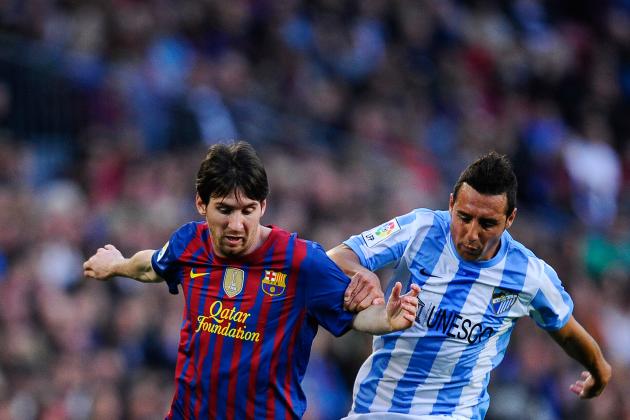 David Ramos/Getty Images
Santi Cazorla, now of Arsenal, in action for Malaga last season
Strengths
Malaga are the surprise package of this year's Champions League, emerging top in a group that also contained AC Milan and the much-fancied Zenit St. Petersburg. Since losing Santi Cazorla to Arsenal, other stars like Joaquin, Isco and Diego Buonanotte have stepped up to fill the creative void.
Weaknesses
Malaga have the meanest defence in La Liga, but occasionally lack a cutting edge. Much like Arsenal, they don't have a clinical centre-forward to rely on who can produce a goal out of nothing.
Dangerman
Spain is famous for producing technically-gifted playmakers, and 20-year-old Isco is the latest in that mould. His form this season has seen him linked with a string of top clubs, but Malaga will hope their Champions League progression will be enough to hold on to him—for this season at least.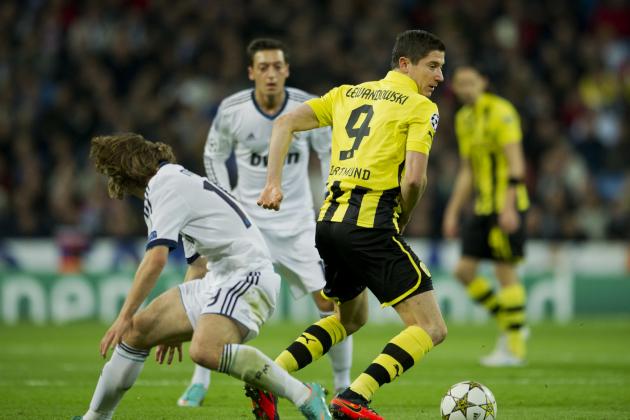 Jasper Juinen/Getty Images
Robert Lewandowski in action against Real Madrid
Strengths
This is a more experienced, more confident, and more expressive Dortmund side than the one Arsenal faced last season. Winning a group containing Real Madrid and Manchester City speaks volumes for their improvement.
Their success is based on a hugely committed pressing game, and incisive counter-attacks.
Weaknesses
Their performances this season have been so convincing that it's hard to identify one.
However, the likes of Madrid and City are both teams that pile forward, allowing Dortmund to exploit the gaps left with their slick counter-attacks.
Perhaps the German Champions would come unstuck against a side more prepared to sit back and defend. Unfortunately, that is rarely a realistic option for Arsenal.
Dangerman
Picking out just one individual isn't easy. There's the Polish target-man Robert Lewandowski, German dribbler Mario Götze, or goal-scoring winger Jakub "Kuba" Błaszczykowski.
The man I'm going to for, however, is a new signing this season: Marco Reus. His penetrating runs and clinical finishing make him a constant threat.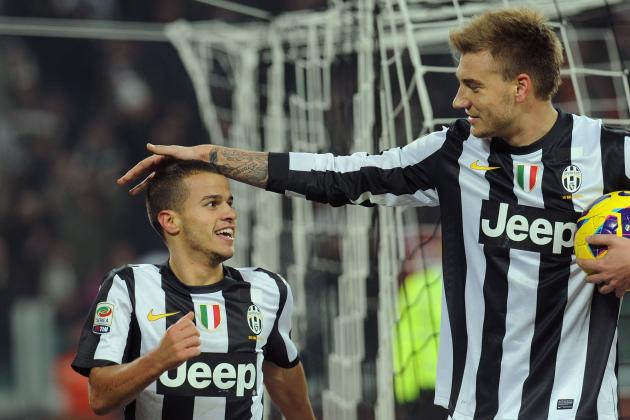 Valerio Pennicino/Getty Images
Arsenal old-boy Nicklas Bendtner in Juve action
Strengths
They say great teams build from the back, and Juventus have done just that with an imposing central defensive partnership of Leonardo Bonucci and Giorgio Chiellini ahead of the world's most expensive goalkeeper, Gigi Buffon.
The tight-knit Italian defence is something of a stereotype, but the fact that this unit carried Juve through 49 Serie A games unbeaten tells us that, in this instance, it's more than just a cliche.
Weaknesses
Much like Malaga, Juventus are often accused of a lacking a natural goal scorer. Fabio Quagliarella is regarded as more of a "scorer of great goals" than a great goal scorer; whilst neither of the little-and-large pair of Nicklas Bendtner and Sebastian Giovinco has convinced in the central striker's role.
There is talk of a January move for Fernando Llorente (via Daily Mail), and it's not hard to see why.
Dangerman
French midfielder and former Manchester United man Paul Pogba would return to England with a point to prove. Although only just beginning to establish himself in the Juve first team, his performances this season have seen him likened to Patrick Vieira, only with a greater goal-scoring threat. Not bad at all!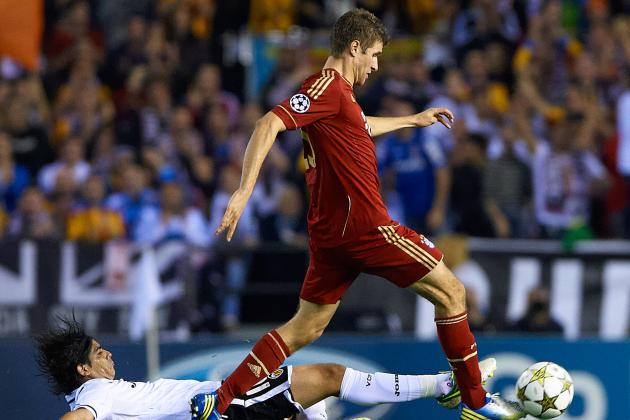 Manuel Queimadelos Alonso/Getty Images
Thomas Muller in action against Valencia
Strengths
Bayern Munich are ruthless. They are on a relentless march towards another Bundesliga title, and keen to double that up by avenging last season's Champions League Final defeat on penalties against Chelsea.
They have goal-scoring threats all over the park: Franck Ribery, Mario Gomez, Mario Mandzukic and Thomas Muller to name but a few. Imagine if Arjen Robben could stay fit and add his undoubted quality to their attacking arsenal on a regular basis.
Weaknesses
Such is Bayern's dominance in the Bundesliga, the greatest danger they face is that complacency could creep in to their game. They can't allow their domestic security to impinge upon their European ambitions.
Dangerman
Thomas Muller is an unusual player. He's neither a pure striker nor a pure winger; instead he's more of an old-fashion inside forward. His game is typified by intelligent movement and reliable finishing, and he's now carved a consistent niche for himself drifting in from the right-hand side of the Bayern Munich attack.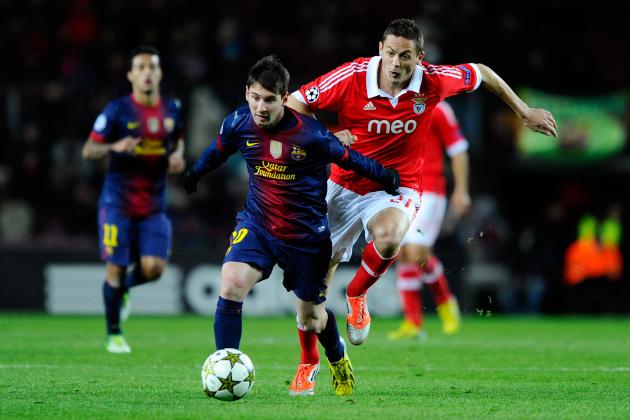 David Ramos/Getty Images
The world's greatest player?
Strengths
Barcelona's passing game is one of the great wonders of the footballing world. On the ball, there is no one better; and they're not bad off it too, marrying their unrivaled technique with an impressive work rate.
Weaknesses
There are question marks over Barcelona's options at centre-back. With Carles Puyol succumbing to injury with increasing frequency, midfielders Javier Mascherano and Alex Song are being pressed in to defensive action on a regular basis, and might be vulnerable against a sustained, physical attack.
Dangerman
Do I really need to say it?
Lionel Messi is the greatest footballer I've ever had the pleasure of watching, and I say that having seen him destroy my beloved Arsenal on more than one occasion.
As I write this, I am watching Lionel Messi break the record for most goals scored in a calendar year. It is an achievement befitting of his outrageous talent.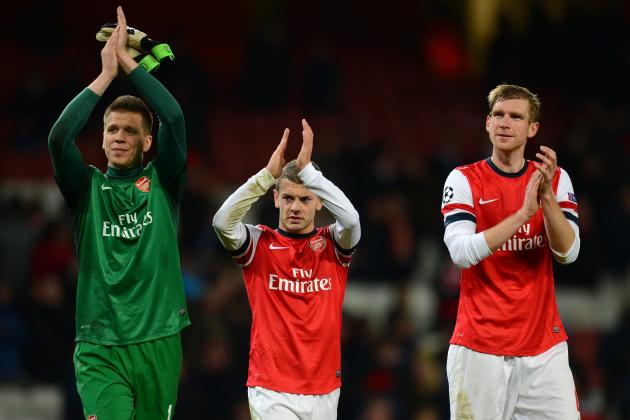 Mike Hewitt/Getty Images
Arsenal's players await the Champions League draw
For me, Arsenal's Christmas wish is simple: to avoid the quartet of Juventus, Dortmund, Munich and Barcelona. All four of those sides have to be considered among the favourites to reach this year's final, and would represent a huge test to an Arsenal side spending yet another season in transition.
A draw against PSG or Malaga seems, on paper, to represent a far more manageable task.
Personally, I'm hoping that Arsenal will be travelling to Paris in the new year. Arsene Wenger would relish the chance to go up against the cash-rich outfit, and the tie would retain all the glamour one associates with the Champions League whilst still giving Arsenal a realistic chance of progression.
Arsenal's fate will be decided on December 20. I'm afraid to say that despite my preference for PSG or Malaga, there is no easy draw. It feels like Russian roulette, only every barrel contains a bullet.