Cotton Bowl 2013: 9 Texas A&M Starters Better Than Oklahoma Counterparts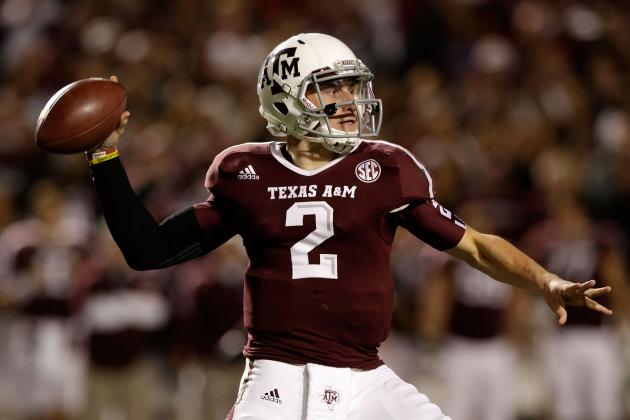 Scott Halleran/Getty Images

The No. 9 Texas A&M football team will play the No. 11 Oklahoma Sooners in the 2013 Cotton Bowl on January 4 in Arlington, TX. It will be the third time the Aggies have played in the Cotton Bowl in the past three years.
It will mark the fifth time the Ags will have played in Cowboys Stadium in Arlington in the past four years. The Texas A&M football players are obviously familiar with the venue, the bowl game and their opponent.
The Texas A&M football players played against Oklahoma every season for the past 16 years as members of the Big 12 Conference. Oklahoma has gotten the better of that series winning eight of the last 10 meetings with the Ags.
This version of the Aggies squad has been hardened by a season of SEC play. This is a look at how the players match up between the two programs. This is a look at which A&M starters are better than the starters from Oklahoma.
Begin Slideshow

»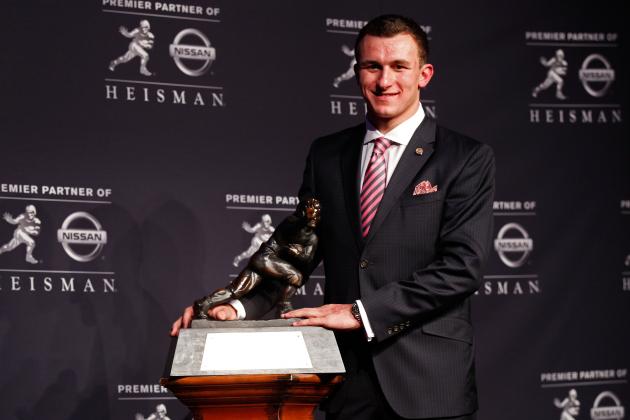 Mike Stobe/Getty Images
2012 Heisman Trophy Winner Johnny Manziel
Texas A&M starts the 2012 Heisman Trophy winner Johnny Manziel at quarterback, while Oklahoma starts Landry Jones. At times during his career, Jones has been brilliant, but his inconsistent play has frustrated Sooner fans for the past four years.
Manziel has completed 68 percent of his passes for 3,419 yards with 24 touchdowns and eight interceptions. Jones has completed 65 percent of his passes for 3,989 yards with 29 touchdowns and 10 interceptions.
Manziel completed a higher percentage of his passes and has thrown less interceptions. The Ags freshman quarterback has also rushed for 1,181 yards and 19 additional touchdowns. Jones rushed for negative yardage on the season with no touchdowns.
Jones is a streaky quarterback who will go through periods of exceptional accuracy, and then will make poor decisions that defy any kind of logic. Manziel has been much more consistent this season than Jones.
The Aggies obviously have the better quarterback between the two schools in Manziel.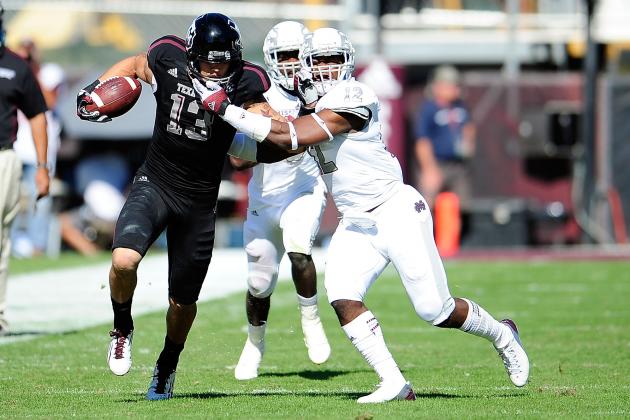 Stacy Revere/Getty Images

Texas A&M freshman receiver Mike Evans is better than any outside receiver than Oklahoma has. Evans has caught 75 passes for 1,022 yards and five touchdowns. No one on the Oklahoma squad surpassed 900 yards receiving.
Evans is 6'5" receiver that is a mismatch for any opponent. He has used his size and unusually strong hands to put together an outstanding freshman season in the SEC.
He earned freshman All-SEC honors and for his tremendous inaugural season. With three more years of eligibility from Manziel and Evans, the future certainly looks bright for the Aggies offense.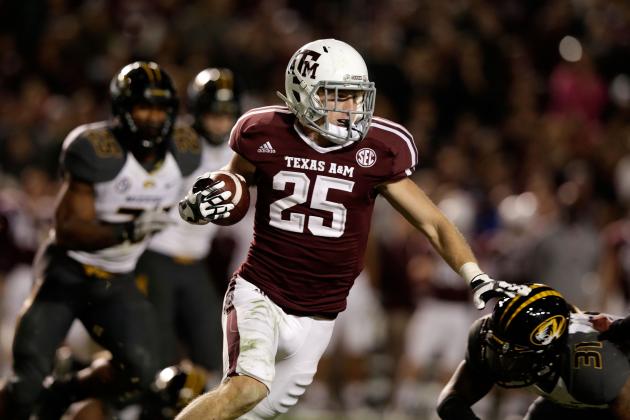 Scott Halleran/Getty Images
Aggie WR Ryan Swope vs. Missouri
The Ags have one of the top slot receivers in the nation in Ryan Swope. The senior from Austin, TX put together a solid season with 64 receptions for 809 yards and seven touchdowns.
Swope set schools records for career receptions and career receiving yardage during the 2012 season. In 2011, he set A&M records for receptions and receiving yardage in a season.
Swope's signature game of the season was against then-No.1 Alabama when he had 11 receptions for 111 yards and a touchdown.
Oklahoma has some very talented wide receivers, but none are as effective in the slot as Swope.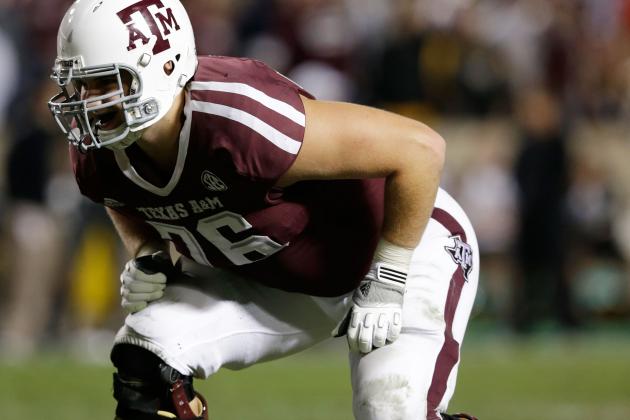 Scott Halleran/Getty Images
Aggie left tackle Luke Joeckel
Texas A&M left tackle Luke Joeckel is the best left tackle in college football and won the Outland Trophy as the nation's best interior lineman. Joeckel is considered by many people to be a top-five NFL draft pick if he declares early for the NFL draft.
The junior from Arlington, TX is one of the best ever to play the position at A&M. He has stood up against the best pass-rushers in the nation in the SEC. If he returns to Texas A&M for his senior season, then he will likely be a two-time first team All-American.
Manziel won the Heisman, but it could be argued that there is no one on A&M or Oklahoma's team as good at their position as Joeckel is at his.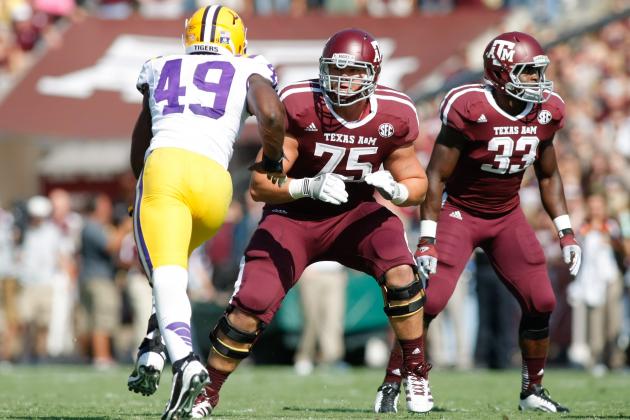 Brett Davis-USA TODAY Sports
Aggie RT Jake Matthews vs. LSU
Texas A&M right tackle Jake Matthews is one of the top offensive linemen in college. He is also considered a future first-round draft pick along with Joeckel and Aggie defensive end Damontre Moore.
Matthews earned All-SEC honors for his play this season. He has been a dominant run-blocker and very solid in pass protection. Texas A&M has the best bookend tackles in the nation in Matthews and Joeckel.
As the right tackle, Matthews has not receiver as much publicity as Joeckel, but he projects to the left side in the NFL. He is the son of NFL Hall of Famer Bruce Matthews and the brother of current NFL center Kevin Matthews.
Thomas Campbell-USA TODAY Sports
Aggies center Patrick Lewis vs Florida
Texas A&M center Patrick Lewis has had a tremendous senior season. He is often overshadowed by the Aggies' all-world bookend tackles Luke Joeckel and Jake Matthews, but he has been outstanding in his own right.
Lewis has led an offense that leads the SEC in rushing yardage, total yardage and scoring in 2012. The Ags lead the SEC with 235 yards per game rushing, 552 yards total and 44.8 points per game.
Lewis calls the signals to align the offensive line for every snap. He is the key to the Aggies hurry-up offense. Oklahoma's Gabe Ikard has had a very good junior season, but Lewis has been outstanding.
Texas A&M junior defensive end Damontre Moore is one of the top defensive players in the country. Moore finished his junior season with 80 tackles, 20 tackles for loss and 12.5 sacks.
To put that into perspective, Moore has more tackles for loss and sacks than the starting four defensive linemen for OU combined. Moore has been a dominant force at defensive end for the Aggies.
He was slowed late in the season by multiple injuries, but he still put together an outstanding year. Moore is better than any defensive end that OU has on their roster.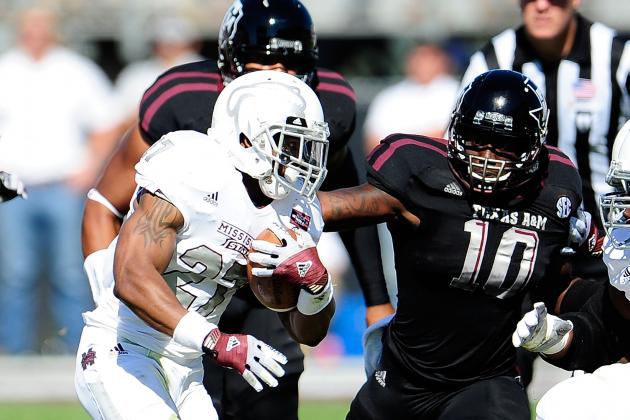 Stacy Revere/Getty Images
A&M OLB Sean Porter vs. MSU
Texas A&M outside linebacker Sean Porter had a solid senior season. With the Aggies' switch to a 4-3 defense, Porter was asked to drop into coverage more than in the past.
Porter had 60 tackles on the year with 5.5 tackles for loss and 2.5 sacks. He also added an interception which he returned for 16 yards.
None of Oklahomaa's linebackers had as many tackles, tackles for loss or sacks as Porter. The senior from the San Antonio area has quietly been one of the best linebackers in the country for the past four years.
Scott Halleran/Getty Images
Aggie OLB Steven Jenkins
Texas A&M outside linebacker Steven Jenkins had a breakout season as a junior. He had 70 tackles, five tackles for loss, two sacks and an interception.
Jenkins has more tackles and more tackles for loss than any OU linebacker. Along with Sean Porter, Jenkins was the backbone of an Aggie defense that allowed only 3.7 yards per carry in 2012.
Jenkins is a junior and will be relied upon to lead the Aggie linebacker corps in 2013.