UFC on Fox 5 Results: Benson Henderson and the 10 Best Lightweights in History
Photo credit: Ron Chenoy-US PRESSWIRE
Well, that was convincing.
At UFC on Fox 5 Saturday night, Benson Henderson thoroughly and enthusiastically defended his lightweight belt against a nasty and streaking challenger in Nathan Diaz. Henderson smothered Diaz's potent boxing attack, took him down at regular intervals and tenderized him with ground strikes. It was a horn-to-horn trucking, and a true unanimous decision win.
Only a bona fide elite at the top of his game can produce that kind of masterwork. Plenty of fans were reluctant to buy many shares in Bendo after two rather uncompelling wins over the beloved Frankie Edgar (one to win the belt and one to defend it). But after Saturday night, the time to get in on the ground floor is officially over.
So yeah, no question Bendo's a champion. But where does he rank among the top 10 lightweights of all time? Does he even crack the list? Let's take a look, why don't we.
10. Gray Maynard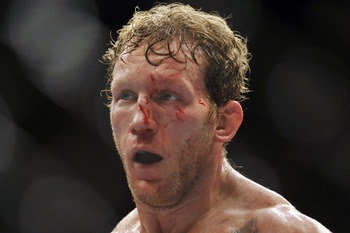 Joe Camporeale-USA TODAY Sports
Record: 11-1-1 (1)
Notable victims: Frankie Edgar, Kenny Florian, Nate Diaz, Clay Guida
Gray Maynard might be the most powerful wrestler ever at 155 pounds. Given his record and hit list, the fact that he's never worn gold in his MMA career is like some kind of strange magic trick.
9. Eddie Alvarez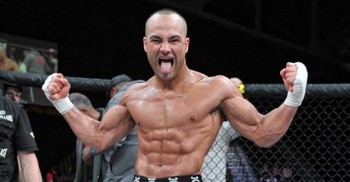 Photo credit: Bellator
Record: 24-3
Notable victims: Shinya Aoki, Joachim Hansen, Roger Huerta, Patricky Freire, Josh Neer, Pat Curran
The former Bellator lightweight champ and tourney winner, and a finalist in DREAM's 2008 lightweight grand prix, Eddie Alvarez has a longer track record of success than some may realize. Maybe that's why Alvarez and his lethal technical boxing are the most eligible bachelors on the current MMA free-agent market.
8. Sean Sherk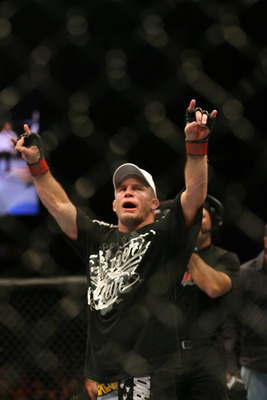 Tasos Katopodis/Getty Images
Record: 36-4-1
Notable victims: Kenny Florian, Evan Dunham, Hermes Franca
Sean Sherk is typically identified with the lightweight division, where he ground-and-pounded his way through Kenny Florian to become the UFC's second-ever champion at 155 pounds.
And though that's where he certainly made the most hay, he also had a good run at welterweight, where he defeated Nick Diaz and Karo Parisyan, among others.
7. Shinya Aoki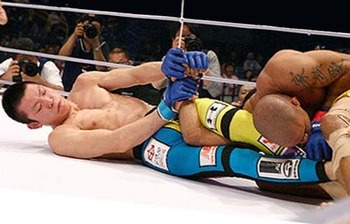 Photo credit: The Fight Nerd
Record: 31-6 (1)
Notable victims: Eddie Alvarez, Caol Uno, Mizuto Hirota, Joachim Hansen, Arnaud Lepont, Lyle Beerbohm, Tatsuya Kawajiri
The defending DREAM lightweight belt holder, Aoki has the best limb-lock submissions of any lightweight ever. He has some great wins, but has never consistently faced truly elite opponents.
6. Takanori Gomi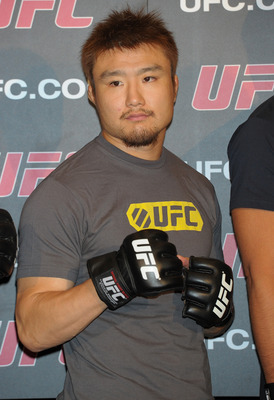 Koki Nagahama/Getty Images
Record: 34-8 (1)
Notable victims: Jens Pulver, Hayato Sakurai, Tatsuya Kawajiri, Duane Ludwig
A folk hero in Japan, Takanori Gomi is probably the hardest hitter in lightweight history. The former Pride lightweight lineal and Grand Prix champion, Gomi's rep took a severe body blow when he moved to the UFC and dropped three of his first four.
He's won two straight since, but both came over decidedly lesser competition. As it stands, Gomi's still searching for that lost mystique.
5. Gilbert Melendez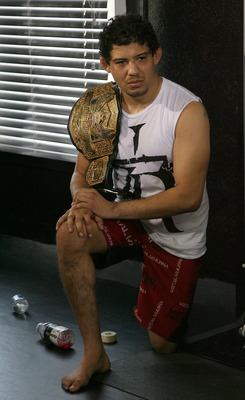 Valerie Macon/Getty Images
Record: 21-2
Notable victims: Shinya Aoki, Tatsuya Kawjiri, Clay Guida
No question that Gilbert Melendez, the six-time defending Strikeforce lightweight titlist, is one of the best lightweights out there today and of all time. Now that Strikeforce is finally resting comfortably in hospice care, one would assume that Gilbert's move to the UFC is imminent.
One of the main knocks on the well-rounded Californian is a lack of quality opponents. It will be interesting to see what he can do in the UFC; to be certain, his presence will certainly enliven the division. If he does go to the Octagon and can string together some wins, he might be poised to move up this list.
4. Frankie Edgar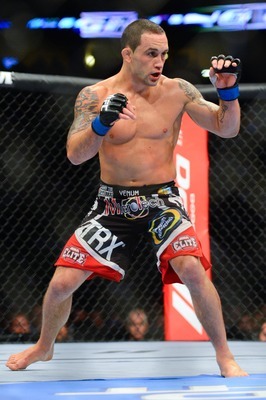 Ron Chenoy-USA TODAY Sports
Record: 14-3-1
Notable victims: B.J. Penn, Gray Maynard, Sean Sherk, Jim Miller, Mark Bocek
Frankie Edgar is one of the most popular fighters in MMA today, in any promotion or at any weight class. The New Jersey native is a movie goosebump scene come to life, routinely storming back from no man's land to punish and then vanquish much larger men. Though he is very skilled with wrestling and boxing, it's his monstrous heart that allowed him to hold the UFC lightweight title for nearly two full years.
3. Benson Henderson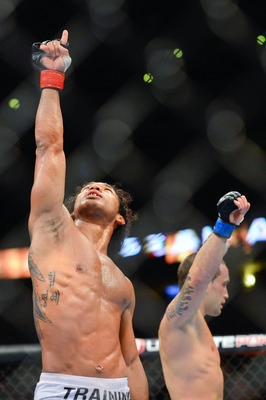 Ron Chenoy-USA TODAY Sports
Record: 18-2
Notable victims: Frankie Edgar, Nate Diaz, Donald Cerrone, Jim Miller, Clay Guida
Through Benson Henderson, so many things are possible.
Bendo has beaten just about every one of his top-level contemporaries. The defending UFC champ looked about as good as a fighter can look in dispatching Diaz Saturday night.
I'm sure he of the tree trunk legs and the irresistible takedown would love to exact revenge on the only man in the past five years to blemish his record: Mr. Anthony Pettis. Pettis faces Donald Cerrone in January, and with a win would probably get the next shot. Gray Maynard is currently injured but also lurks as a threat down the road.
2. Jens Pulver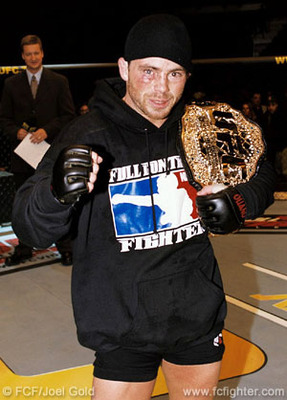 Photo credit: Joel Gole/FCFighter.com
Record: 27-17-1
Notable victims: B.J. Penn, Caol Uno, Dennis Hallman, Joe Stevenson
Jens Pulver was the first 155-pound champion in UFC history. That's how I prefer to remember him.
Now 38, Pulver's past his prime the way Hakari is past its expiration date. And yet he fights on, tangling with no-names (and often losing to them) out there in the MMA hinterlands. He should've hung it up years ago.
But at his peak, Pulver was an absolutely ferocious fighter, and he was the second-best champion ever at 155 pounds. There is a reason this man was B.J. Penn's first great archrival.
1. B.J. Penn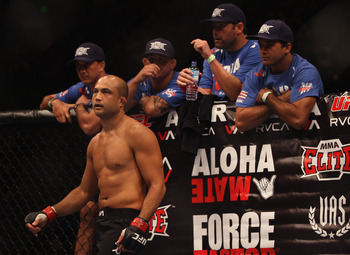 Mark Kolbe/Getty Images
Record: 16-9-2
Notable victims: Jens Pulver, Kenny Florian, Sean Sherk, Caol Uno, Joe Stevenson, Diego Sanchez
B.J. Penn's record—and his claim to the top spot as greatest lightweight ever—would be a lot stronger if he had, you know, stayed a lightweight the whole time. His willingness to fight bigger men (and his improbable run as the UFC's welterweight champ) helped create his legend. But the numbers would be a lot gaudier if they were all in a 155-pound context.
Even so, there's no question Penn is the best lightweight ever. Maybe that will change in five or 10 years' time, but for now, it's not especially close.
Keep Reading