Odds of Adrian Peterson Breaking Each Remaining Rushing Record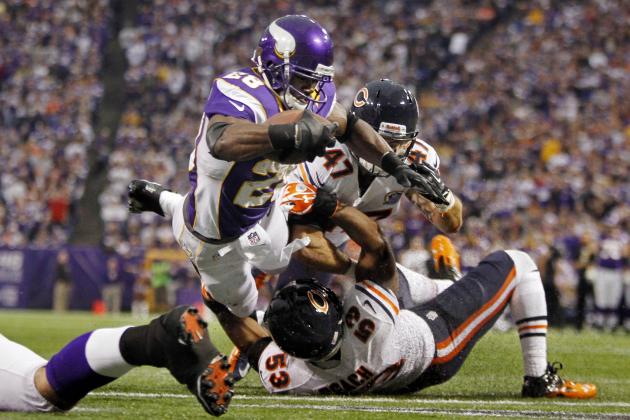 Bruce Kluckhohn-USA TODAY Sports

Minnesota Vikings running back Adrian Peterson insists he doesn't have his sights set on just rushing for 2,000 yards.
In fact, he has his eye on a much bigger prize.
According to ESPN's Josina Anderson, Peterson said he wants to break the NFL record for rushing yards in a single season.
"Forget 2,000, I am trying to break the record," Peterson told Anderson. "If you are going to do it, do it big. That's the way that I look at it."
After Sunday, Peterson might have a chance. Thanks to 154 yards and two scores Sunday against the Chicago Bears, Peterson now has exactly 1,600 yards and 10 touchdowns on the season.
Peterson already has the single-game rushing record. Why not add another one or two?
In the following slides, we'll break down Peterson's odds of breaking a number of the NFL's rushing records this season.
Begin Slideshow

»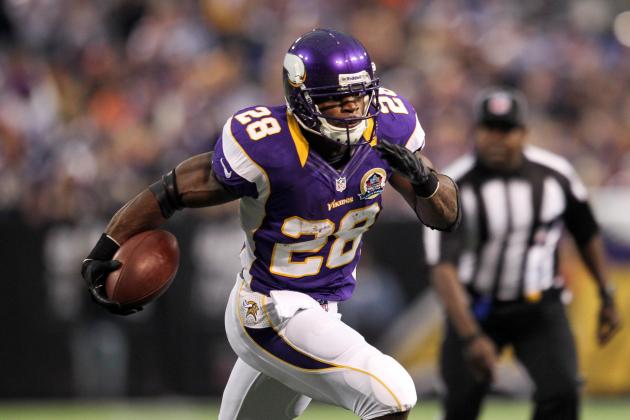 Brace Hemmelgarn-USA TODAY Sports

Record: 2,105 yards, Eric Dickerson, 1984
Peterson: 1,600 yards
Peterson is currently on pace for 1,969 yards, so Dickerson's pace isn't completely out of the question. To tie the record, Peterson would need to average 168.33 yards a game over the final three. Considering that Peterson is averaging 165 rushing yards over the last five games, we won't put it past him.
Odds: 25 percent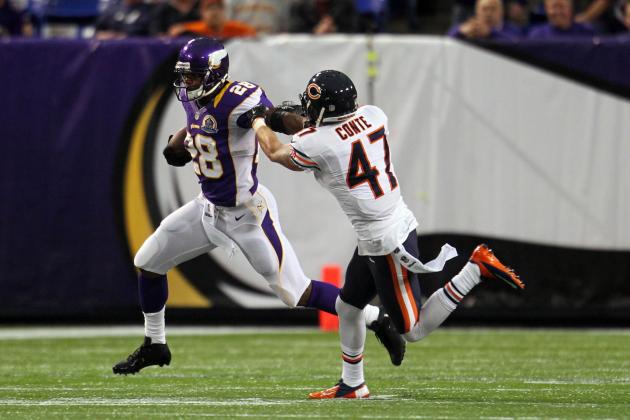 Brace Hemmelgarn-USA TODAY Sports

Record (non-QB): 8.4, Beattie Feathers, 1934. (Since 1970, non-QB: currently 6.6, C.J. Spiller, 2012)
Peterson: 6.01
Peterson doesn't even have a chance at Feathers' record, and there probably won't ever be another qualified running back who does. It's a lofty record for non-quarterbacks.
However, Spiller's current mark of 6.6 this season—the best since 1970 by a non-quarterback—might be within reach. Peterson has been over 5.0 yards an attempt in each of the last five games.
Odds: 0.0 percent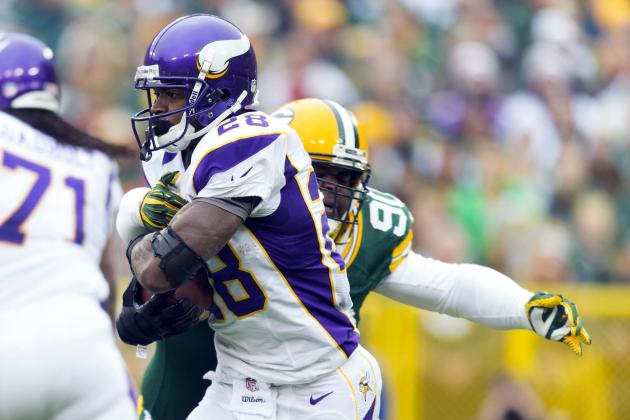 Jeff Hanisch-USA TODAY Sports

Record: 143.1, O.J. Simpson, 1973
Peterson: 123.1
Peterson's average has continued to climb, but reaching Simpson's mark is out of the question. In fact, it's going to take a historic season for any running back to get close to Simpson's record. The pace is just hard to keep up over 16 games.
The closest any back has come to breaking the record came in 2000, when Jamal Lewis finished with 129.1 yards a game.
Odds: 0.0 percent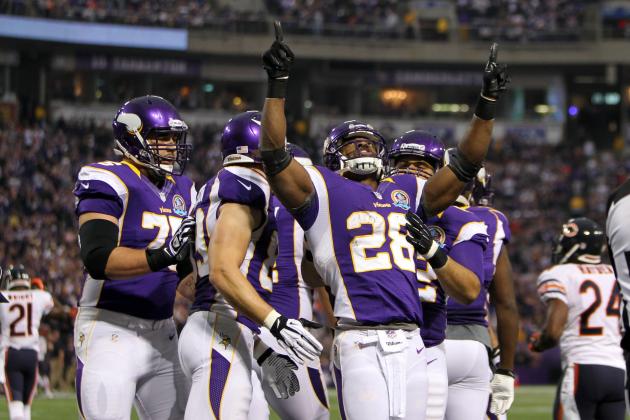 Brace Hemmelgarn-USA TODAY Sports

Record: 28, LaDainian Tomlinson, 2006
Peterson: 10
The limitations of the Vikings offense—we're looking at you, Christian Ponder—has capped the amount of touchdowns Peterson could score this season.
10 is still a nice goal to get to, and there's enough reason to expect Peterson to get into the 13-14 range by the end of 2012. But obviously, he won't come close to Tomlinson's record of 28. That mark could stand for a long time.
Odds: 0.0 percent