Manchester City 2-3 Manchester United: The Major Talking Points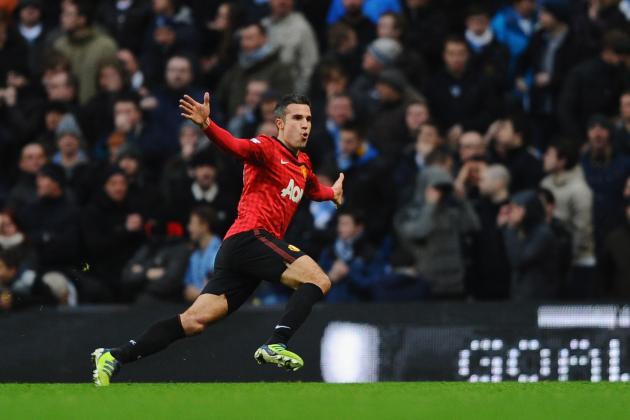 Laurence Griffiths/Getty Images

A day has passed since, and this outcome will have serious implications on the title race.
In the aftermath of arguably the biggest and most fiercely contested game in England, there are naturally a number of subjects to discuss.
It was Manchester United who left the Etihad with full points courtesy a stoppage time curler from Robin Van Persie, even as it looked like crosstown rivals City would be the ones pushing for a winner late on.
Feisty it was, and controversial too. In the end, there was even time for a pitch invader to do his antics before being dragged off, and Rio Ferdinand to get bonked above the eye with a coin by some City supporter.
Let us now address the primary talking points while delving into the finer details.
Begin Slideshow

»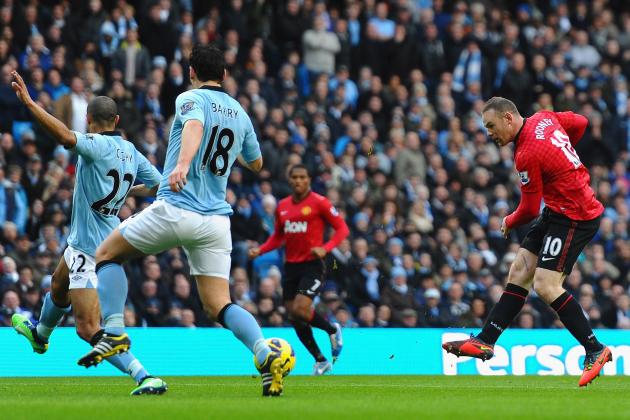 Laurence Griffiths/Getty Images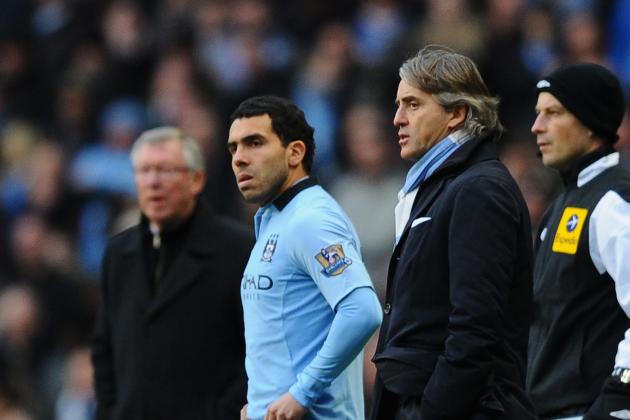 Laurence Griffiths/Getty Images

They say Mancini still doesn't know his best XI.
Well, there's at least one thing he should have been able to decipher with little difficulty: the best available strike partnership for the Citizens is that of Argentine duo Sergio Aguero and Carlos Tevez.
Why the City gaffer went with the unreliable, temperamental and inconsistent Mario Balotelli instead of Tevez remains a mystery to one and all.
Tevez's arrival breathed fresh life into City, as he laid on a goal for Yaya Toure. They almost stole something from the game. Had the 28-year-old started, the story could have been significantly different.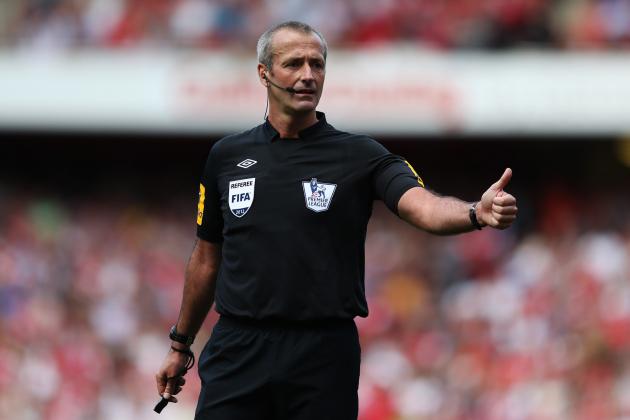 Richard Heathcote/Getty Images

It was close to the hour mark when Robin Van Persie decided to try his luck. His right-footed shot ricocheted off the bar, falling to an unmarked Ashley Young, who had the ball tucked away in the net moments later.
He was, however, flagged offside. But I should say this point blank: he was level at the time, and the linesman had goofed up. This could easily have been decisive, and had United lost or drawn, I wouldn't have been surprised to see Sir Alex Ferguson aim a jibe the official's way.
He probably would have even raised questions over the legit penalty shout that was turned down when Patrice Evra went down under a Kolo Toure challenge, but then that one was a 50-50. It was hard to be certain, and the decision could have swung either way.
A major instant of appalling refereeing came when Yaya Toure dribbled past three players near the touchline when City were still chasing the game. He was almost hacked down by Wayne Rooney as this happened, but still emerged with a lot of space on the left, and the smart thing to do from the ref's point of view would have been to give him the advantage.
Instead, Atkinson called Toure back to give him a foul near the halfway line, eliminating the possibility of a goal-scoring chance.
While he didn't have a great game, I still think Martin Atkinson got the yellow cards right, so it was a mixed bag from the officials.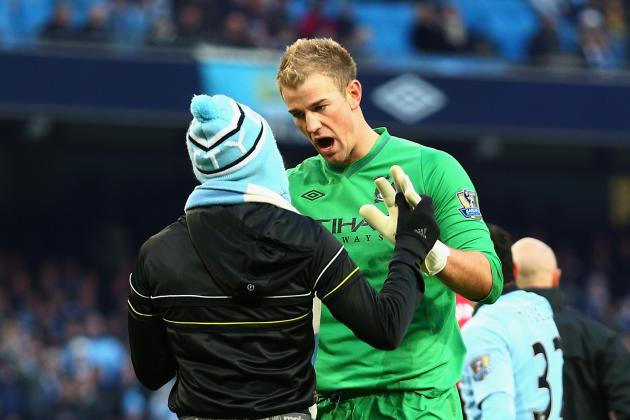 Clive Mason/Getty Images

The Daily Mail reports that Rio Ferdinand celebrated the Van Persie goal near the City faithful, and it seems that aggravated them. I couldn't really tell whether or not he was provoking the fans, but what he got in return was unacceptable and downright contemptible.
The pitch intruder attempting to chase Ferdinand didn't help the chaos. Joe Hart admirably confronted him, but just seeing all this nonsense happen when there was a game to be completed was rather saddening.
The behaviour of some sections of the home support marred what had been an enticing encounter.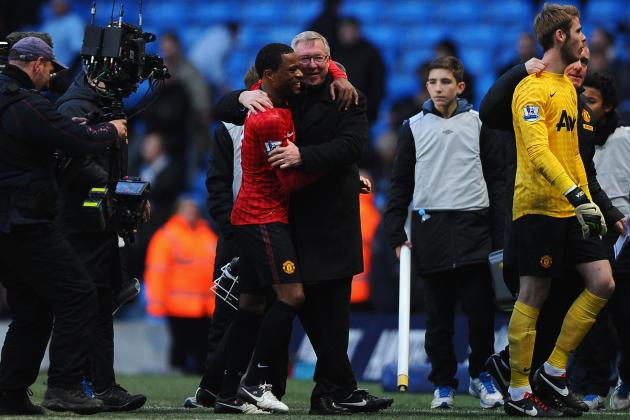 Laurence Griffiths/Getty Images

United played to their strengths on Sunday, and got the result. With it, they've established a six-point lead at the top.
I'm not the one saying it is, but there are enough people who believe the title has slipped out of City's reach now. That's just baloney.
We are 16 games in, and I don't think anyone needs to be told how much things can change over the remaining 22.
The league leaders do have a lot going for them right now, with the Rooney-Van Persie partnership working, and the attack flourishing, but then Sir Alex does have the unenviable task of having to find a way to plug a leaky defense.
City, meanwhile, won't have the distractions of continental competitions, so they might be able to claw back and make things tight at the top.
There's a lot waiting to unfold yet.