Eagles vs. Buccaneers: Live Game Grades, Player Analysis for Tampa Bay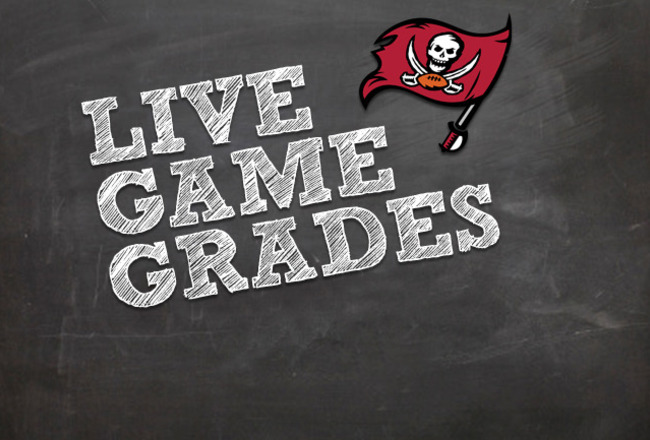 Eagles won 23-21
The Tampa Bay Buccaneers faced off against the Philadelphia Eagles in a NFC matchup and lost.
The Eagles have lost several key players to injury this season, including starting QB Michael Vick, starting RB LeSean McCoy and starting wide receiver DeSean Jackson.
Meanwhile, the Bucs have lost two Pro Bowl guards and traded away their best cornerback, Aqib Talib, in the midst of his PED suspension.
This slideshow will provide you with quarterly game grades and player analysis for Tampa's quarterback, offense, defense, special teams and coaches.
Let's get to it, shall we?
Quarterback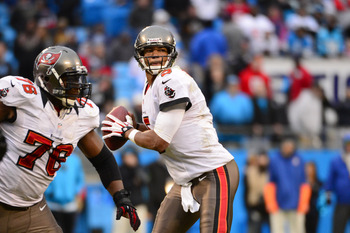 USA TODAY Sports
Overall Grade: C-
Q4 Grade: B
By no means did Josh Freeman have a good day, but he still had a decent fourth quarter. He extended that
Q3 Grade: C+
The Buccaneer QB needed that touchdown. It was probably the only thing that could have gotten him back on track with his confidence restored. That doesn't mean that Free had to light the world on fire, but just play better.
Q2 Grade: D
Still, Freeman can't get hot. He is 5/16 for 61 yards today.
Q1 Grade: D
Josh Freeman did not have a good first quarter. He missed open receivers more often than he found them. Sure, he's been under pressure, but it's part of a quarterback's job to stand tall and make accurate throws even while defenders are craning into his face.
Offense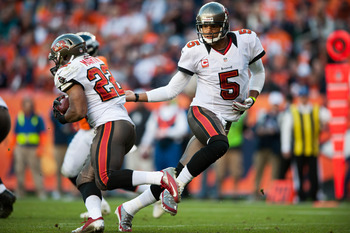 Dustin Bradford/Getty Images
Overall Grade: C
Q4 Grade: C
The drive that began around the 13:00 minute mark was a thing of beauty. 11 plays, about six minutes off the clock, and a touchdown to boot. But on their last drive, the Bucs couldn't stay on the field to take more time off the clock.
Q3 Grade: B-
The patchwork offensive line has come together. Doug Martin has moved to 71 yards on 16 carries. Vincent Jackson's 40 yard reception certainly helped the team.
Q2 Grade: C-
It's only the second quarter, but we haven't seen anything good from the Bucs offense today. Both Donald Penn and Demar Dotson have had momentum killing penalties and, as a whole, the O-line has not looked sharp, giving up quick pressure. A poor offensive line leaves no room for skill position players to succeed.
Q1 Grade: C
On their first drive, the Bucs couldn't get anything going, as a fumbled snap on first down set them back four yards. On their second drive, Freeman managed an 18-yard pass to Vincent Jackson, but also missed at least completable throws. On their third drive, Freeman continued to miss opportunities.
Defense
Al Messerschmidt/Getty Images
Overall Grade: C
Q4 Grade: D
Tampa Bay continues to prove that it has no pass defense, which is terrible for a team that can struggle in ball control situations. The Bucs often do struggle in ball control situations. The defense gave the Eagles that final touchdown through stupid mistakes and more stupid mistakes.
Q3 Grade: B-
Since the late second quarter, the Bucs defense seems to have slowed down. Philly racked up 47 yards on three consecutive plays on their first drive of the second half. I blame the depleted secondary. Leonard Johnson is too slow, and EJ Biggers doesn't have good instincts.
Q2 Grade: C+
The defense actually played well on Philly's field goal drive. It just got unlucky when Jason Avant made the catch of the year on 3rd and 17. And when Jason Avant made another stupendous catch for 39 yards. The defensive line has played as well as it has all season.
Q1 Grade: A-
The first drive... Gerald McCoy gets a sack on the third play of the game, forcing a three-and-out. Nice to see a guy playing at as high a level as any in the NFL showing up on the stat sheet. Tampa held the Eagles to two three-and-outs and negative seven yards on their first two possessions.
Special Teams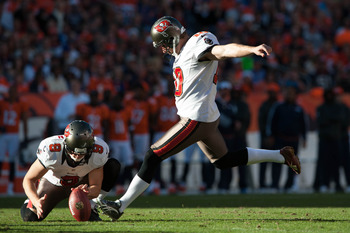 Dustin Bradford/Getty Images
Overall Grade: B-
Q4 Grade: C
Not a lot to say about special teams, except that Michael Koenen botched a punt near the 3:00 minute mark, so that the Eagles ended up with the ball on their own 37, great field position to take a go-ahead score.
Q3 Grade: A
Hey, just what the doctor ordered! A muffed punt by Damaris Johnson and the Bucs recover at the Philly five-yard line!

— Tampa Bay Buccaneers (@TBBuccaneers) December 9, 2012
Came just at the perfect moment. So perfect, in fact, that I wouldn't believe it it I didn't see it with my own two eyes.
Q2 Grade: C+
Parrish's 30 yard PR was not so quiet. And when Adam Hayward committed a face mask penalty to tack on 15 yards to an already-18-yard PR by the Eagles, that was as bad as Parrish's PR was good.
Q1 Grade: B
Roscoe Parrish quietly picked up 18 yards on his first punt return of the day.
Coaching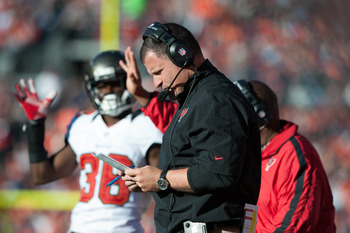 Dustin Bradford/Getty Images
Overall Grade: B-
Q4 Grade: C+
What to say about the coaching on the Bucs side? Tampa was able to sustain momentum from a good third quarter, but was unable to put the game out of reach or hold the Eagles when they needed to. Those defensive holding penalties inside two minutes reflect very poorly on the coaching staff.
Q3 Grade: A
Well, the offense is back on track. Kind of. And the defense is playing well. For the most part. The coaching staff deserves some credit for this second half rebound.
Q2 Grade: C-
Mike Sullivan, the offensive coordinator seems to have not idea how to move the ball on this Philly defense. He is trying to get screens and deep balls to work when they are repeatedly losing yards or falling incomplete.
Q1 Grade: B
Bill Sheridan may actually be a great defensive coordinator. His pass defense may be abysmal, but it's not like he has any refined talent at cornerback to work with. His run defense is phenomenal and he has shown real creativity when blitzing Ronde Barber, a newly converted free safety.

Keep Reading

Tampa Bay Buccaneers: Like this team?