Chargers vs. Steelers: Final Report Cards, Player Grades for Pittsburgh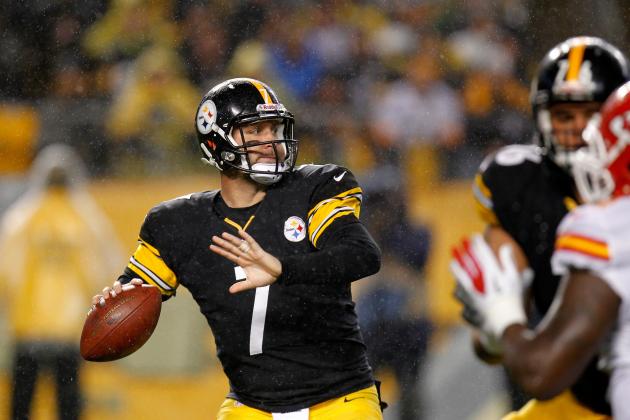 Gregory Shamus/Getty Images

Roethlisberger didn't look very comfortable during his initial return to the field. After completing a wide receiver screen, his next three throws hit the ground well short of his intended targets.
However, Roethlisberger found his sweet spot thanks to the familiarity of running for his life. His throws started to find the right places and the zip on his passes returned.
Some of his escapes from pressure were downright insane. He'd spin away from one defender, pump fake another two and then unfurl a 40-yard pass that would hit someone in the hands.
Unfortunately, his receivers weren't able to handle the accuracy. All in all, Ben finished 22 of 42 for 285 yards with three scores and one ugly interception. He didn't see the linebacker and that turnover ended any chance for a Pittsburgh comeback.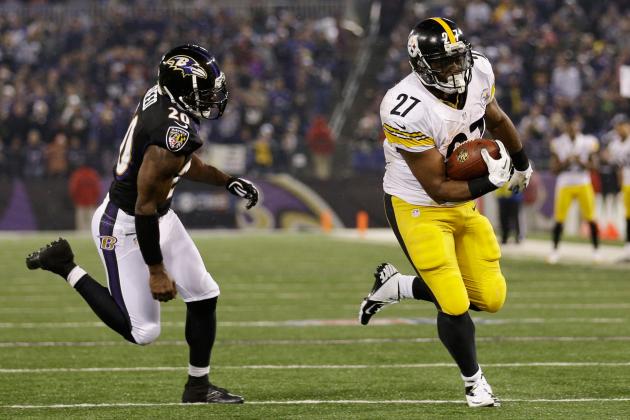 Rob Carr/Getty Images

Jonathan Dwyer: B
He might have only racked up 32 yards on eight carries, but he effectively did his job. There just weren't any holes for Dwyer to exploit. Everything had to be earned the hard way and he continued to dole out his usual punishment.
Basically, the running game was abandoned early as the Steelers found themselves in a large hole quickly.
Chris Rainey: C
Rainey tried to jump start the Steelers with a nice return, but that task proved to be impossible. Overall, he amassed 113 yards on five kick returns. On offense, he was largely ignored as he had only one carry for six yards.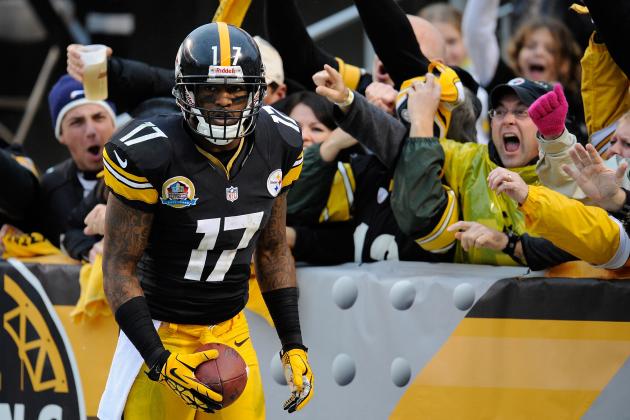 Joe Sargent/Getty Images

Mike Wallace: B-
Let's be fair. Wallace did haul in seven catches for 112 yards and two touchdowns. That's a very nice day.
But that's not the entire story.
He dropped a perfectly placed 45-or-so-yard pass early that could have changed the complexion of the game. Had he hauled it in, the Steelers would have avoided some of the dumb decisions that Tomlin was forced into later.
Antonio Brown: C+
As if not to be outdone by Wallace, Brown also contributed some key drops. He brought in four catches for 35 yards and a score, but it was a tough day for him overall.
Emmanuel Sanders: B-
See above regarding the mishandling of passes. Sanders caught two balls for 36 yards. Pretty uneventful day.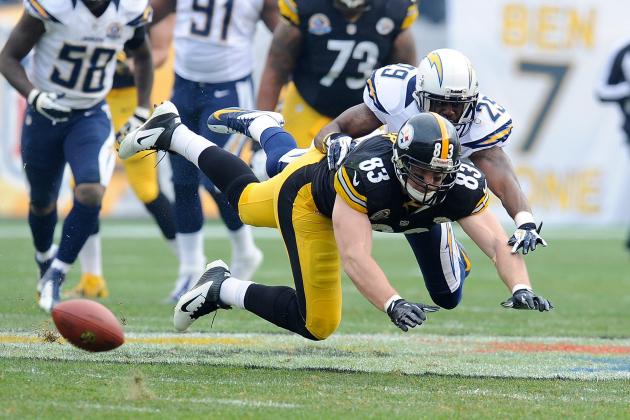 Joe Sargent/Getty Images

Heath Miller: B
His drops didn't seem to cause as much damage, but he still has to be dinged for them. There was one in the end zone that didn't end up costing Pittsburgh since it scored on the next play. All told, he caught five passes for 66 yards.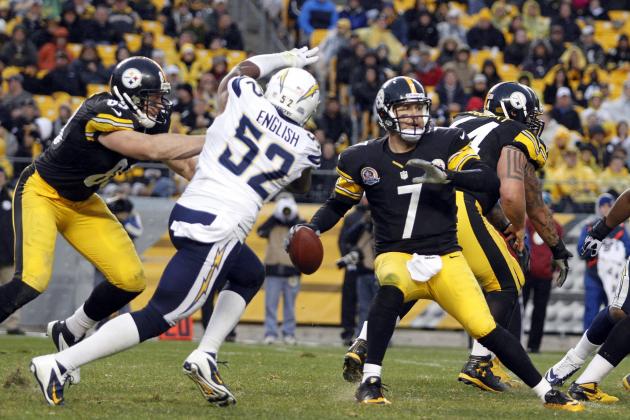 Justin K. Aller/Getty Images

Offensive Line: F
I'm not going to single anybody out. Nobody deserves that "honor."
They were atrocious as a unit, so they shall be flogged as a unit.
The running game was mostly non-existent. While that had a lot to do with the score, the run was partially abandoned early because it wasn't working. There was rarely a time when the running back wasn't hit before the line of scrimmage.
Under no circumstances can one describe what the line did as protecting Roethlisberger. He was constantly Houdini-ing his way out of trouble to unfurl passes.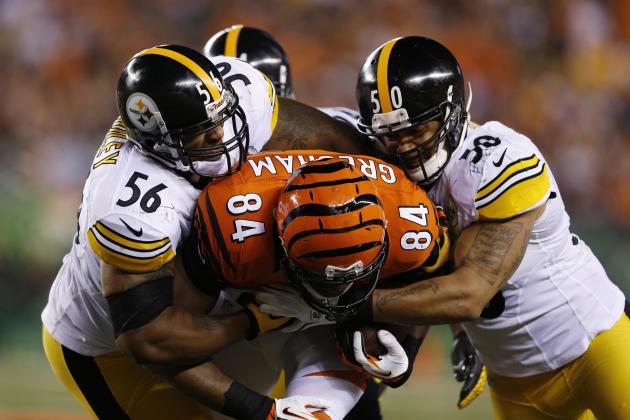 Joe Robbins/Getty Images

Ziggy Hood: B+
One of the few Steelers to play well. Hood was personally responsible for stalling one of the Chargers' initial drives with this screen-pass recognition. He recorded eight tackles, including one sack.
The Rest: C-
There was little to no pressure on Philip Rivers all day. Granted, the defensive line isn't the main pressure-generating piston in the Steelers defense, but they could help the cause a little.
They did, however, limit the Chargers rushing game to 2.6 yards per carry. Although, that doesn't mean much considering how poorly San Diego runs the ball.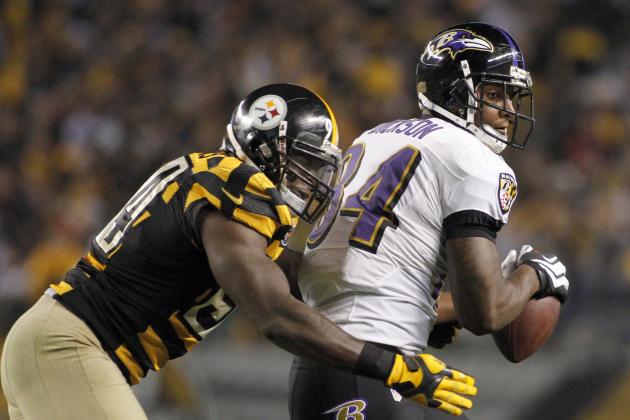 Justin K. Aller/Getty Images

Lawrence Timmons: B+
I'm refusing to give out too many As when you lose by 10 at home to the San Diego Chargers. However, Timmons was big reason for the stunted rushing attack with his sure tackling (11 tackles).
James Harrison: C-
Did you even notice that he was on the field? There wasn't much noise coming from Harrison today. He did record four stops with a quarterback hit, but that was it.
Larry Foote: C+
Foote outplayed Harrison with seven tackles and two hits on the quarterback. However, like every linebacker on this team, he failed to create any pressure all afternoon.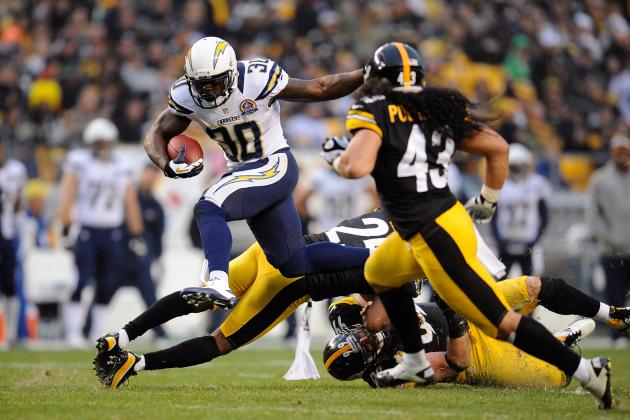 Joe Sargent/Getty Images

You can say this grade is harsh, but Polamalu is paid to make plays. Sure, he managed seven tackles, but that doesn't mean he did anything important. Polamalu must disrupt offenses by laying down vicious hits, forcing turnovers and creating pressure. We didn't see any of that against the Chargers.
Ryan Clark: D
Did he actually play today? I know that the box score has him listed with three tackles, but his presence sure wasn't memorable.
The Cornerbacks: F
We'll treat this unit as one for grading purposes as well because of how horrible they were. Remember, there were zero interceptions and one of the two passes defenses was credited to a defensive end.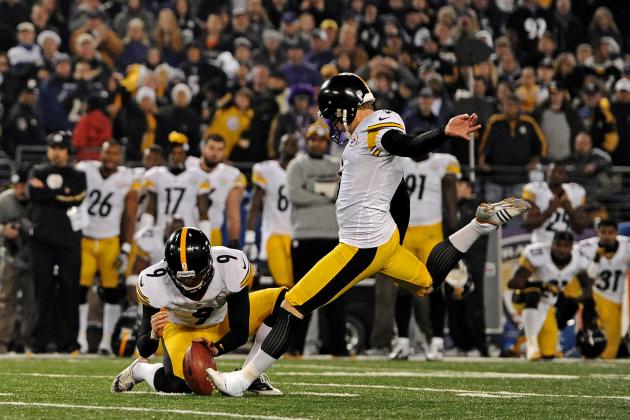 Patrick Smith/Getty Images

Shaun Suisham: A
Can't blame him for this loss. He knocked in his only field-goal attempt and hit all of his extra points. Nothing special, but he did his job and deserves an A.
Drew Butler: A
Again, another Steeler who did his job. He averaged 47.5 yards per punt and pinned two inside the 20.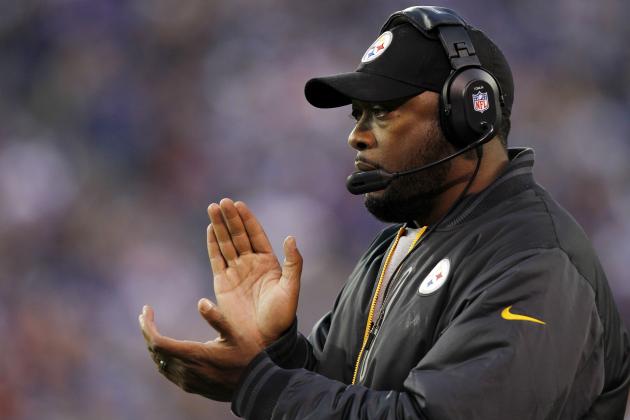 Jeff Zelevansky/Getty Images

Mike Tomlin: F
This team played the entire game as if it were in a coma. There was no emotion coming out of the tunnel and none displayed on the field.
That falls squarely on the head coach.
There were also a couple dumb decisions. The call to go for it on fourth down was weird, but there was one that was even more atrocious.
With the Steelers down by 18 after scoring a touchdown, Tomlin opted to kick the extra point instead of going for two. There was only about six minutes left. After doing some simple math, that means that Pittsburgh would have to score three times, instead of twice, to tie it.
That's not smart.