Lions vs. Packers: 5 Matchups That Will Decide Sunday Night Clash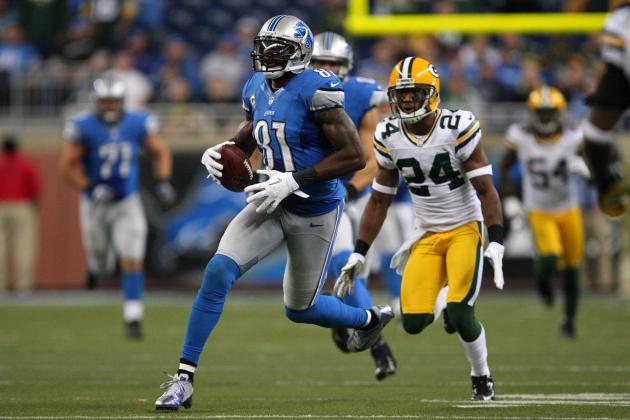 USA TODAY Sports

The Green Bay Packers (8-4) play their second of three division-deciding games when they welcome the Detroit Lions (4-8) to Lambeau Field Sunday night.
Currently leading the NFC North via a head-to-head tiebreaker with the Chicago Bears (8-4), Green Bay beat Minnesota last Sunday, plays Detroit tonight and then finishes the division stretch with a trip to Chicago in Week 15.
With a win in each of the next two games, Green Bay can all but stamp its name on the NFC North crown for the second straight season.
At 4-8, the Lions are now spoiler instead of contender. But there's a little piece of history Detroit can erase with a win at Lambeau Field Sunday night.
Since Dec. 15, 1991, the Lions are a combined 0-21 in the state of Wisconsin. Green Bay's 20-game home winning streak against Detroit is the longest in NFL history against one team.
In the following slides, we'll break down the matchups that will decide whether Green Bay gets a step closer to an division title or Detroit breaks a historic losing streak.
Begin Slideshow

»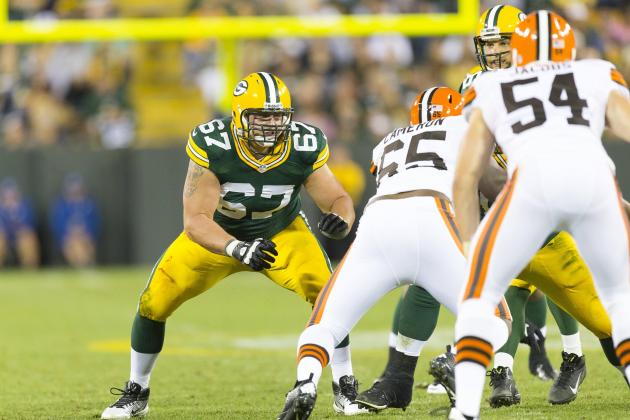 Jeff Hanisch-USA TODAY Sports

Packers right tackle T.J. Lang was limited this week with an ankle injury, and he's officially listed as questionable. If he can't play, Green Bay would start undrafted rookie Don Barclay at right tackle.
While a season-dooming scenario at one point, Barclay proved to be a capable backup in 2.5 quarters of action against the Minnesota Vikings in Week 13. After a shaky start, Barclay mostly eliminated Vikings defensive Brian Robison in the second half.
If he starts, Barclay would have another difficult matchup Sunday night in Lions defensive end Cliff Avril.
Despite 8.5 sacks this season and 28 over the last three seasons, Avril remains one of the NFL's more underrated pass-rushers. He gave Lang all he could handle in the first meeting, including a sack.
The Packers will certainly give Barclay help on the right side, but the 23-year-old rookie needs to be able to win some one-on-one situations with Avril when Green Bay goes into spread passing formations. A poor outing could handicap a lot of calls Mike McCarthy likely wants to run Sunday night.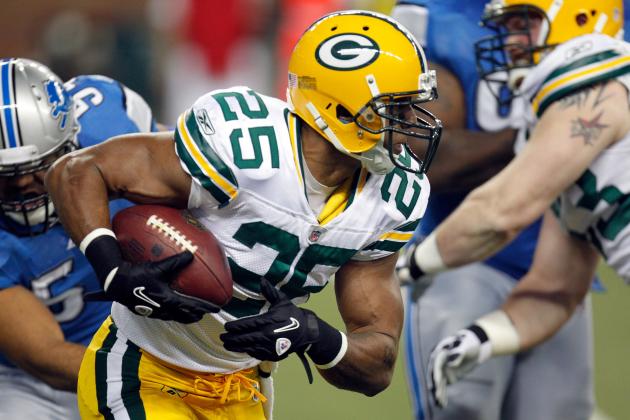 Gregory Shamus/Getty Images

Believe it or not, but the Packers have averaged 141 rushing yards over their last three wins. While this is still a passing offense fixated around the play of MVP quarterback Aaron Rodgers, Green Bay hasn't been the same high-flying, high-scoring offense in 2012 that it was a year ago.
With Barclay likely starting on the right side of the offensive line, and the weather calling for snow and cold conditions at Lambeau Field, Green Bay will likely have another game plan featuring the run Sunday night.
Alex Green will start for James Starks (knee), with recently re-signed running back Ryan Grant also seeing some limited action. The two will be expected to provide balance in the elements Sunday night.
The Lions won't mind Rodgers handing the football off, but their front seven has to make sure Green Bay is a one-dimensional offense. If the Packers can stay ahead of the chains and set up play-action, the Lions will be in trouble.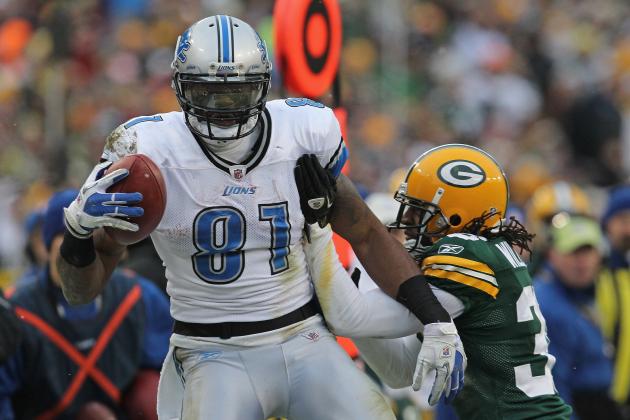 Jonathan Daniel/Getty Images

The Lions may have the game's best receiver in Calvin Johnson, but the depth behind Megatron has suddenly all but evaporated. With Ryan Broyles and Titus Young now on IR, Detroit will have to give snaps to the likes of Mike Thomas, Brian Robiske and Kassim Osgood Sunday night.
That reality puts the spotlight even more on Johnson, who is currently on pace to break Jerry Rice's record for receiving yards in a season. He also has five straight games with 125 receiving yards or more, which tied an NFL record.
Tramon Williams will be tasked with making sure Johnson is not the outright record holder by the end of Sunday night.
Expect the Packers to throw plenty of bracket coverage at Johnson, but that hasn't mattered over the last month and a half. Williams has to find a way to make Matthew Stafford look for other options. Johnson received a ridiculous 21 targets last week against Indianapolis.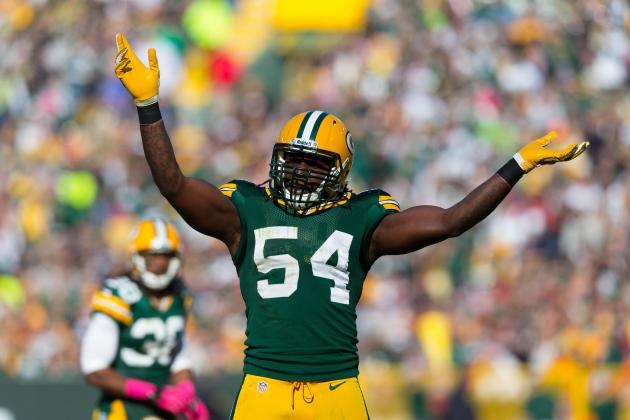 Jeff Hanisch-USA TODAY Sports

The Lions officially listed Backus as questionable with a hamstring injury, so it's possible former first-round pick Riley Reiff will get a start at left tackle Sunday. But regardless of who starts, the Lions need a sound performance from the blindside protection of Matthew Stafford.
In the first meeting between the two, Stafford felt the effects of mostly consistent pressure from Green Bay. On a handful of occasions, Stafford either missed wide open receivers or was forced into turnovers because of the failures up front.
Moses, who will once again fill in for Clay Matthews at right outside linebacker, was a part of that pressure in Detroit.
However, both Backus and Reiff will be expected to do better against an undrafted rookie. Detroit could have another sloppy offensive showing otherwise.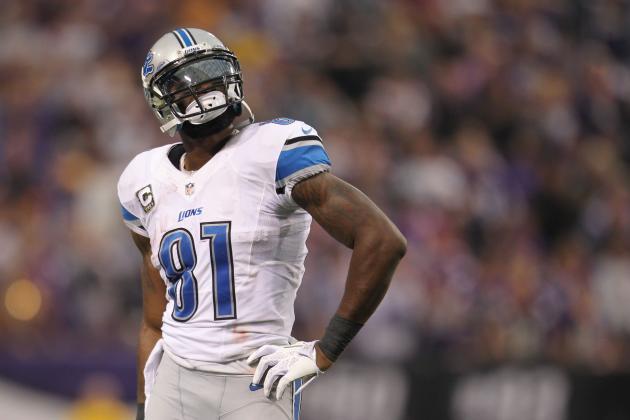 Brace Hemmelgarn-USA TODAY Sports

Until the start of its four-game losing streak, Detroit was one of the NFL's best teams in the fourth quarter. In fact, coming into the first meeting between these two teams, the Lions had more points in the fourth quarter than the other three combined.
Something has gone terribly wrong lately.
The Vikings scored 18 fourth-quarter points to coast away from Detroit in Week 10. The Packers outscored Detroit 10-3 in the fourth quarter a week later. And both the Texans and Colts overcame fourth-quarter deficits to beat the Lions the past two weeks.
More than likely, Sunday night's division clash will come down to who plays better in the fourth quarter. For the Lions to snap their 21-game losing streak in the state of Wisconsin, they'll also have to snap a recent run of letting games get away in the fourth quarter.