Juventus vs. Palermo: What We Learned from Juve's 1-0 Win in Sicily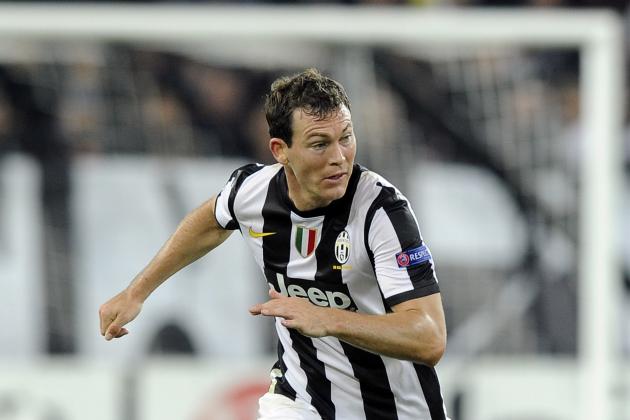 Claudio Villa/Getty Images
Stephan Lichtsteiner scored the only goal.
On Sunday, Juventus celebrated the return of their coach Antonio Conte with a 1-0 win over Palermo.
Conte's impact on the team was felt immediately. After an uninspired performance during the first half, the team exited the dressing room with a renewed vigour and dominated Palermo after the break.
The only goal of the game came after 50 minutes, when a beautiful back heel by Mirko Vucinic isolated Stephan Lichtsteiner in front of goal. The Swiss international remained calm and slotted the ball in the bottom-left corner.
The weather had a big impact on this game, with rain pouring onto the frozen pitch for the full 90 minutes. Juventus were clearly more comfortable in these kind of conditions, as Palermo were never able to find any momentum.
Here's what we learned from this game.
Begin Slideshow

»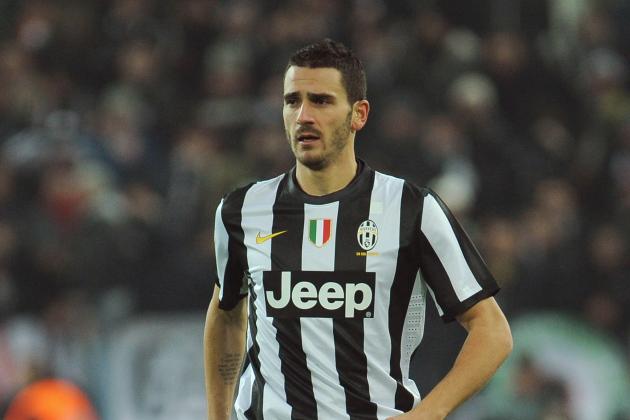 Valerio Pennicino/Getty Images

A couple of weeks ago, we spoke about the progress Leonardo Bonucci had made since last season. The Italian international had found a way to limit the mistakes that plagued him early in his career and finally looked like the player fans had hoped he would become when the team gave up fan favourite Domenico Criscito to acquire him.
But Bonucci's run didn't stop there, and after watching his masterful performance against Palermo, I think it's safe to say he's taken the step to the next level.
Bonucci hasn't just stopped making silly mistakes; he's completely shut out any attacker he's faced all season. His positioning has become elite, and the way he attacks the ball reminds me of Fabio Cannavaro, a former Juventus great.
He has become incredibly proficient in the air, and his patented long balls no longer miss the mark half of the time.
Playing next to Andrea Barzagli and Giorgio Chiellini, Bonucci always seemed to be in the shadow of the two best defenders Italy had to offer. That no longer seems to be the case.
Looking at his play this season, it's time to start talking about Bonucci as an elite defender.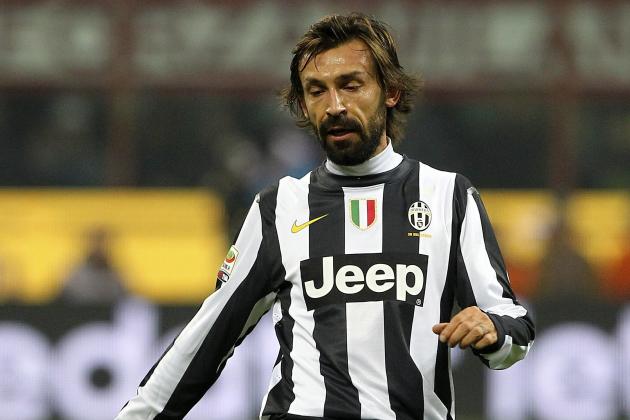 Marco Luzzani/Getty Images
It's not like this man isn't capable of delivering a good cross
Another topic we touched on earlier this season. Juventus have been absolutely dreadful at set pieces, and it doesn't look like there's any kind of progress being made.
Antonio Conte wants his team to play football, and as a result he often asks Andrea Pirlo to take his corners and free kicks short.
The problem is: It doesn't work.
For all of the opportunities Juve receive to fire in dangerous crosses on set pieces, they hardly ever materialise. How often do we see the Bianconeri take set pieces short, only to pass the ball back to one of the defenders waiting in midfield?
The Bianconeri have a lot of size in their team, and players like Bonucci, Chiellini and Vucinic are very able headers. On top of that, they have players like Claudio Marchisio and Arturo Vidal waiting on the edge of the box, ready to take any ball the defense can't clear and fire it on goal.
Because of the team's emphasis on playing on the wing, Juventus will get a lot of opportunities in the form of set pieces. Conte should really work on turning those set pieces into one of the main weapons of his team.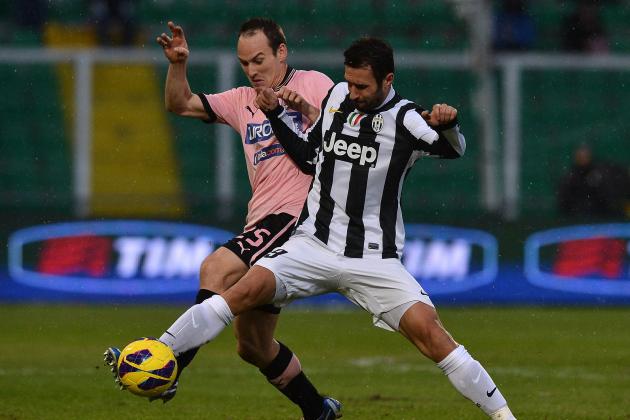 Tullio M. Puglia/Getty Images
You can thank Vucinic for those three points.
For all of you fans suggesting Juventus sell Mirko Vucinic to fund a transfer for a new striker: I hope you watched this game.
Vucinic is one of the Bianconeri's most important players, but because he doesn't score goals, he's often overlooked.
His proficiency in bringing down the most difficult crosses and hold on to the ball is very, very rare.
When he was paired with Alessandro Matri against Palermo, fans got to witness the Montenegrin at his best, and it was pretty impressive.
His assist that provided Juventus with the only goal of the game was a perfect example of what he can do. Controlling a ridiculously difficult cross with his chest, he brought down the ball and held on to it long enough for Stephan Lichtsteiner to make his run into the box.
A simple back heel later, the Swiss winger found himself all alone in front of goal, and all he had to do was pick a corner and put it away.
Credit Vucinic for about 95 percent of that goal.
Vucinic might never score 30 goals in a season, but facing a defense that is difficult to break down, he is one of the most useful players any team can have on their roster. And there are plenty of good defenses in the Serie A.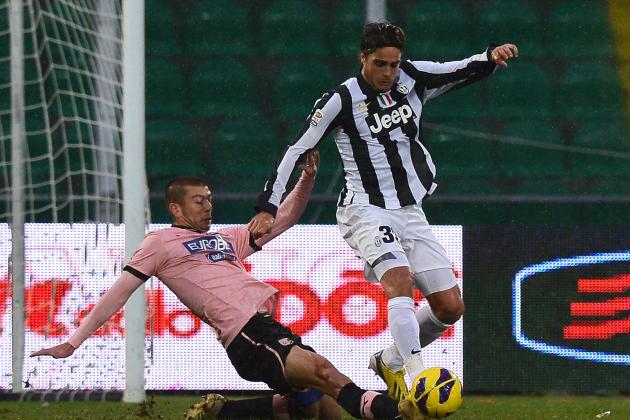 Tullio M. Puglia/Getty Images

Before you bring out the pitchforks and light the torches, hear me out.
Yes, Alessandro Matri missed about 25 open chances in this game. Yes, Arturo Vidal's through ball in the first half was so perfect even my mum could have put that away.
But for all of his misses in front of goal, Matri played a very useful game in midfield and the buildup.
Matri hasn't played all that many minutes this season, and his start against Palermo was his first in ages. He lacks the confidence of the coaching staff, and with that much rust, he's bound not to be very sharp in front of goal.
But Matri fought the entire game. He did a remarkable amount of defensive work and provided the midfielders with an excellent target to play the ball into the box. He did a good job holding on to the ball and forced a lot of openings for his teammates.
If he had scored on that beautiful pass from Vidal, he could have easily received a B for his efforts.
The month of December will be crucial for Matri, and he will have to prove to Conte that there is still a place for him on this team. But fans should at least give the guy the chance to get his feet under him and build some confidence. Strikers don't just magically start scoring again.
I was very happy to see him start today, and I hope he gets some more chances in the following weeks. If the goals stay away, so be it.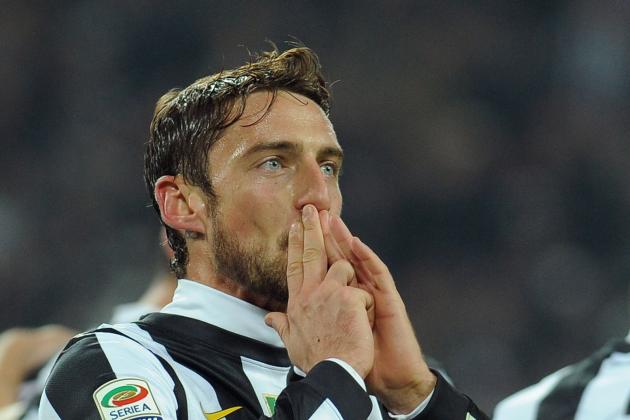 Valerio Pennicino/Getty Images
Marchisio is returning to form.
Last season, Antonio Conte's men didn't lose a single game on their way to the Serie A title. It was an incredible performance from a team that could be described as solid, organised and hard-working.
This year's team is different. It's still as solid and organised as last year, but there's a certain flair and vigour that last year's team was lacking.
With the addition of Kwadwo Asamoah and Sebastian Giovinco, Juventus are far more explosive. Arturo Vidal has developed into a better overall player, and Andrea Pirlo has a better grasp of the system he's running.
Even Claudio Marchisio, who was suffering a bit of a slump in recent weeks, seems to be turning the corner and on his way to the level he was playing at at the start of the season.
The biggest knock on the Bianconeri last year was their inability to put teams away. They drew 15 games all season and nearly lost the title to Milan because of it.
Not this year, though. Juventus are finding ways to win the difficult games and are able to hold off comeback attempts by pesky opponents.
Through 16 games, they already have 12 wins and only two draws.
The Serie A looks to be very competitive this season, with teams like Inter Milan and Napoli playing some incredible football, and I would advise fans to watch both teams take on each other later tonight.
But even with Inter and Napoli elevating their game, Juventus remain the team to beat around Italy. And that feat has not become any easier in 2012-2013.