UFC on FOX 5 Results: 5 Fights for Rory MacDonald to Take Next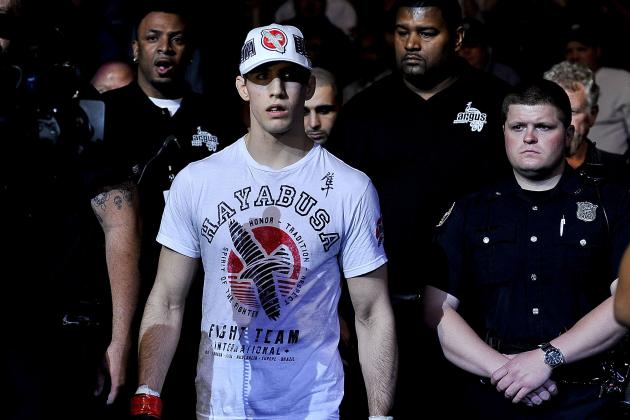 Paul Abell-USA TODAY Sports
Rory MacDonald is needing another top opponent as he works towards elite status in the welterweight division.
Rory MacDonald thoroughly beat down B.J. Penn all across the cage. It did not matter if it was standing or on the ground, there was simply no answer from the former lightweight champ.
While the hot prospect out of Canada is quickly rising through the welterweight division's rankings, Penn is by far his biggest win, and we all know about Penn's struggles at 170 lbs. Because of that, MacDonald needs to pull together some other big wins before he can really be considered an elite welterweight.
So, who could he be matched against next? Find out right here!
Begin Slideshow

»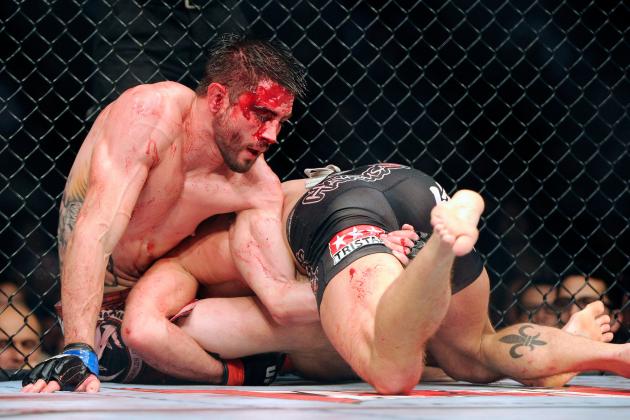 Eric Bolte-USA TODAY Sports
MacDonald specifically said he wanted to avenge his sole MMA loss after beating B.J. Penn.
We may as well get this out of the way right here.
In MacDonald's post-fight interview with Joe Rogan, he specifically called out former interim champion Carlos Condit. The fight makes sense on paper, and would instantly move MacDonald near the top of the 170 lb. class if he wins.
We all know how good Carlos Condit is. He was the WEC welterweight champion, and had very little trouble beating the likes of Nick Diaz, Dan Hardy and Dong-Hyun Kim en route to his fight with Georges St-Pierre. The one guy who, perhaps, gave him more trouble than anyone, though, was Rory MacDonald.
The two fought at UFC 115 with Rory MacDonald grappling his way to 10-9 scores in the first two rounds. In the third round, though, Condit ended up laying a serious hurt on MacDonald and got a somewhat questionable stoppage in the waning seconds of the third round. MacDonald called it embarrassing while talking with Rogan and really wants to rectify the lone loss on his record.
Condit is still unanimously a top-four fighter, but it is hard to argue that Rory should not get his wish after beating B.J. Penn as he did.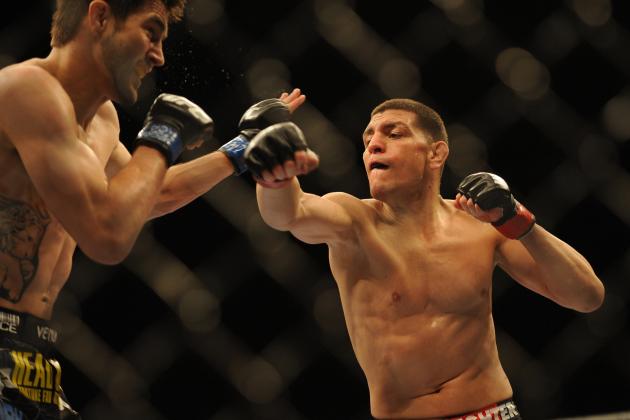 Kelvin Kuo-USA TODAY Sports
Diaz's aggression in and out of the cage would make MacDonald vs. Diaz a spectacle.
Now this is a compelling fight.
Nick Diaz's endless cardio, strong chin and great Brazilian jiu-jitsu have made him a top welterweight over the years. If Rory MacDonald really, truly wants a fight with a top welterweight, this is perhaps an even better matchup than a fight with Condit.
Diaz slapped around B.J. Penn at UFC 137 to end up in his fight with Carlos Condit, which he would lose by decision. Skill for skill, though, Diaz is a nightmare matchup for MacDonald, and is very capable of bringing some serious hurt his way.
MacDonald's clinch and wrestling game is not going to cut it against Diaz, who is very capable of shrugging off any grappling exchange—assuming he doesn't go for a submission. Meanwhile, Diaz's high-volume striking and always-press-the-action style will not let MacDonald bully him to the cage for any length of time.
Perhaps more than anything, the buildup to this fight would be amazing, as MacDonald not only beat, but downright embarrassed Nick Diaz's younger brother back at UFC 129. MacDonald's awkward, axe-murderer stoicism would be hilarious to see against Diaz's irreverence, and would make press conferences a must-watch for MMA fans.
Unfortunately, this does not really seem possible at this time, as Dana White recently said they are working to book Diaz against Georges St-Pierre.
Still, if the UFC decides to have integrity in their matchmaking (or if Nick Diaz keeps up his long tradition of ducking title fights), this could end up happening.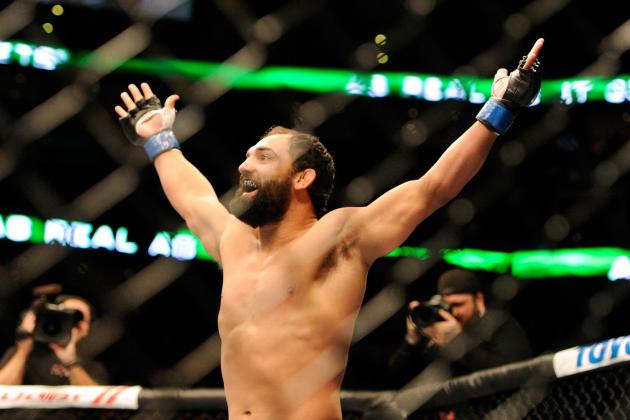 Eric Bolte-USA TODAY Sports
With Hendricks not getting his fight with GSP, he may as well settle for another Canadian wrestler training at TriStar.
As stated, Nick Diaz is probably going to end up St-Pierre's next opponent. That really stinks for Hendricks, who is riding a really impressive five-fight winning streak that includes huge knockouts over T.J. Waldburger, Jon Fitch and Martin Kampmann; and who, logically, should be fighting for the welterweight belt next.
With that in mind, why not have Hendricks fight St-Pierre's protege?
We all know that, stylistically, MacDonald is very similar to St-Pierre in his wrestling-focused game that works based on strong, distance-focused striking and athletic superiority. A fight between these two would be an eerily solid barometer to gauge Hendricks' chances against St-Pierre.
Scheduling is a major concern here, as Hendricks' eyes are squarely focused on Georges St-Pierre; so, depending on how and when his next title fight shakes out, he might end up opting to wait for him. Still, this is an intriguing fight that would be a strong headliner for a cable TV card.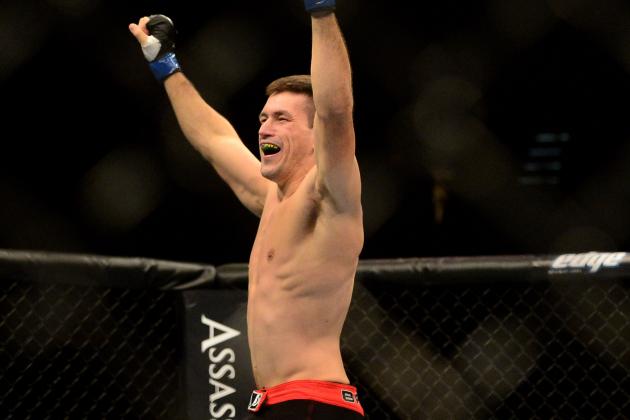 Mark J. Rebilas-USA TODAY Sports
Demian Maia's elite BJJ would force MacDonald to rely on his striking.
Now we're starting to get away from fighters in the immediate title hunt which, really, is the best place to look outside Condit.
Demian Maia, as we all know, is one of the best Brazilian jiu-jitsu practitioners in MMA today, and made Rick Story tap to a neck crank in his most recent fight. He was near the top of the middleweight pack for many years, largely based on his submission skills, and has been quickly rising through the welterweight rankings with those talents.
This fight would end up being a serious test for both fighters.
For Maia, we would be able to see if he has improved his striking, cardio and takedowns. Maia has teased fans in all these departments in the past, and ultimately would need to show proficiency in all aspects of MMA to win.
MacDonald, meanwhile, would need to rely on striking alone to win the fight. While he is a strong wrestler, Maia's submission skills are downright absurd. Additionally, he would not enjoy the huge size edge he has exerted over the likes of Nate Diaz and B.J. Penn in the past.
This would be a major fight in the welterweight division, and a legitimate chess match in the cage.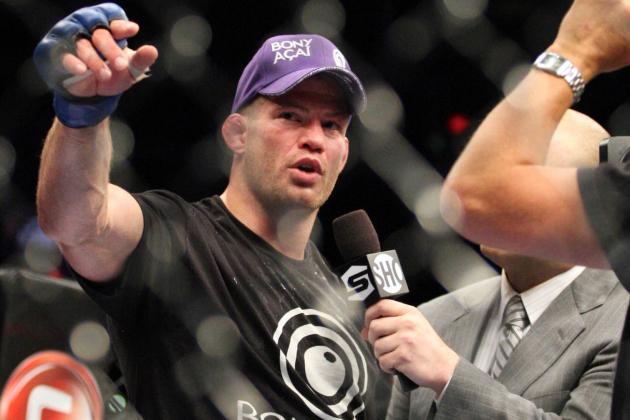 Scott Olmos-USA TODAY Sports
Crossing the well-rounded games of Rory MacDonald and Nate Marquardt would make for a technically marvelous fight.
The former UFC middleweight title contender and current Strikeforce welterweight champion will probably be returning to the UFC in 2013. He is amidst a two-year hiatus from the promotion after he was ejected for elevated levels of testosterone before a main-event fight with Rick Story.
Rory MacDonald would be a very interesting fight for his return to the UFC, and works perfectly as a title eliminator for unifying the Strikeforce and UFC belts.
Marquardt is one of the most experienced, well-rounded fighters the UFC has seen enter the Octagon. He has knockout power. He has excellent submissions. He has strong cardio.
The only thing that Marquardt has struggled with is fighting wrestlers with a size advantage (he lost to both Chael Sonnen and Yushin Okami in 2010). That said, he absolutely dominated former NCAA Division I wrestler Tyron Woodley to win the Strikeforce belt, and he has beaten other fighters with similar resumes in the past.
MacDonald does not own a size advantage over Marquardt and, as such, this would be an exciting, technical matchup between two well-rounded fighters. I, personally, am pulling for this one.