UFC on FOX 5 Results: Memorable Images and Quotes from Henderson vs. Diaz Card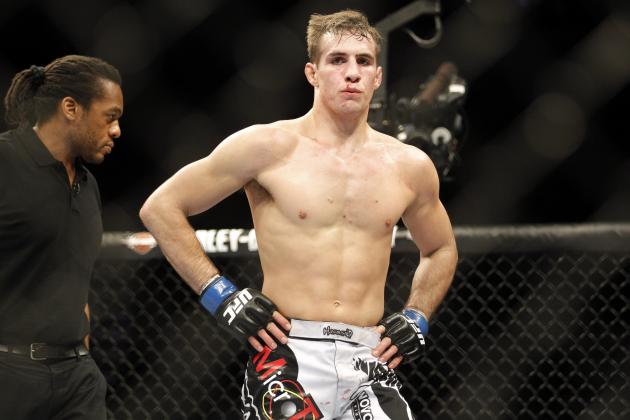 Joe Nicholson-USA TODAY Sports

Every time a UFC fight card comes to an end there a handful of moments that capture the imagination of fight fans.
Sometimes those moments are memorable for good reasons, like say delivering a dominant performance in a title bout. Sometimes those moments are memorable for a, shall we say, less than good reason, like maybe a fighter had to keep the censors on their toes to deal with his over-exuberant hand gestures.
Sometimes these moments get caught on camera, sometimes they live on only in our minds. What follows are some of the images that were caught on camera from Seattle's Key Arena during the UFC on Fox 5 fight card. Also included are quotes from the fighters involved in those moments.
*all quotes provided by the UFC unless otherwise noted
Begin Slideshow

»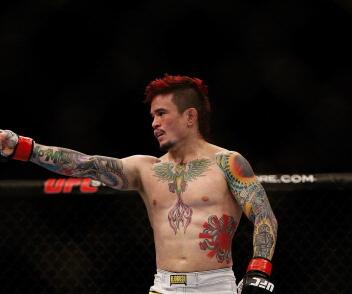 Josh Hedges/Zuffa LLC UFC via Getty Images
You don't get much more dramatic than a last-second win and that is exactly what Scott Jorgensen managed to pull off in the first fight of the night on the UFC on Fox 5 card, clamping on the rear naked choke and forcing the tap from John Albert.
Following his win, Jorgensen said:
I knew he was going to go for the triangle but I thought I'd be faster getting out of it. He was able to get it sunk in but it wasn't tight and I just had to weasel my way into the position we trained. I'm very hard to choke. When I reversed him and ended on his back I could feel him breaking under me. I heard the claps and I knew I only had 10 seconds so I squeezed as hard as I could and hoped for the best. It worked out.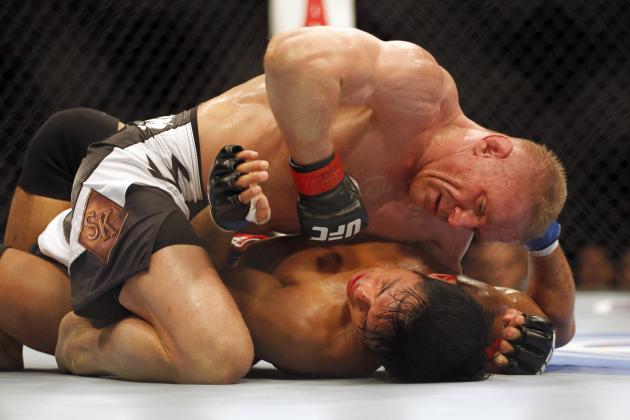 Joe Nicholson-USA TODAY Sports

There are dominating performances and then there's what Dennis Siver laid on Nam Phan on Saturday night. Siver, fighting for only the second time at featherweight, totally outclassed Phan, landing a staggering 222 strikes during the three-round bout. By comparison, Phan landed a mere 24.
Talking about his winning performance, Siver said:
We analyzed all of Nam's fights before entering the octagon tonight. We saw that he can't handle much pressure so we planned to push the pace from the opening bell until the final seconds. We planned to take him down and try to hurt him with the spinning back kicks but they didn't work as well as we thought they would. I want to prove that I'm the best fighter in the world at 145 pounds. I would like to fight another top contender and then fight for the title next year.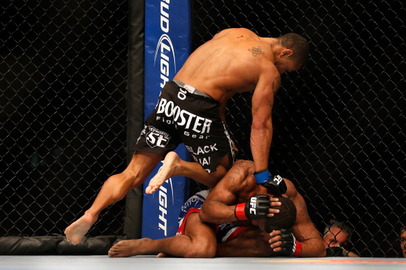 Josh Hedges/Zuffa LLC UFC via Getty Images
If you watch MMA with any regularity, you've probably wondered why fighters don't employ knee strikes to the body when the opportunity seems to be there. If you saw Abel Trujillo use those strikes to put Marcus LeVesseur away on the UFC on Fox 5 fight card, your probably going to wonder even more in the future.
Trujillo put his knees to good use when LeVesseur was against the cage and after he landed multiple knees the referee ended the fight early, showing everyone that if the opening is there, take it!
Oh yeah, it should be noted that Trujillo was scheduled to fight Tim Means until Means was forced out of the fight on Friday.
After the fight, the two fighters spoke about the bout:
Abel Trujillo:


It was a roller coaster the last couple days not knowing if I would get an opponent. Once I found out there was a replacement I was very happy. I'm glad Marcus stepped in and took the fight. I knew I had to defend the takedown to win the fight. I was able to dominate every position and do exactly what we planned. It's sort of surreal. This was my dream and I'm thankful to be here.
Marcus LeVesseur:
I'll be real and admit that not knowing my opponent until yesterday affected everything, but we are professionals and we have to deal with it. I'm looking forward to proving what I can do next time.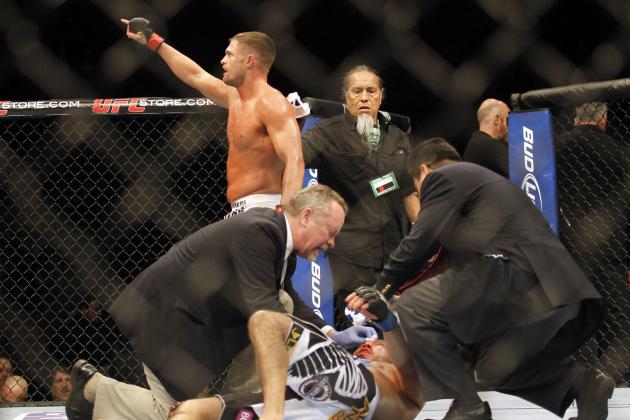 Joe Nicholson-USA TODAY Sports

You know what's great? Watching a fight, where you're left slackjawed at the amount of abuse a fighter can take without falling flat on his back. Henry Martinez was that fighter on the UFC on FOX 5 fight card.
He took whatever Daron Cruickshank could throw his way during the first round of their fight and kept coming back for more.
Sadly, all good things must come to an end, and Martinez's night ended with a well-placed kick to the head that put him out in the second round.
Cruickshank spoke about the kicks he landed and the incredible abuse he put on Martinez.
I saw in his previous fights that he was susceptible to body kicks and I thought if I landed them that I'd be able to stop him. My favorite fights are the ones where guys come right at me, and that's what Martinez did. He's a super tough guy and he was able to endure a lot. Your next fight is always your most important, and I'm looking forward to whatever that will be.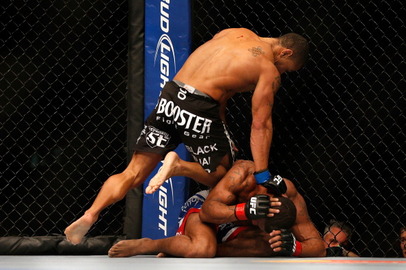 Ezra Shaw/Zuffa LLC UFC via Getty Images
Ramsey Nijem may not have won Season 13 of The Ultimate Fighter, but he has found success in the UFC, going 3-0 since dropping the TUF finale bout to Tony Ferguson via first-round knockout. His third win came on Saturday when he defeated Joe Proctor via unanimous decision.
After the win, Nijem said:
This was without a doubt the toughest fight I've had to date. I'm usually able to go in there, take people down at will and dominate them. I've never been in a fight where I couldn't control my opponent on the ground. I'm glad to get the victory but there's a lot of room for improvement. Luckily, I'm only 24 so I still have time to make those adjustments. I want to keep competing against the best and break into the top 10 as soon as possible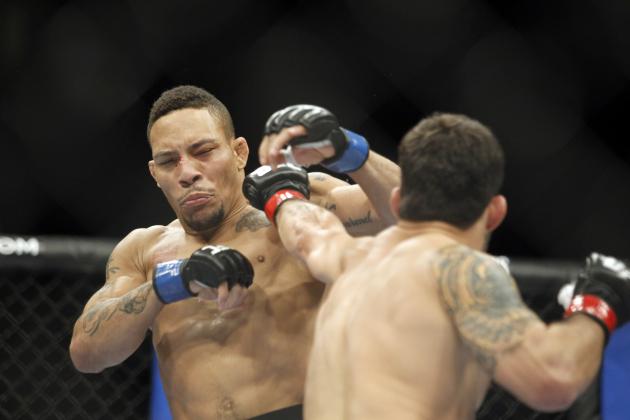 Joe Nicholson-USA TODAY Sports

Sometimes a fighter can learn a lot about themselves when they are placed in a situation that puts them out of their comfort zone. Two fighters found themselves in that spot on Saturday night: Mike Easton and Raphael Assuncao.
Easton had been booked on the UFC on Fox 5 card well in advance, but injuries changed his fight on multiple occasions before Assuncao was penciled in on Nov. 21 to compete on the card. That short notice didn't give either fighter much time to prepare and in the end, Assuncao was the one that was able to overcome that hurdle, ending Easton's eight-fight winning streak.
After the fight, the victor said:
I learn a lot about myself when I take fights on short notice. I'm very critical of my performances so I don't like taking fights without knowing for sure that I'm 100 percent. I broke the radius bone in my arm at some point in the first round which made things difficult. I was a little apprehensive but it all worked out. I give all the thanks to God and I'm looking forward to getting back in there.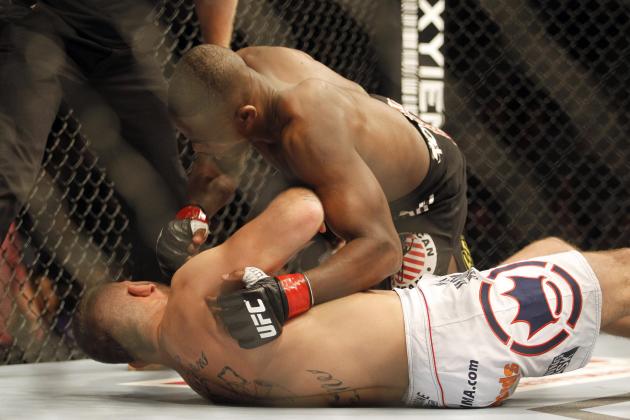 Joe Nicholson-USA TODAY Sports

Yves Edwards and Jeremy Stephens were originally scheduled to meet on Oct. 5, but that fight was scrapped when Stephens found himself locked up on fight night on an outstanding warrant.
The two met on the final preliminary card fight on Saturday night and Edwards made quick work of Stephens, earning "Knockout of the Night" honors for his stoppage win at 1:55 of Round 1.
After the fight, Edwards said:
It's a great feeling to go out there and get a win after all the issues and changes in opponents. I'm just glad that the guy I trained really hard for originally is the one that stepped in there tonight.

It made the last two weeks of camp a lot easier knowing we had trained for this before. I was looking for the knockout but I really expected him to be able to take the high kicks. He's a really tough guy and I'm glad I was able to get the finish.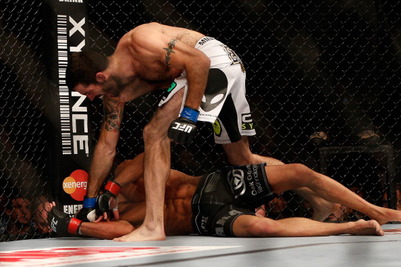 Ezra Shaw/Zuffa LLC UFC via Getty Images
No one expected the fight between Matt Brown and Mike Swick to go the distance, but when the first round turned into a grappling match, we were left to wonder if maybe it would be a much different fight than we had anticipated.
Those questions were answered in the second round, when Brown put Swick down and out at the 2:31 mark.
After the fight, Brown had the following to say:
I thought I had him on both of those submission attempts. The first one I couldn't tell if it was quite tight enough, but I was trying to bide my time while I decided what my next move was. I was planning on transitioning to either an omoplata or a triangle. He stifled the omoplata transition so I moved onto the triangle.

I thought it was extremely tight, but he gutted it out and was able to push through. Glad I was able to connect with the shot and get the finish.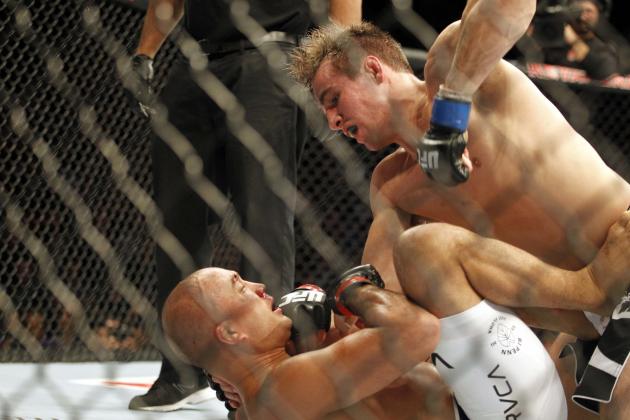 Joe Nicholson-USA TODAY Sports

You could criticize some of Rory MacDonald's antics inside the Octagon on Saturday night if you wanted to. You could question if he dragged the fight on longer than was needed. You could almost say he was openly bullying BJ Penn during the course of the fight, but why would you do those things?
In an entertaining and lopsided three-round battle, MacDonald let it be known that he is as good as his fans say he is.
The young Canadian had the following to say after his unanimous-decision win:
With all the things we said to each other hyping the fight I just want to say that it has been a huge honor fighting BJ. I'm happy with my performance and the new techniques I used successfully out there.

Looking back, I'm sure I will find a lot of areas that I can improve in, but I pushed myself very hard and I'm satisfied with my conditioning. I'm disappointed that I couldn't get the finish but not everything can go according to plan.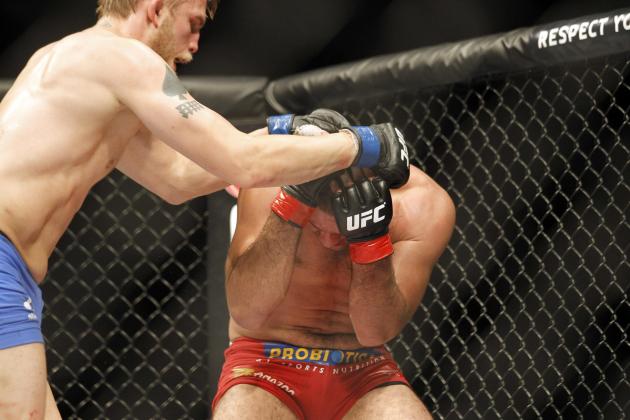 Joe Nicholson-USA TODAY Sports

Alexander Gustafsson has to have heard the talk that he deserves a shot at the UFC light heavyweight title. The UFC said, all right, let's see what you do with a former champion. Gustafsson provided the answer on Saturday when he defeated Mauricio "Shogun" Rua by unanimous decision.
Following his sixth consecutive win, Gustafsson said, "It was an awesome fight and it was such an honor to fight a legend like Shogun. I want the belt. I want to fight whoever has it."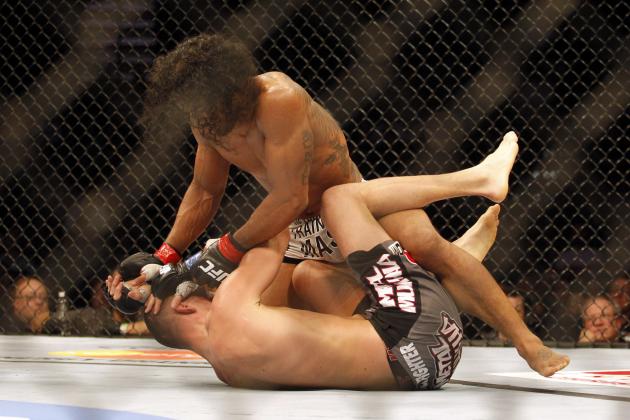 Joe Nicholson-USA TODAY Sports

So, does he deserve the title now?
Many questioned if Benson Henderson was the real UFC lightweight champion after two close-call victories over Frankie Edgar. Those doubters were hopefully silenced on Saturday when he dominated Nate Diaz throughout their five-round title fight.
Henderson totally negated every advantage that Diaz had on paper. He stopped the boxing attack that has made the Diaz brothers famous, as well as thwarting the submission attempts that the BJJ black belt attempted during the fight. He shook off the huge reach advantage Diaz had, as well as the distinct advantage he held in trash talking.
Saturday night's win was a solid performance from Henderson and should finally allow fans to see him as the real champion.