The Top 50 NHL Players of 2012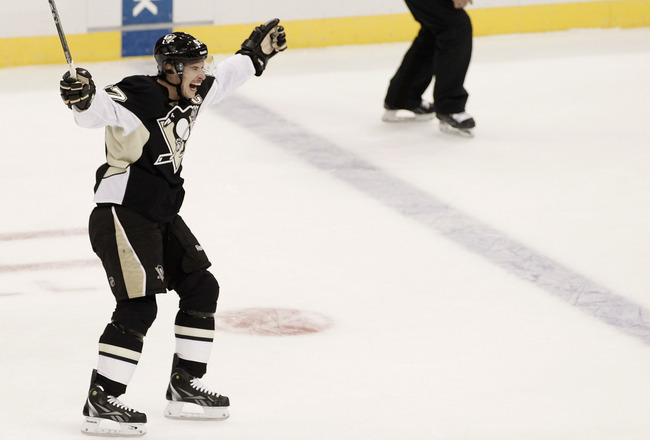 Jared Wickerham/Getty Images
As the calendar year comes to a close, we take a look at the 50 best players in the NHL today.
First, a few ground rules. If a player retired after last season (think Nicklas Lidstrom), they aren't eligible to be on this list. Neither is Tim Thomas, who had decided to sit this season out even before the owners locked out the players September 15.
The list is based on talent and performance, not on reputation. An older player may not be as high on this list as some people believe he should be because he is on the downside of his career and is no longer playing at the level he once was.
Feel free to weigh in with players you feel I miss, but please back it up with reasons why you feel your player belongs and roughly where on the list you feel they should be.
Here's a look at the NHL's 50 best players of 2012.
50. Jeff Skinner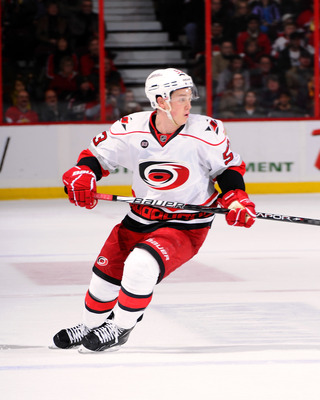 Phillip MacCallum/Getty Images
Skinner hit a bit of a sophomore slump after his outstanding 31-goal, 63-point rookie season.
Still, he managed to score 20 goals and 44 points despite playing in just 64 games due to various injuries.
Skinner has shown he has good hands and hockey smarts, and if he returns to his Calder Trophy-winning form, the Carolina Hurricanes offense should be even more dangerous once the season gets underway.
Fans forget Skinner is still just 20 years old, and his best hockey is ahead of him.
49. Duncan Keith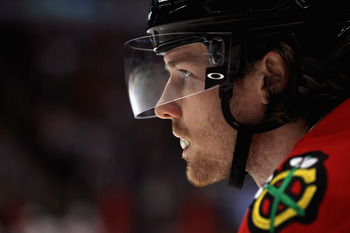 Jonathan Daniel/Getty Images
While his goal-scoring and point totals were down for the second straight year, Duncan Keith continued to log substantial minutes for the Chicago Blackhawks last year and has elite quickness on the ice.
Keith is great on the power play and has been more responsible in his own zone than many critics realize.
At 29, the former Norris Trophy winner should have plenty of productive years left, which should only benefit the Blackhawks as they attempt to capture another Stanley Cup title.
48. Gabriel Landeskog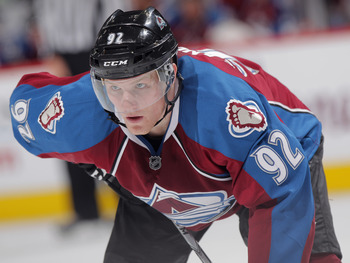 Doug Pensinger/Getty Images
Gabriel Landeskog has already accomplished a lot in just one NHL season.
The 20-year-old Swede won the Calder Trophy with a 22-goal, 52-point season.
If his performance on the ice earned him recognition as the league's best rookie, his maturity off the ice helped him become the youngest captain in the NHL.
Landeskog is surrounded by young and talented forwards on the Colorado Avalanche, and his production should continue to climb in future seasons.
47. Carey Price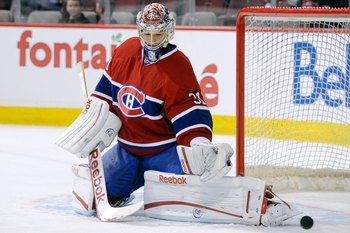 Richard Wolowicz/Getty Images
Carey Price was a bright spot on a very disappointing Canadiens team last season.
Despite a team that finished last in the conference, Price had another solid season with a 2.43 GAA and a .916 save percentage.
At 25, Price is just entering his prime, and the Habs organization recognized his importance to the club. The Canadiens' new GM signed Price to a big contract extension prior to the start of the lockout, which will keep him in Montreal for another six years.
46. Patrick Kane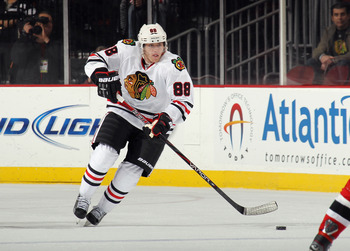 Bruce Bennett/Getty Images
There is little doubt the talent is there, but Patrick Kane's production fell for the second straight season in 2011-12.
Still, an "off" season for Kane included 23 goals and 66 points in 82 games, numbers many players will take in a heartbeat.
But more is expected of the top overall pick of the 2007 NHL draft in the future.
The Blackhawks hope Kane shows more maturity both on and off the ice and returns to his form of 2009-10, which saw him score 30 goals and 88 points and help Chicago win a Stanley Cup championship.
45. Max Pacioretty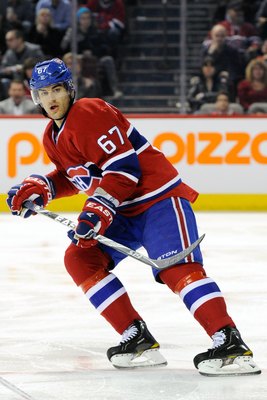 Richard Wolowicz/Getty Images
Montreal Canadiens forward Max Pacioretty bounced back from an injury-shortened 2010-11 season to lead the Habs with 65 points. He also scored 33 goals, good for second in the club.
The 24-year-old former University of Michigan star hopes to be consistent after his breakout season. He had great chemistry last year with linemates Erik Cole and David Desharnais.
44. James Neal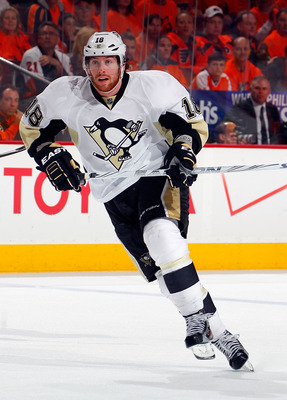 Paul Bereswill/Getty Images
Sure, James Neal benefits from playing on a line with superstar Evgeni Malkin, but Neal's production is too good to ignore.
Neal scored 40 goals and 81 points last year, his first full season with the Pittsburgh Penguins. He added six points in five playoff games.
Neal just turned 25 and has a bright future ahead of him. The 6'2", 210-pound native of Whitby, Ontario will climb even higher on this list if he replicates last year's success.
43. Jarome Iginla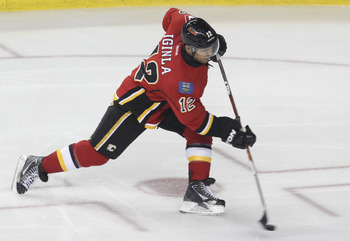 Mike Ridewood/Getty Images
Iginla is 35 and clearly not the player he was a few years ago, but he's still a smart, heady player and the best skater the Calgary Flames have by far.
Last season, the Flames captain scored 32 goals and 67 points to be at the top of the club. He has been a very consistent point producer for the Flames over the years. In fact, Iginla has scored more than 30 goals in each of the last 11 seasons.
Iginla is the leader of the Flames on the ice and the face of the franchise off of it.
He remains one of the best players in the NHL.
42. Keith Yandle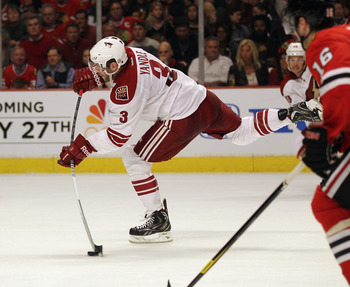 Jonathan Daniel/Getty Images
Many fans overlook Yandle because he plays in Phoenix on a team that doesn't make many appearances on national TV. But the 26-year-old Boston native continued to provide consistent offensive production for the Coyotes.
Yandle is the quarterback of the Phoenix power play and scored more than 10 goals for the third consecutive season in 2011-12.
While he's not a defensive standout, Yandle has improved in this area, and at 26, he should provide the Coyotes with several more years of standout play from the blue line.
41. Patrick Sharp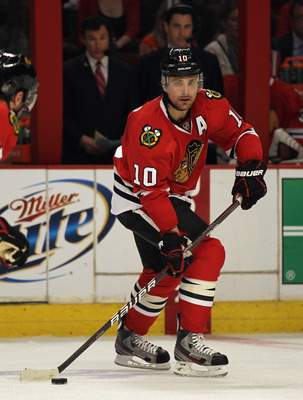 Jonathan Daniel/Getty Images
Patrick Sharp has found consistency, scoring 33 goals and 69 points last season, nearly identical to his numbers from the year before.
Sharp is an elite offensive talent who can also kill the occasional penalty, and at 30, he provides some leadership for the young and talented Chicago Blackhawks forwards.
It has been five straight campaigns of 25 or more goals for Sharp, one of the most reliably spectacular goal scorers in the NHL.
40. Ryan Callahan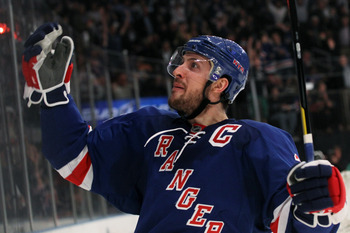 Bruce Bennett/Getty Images
There aren't too many players who are harder working than New York Rangers captain Ryan Callahan.
The 27-year-old probably would have reached the 30-goal mark had he not missed six games last season.
Callahan works hard at even strength and can excel on both the power play and the penalty kill. He isn't afraid to dig in the corners or to block shots.
The Rochester, N.Y. native inspires his teammates and plays a very well-rounded game.
39. Thomas Vanek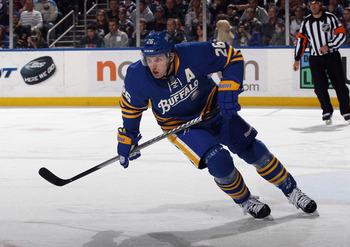 Bruce Bennett/Getty Images
Thomas Vanek has assumed a leadership role in Buffalo, and it complements his offensive prowess very well.
The 28-year-old Austrian had a little bit of an "off" year in 2011-12, with just 26 goals and 61 points. But his overall game probably improved a bit, and he remains a dangerous goal scorer and an underrated passer.
Vanek should team with Cody Hodgson and Jason Pominville to make a dangerous top line for the Sabres once the season gets underway.
38. Joe Thornton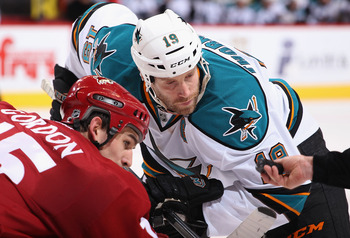 Christian Petersen/Getty Images
Because he has never won a Stanley Cup, "Jumbo" Joe Thornton is denied "elite" status by some critics.
But the 6'4", 235-pound London, Ontario native remains one of the best passers in the NHL.
Thornton had 59 assists last year and has never had fewer than 49 helpers in any season since joining the San Jose Sharks in 2005-06.
At 33, Thornton may be slowing down a bit, but there's plenty of good hockey left in the Sharks' veteran center.
37. Ryan McDonagh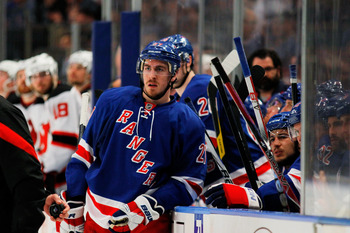 Bruce Bennett/Getty Images
Ryan McDonagh is exactly what New York Rangers coach John Tortorella loves in a defenseman.
The 23-year-old St. Paul native is big and tough, and he isn't afraid to block shots. He helps move opposing forwards out from in front of his net and helps shut down opposing scorers.
McDonagh added seven goals and 32 points, not bad for a guy who is counted on for defense first.
36. Martin St. Louis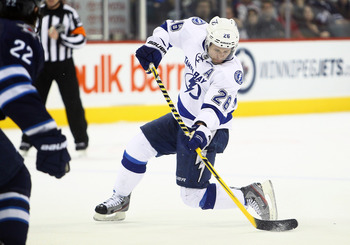 Tom Szczerbowski/Getty Images
Sure, he's 37, but Martin St. Louis remains an elite player in the NHL. Last year, he still picked up 25 goals and 74 points with the Tampa Bay Lightning.
The 5'8" winger remains one of the league's best passers and is a major reason Steven Stamkos scored 60 goals last season—Stamkos sees the ice exceptionally well and is deadly on the power play when he has a little extra room on the ice.
35. Jamie Benn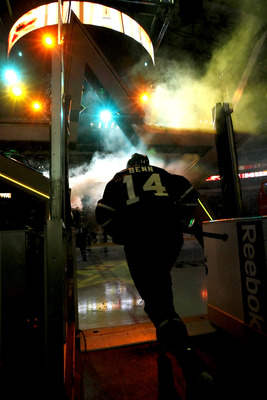 Brandon Wade/Getty Images
Jamie Benn had his best NHL season in 2011-12, and at 23, the talented native of Victoria, BC is one of the players the Dallas Stars hope to build around in the near future.
Last year, Benn had 26 goals and 63 points, both career highs. He clearly has the talent to put up even better numbers as he matures and has shown the desire and hard work needed to improve his game.
With the addition of veteran setup man Ray Whitney and future Hall of Famer Jaromir Jagr, Benn should have two great mentors in Dallas once the lockout ends.
34. Logan Couture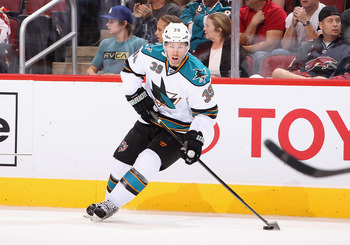 Christian Petersen/Getty Images
Logan Couture is just 23, but he has already established himself as one of the league's more talented goal scorers.
The London, Ontario native had 31 goals and 65 points last season, his second straight 30-plus season.
Despite his offensive prowess, Couture is responsible in his own zone and shows attention to detail that keeps him from being considered a prima donna.
While the present is already impressive for Couture, the future should be even brighter.
33. Jordan Eberle
David Maxwell/Getty Images
Jordan Eberle is one of the young and talented forwards the Edmonton Oilers hope to build another Cup contender around in the near future.
At 22, he's actually one of the more experienced youngsters on the Oilers and also one of the most productive. The Regina native scored 34 goals and 76 points last season and should continue to climb the scoring charts.
Eberle is also capable of scoring highlight-reel goals with regularity.
32. Phil Kessel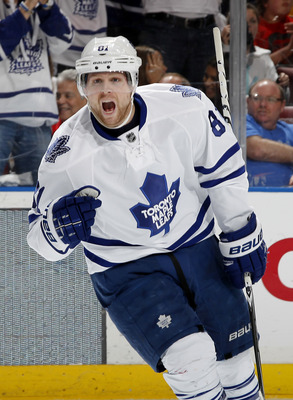 Joel Auerbach/Getty Images
Phil Kessel's production continues to climb, and the Wisconsin native had a career-best 37 goals and 82 points for the Toronto Maple Leafs last season.
Kessel has good anticipation and a quick release, which makes him a dangerous goal scorer. He excels on the power play and will continue to see time on the Leafs' top line for the foreseeable future.
Kessel is just entering his prime and will be gunning for a 40-goal season or more once a full season is played.
31. Jason Pominville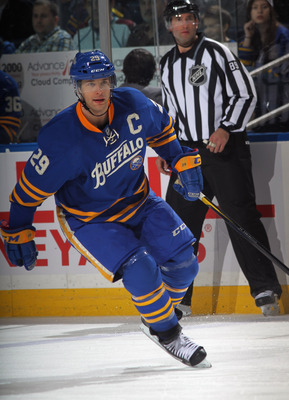 Bruce Bennett/Getty Images
Jason Pominville had a bounce-back season in 2011-12, scoring 30 goals and 73 points after suffering a tough injury in the playoffs the previous spring.
Pominville is a good leader and a top performer at even strength. At 30, he remains in his prime and should continue to produce at a consistent level for the Buffalo Sabres for a few more years.
30. Corey Perry
Harry How/Getty Images
Big Corey Perry saw his production fall last season, from 50 goals to 37 and from 98 points in 2010-11 to just 60 last year.
Expect the Peterborough, Ontario native to bounce back, though, along with linemates Ryan Getzlaf and Bobby Ryan.
Perry is the most explosive of the Anaheim Ducks top-line players, and at 27, there is no reason he shouldn't return to form once the NHL season begins.
29. Eric Staal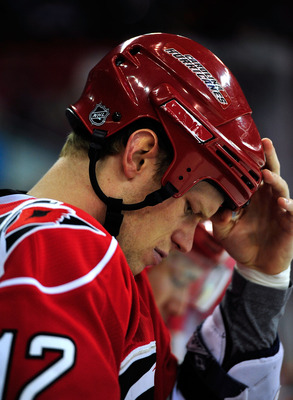 Grant Halverson/Getty Images
Eric Staal got off to a slow start for the Hurricanes last season, but he improved his play in the second half of the season and still led the club with 24 goals and 70 points.
The addition of his brother Jordan and high-scoring winger Alexander Semin to the lineup should provide Staal with some of the offensive support he has lacked in recent seasons.
Staal has been consistent, topping the 70-point mark every season since 2005-06.
Look for the Thunder Bay, Ontario native to continue to be a leader for Carolina and be a player every opponent needs to be aware of anytime he is on the ice.
28. Patrice Bergeron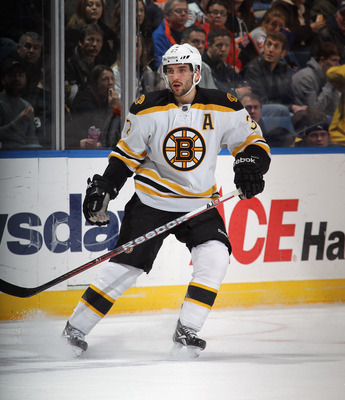 Bruce Bennett/Getty Images
The Boston Bruins' Patrice Bergeron had 22 goals and 64 points last season, but the 27-year-old native of L'Ancienne-Lorette, Quebec is on this list for his outstanding defensive play and physical play more than his consistent offensive production.
Bergeron had a career-high plus-36 rating last season and continues to be the kind of player opponents hate to play against.
He is a hard worker and one of the best penalty killers in the league.
27. David Backes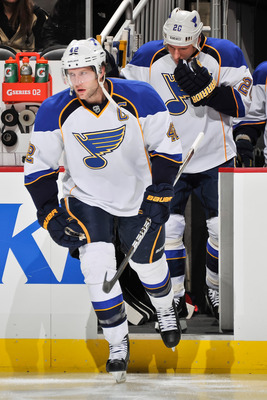 Jamie Sabau/Getty Images
The Blues struggled at times last season to score goals, but David Backes led the club in both goals and points with 24 and 54, respectively.
Backes killed penalties and led St. Louis with eight power-play goals.
But Backes is a player that Blues coach Ken Hitchcock can trust on the ice to help hold a one-game lead, as he is smart and responsible in his own zone.
The Minneapolis native is one of the better two-way players in the game.
26. Dustin Brown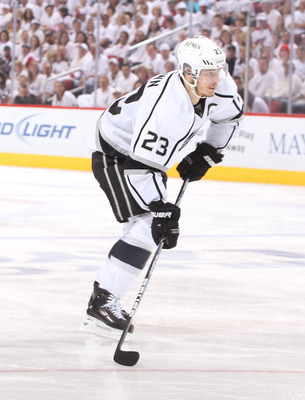 Christian Petersen/Getty Images
Dustin Brown is the kind of player every coach would love to have on his team. He has earned the captain's "C" by dishing out plenty of hits, being responsible in his own zone and putting up very solid scoring numbers.
Last season, Brown scored 22 goals and 54 points despite playing on a team that struggled offensively for the first five months of the season.
In the playoffs, Brown was a point-per-game player and helped lead the Los Angeles Kings to their first Stanley Cup win.
25. Alex Pietrangelo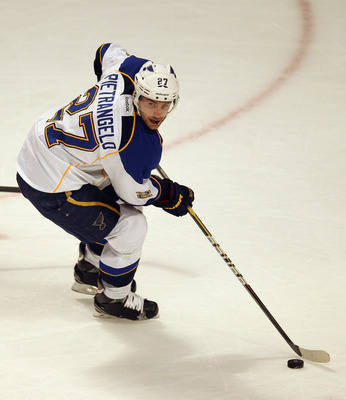 Jonathan Daniel/Getty Images
Alex Pietrangelo has only two NHL seasons under his belt, but he has already established himself as one of the league's best defensemen.
Last year, the King City, Ontario, native scored 12 goals and 51 points while seeing substantial time on the Blues' power play. He also led St. Louis with six game-winning goals.
Pietrangelo has elite offensive talent, and at 22, he has not yet become as good as he can be in the NHL.
24. Daniel Sedin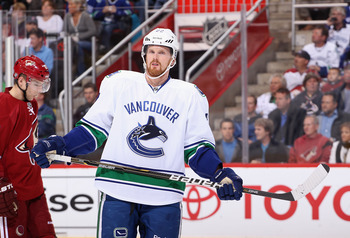 Christian Petersen/Getty Images
Daniel is the goal-scoring part of the Canucks' highly talented duo of identical twins.
Last year, the talented Swede scored 30 goals and 67 points despite missing 10 games due to injury late in the season. Vancouver was not the same without him.
Daniel won the Art Ross Trophy the previous season for leading the league in points, and he hopes to return to his 2010-11 form and lead the Canucks back to the Stanley Cup Final once the NHL resumes play.
23. Ryan Suter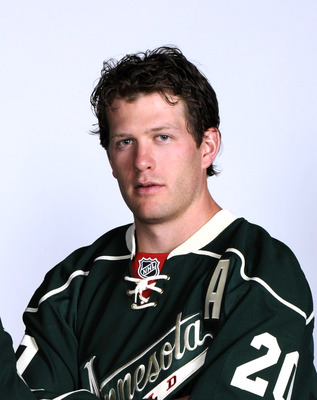 Hannah Foslien/Getty Images
There is a reason Ryan Suter was the most highly prized free-agent defenseman on the market this past summer.
In addition to his fine offensive skills, Suter is able to play a lot of minutes per game at a very high level, which helps define the roles of his fellow defensemen and limit their exposure over the course of a game and a season.
The 27-year-old Madison native had a career-high 46 points last season and is a big asset on the power play.
He should be a big benefit to the Wild once play resumes in the NHL.
22. Marian Hossa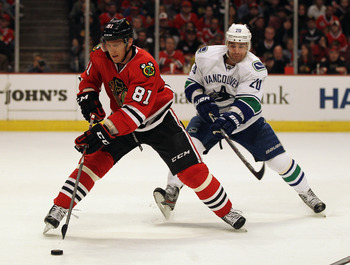 Jonathan Daniel/Getty Images
While the 33-year-old Slovakian winger may not be a 40-goal scorer anymore, he is still a consistent offensive threat and totaled 29 goals and 77 points last season.
Hossa is steady, smart with the puck and still has a good shot. Give him extra room on the power play, and he can be deadly.
Hossa has elite skills and is a big part of the Blackhawks' success. There's a reason he went to the Stanley Cup Final three years in a row with three different teams from 2008-2010, and he continues to show why each time he hits the ice.
21. Rick Nash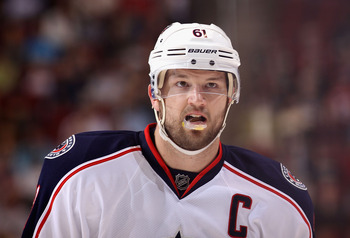 Christian Petersen/Getty Images
Rick Nash faces a new test once play resumes and he suits up for the New York Rangers: playing for a contending team.
The 28-year-old native of Brampton, Ontario, has appeared in only four career playoff games with Columbus and has yet to win one. Despite playing with few offensively gifted linemates, Nash has scored more than 30 goals in six of the last seven NHL seasons.
Nash isn't afraid to play defense or throw a check when called upon, and he thrived under Ken Hitchcock's system when he coached in Columbus. He should be a good fit on the Rangers with setup man Brad Richards and fellow sniper Marian Gaborik around to take some of the scoring pressure off of his shoulders.
20. Pekka Rinne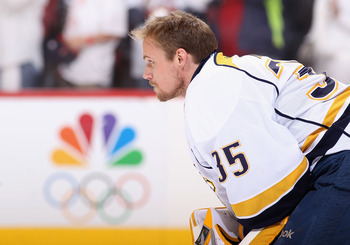 Christian Petersen/Getty Images
Good goaltending has been a constant for the Predators in recent years, and for the past four seasons, that has meant plenty of fine play by Pekka Rinne.
The 30-year-old Finnish star is among the league's best, using his size and smarts to become a Vezina Trophy finalist again last season.
Rinne won 43 games last season for the Predators while sporting a .922 save percentage and a 2.39 GAA playing for a team that rarely scored a lot of goals.
He is at the top of his game right now, and the Preds were thrilled to sign him to a contract extension last season that will keep him in Music City for years to come.
19. John Tavares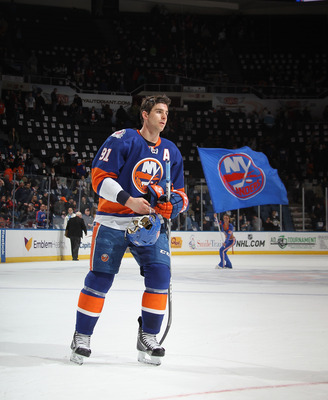 Bruce Bennett/Getty Images
John Tavares has lived up to the expectations that made him the top pick in the 2009 NHL draft.
Tavares has worked hard to improve the areas of his game that scouts criticized, like his strength and his skating, and is now a bona fide 30-goal scorer who has seen his point production increase every year he's been in the league.
Tavares now scores both highlight-reel goals and goals from the "dirty areas" of the ice, showing his work ethic and versatility.
He is also the cornerstone of the Islanders' rebuilding program as the team prepares to move to Brooklyn in 2015.
18. Jason Spezza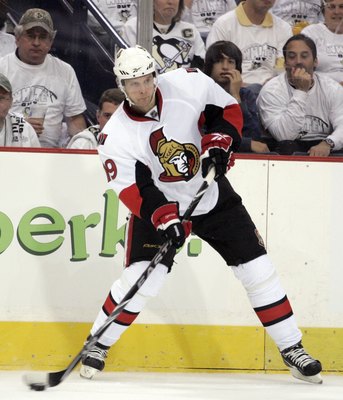 Justin K. Aller/Getty Images
Jason Spezza has been a top-line center and a top-flight point producer for the Ottawa Senators for seven seasons now. He's been around so long, it's hard to believe he is just 29.
The Toronto native had another productive campaign last season, scoring 34 goals and 84 points for the Sens.
Spezza was healthy last year, and it showed with increased production. The 6'3", 215-pound center now has four seasons with 30-plus goals and 80-plus points to his credit.
17. Erik Karlsson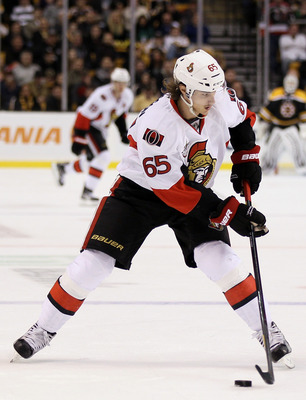 Elsa/Getty Images
Young Erik Karlsson dominated the point-scoring race among defensemen last season, scoring 25 points more than his nearest competitor.
The outstanding offensive production was enough to earn Karlsson his first Norris Trophy as the league's top defenseman, despite what critics said was a lack of outstanding play in his own end of the ice.
The swift-skating Swede is just 22 and should improve on last year's 19-goal, 78-point year in the next full NHL season. His defensive awareness and effectiveness should also improve, as well.
Karlsson has elite talent and anticipates plays well. He should be among the league's best defenseman for years to come.
16. Ilya Kovalchuk
Harry How/Getty Images
The New Jersey Devils paid a high price to acquire and sign Ilya Kovalchuk, but the Russian sniper has proven his worth over the past two seasons.
Already regarded as one of the most dangerous goal scorers in the league, Kovalchuk has played a well-rounded game for New Jersey and was a big reason they were able to reach the Stanley Cup Final last season.
The former Rocket Richard Trophy winner scored 37 goals for New Jersey last season and helped set up 46 more. He has a hard shot and a quick release which always make him dangerous on the ice.
Kovalchuk is also one of the game's top power-play threats and, at 29, should have plenty of good hockey left in him.
15. Zach Parise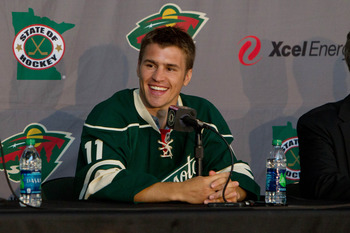 Brace Hemmelgarn-USA TODAY Sports
Zach Parise takes his talents to Minnesota after being Mr. Consistency for the New Jersey Devils for seven seasons.
He has scored 30 or more goals in each of his last five full NHL seasons, but he contributes so much more than just goals. Parise is responsible in his own end of the ice, can take the body and has also served as captain of the Devils in recent years.
The Wild shelled out big bucks for Parise and expect great things from him once the new NHL season gets underway.
14. Henrik Sedin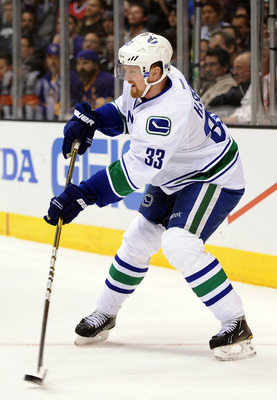 Harry How/Getty Images
Playmaker Henrik Sedin has been a major reason why the Vancouver Canucks have won back-to-back President's Trophies and reached the Stanley Cup Final in 2011.
The 32-year-old teams with his twin brother to provide Vancouver with one of the most dangerous top lines in hockey.
Henrik has already won a scoring title and a league MVP, and he's hoping to add a Stanley Cup title to his list of awards.
Last season, the super Swede scored 14 goals and 81 points despite the fact that his goal-scoring twin brother missed significant time down the stretch.
13. Shea Weber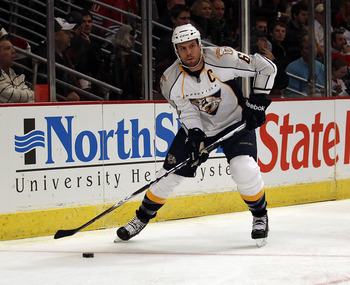 Jonathan Daniel/Getty Images
The Predators matched an outrageous offer sheet from the Philadelphia Flyers to retain the services of Shea Weber last summer, but anyone who has seen Weber play knows why GM David Poile decided to match the offer and pay Weber.
The 27-year-old BC native has scored more than 10 goals and 40 points in five of the last six seasons. He is steady in all three zones and provides leadership for the Preds that has helped make them consistent winners despite being a mid-market club.
Weber works hard and leads by example. He is the type of player GMs love to build around.
12. Drew Doughty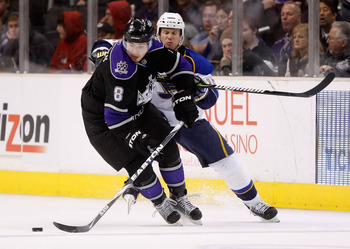 Jeff Gross/Getty Images
Young Drew Doughty raised his game to a new level last spring after struggling earlier in the year to live up to his big new contract.
The 23-year-old London, Ontario native scored 10 goals and 36 points during the regular season, an off season for him, but in 20 postseason games, Doughty scored four goals and 16 points in 20 games. He was outstanding in the transition game that helped get the puck out of the Los Angeles zone and started the Kings attack.
Nobody thinks Doughty has reached his potential yet, and most scouts believe that he is capable of playing at the level we saw in the playoffs last year for much longer stretches.
The best should be yet to come for Drew Doughty.
11. Jonathan Toews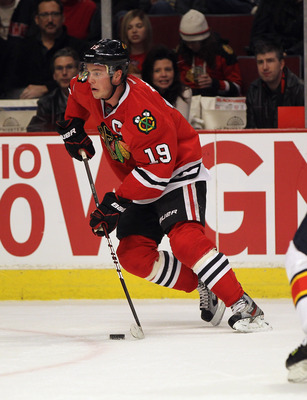 Jonathan Daniel/Getty Images
Chicago's Jonathan Toews is one of the best all-around talents in the game today.
The Winnipeg native has already spent five full seasons in the NHL, is just 24 and is beginning to enter his prime.
Toews' contributions go well beyond his 29 goals and 57 points he scored last year in just 59 games. He has outstanding hands, plays responsible defense and provides leadership that is well beyond his youthful years.
Toews plays more than 20 minutes per game, is great on faceoffs and contributes on both the power-play and penalty-killing units.
Any NHL GM would be thrilled to have Jonathan Toews on their roster.
10. Pavel Datsyuk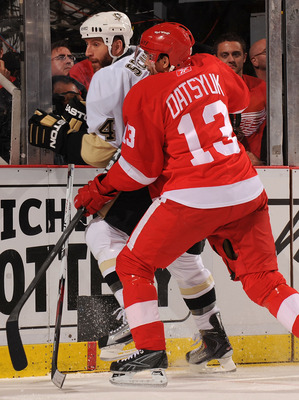 Harry How/Getty Images
Detroit's Pavel Datsyuk is still nearly a point-per-game player at 34, and he continues to be one of the more well-rounded hockey players in the world.
The smart Russian has already won four Lady Byng Trophies for gentlemanly play and three Selke Awards as the NHL's best defensive forward.
Add his steady offensive production, his hockey intelligence and ability to score clutch goals, and you know why teammates and foes regard Datsyuk as one of the best in the game today.
9. Alex Ovechkin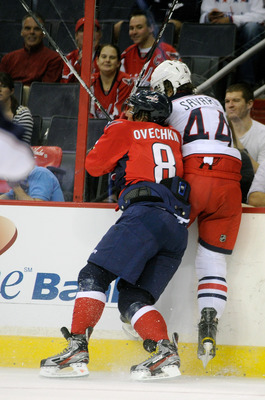 Greg Fiume/Getty Images
Three years ago, Alex Ovechkin would have been near the very top of this list. But a change in playing style by his team and what some have perceived as a corresponding lack of consistent effort on Ovechkin's part have led to falling production and a lower ranking on this list.
That being said, there are few players as talented as the 27-year-old Caps superstar, who had 38 goals and 65 points last season during an "off" year. There are plenty of players who would consider Ovechkin's poor seasons to be career seasons for them, and that speaks volumes about how good "Ovie" actually is.
It will be vital for the Caps and new coach Adam Oates to rekindle the fire that helped make Ovechkin one of the world's best hockey players a few years ago. There is no doubt the talent is there. If the production follows, Ovechkin can regain his throne as one of the league's true elites.
8. Henrik Lundqvist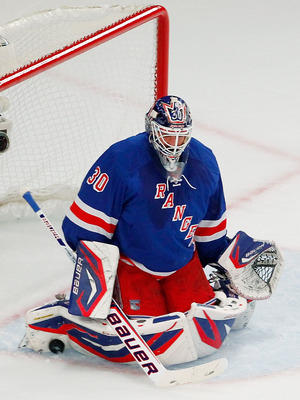 Paul Bereswill/Getty Images
Henrik Lundqvist has long been considered among the game's best netminders, but last year he took his game to another level.
The suave Swede won his first Vezina Trophy as the league's top goalie and helped the Rangers reach the Conference Final for the first time since 1997.
Lundqvist won a career-high 39 games last year, the seventh straight time he has won more than 30 since entering the league in 2005-06. His .929 save percentage and 1.97 GAA were also career bests.
Lundqvist plays his angles well and stays cool under pressure. His intelligence and style both on and off the ice have made him a favorite at Madison Square Garden.
7. Anže Kopitar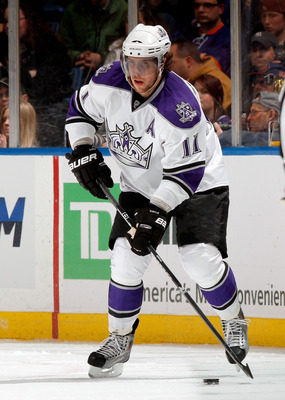 Paul Bereswill/Getty Images
Anže Kopitar is the most talented offensive forward on the Kings, and his performance has been consistent over the past three seasons, scoring between 76 and 81 points each year.
Kopitar has size (6'4", 220 pounds) and fast hands to go along with great vision on the ice. He was a huge part of the Kings' first-ever Stanley Cup win this past spring.
The Slovenian center is just 25 and is entering his prime, and the Kings expect several more strong seasons from Kopitar.
6. Zdeno Chara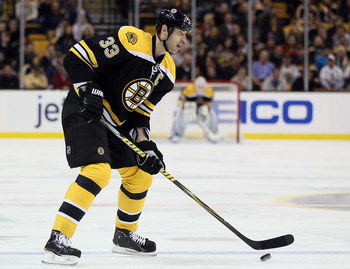 Elsa/Getty Images
The NHL's tallest player remains one of the best all-around defensemen in the game.
At 6'9", 240 pounds, Chara has the size and strength to keep opposing forwards away from the Bruins' net.
He is also a good skater and puts up good offensive numbers for a defenseman. Last season, Chara scored 12 goals and 52 points.
The big Slovak serves as captain of the Bruins and helped lead them to a Stanley Cup title in 2011.
5. Jonathan Quick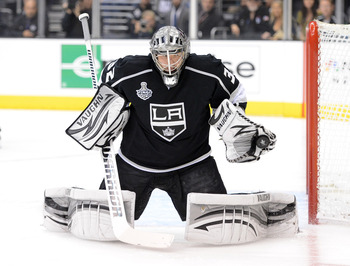 Harry How/Getty Images
Jonathan Quick has been very good throughout his NHL career. Last year, the 26-year-old goalie from Milford, Conn. was even better.
Quick led the Kings to their first-ever Stanley Cup title and captured the Conn Smythe Trophy as playoff MVP.
He was no slouch during the regular season, either, playing for a team that struggled to score goals all year. His 1.95 GAA and .928 save percentage were career bests, and he played even better in the playoffs.
Quick plays his angles well and has fast reflexes. He is on top of his game right now, and there is little reason to believe he can't continue to play at this level for several more years.
4. Claude Giroux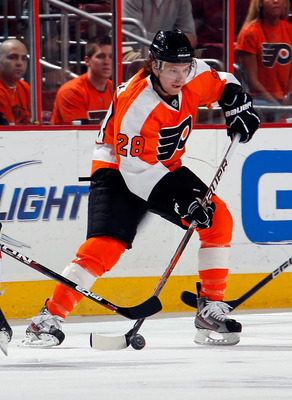 Paul Bereswill/Getty Images
Claude Giroux can do it all for the Philadelphia Flyers. The talented Hearst, Ontario native scored a career-high 93 points last season and was a legitimate MVP candidate.
Giroux sees the ice exceptionally well, delivers soft and accurate passes and is more than capable of putting the puck in the net. He also has great stamina and led all Flyers forwards with 21:32 average ice time per game last season.
Giroux is also a leader already, at the age of 24, and is one of those rare players who can make those around him better.
3. Sidney Crosby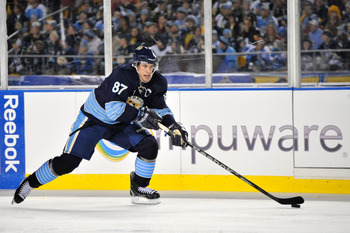 Jamie Sabau/Getty Images
When he's healthy, "Sid the Kid" is among the best players in the NHL, but the last two seasons, his health has been a big if.
Crosby already has four 100-plus point seasons, and he's won an Olympic gold medal, a Stanley Cup, a Rocket Richard Trophy and a Hart Trophy.
Few players see the ice as well as Crosby, and he loves to drive to the net. He is not a selfish player, either, and he passes the puck well.
Crosby is the face of the Penguins and the NHL when he's healthy. If he stays healthy, he is still on the short list of the NHL's best players.
2. Steven Stamkos
Doug Pensinger/Getty Images
Steven Stamkos is the most dangerous goal scorer in the NHL today. Last year, he scored 60 goals, 10 more than his nearest competitor.
The Markham, Ontario native has already won a pair of Rocket Richard Trophies, and he is still just 22.
Stamkos has a quick release and a knack for finding enough open space on the ice to get off his heavy shot.
It is likely Stamkos can get even better, so the league ought to take notice that this sniper is here to stay.
1. Evgeni Malkin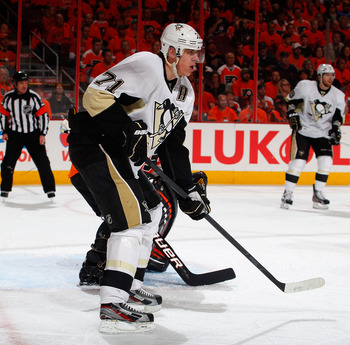 Paul Bereswill/Getty Images
While most people pay more attention to Sidney Crosby, there is little doubt that Evgeni Malkin is not only the best player on his team, but the best in the league.
Malkin led the league with 109 points and was one of just two 50-goal scorers in the league.
His size gives his game a dimension that Crosby does not have. Also, whenever Crosby has gone down with injuries, Malkin has picked up his game and carried the team on his shoulders.
Malkin is just 26 and has already won a Stanley Cup, a Conn Smythe Trophy and an Art Ross Trophy. It's very likely he's not done adding to his trophy case, either.
Keep Reading