Lions vs. Packers: Final Report Card, Player Grades for Green Bay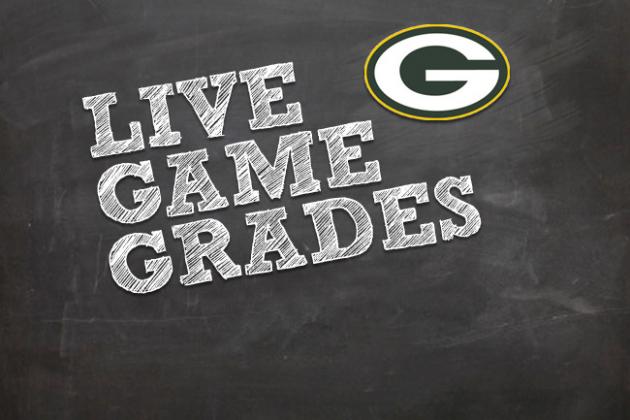 The Green Bay Packers beat the Detroit Lions 27-20 to improve to 9-4 on the season and move even closer to clinching the NFC North title.
After a slow start, Aaron Rodgers and the Packers got their run game going in the second half with four players all having runs over 10 yards (Rodgers, DuJuan Harris, Alex Green, Ryan Grant). They outscored the Lions 27-3 after going down 14-0 early in the game.
Let's take a look at the Packers' final postgame grades and evaluations.
Final Score
Packers–27
Lions–20
Begin Slideshow

»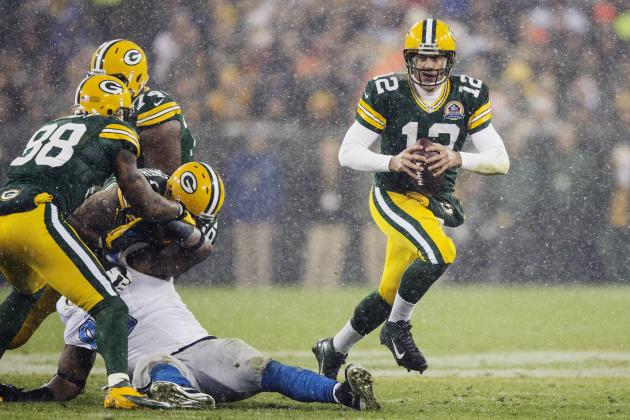 Tom Lynn/Getty Images

Aaron Rodgers–C+
Rodgers wasn't at his best against the Lions, but he made just enough plays to get the Packers a victory. He didn't receive much help from his offensive line, but Rodgers was able to escape a number of sacks with his athleticism. Rodgers' best play of the night was definitely his touchdown run which really sparked the team.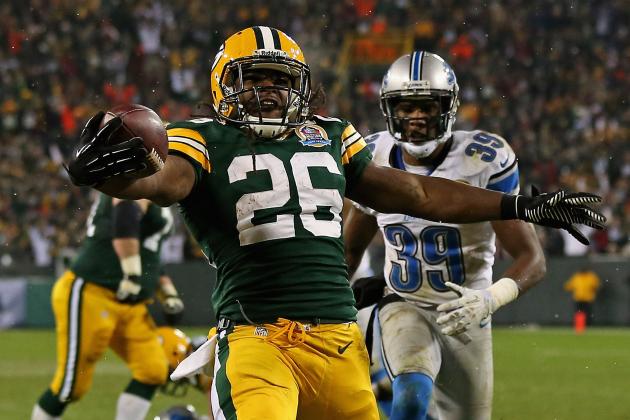 Jonathan Daniel/Getty Images

Ryan Grant–B
Grant didn't see much action in his first game back in Green Bay, but looked very good on his only carry of the night, a 13-yard gain. His burst was exciting and showed he can have a role down the stretch.
DuJuan Harris–A
Harris got the unlikely start and carried the ball for 11 yards on the Packers first play from scrimmage. Seemingly out of nowhere, Harris continued to play well throughout the game and got into the end zone for the Packers go-ahead, fourth-quarter touchdown.
Alex Green–A-
Green played one of the best games in his career, consistently putting the Packers in manageable downs-and-distances. He lead the backs with 13 carries and 69 yards, showing he can be counted on as the Packers close in on the playoffs.
John Kuhn–B
Kuhn didn't have a very flashy game with no catches and only one carry, but he did a nice job run blocking and in pass protection. Most of his work won't show up in the box score, but Kuhn definitely contributed.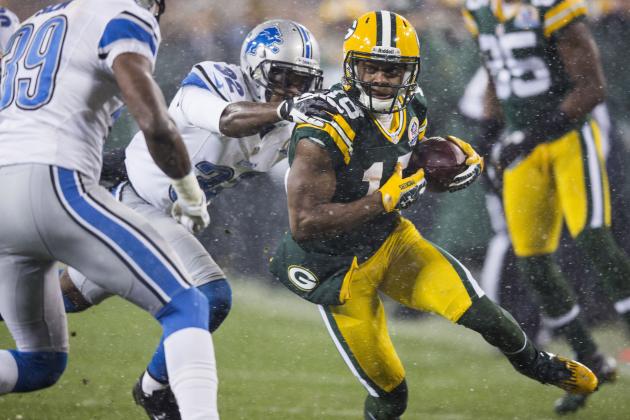 Tom Lynn/Getty Images

Greg Jennings–C+
Jennings came up with a big catch on the Packers second drive of the game, but was held catch-less the rest of the game. The Packers didn't have a ton of passing yards, but Jennings needs to make himself a bigger part of the game.
James Jones–B-
Jones came up with two big catches and continues to be one of the most consistent players on the team. He had a pretty quiet game, but when the Packers needed Jones, he came up in a big way.
Randall Cobb–A
Cobb continues to break out this season with another spectacular performance. Cobb lead the team in both catches and yards with seven receptions and 102 yards. The most exciting aspect of Cobb's game is that he's really developing into a very well-rounded wide receiver.
Jarret Boykin–C
Boykin didn't get many opportunities, but did get his numbered call on a quick pass. Boykin looked pretty shifty, but only gained four yards.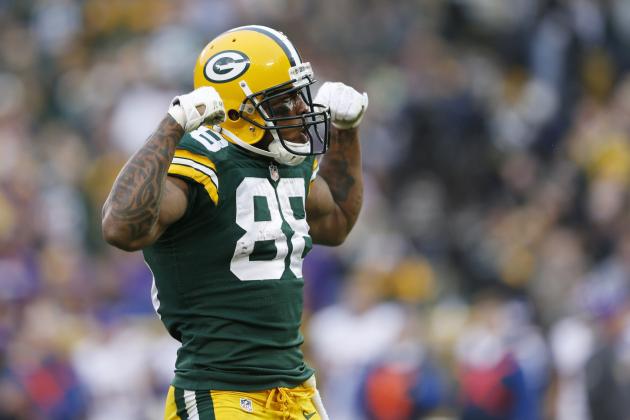 Joe Robbins/Getty Images

Tom Crabtree–B-
Crabtree put together another solid performance, but like Kuhn, his impact won't show up in the box score. Crabtree did a solid job blocking and creating running lanes as well as strong pass protection.
Jermichael Finley–C+
After having a big impact last week, Finley wasn't need in the same fashion, but did okay with two catches for 16 yards. Finley needs to be ready when the Packers need him to have a big game because that time will certainly come.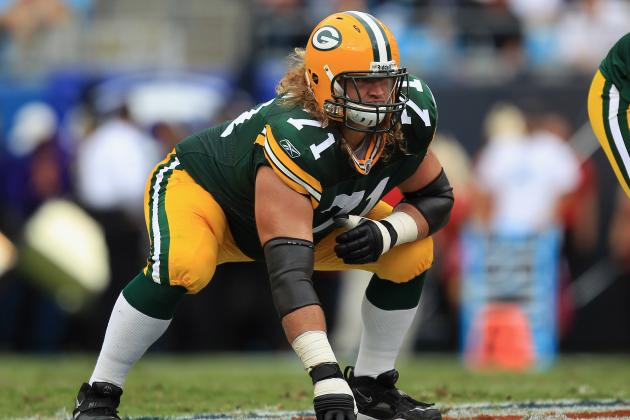 Streeter Lecka/Getty Images

Marshall Newhouse–D
Newhouse struggled and the Packers paid the price early on in the game. He was bailed out a number of times by Rodgers ability to avoid the pressure, but Rodgers paid the price on a number of hits that the Packers can't afford him to take. Newhouse also had a shot at Rodgers' fumble, but couldn't get anywhere near it for the recovery.
Evan Dietrich-Smith–C-
Dietrich-Smith struggled as T.J. Lang went through pre-game warmups and decided he couldn't play. While he didn't do very well against Nick Fairley, Dietrich-Smith delivered a huge block on DuJuan Harris' touchdown run in the fourth quarter.
Jeff Saturday–C+
Saturday had a solid game and was very quite on the offensive line. While his line-mates struggled to play up to standard, Saturday wasn't a liability like other parts of the line.
Josh Sitton–C
Sitton played a decent game, but was hit with a phantom holding call. To be fair, it looked like he did from some angles, but it was clear in others he didn't. Outside of that, Sitton was strong in the run game, also delivering a nice block on the Harris touchdown.
Don Barclay–D+
Barclay struggled early in the game, but got better as it went along. Part of that was the Packers utilizing more quick routes, but still, Barclay deserves credit for improving as the game went along. He may be used as the right tackle even when Lang returns as the Packers would have Lang replace Dietrich-Smith.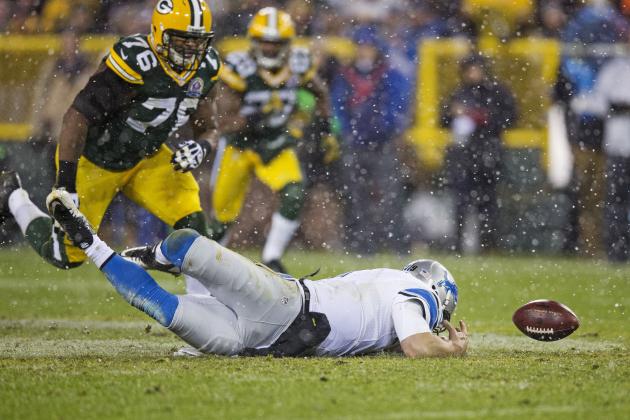 Tom Lynn/Getty Images

B.J. Raji–B
While the Packers struggled defensively for much of the game, Raji was extremely active against the run in a game where the Packers were forced to play with just four defensive linemen. While he put together an impressive effort, he needs to be better against the pass
Mike Daniels–A
Daniels not only changed the game with his scope-and-score, he played well with so many other injuries on the defensive line. His touchdown return was the play of the day and gave the Packers new life. In addition to the big play, he was clearly held on a rush in the first half and actually got close to Stafford in the second half.
Ryan Pickett–C
Pickett was pretty quiet, but came up with six total tackles on the evening. The Packers did a much better job stopping the run in the second half and Pickett was a big part of that.
Jerel Worthy–C-
Worthy didn't seem to make the most of his opportunities, but came up with one of the Packers only two hits on Matthew Stafford. He should have gotten more pressure on the quarterback and done more to help the Packers get off the field on third downs.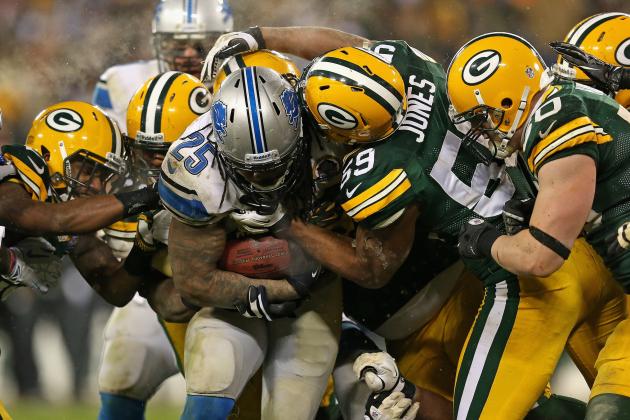 Jonathan Daniel/Getty Images

Dezman Moses–D
It was an outing to forget for Moses as he was replaced early in the game for two neutral-zone infractions. He failed to get anything going and continues to stumble without the benefit of playing opposite Clay Matthews. He should get that luxury next week, but will likely have to split time with Erik Walden and Frank Zombo.
Frank Zombo–D+
Zombo didn't do much better than Moses and had to big mistakes on the Lions game-opening touchdown drive. He got washed-up on the Lions reverse and bit hard on the fake that sprang Matthew Stafford's touchdown run. Throughout the game, he struggled to get to the quarterback.
Erik Walden–D
Walden, much like Moses and Zombo, couldn't get anything going in terms of rushing the passer. The Packers needed somebody to step up and get pressure and got little from Erik Walden who had been playing well at times this season.
A.J. Hawk–C
Hawk was pretty average on the evening, but did a nice job of clean-up duty against the run. He finished with eight tackles on the game, but failed to make any big plays that impacted the game in any way.
Brad Jones–C-
Jones struggled in the run game with most of his team-leading 12 tackles coming as part of clean-up duty rather than making a play. He was very active, but the Packers are missing the big-play ability that Desmond Bishop and D.J. Smith gave them.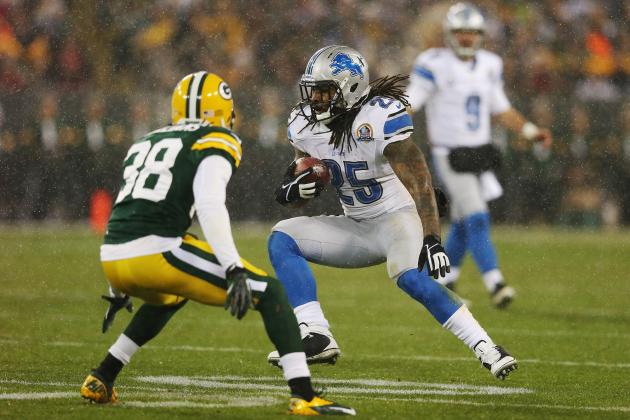 Jonathan Daniel/Getty Images

Tramon Williams–B+
Williams put together a very strong performance against Calvin Johnson, despite Johnon's 10-catch, 118 yard stat-line. He had a number of break-ups that kept Johnson from being a dominant force in the game. He deserves a lot of credit for taking on the assignment and delivering.
Davon House–D
House struggled early in the game and was replaced by Sam Shields. Instead of going to a rotation like the Packers had been doing previously, they kept House out in favor of Shields. As a young player, House will hopefully learn from this and come back ready for the next week.
Sam Shields–B
Shields made an impact in his first game back from lower leg injuries. He did a spectacular job of chasing down Stefan Logan and taking away the corner which saved a huge kick return. In addition, Shields made the most of a mis-communication from the Lions offense with an impressive interception.
Casey Hayward–B
The rookie continues to impress and did so especially down the stretch, coming up with a number of pass defenses. He dropped what should have been an interception, but like the saying, that's why he's on offense. His development has been fun to watch and should continue as the games get more and more important.
Morgan Burnett–C+
Burnett didn't come up with any big plays and was whistled for a tough, but correctly called penalty for hitting a defenseless receiver. He lead the team in tackles, but he didn't come up with any big plays that would be expected from him.
Jerron McMillian–C-
McMillian was also quite on the evening outside of his almost-interception on fourth-down that all but ended the game. He probably should have made the play, but it helped the Packers that it was called an incomplete pass.
M.D. Jennings–C
Jennings had four tackles on the night, but other than that didn't have a big role in the game. He was rarely heard from.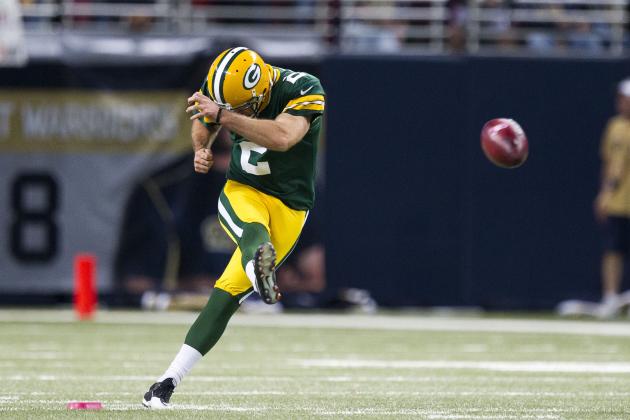 David Welker/Getty Images

Mason Crosby–C
Crosby hit two long field goals, but missed another to bring his streak to seven games with at least one missed field goal. It'd be harsh to say Crosby is back in his slump based on the missed field goal as it was hit well and missed by a few yards.
Randall Cobb–B
The Lions made a point of trying to limit Cobb's opportunities in the run game, but Cobb still managed to average 25.3 yards on three returns. He consistently gave the Packers good field position, even when the Packers kicked away from him purposely.
Tim Masthay–B
Masthay averaged 44.3 yards per punt on his three punts and landed one inside the 10-yard line for another strong outing. He was been very good this season and has given the Packers stability with his punting ability and consistency.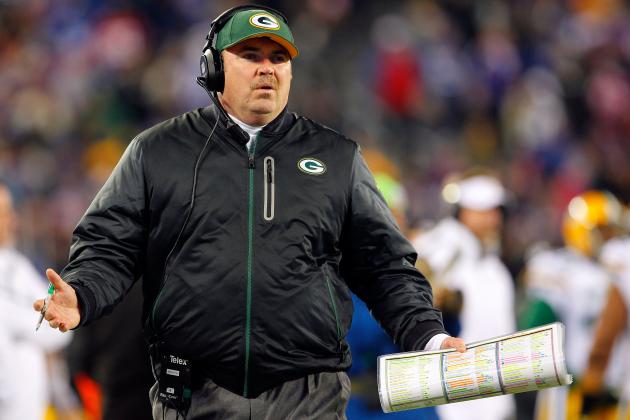 Rich Schultz/Getty Images

Mike McCarthy–B
While the Packers poor start and undisciplined nature is partly on McCarthy, he did a nice job adjusting and sticking to the run game in the second half. The team showed great resiliency to come back from 14 down and take control of the game.
Dom Capers–D+
Capers was bailed out by a couple big defensive plays and a number of missed passes by Matthew Stafford. The Packers defense got very little pressure on Matthew Stafford and struggled against the run. They did a better job against the run in the second half, but it wasn't good enough overall.