7 2013 NBA Free Agents James Harden Should Recruit to Houston Rockets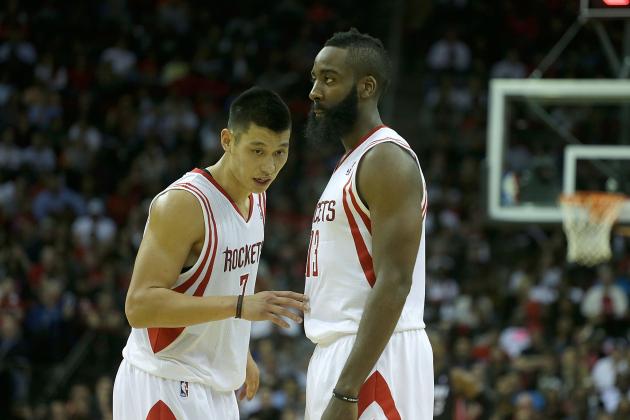 Scott Halleran/Getty Images

The Houston Rockets find themselves with a bona fide star player in James Harden, and despite the fact that he has his down games with his up games, it seems that he's the perfect person to recruit future free agents with.
Not only is Harden a guy you can build a team around, but he just signed a long-term extension with the Rockets and is going to be in place for a few years. Add that to the fact that he's only 23 years old and has NBA FInals experience and you've got yourself an interesting young player.
In fact, it seems that Harden is aware of his station and has taken it unto himself to make a run at some free agents next season, already talking to some guys about coming to Houston to join him, Jeremy Lin and Omer Asik.
On the surface it seems as if the Rockets are set at point guard, small forward (obviously) and center. However, their frontcourt depth makes you wonder how much more they want to add there, and the development of Chandler Parsons makes it seem like he's going to have a lock on the small forward spot unless the right guy comes along.
Of course, if the right guy comes along and wants to sign with the Rockets, I'm sure they'd be able to shuffle the lineup around in any direction if need be.
Begin Slideshow

»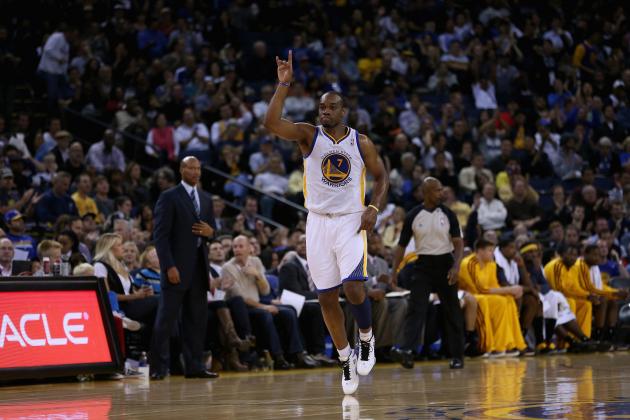 Ezra Shaw/Getty Images

He's underpaid, undervalued and underrated, but he's making a case to be the sixth man of the year out in Oakland as the Warriors continue to succeed where so many teams before them have failed.
Landry comes in averaging 13.3 points and 6.8 rebounds off the bench for Golden State, all while shooting an impressive 56 percent from the floor.
He's a fair enough defender to get along and he's the kind of guy who has the size to play the power forward spot, but he's got the finesse to continue to play with a bit of skill, rather than just trying to ram his way into the paint.
Obviously this would be a marginal addition with the hopes of the continued development of Patrick Patterson and Chandler Parsons, but he definitely wouldn't be a bad guy to add in terms of effective bench production and veteran leadership.
Of course, Landry has also spent a few seasons with the Rockets at the beginning of his career, so he's familiar with the front office and the area, which is always a plus.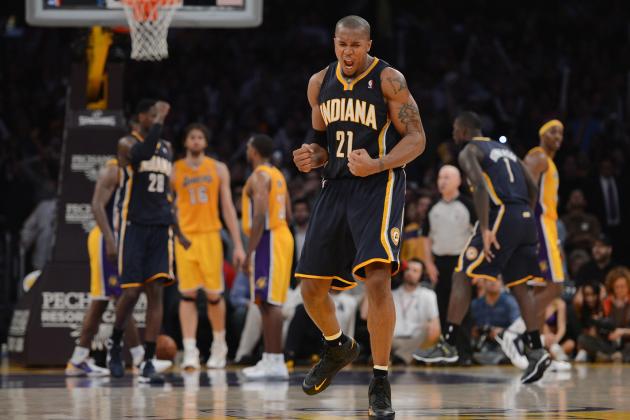 Harry How/Getty Images

David West has taken on quite a leadership role in Indiana, and it's all been for his team at the detriment of his field-goal percentage.
Usually when a guy is in his contract year he's at least got some interest in preserving his stats for his own good, but Indiana needs someone to take over the scoring load, and West has done his best to take on a bit of that burden.
You know what's happened over the course of the year? He's learned how to be a volume shooter. He's not just the guy who ends up shooting because the shot clock has run down anymore, he's the guy who finds a position on the floor and figures out how to get to the basket from there.
After shooting 43 percent over the course of the first 11 games of the season, he's shooting an insatiable 57.6 percent over the past nine.
He's starting to turn the corner as a scorer, and as a man who is basically the rich guy's version of Carl Landry, he'd be an incredible player to have with Omer Asik in the frontcourt.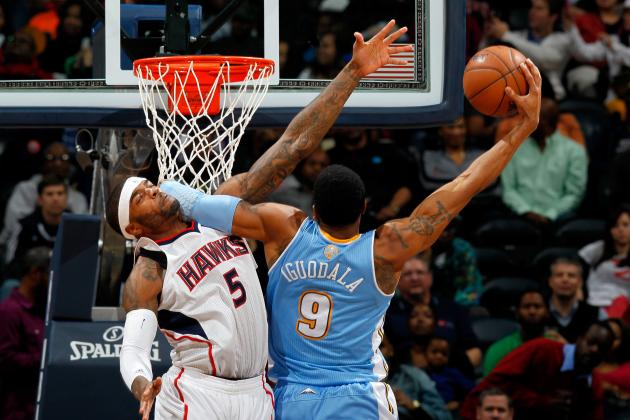 Kevin C. Cox/Getty Images

Andre Iguodala is sitting at the shooting guard spot for the Denver Nuggets right now, but he seems to be at a more natural position when he's playing small forward.
Of course, he's gone through a bit of a struggle working his way into the system in Denver, and if things don't end well this season he's got an early termination option that could mean he bounces out of Denver much sooner than any Nuggets fan would have liked.
Iggy is averaging 14 points per game for the Nuggets, but he's doing it while shooting 44 percent from the field, which is a small downfall in production compared to a year ago. His biggest fall has been in three-point shooting, which is falling at a rate of just 36 percent.
That's is okay, but not great.
In his role with Denver, Iggy is expected to score every night, and if he doesn't then it's a bit of a disappointment.
However, it's been eight years since he played alongside a truly dominant scorer like Harden, and that was near the end of Andre Iguodala's time in Philadelphia.
Put him on the Rockets next to Harden on the wing and tell him to go out there to play defense and be a team leader and it seems like he'd be as happy as a clam.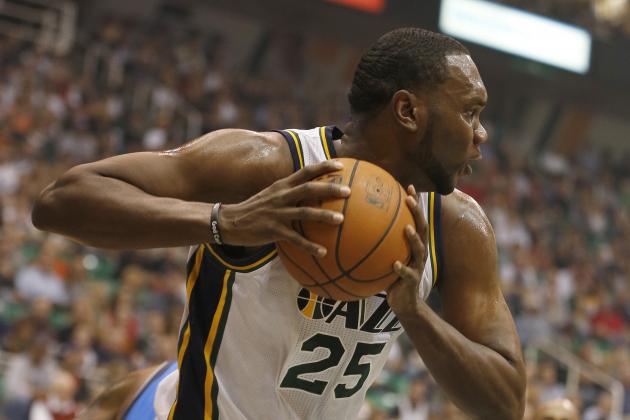 George Frey/Getty Images

With Omer Asik at the center spot, and playing incredibly well there I might add, it seems unlikely that the Rockets would chase after a center this offseason.
Of course, if he's a center who basically plays the complete opposite game that Asik does. But offensively, the two could easily compliment each other on the court.
With a big man who can score consistently and be relied upon to put down 15-20 points a game, Asik would suddenly be opened up to dominate further on the offensive glass.
Looking deeper into Jefferson, he's an undervalued talent even at $14,000 this season, but he's also a guy who could play either big man position, so he and Asik would be able to coexist in the post together.
As an added bonus, and something that people seem to be consistently forgetting, Jefferson hasn't even turned 28 yet. He seems much older, but he's still in that magic window where he can get better, but he's been around enough to bring some veteran know-how to this team.
Plus, that would bounce Patterson to the bench, giving them a legitimate scorer to bring in with the second unit.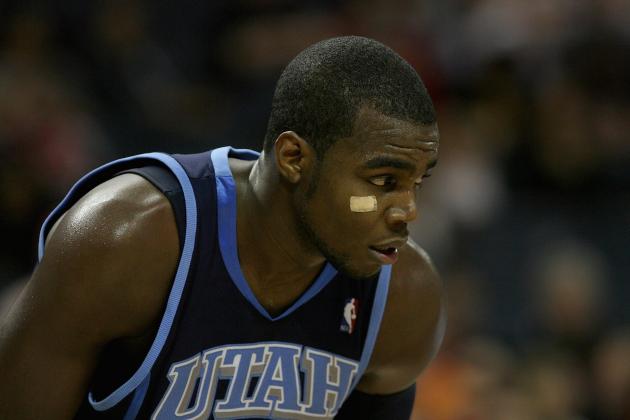 Streeter Lecka/Getty Images

Another Utah Jazz big man who turns 28 this year, Paul Millsap alongside Omer Asik would make for one of the most formidable defensive frontcourts in the NBA.
Millsap has stretched his game out over the past few years to the point where he's become a concern for opponents no matter what he's doing. Whether it is playing on-ball defense, working as a part of a cohesive unit, shooting a jumper, working in the post or going for a game-winning three-pointer, Millsap can do it, and has done it.
He's definitely still got some strides to make in terms of consistency, but if we can look at him shooting 46 percent, averaging a block and a steal to go along with nearly nine rebounds and 15 points and call it a down year, then something has to be relatively special about this guy.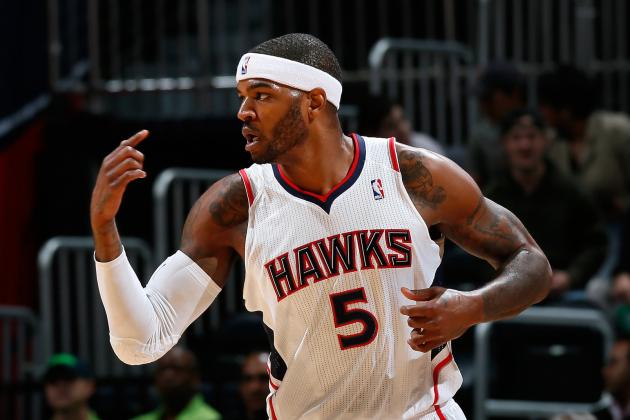 Kevin C. Cox/Getty Images

It might be a bit of a controversial decision given his attitude problems of the past, but there's no doubt this team would be helped with the addition of Josh Smith.
Not only is Smith capable of playing both the small forward and power forward spots in the frontcourt, but he's got the ability to completely dominate on either side of the floor from either position.
Call him an off-kilter LeBron James, but he's got the athleticism and speed to both keep up with and dominate guys at the three, while keeping the ability to body-up a four.
What's most impressive about Smith is the versatility of his game, with the ability to both get to the rim and knock down a jumper. Of course, the biggest knock on his game has been his tendency to slack off on the getting to the rim part and lean on the shooting jumpers part of his game.
Smith is shooting just 44 percent this season, but his three-point game has been as on as it's ever been, knocking down 35 percent of his long-balls since the start of the year, while averaging 16.5 points.
Defensively he's a monster, putting away two blocks a game and just over a steal while pulling down eight rebounds.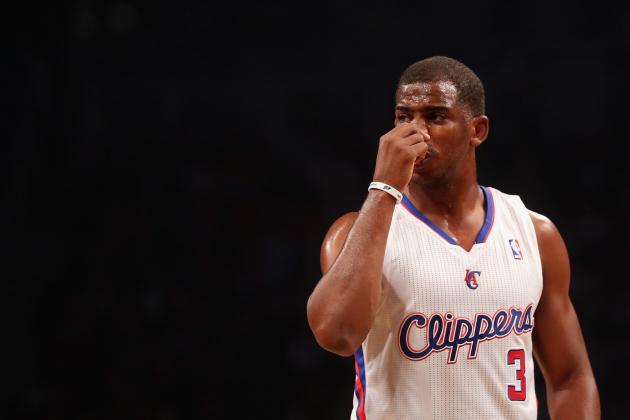 Bruce Bennett/Getty Images

There might be a snicker or two if Houston ends up swallowing their pride this soon, but if it ends up with them nabbing Chris Paul, then Daryl Morey should just laugh with them.
We've seen Jeremy Lin struggle so far this season, definitely not living up to the Linsanity monicker that was plastered everywhere around New York a season ago.
However bad he's been playing, though, he's still got the ability to play basketball.
Perhaps bringing in Chris Paul, letting him learn under the best point guard in the league and unleashing him off the bench would be the best way to remind him, and every one of us, that this kid can ball.
If that were to happen, they'd be set as far as the bench goes. Of course, in the starting lineup they'd have Chris Paul, which would probably end up being beneficial, but what do I know?
Should Paul end up wanting to leave the Clippers (say because it's revealed that Donald Sterling is a Civil War-Era robot), and Houston were to land him, it's impossible to ignore them as potential title contenders.