5 Valuable Things the Detroit Lions Can Still Learn in Remaining Games.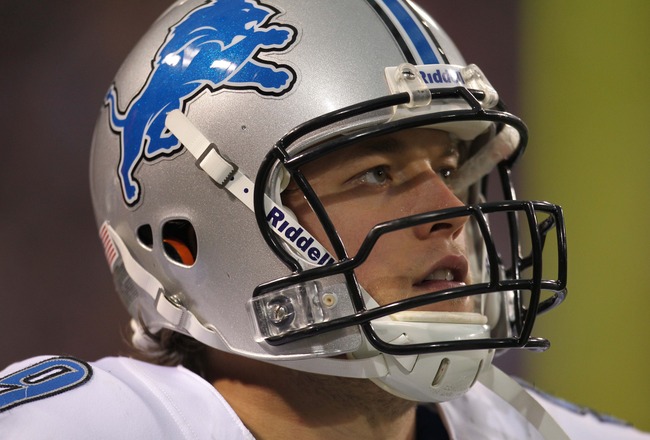 Brace Hemmelgarn-USA TODAY Sports
For all intents and purposes the Detroit Lions' season is over. Their quest for the playoffs and NFL relevance will have to wait for 2013. That doesn't mean the remaining games are meaningless though. There are still valuable things to take away.
What can be learned in three weeks that we don't already know? Plenty.
How a team finishes the season, particularly a losing one says a lot about them. Remember 2010?
The Lions went 6-10, but it's the last four games everyone remembers. They played spoiler and won all of them.
That streak lit a fire under them that continued to burn through the offseason and set the table for the five-game win streak they opened 2011 with.
In other words, "meaningless" games can tell us a lot.
Here are 10 more take aways from the Lions' season that remains.
* All stats not linked are courtesy of ESPN
5. If Calvin Johnson Belongs in the 'Best of All Time' Discussion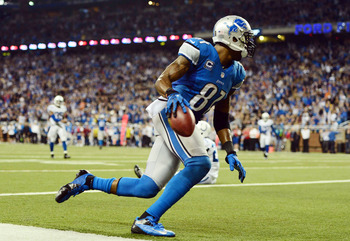 Andrew Weber-USA TODAY Sports
Calvin Johnson has put to rest any debate about who the best receiver in the NFL is. Although his touchdown numbers are down, he's been a beast in terms of catches and total yardage.
He leads the NFL with 1,428 yards and is fifth in receptions with 86.
He got off to a slow start, but cemented his top billing during the last half of the season. Including the loss in Green Bay, he has six straight games with over a hundred yards receiving and he's scored a touchdown in four of them.
That has him in position to break Jerry Rice's single-season record for receiving yards (1,848). He would need to average a little over a hundred yards a game the rest of the way to have a chance, but if anyone can do it, it's Johnson.
Especially with the Lions' current dearth of receivers. They don't have anyone else to throw to.
If he continues to put up the numbers and breaks the record, there's no reason he shouldn't be included on the short list of the best receivers in NFL history.
He would have two elite seasons in a row—his 2011 season ranks seventh on the receiving-yards list—and join Torry Holt and Marvin Harrison as the only receivers with two seasons in the top-10.
If he falls short over the next three weeks his place on that list will have to wait. However his place atop today's best-receiver list is assured.
Nothing can change that.
4. If Joique Bell Deserves to Be No. 1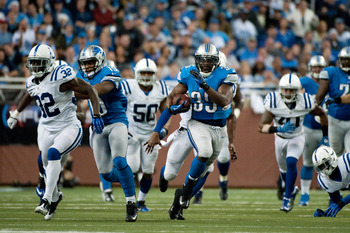 Bell is off to the races, again.
Tim Fuller-USA TODAY Sports
It's clear that Mikel Leshoure is the Lions' starting running back. He gets the most carries and not surprisingly, he has the most rushing yards and touchdowns.
However it's Joique Bell that has been the most dynamic back. Bell, with 5.7 yards per carry, has a knack for making defenders miss and always getting the extra yard. He's also attributed for the only three rushes the Lions have over 20 yards.
Leshoure was one of the Lions' big draft picks in 2011. He's had a good year, but in his first season back from an Achilles injury, he lacks the speed burst that made him so attractive out of college.
The Lions hope he eventually regains it. For now Bell—in limited action—has been every bit his equal.
If he continues to impress the rest of the year, the Lions might have a legitimate running-back controversy on their hands.
3. If Any of Their 'Replacement' Receivers Are Worth Keeping.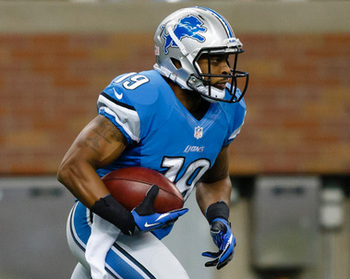 Mike Thomas
Mike Thomas, Kassim Osgood, Brian Robiskie, Kris Durham and Lance Long. No these are not the real names of the Village People. These are the names of the "other guys" that make up the Lions' receiving corps.
Nate Burleson and Titus Young won't contribute the rest of the season and the Lions will rely on this rag-tag group of pass catchers to compliment Calvin Johnson.
Chances are the Lions will play a lot of two TE sets and work their running backs into the passing game, but one of these receivers needs to step up. Every one of them are playing for their jobs next year.
With no guarantee that either Burleson or Young will be back, the Lions certainly have jobs to offer.
The only question is whether any of them can provide a spark.
Mike Thomas might be the favorite. He's got great speed and already scored a touchdown on Thanksgiving against Houston. He should have had one against Indianapolis too, but he dropped it.
After his amazing one-handed catch against Green Bay, perhaps Matthew Stafford's college roommate Kris Durham should be the favorite.
The Lions don't care who it is. They just want someone to emerge as a reliable target.
If someone does that, they might guarantee themselves a job in Detroit next year.
2. If Riley Reiff Will Be a Starter Next Season.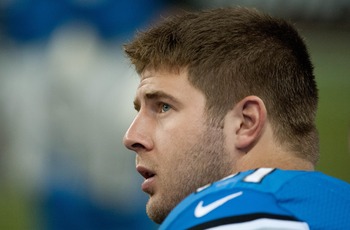 Tim Fuller-USA TODAY Sports
Many people say that Riley Reiff has already shown enough to be the starting left tackle next season. In fact, some might say he should be starting now.
He got his chance when Jeff Backus was injured several weeks ago. Reiff got the starting nod and performed well in the veteren's absence.
However when Backus returned, Reiff went back to the sidelines.
He's used in certain rush packages and continues to make an impact though.
Backus is under contract through next year (Spotrac) and if he shows no regression there's no guarantee Reiff will start.
However if Backus has more injury issues the rest of this year Reiff will see more time and make it hard to keep him out of the starting line up going forward.
The Lions would benefit from sitting Backus either way.
With no chance at the playoffs, why not give a young player like Reiff the lion's share of snaps? He's their LT of the future and needs the experience.
If he starts any of the remaining games, it will give fans a good indication of what the Lions' plans are for next year.
1. If Jim Schwartz Is the Coach to Take Them to the Next Level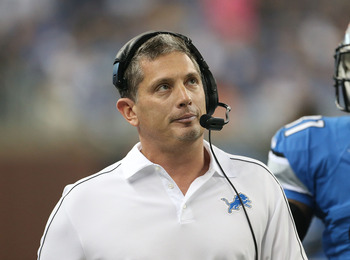 Schwartz has seen better days.
Leon Halip/Getty Images
Honestly, I didn't think it was possible for Lions' fandom to turn on Jim Schwartz so quickly.
Yet that's exactly what has happened.
I incorrectly thought the man that turned this miserable franchise around, and took them to the playoffs for the first time in a decade, would have at least a two-year pass.
Not so.
Only one year removed from 10-6, confidence in Schwartz has been shaken—and for good reason. He cost the Lions a win on Thanksgiving Day with an inexcusable mistake.
On that day he lost his cool and proved what many already knew: The undisciplined Lions are a direct reflection of their head coach.
Since then the anti-Schwartz flood gates have opened.
Schwartz won't get fired after this season, although some people think he should be. He needs some serious spin control though. Fans don't think he's the kind of coach that can ever win a Super Bowl.
He hasn't proven to be a good enough game manager.
The only thing he's proven is that he can take a bad team and make them mediocre. Let's face it, after this season there's no other way to describe the Lions.
During these last three games Schwartz can do a lot to ease people's minds. Nothing will take away the sting of a losing season, especially since expectations were so high. However if he gets control of his team and wins a couple close games, people will start to change their minds.
He'll still have a lot to prove, but at least fans won't be calling for his job anymore.
Keep Reading

Detroit Lions: Like this team?