2012 Heisman Results Favor Johnny Manziel with College Football Regional Voting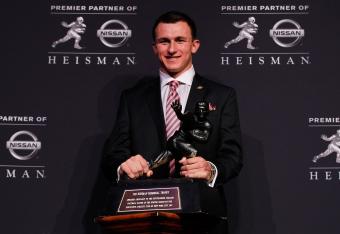 Mike Stobe/Getty Images
The college football 2012 Heisman results project a win for Johnny Manziel of Texas A&M. The momentum of analysis and hype from talk radio, Twitter and Internet commentary show the redshirt freshman Aggie quarterback as a solid winner over Notre Dame senior linebacker Manti Te'o and Kansas State senior quarterback Collin Klein.
The Heisman Trophy has been a mythical award, rarely presented to the true best player in college football but to the player with the most hype and visibility on national television. This year's most memorable performance was Manziel's playmaking to lead the Aggies to a win at SEC powerhouse Alabama.
The Heisman voting has also mirrored the regional biases found in the USA Today Coaches poll, the media-driven Harris poll and the independent AP poll. In other words, the Heisman award is more a facade than substance. Like the BCS rankings, it is a fairytale of popular opinion.
Consider the regional support that Robert Griffin III received to win the 2011 Heisman. His margin over Stanford quarterback Andrew Luck was almost even with the voting in the Northeast and Mid-Atlantic states. He won a solid advantage in the Midwest, but was crushed in the West. Here are their total points by region.
Robert Griffin Andrew Luck
Northeast 257 254
Mid-Atlantic 254 248
Midwest 272 220
West 220 315
Total 1003 1037
Of course, Griffin really made his Heisman getaway by sweeping the Southwest and dominating the South.
Robert Griffin Andrew Luck
Southwest 381 188
South 303 256
Total 684 444
Regional bias is the reality to the Heisman. This year there will not be West Coast cries of bias, but the final result could hinge on Te'o and Klein splitting the Midwest votes, while Manziel sweeps the SEC and Southwest, much as Griffin did in 2011.
Heismanpundit.com projects that Manziel will win the trophy by capturing all but the Midwest region.
Stiff Arm Trophy predicts an even bigger win for Manziel, claiming that he could win with one of the easiest six or seven races ever, along the lines of Desmond Howard and Cam Newton.
In the end, there will likely not be much drama with ESPN's televised presentation. It's a foregone beauty pageant with its conclusion as predictable as Barack Obama's reelection victory over Mitt Romney.
Critics of the Heisman process will point out the heavy numbers of quarterbacks and running backs who have won this award. Fair representation does not exist with this award, nor would most people want it to exist.
The Heisman Trophy winner has always been about the image of its recipient. Bo Jackson's narrow victory over Chuck Long in 1985 was built on highlight running and awesome athleticism. Is this not a worthy reason to win?
Desmond Howard and Charles Woodson won behind the fabled tradition of Michigan's blue and yellow, the latter beating down SEC hero Peyton Manning in a vote that still outrages the fans at Tennessee.
The West coast has only been awarded the Heisman through USC since Jim Plunkett's win in 1970. Then again, the Rocky Mountains snuck in with BYU's Ty Detmer and Colorado's Rashaan Salaam.
Shouldn't the Heisman find a way to equally represent all positions and regions? Isn't there a way to rank players with computers and polls to determine a more fair result?
If you're looking for fairness, stay away from college football. No sport is more politicized by appearances and tradition. Progress will only turn in the direction of new cash.
The Heisman is just another ceremony to applaud the story of the moment. And maybe that's not such a bad thing. After all, it's just a show.
But if you are waiting for the BCS national championship to be decided by performances on the field rather than votes and biases, don't hold your breath.
This article is
What is the duplicate article?
Why is this article offensive?
Where is this article plagiarized from?
Why is this article poorly edited?