Philadelphia 76ers vs. Boston Celtics: Live Score, Results and Game Highlights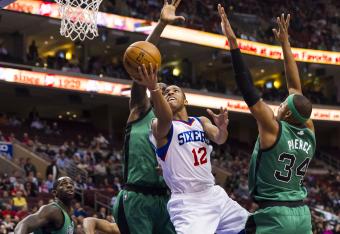 USA TODAY Sports
The Boston Celtics jumped out to a big lead over the Philadelphia 76ers and never let go, winning 92-79 after getting beat in overtime last night.
Both teams go to 11-9 near the bottom of the Eastern Conference playoff picture.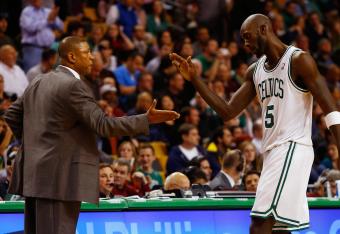 Keys to the Game
The Boston Celtics rebounded in a big way tonight after losing a close one to the Philadelphia 76ers in overtime last night.
What led to their loss the night before was a huge differential in the offensive rebounding and turnover margin, of which they narrowed down quite a bit tonight.
They were out-rebounded and turned the ball over more often than the 76ers, but Philly had just five more offensive rebounds than Boston and three fewer turnovers. Compare that to a differential of 10 offensive rebound and nine turnovers last night and it's more obvious that they did a much better job.
Of course, the fact that they shot 53 percent from the field compared to just 43 percent in the first game between these teams definitely helped them out in the long-run.
Kevin Garnett's shots fell like mad, as did Jeff Green's and Brandon Bass', and when you've got three guys going well, Rajon Rondo is going to find them when they're open to get them the best shots possible.
That's exactly what happened tonight.
Celtics 92, 76ers 79, FInal.
Jrue Holiday dribbles out the clock as he puts one of his uglier games of the season behind him and the two teams split their back-to-back with wins on their own home courts.
Celtics 92, 76ers 79, Final.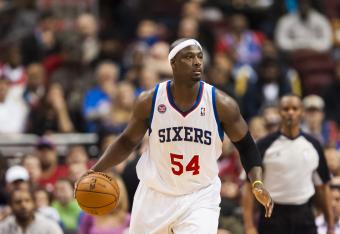 We've seen everyone but Kwame Brown and Jason Collins so far in this one.
In other words, everyone who was on the list of possibilities to play, has played.
Celtics 92, 76ers 77 with 0:44 left in the fourth.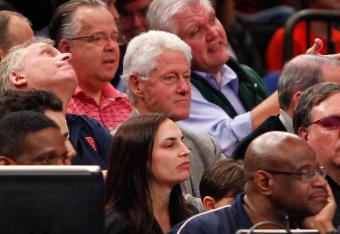 Kevin Garnett hasn't gone a full game without a rebound since the day Bill Clinton was inaugurated in 1997.
Unless the Celtics give up 10 points in the next 12 seconds, something tells me he's going to go rebound-less in this one, as he's on the bench with just over two minutes left to play.
Celtics 92, 76ers 73 with 2:30 left in the fourth.
So of course Rondo counters with a drive to the lane directly at Hawes as he flips it up and in for a seemingly easy bucket.
Celtics 89, 76ers 72 with 2:59 left in the fourth.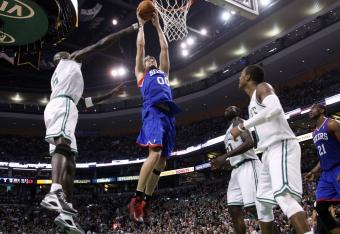 Spencer Hawes just had a sequence where he nearly leveled Rajon Rondo with a pick, knocked him rear-wise out of the way for a rebound and then patted him on the head.
Something tells me he's not a big Rondo fan.
Celtics 85, 76ers 72 with 4:27 left in the fourth.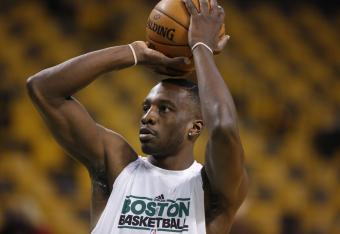 Rondo and Green are continuing to connect on big pass-slam combinations.
Add Green's jump shooting to that and all he's missing is the LeBron-stopping defense the Celtics fans expected of him before the season started.
We'll see how that develops.
Celtics 85, 76ers 70 with 5:45 left in the fourth.
Check out Rajon Rondo's nifty reverse from earlier in the game:
Celtics 79, 76ers 63 with 8:03 left in the fourth.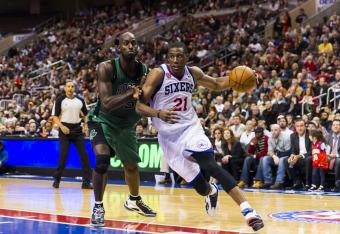 After three Kevin Garnett is up to 19 points on just 11 shots, but he's yet to record a rebound. Boston follows up with Paul Pierce at 13 points and Jeff Green at 12.
Philadelphia has countered with Thaddeus Young knocking down 18 points and Evan Turner adding in 10 on a rough 5-13 shooting night.
Celtics 75, 76ers 61 with 10:03 left in the fourth.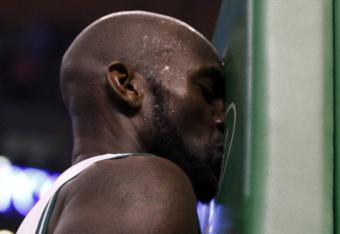 Kevin Garnett comes back in and hits a jumper, the Celtics get a stop, KG knocks down a technical free throw after a defensive three second violation and KG does work with a Rondo-like pass down to Jeff Green.
Celtics 70, 76ers 57 after the third.
Boston's woes continue with Kevin Garnett on the bench as the 76ers are on a ridiculous 14-0 run.
Celtics fans are getting a bit antsy as we've gone from a 21-point game to an eight-point game over the course of about three minutes.
Celtics 65, 76ers 57 with 1:05 left in the third.
And if you're looking for a full recap, here's a run-down of highlights from the first half.
These two teams continue a back-and-forth as Boston is back up by 20 yet again.
Celtics 65, 76ers 44 with 4:21 left in the third.
Check out Jeff Green's big slam off the Rajon Rondo pass from the first half.
Celtics 62, 76ers 44 with 5:10 left in the third.
A lot of back-and-forth early on in the third as neither team is doing too much in terms of forcing bad shots. Philly has forced a few turnovers, however, and have made up a few points on that 20-point deficit.
Celtics 60, 76ers 42 with 5:34 left in the third.
Philadelphia is under way early in the second half, getting out running with two buckets and forcing a Celtics turnover before the Celtics end their mini-run with a Garnett lay-up.
Celtics 50, 76ers 32 with 10:07 left in the third.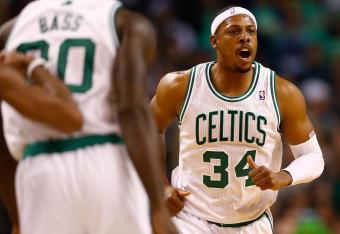 Paul Pierce is showing off his desire for buckets with 13 points in the first half for the Celtics. Jason Terry has added nine and Kevin Garnett is there with eight.
The 76ers are led by Jason Richardson's eight points followed by Thaddeus Young's six. Nobody on the Sixers has more than two field goals.
We'll be under way with the second half momentarily.
Celtics 48, 76ers 28 at the half.
Check out Mark Wahlberg snagging a pass on the sidelines earlier in the first quarter.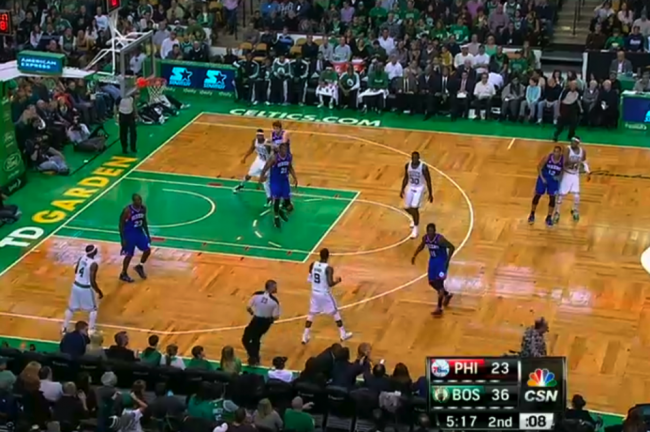 He's directly to the left of the score graphic in the bottom right-hand corner of the screen.
The Celtics seem to be very much on pace to get back at the 76ers for the loss they put them to last night, holding them to 28 first half points.
Boston isn't exceptional in any category besides shooting (and on-ball defense), but the 55 percent shooting from the field is helping them dominate.
Celtics 48, 76ers 28 at halftime.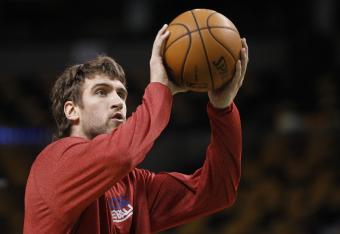 A tip-in from Spencer Hawes brings Philly's shooting percentage up to a robust 22 percent.
Yikes.
Celtics 47, 76ers 28 with 0:05 left in the second.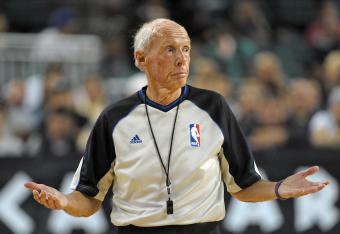 There's a reason why the Celtics allow Tommy Heinsohn to keep doing color commentary, and it's moments like this when we're reassured.
On the case of a Dick Bavetta foul call that was a clean block he says, "Dick Bavetta, you keep doin' stuff like that, I'm not going to let you be 74."
There it is people. Tommy Heinsohn controls peoples' age. And now we know.
Celtics 45, 76ers 26 with 1:36 left in the second.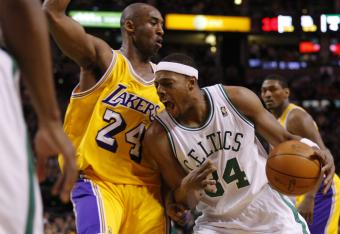 Paul Pierce just picked up his 4,000th career assist.
Checkmate Kobe.
Boston's shots keep falling and Philly's keep not falling. It seems like the only thing that ever happens when I'm live-blogging a game is a fight or a loss by the Heat.
Boston's up 17 points and continue to roll at this juncture.
Celtics 41, 76ers 24 with 3:30 left in the second.
Mark Wahlberg totally just caught a pass while giving an interview on the sidelines. The guy interviewing him subsequently went nuts.
Regardless, it was awesome.
Celtics 36, 76ers 23 with 4:57 left in the second.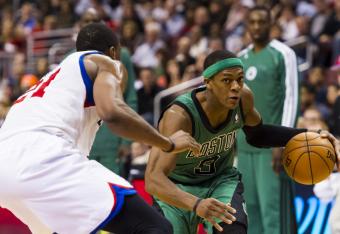 Rajon Rondo goes baseline, does an about face and puts up an up-and-under as he gets hit. Of course, he throws himself to the ground like a rag-doll, but he was legitimately fouled.
These two teams certainly like to hit each other every chance they get.
Celtics 34, 76ers 20 with 7:18 left in the second.
A monster slam by Jeff Green as Rajon Rondo fakes the living daylights out of the defense.
Meanwhile the 76ers are shooting just 28 percent from the floor. It seems as if Doug Collins is getting some more of that "bowel movement" on offense that he was asking for last night.
Yes, I did giggle to myself for a bit too long about this.
Celtics 31, 76ers 20 with 8:19 left in the second.
Paul Pierce apparently needs one more assists to get to 4,000 in his career. Didn't Rajon Rondo have that many during his double-digit assist streak?
Celtics 28, 76ers 16 with 10:10 left in the second.
This article is
What is the duplicate article?
Why is this article offensive?
Where is this article plagiarized from?
Why is this article poorly edited?

Boston Celtics: Like this team?