New Orleans Hornets vs. Miami Heat: Live Score, Results, and Game Highlights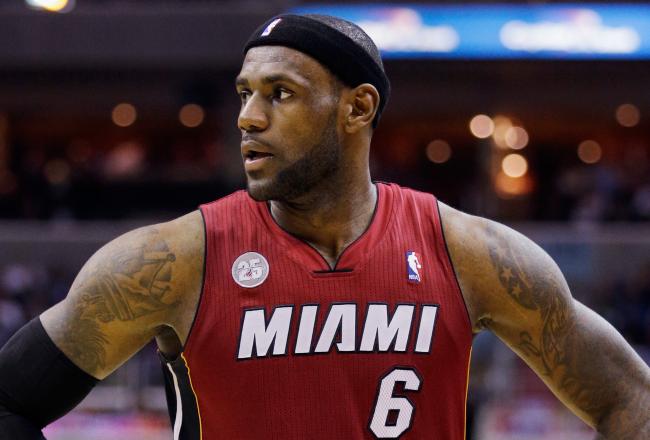 Rob Carr/Getty Images
The Miami Heat topped the New Orleans Hornets 106-90 tonight to snap a two-game skid and improve to 13-5. Let's see why the Heat were able to win this game tonight.
1. They shot the lights out
Miami shot 58 percent from the floor tonight, including 7-of-11 from three. Talk about impressive. Dwyane Wade went 9-for-12, and LeBron James hit on 11 of his 16 shot attempts. It was a rough night for Chris Bosh, as he went 4-of-11 from the floor and missed three dunks, but luckily, his offense wasn't needed.
2. Defensive intensity
After surrendering 32 points in the first quarter, the Heat buckled down for the rest of the game. Early on, it looked like more of the same from the Miami defense, rotating over on shooters late and letting opposing bigs score at will inside, but the Heat cranked it up over the final three quarters. There are still some areas that need improvement, as Robin Lopez did drop 20 points on them inside, but overall, this was a big step forward for a Miami ballclub that has been struggling defensively.
3. Making runs at key points
There were several times when the Hornets were creeping back into the game, only for the Heat to go on one of their patented bursts to put the game out of reach again. This was especially the case late when New Orleans cut it to eight, but Miami then took off and ended up winning by 16.
4. Forced turnovers
The Heat made the Hornets turn the ball over 19 times, and for New Orleans, that's the last thing you want to do against a Miami team that loves to get out in the open court and score points in transition. Sloppiness doomed the Hornets in the second quarter.

Once again, the Heat downed the Hornets 106-90.
Dwyane Wade led all scorers with 26.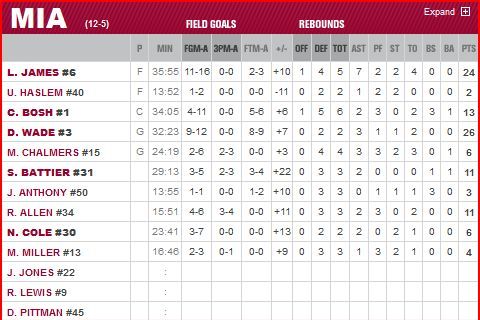 Heat final box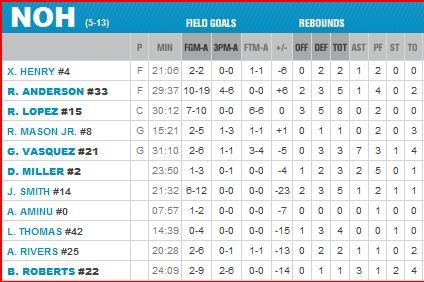 Hornets final box
And that'll do it. The Heat top the Hornets by 16.
HEAT 106, HORNETS 90 - FINAL
My question: why are Wade and LeBron still in there with a 16-point lead with under two minutes left?
In other NBA news, the Spurs hit 19 threes in a 132-102 win over the Bobcats tonight. That's a franchise record.
You've gotta give the Hornets credit for battling tonight. They are without two of their top players in Davis and Gordon (although Gordon has been out all year), and yet, they've been in this game for the majority of the time. They never really let the Heat throw that knockout punch until just now. They'll learn from games like this.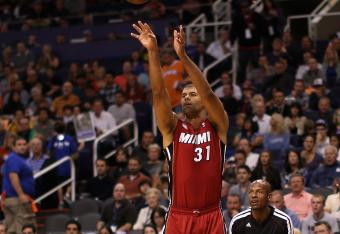 And Battier hits a three. I think it's now safe to say it's over.
HEAT 101, HORNETS 87 - 2:15 REMAINING IN 4TH QUARTER
Norris Cole may have just sealed this. Picks Vasquez's pocket then goes back the other way for a layup. Did it beautifully, too. Shielded the ball with his body and finished.
HEAT 98, HORNETS 87 - 2:42 REMAINING IN 4TH QUARTER
Heat getting outrebounded by 11 tonight. 32-21.
Not good, especially when Miami is shooting 57 percent from the floor to the Hornets' 47 percent.
This is nothing new, though. The Heat came into tonight the second-worst rebounding team in the league.
Heat have had so many opportunities to put this game away but haven't done it. Back-to-back turnovers by Wade. I'm wondering if Miami is just playing this sloppy because the team is playing down to its competition, or if there are still issues here.
The good news is that the defense has been significantly better tonight.
HEAT 96, HORNETS 87 - 3:38 REMAINING IN 4TH QUARTER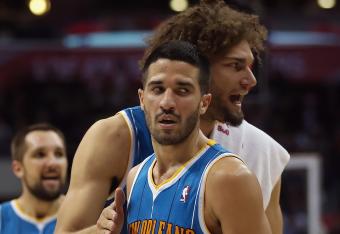 The Hornets will just not go away. Lopez completes a three-point play to bring the Hornets to within 8. 19 points for Lopez tonight. He and Anderson have given Miami all sorts of problems tonight.
HEAT 95, HORNETS 87 - 4:40 REMAINING IN 4TH QUARTER
Another defensive lapse by the Heat as Anderson is left wide open underneath the basket.
HEAT 93, HORNETS 84 - 5:05 REMAINING IN 4TH QUARTER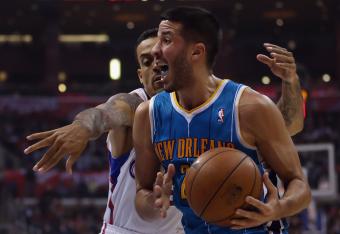 Well, Vasquez scores to bring New Orleans to within 9. The Heat have gotten very lazy in this fourth period. Maybe they got a big too smug with the nice lead. Still, they can't do this against better teams. Sure, they can beat the Hornets like this, but this kind of inconsistent effort won't work against the upper echelon ballclubs.
HEAT 91, HORNETS 82 - 5:45 REMAINING IN 4TH QUARTER
Anderson picks up his 22nd point with a long two. The Hornets have been within striking distance for a while. They just can't seem to inch any closer.
HEAT 91, HORNETS 80 - 5:54 REMAINING IN 4TH QUARTER
It will be interesting to see how the Hornets play when Davis and Gordon return. It will certainly open up Anderson's game a bit more and make him even deadlier from beyond the arc.
The Heat have scored 2 points in the last 6 minutes and change. Yet, they're up 14. Doesn't say much about the Hornets.
HEAT 88, HORNETS 76 - 7:35 REMAINING IN 4TH QUARTER
Ray Allen stuffed by the rim on a reverse layup attempt. I don't think that would have happened three or four years ago.
Not even sure what this means, but I like it.
Ah the randomness that is Joel Anthony.

— Ira Winderman (@IraHeatBeat) December 9, 2012
Heat with a very sloppy start in this quarter. Four turnovers. Still have a big lead, though.
HEAT 88, HORNETS 74 - 8:44 REMAINING IN 4TH QUARTER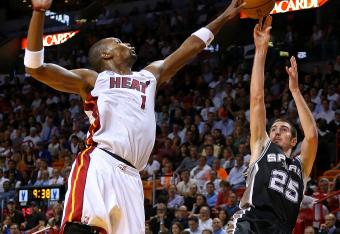 Now Bosh gets a dunk blocked. This is getting funny.
HEAT 86, HORNETS 74 - 10:23 REMAINING IN 4TH QUARTER
LeBron just turned the ball over three straight times, but New Orleans was only able to turn it into 2 points. Not gonna be able to come back when you can't convert on those kinds of opportunities.
LeBron tries to make a crosscourt pass to Ray Allen. Instead he whips it right to the Hornets and Rivers scores down on the other end.
HEAT 86, HORNETS 74 - 10:52 REMAINING IN 4TH QUARTER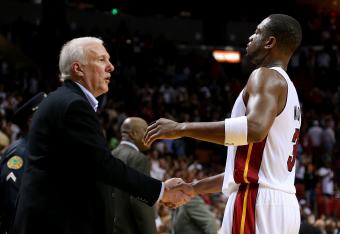 Wade has only played 25 minutes tonight. Look for Spoelstra to try to rest him as much as he can in the fourth. D-Wade needs all the rest he can get.
Did Bosh even miss three dunks all of last year?
According to @bball_ref, Chris Bosh has never missed 3 dunks in the same game. Much less in back-to-back possessions...

— Tom Haberstroh (@tomhaberstroh) December 9, 2012
This article is
What is the duplicate article?
Why is this article offensive?
Where is this article plagiarized from?
Why is this article poorly edited?

Miami Heat: Like this team?