Heisman Winner 2012: Live Results, Analysis and Speech Recap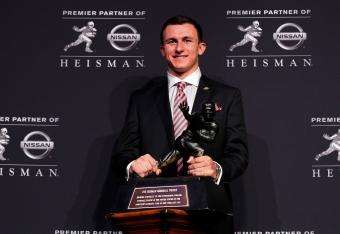 Mike Stobe/Getty Images
Texas A&M quarterback Johnny Manziel has become the first freshman to ever win the Heisman Trophy.
The Aggie signal-caller has amassed 4,600 total yards and 43 touchdowns against a rigorous SEC schedule, which was enough to edge out second-place finisher, Notre Dame linebacker Manti Te'o.
Kansas State quarterback Collin Klein finished third after totaling 22 rushing touchdowns, with USC receiver Marqise Lee and Ohio State quarterback Braxton Miller rounding out the Top 5.
Manziel was one of the most exciting players to watch in college football all season long, running circles around opposing defenses in ways that no one else could.
His Heisman campaign culminated when he willed Texas A&M to victory over then-No. 1 Alabama. That "Hiesman moment" was enough for the voters to name him the first freshman to ever win the trophy.
Are you happy that Johnny Football was awarded the Heisman? Or did his victory in New York gig you like none other?
Let us know below!
Well, that about closes us out here. Any comments about tonight, drop them below. Thanks for following along!
Especially in regards to this season's voting. What have Klein or Te'o done in their careers that put them over the top?
I'd really like to hear a compelling argument as to why a freshman shouldn't win the Heisman. If you have one, post it below.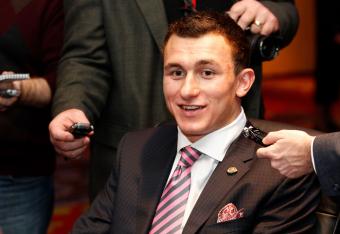 This just kind of occurred to me.
Texas A&M had a first round NFL draft pick at quarterback last year and finished 7-6 in the Big 12.
Aggies have a freshman this year and finished 10-2 in the SEC.
For anyone doubting that Manziel deserves it, let that sink in.
I would expect nothing less from Stephen A. Smith:
Haaaaaaaa!!!!!!!!!! Johnny-FOOTBALL wins the Heisman! Told ya @realskipbayless. Told ya Christian Fauria! His #'s too ridiculous 2 ignore.

— Stephen A Smith (@stephenasmith) December 9, 2012
Close. Very close:
Te'o had the second-most first-place votes for a Heisman runner up.

— Andy Staples (@Andy_Staples) December 9, 2012
This shouldn't be allowed:
Fire Them. All of Them. RT @andy_staples This year, 22 percent of Heisman voters sent in ballots before the games of Dec. 1.

— Adam Kramer (@KegsnEggs) December 9, 2012
Will this be good news for Oklahoma. Sooners and Aggies will square off in the Cotton Bowl on Jan. 4. Will the Heisman curse help OU?
As expected, Manziel and Te'o were very close.
Interesting point by Joe Tessitore. Conference realignment probably had some sort of impact on this. He carried a lot of votes in Texas as well as the south for being a representative of the SEC.
Shout out to Texas A&M's 12th man and his 12th man: God. Seems like all Heisman winners point to their faith upon winning.
Good thing he thanked his lineman Luke Joeckel. That guy's a monster. He won the Outland Trophy.
Johnny Manziel, breaking his grandmother's stuff. He better at least put a replica of the trophy in her living room for that.
Have to love the shout out to Aggie Nation and his teammates. He has some great ones at TAMU.
He dreamed of it since he was a kid. My mom: You're still a kid!
Johnny Football! First ever freshman to win the Heisman. Well deserved.
I think he just ran another lap around some SEC defense.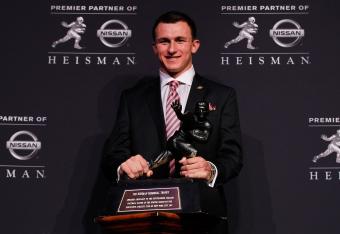 2012 Heisman Trophy Winner
Texas A&M quarterback Johnny Manziel
Johnny Rodgers, Mike Rozier: Great suits.
Gino Torretta: Men's Wearhouse.
I realize the touching stories are in line with the mission of the Heisman Trust and all, but ESPN needs to find a way to spice up the Heisman Ceremony a bit.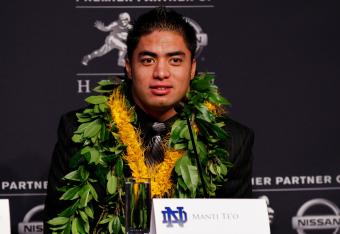 Have to respect the story of Te'o. I covered the Michigan State game earlier this year, which was the week after his girlfriend and grandmother died. Amazing that he performed so well after that.
He's a great player and an even better person and will be nothing but deserving if he wins.
When I was younger, I made an excel spreadsheet containing every Heisman winner and their respective schools, etc. This was in the dial-up days before this same information was plastered all over the internet. Does that make me a college football nerd?
Some are predicting a Manziel landslide. I just don't think that will happen. Te'o will garner a lot of votes.
True:
Can't be said every year, but all three Heisman candidates seem like very good, genuine, likeable guys. Hard to cheer against any of them.

— Keith Smith (@thewittysmitty) December 9, 2012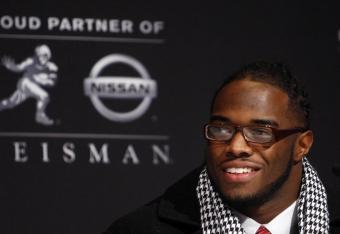 Tough to pick which of the three has the best suit, just because the lei Te'o is wearing covers his entire torso.
Beautiful lei, but I still like Trent Richardson's houndstooth scarf as far as Heisman ceremony accessories go. A shout out to Bear Bryant wins every time.
Klein turned as red as Corso's tie when Tom Rinaldi brought up the first kiss.
This article is
What is the duplicate article?
Why is this article offensive?
Where is this article plagiarized from?
Why is this article poorly edited?

Texas A&M Football: Like this team?