Marquez Thrilled with Victory, Arum Says Lets Go for Five at Post-Fight Presser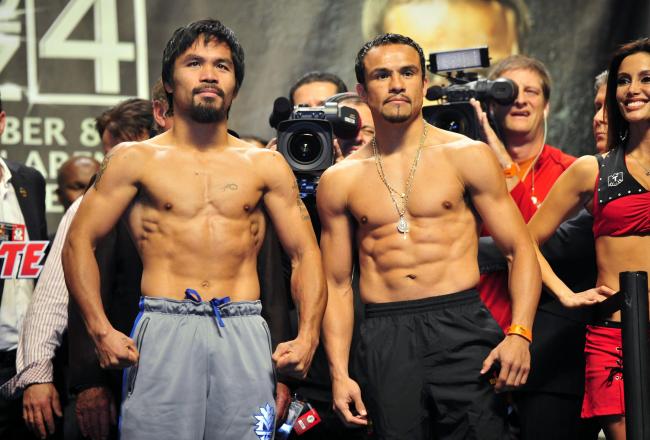 Will it be a repeat for Pacquiao or revenge for Marquez?
USA TODAY Sports
Juan Manuel Marquez said he was happy he didn't retire and instead sought out one more match with his long-time rival Manny Pacquiao.
After-all—fourth time's a charm?
For Marquez it was, as he landed an absolute missile dead-on Pacquiao's jaw and at point-blank range to end the fight and possibly the career of the man they call "Pac-Man."
At the post-fight presser Marquez was non-committal about his future, indicating that right now he just wants to enjoy the victory and take some time to rest.
It was reported during the press conference that he'll need this time to recover from a broken nose and a possible concussion.
Manny Pacquiao on the other hand did not attend the post-fight festivities as he was taken to a local hospital for a precautionary cat-scan.
His trainer Freddie Roach on the other hand did field several questions, many of which were about Pacquiao's future plans and possible retirement.
The response: "We'll see," and Roach indicated he'd like to see Pacquiao in the gym first to assess whether he's declined.
Roach was effusive in his praise for Marquez, seeming particularly impressed that he was able to overcome the adversity he faced:
"I was a little surprised he could pull that off seeing how hurt he was."
With both fighter's future's up in the air one thing is certainly not off the table—round five anyone?
"This fight will go down in history as a ring classic. If they wanna fight again, why not," were the words of Pacquiao promoter Bob Arum.
In boxing nothing is impossible. We saw that for sure tonight. But will the public buy a fifth fight?
With all the drama surrounding this fight, and the emotion of the ending, it would seem all but a guarantee.
That'll do it for our complete coverage of the Pacquiao-Marquez IV press conference.
Both fighters now face an uncertain future, though one is much brighter than the other, so stay tuned to Bleacher Report for your fix on all things boxing!
We hope you enjoyed today's coverage and keep on coming back to us as your source of breaking news, analysis and opinions!
Juan Manuel Marquez kept it relatively brief at the post-fight presser. He will certainly be on his way to the hospital to address his broken nose and concussion.
But what a night for him and for boxing.
@jmmarquez_1 sings happy birthday to @bobarum, who turned 81 today.

— Top Rank Boxing (@trboxing) December 9, 2012
Not sure this was what Uncle Bob wanted for his 81st birthday...
My God. What a fight. What a night. What a privilege it was to be here tonight.

— Kieran Mulvaney (@kieranmulvaney) December 9, 2012
Marquez through his interpreter on what comes next:
"I don't know what's coming but I know I'm gonna rest."
And boy did he earn that!
"I'm very happy I didn't retire." Marquez says through an interpreter.
As are the rest of us.
"This victory is for the entire country of Mexico." Says Marquez through his interpreter.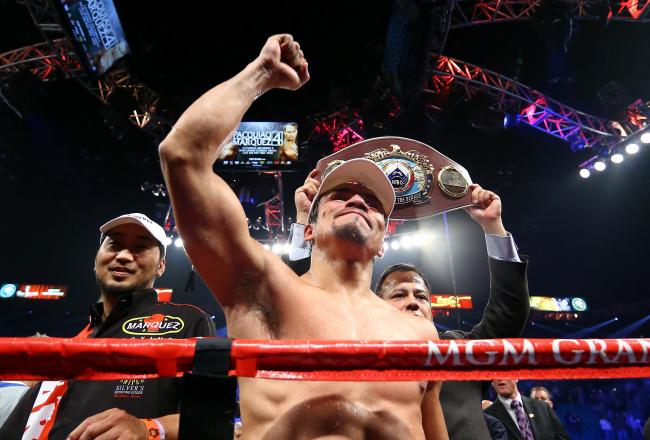 Marquez at the podium along with his trainer Nacho Beristain.
@gabriel_montoya predicted a 9th round KO for Marquez. It seems that he may haveunderestimated his increase in punching power a bit

— Victor Conte (@VictorConte) December 9, 2012
This rubs me the wrong way. Victor Conte...talking about increased punching power. Not buying into the PED idea but he shouldn't be commenting on such matters.
And Mayweather just lost the biggest money fight of his career.... to bad Pacquiao & Mayweather waited so long.

— FightNights.com™ (@boxing) December 9, 2012
Greed, stupidity, pride whatever it was doesn't matter now. This amounts to nothing more than a colossal waste of the fans time now. And it's a shame, not for the fighters, but for the fans.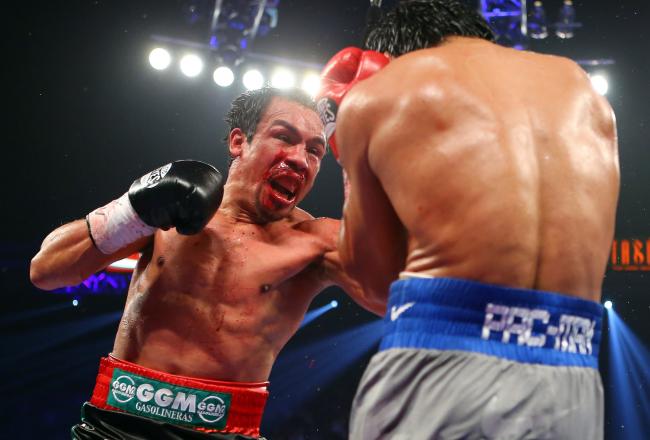 Lotsa dead air here right now as we await Juan Manuel Marquez...who Bob Arum now says should be here in a few minutes.
Arum not willing to comment on future plans for Marquez.
Awaiting Juan Manuel Marquez. Arum says he isn't sure if he'll make it as he has a broke nose, possible concussion and is having trouble breathing.
I think the word for him tonight is:
Vindication.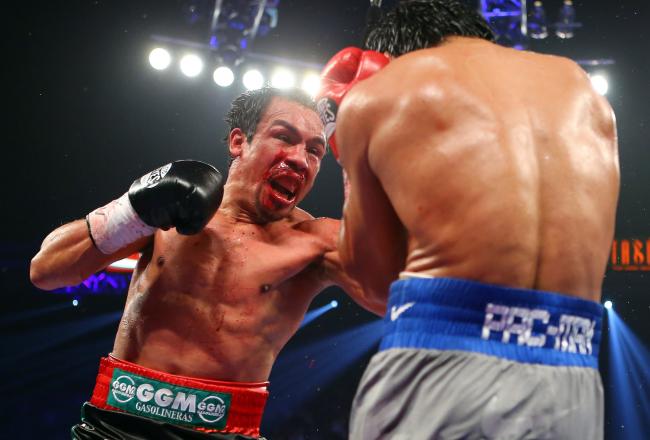 Roach on what Marquez did different:
"I didn't think he'd be as heavy handed as he was. His right hand hurt Manny a lot more in this fight than in past fights."
Roach said Pacquiao not too effected by first knockdown. Said no problems going into fourth after that one

— Kevin Iole (@KevinI) December 9, 2012
Roach gives a lot of credit to Marquez and rightfully so. That was some tremendous adversity he overcame tonight:
"I was a little surprised he could pull that off seeing how hurt he was."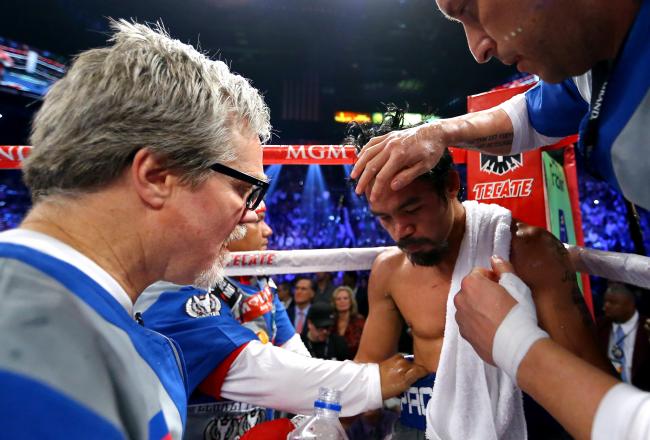 Freddie Roach:
"We'll see." on the retirement questions. Says he wants to see Pacquiao in the gym first and see if he's declined before making decision on advice.
If that ending didn't make you jump out of your seat then I suggest you take up needle point.

— Ron Katz (@rkmatchmaker) December 9, 2012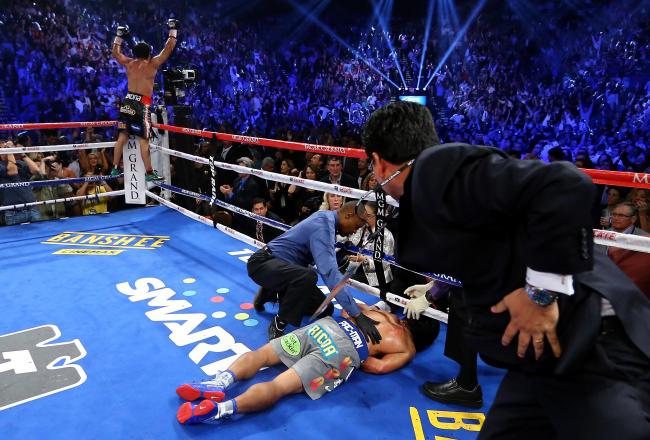 Freddie is right. That was one of the shortest punches you'll ever see in professional boxing. The force that shot landed with at that distance must have been bone-shattering.
Manny not coming to presser. Going to hospital for CAT scan

— Kevin Iole (@KevinI) December 9, 2012
Pacquiao not at press conference, on way to hospital for precautionary cat-scan. Freddie Roach at podium to answer questions.
Arum: "This fight has to be considered" among fight of the year candidates.
This article is
What is the duplicate article?
Why is this article offensive?
Where is this article plagiarized from?
Why is this article poorly edited?