Juan Manuel Marquez Knocks Manny Pacquiao Out Cold in Sixth Round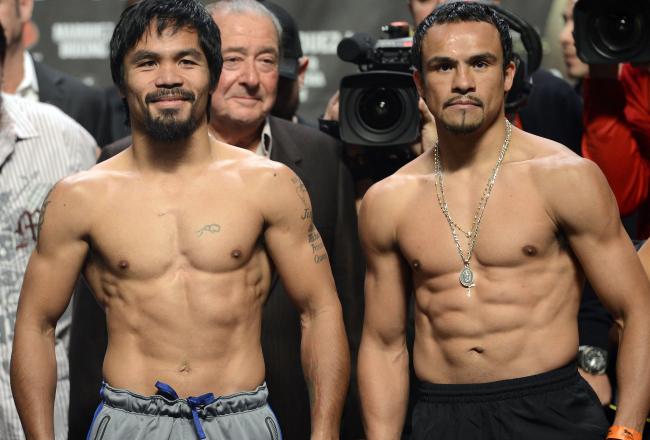 Jeff Bottari/Getty Images
Juan Manuel Marquez scored the biggest win of his career and finally solved the riddle of Manny Pacquiao Saturday night in Las Vegas.
With blood streaming from what appeared to be a broken nose and seemingly on the verge of being stopped himself, Marquez landed an absolute missile of a right hand at the end of the sixth round that knocked Pacquiao cold and ended the night.
It was an absolutely stunning ending to an all-action war.
And it was frightening as Pacquiao lay motionless on the mat for several minutes while his foe celebrated the biggest win of his storied career.
Nobody saw it coming but now Juan Manuel Marquez finally has his vindication and Manny Pacquiao faces an uncertain future.
Wow. What a night. Juan Manuel Marquez in many ways vindicates his career with a stunning, and scary, knockout of Manny Pacquiao.
It was a very deserved victory for the Mexican warrior who spent much of his career in obscurity and who now can finally say these four words:
"I beat Manny Pacquiao."
That'll do it for our fight blog tonight fans. Hope you enjoyed our coverage of tonight's fights!
To get more of your Pacquiao-Marquez fix just jump over to our live-blog of the press conference which is expected to begin shortly!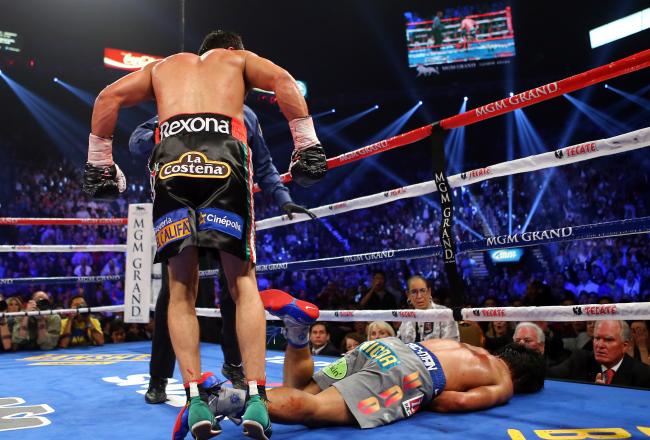 The boxing picture of the year.
You should've seen the beer flying in the audience, it was like a rainstorm of Corona as Pacquiao was knocked out #boxing #pacmarquez

— Steve Kim (@stevemaxboxing) December 9, 2012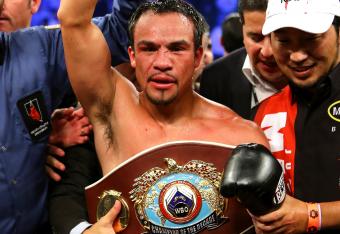 An absolutely stunning outcome. Nobody saw this coming. Marquez has never landed a shot like that in his career but he picked a helluva time to do it!
Pacquiao smiles at Marquez and shakes his hand in the ring. True respect between true warriors. #PacMarquez

— Top Rank Boxing (@trboxing) December 9, 2012
Pacquiao was taking over the fight, seemed on the verge of dominance and got absolutely knocked OUT COLD at the end of the sixth round.
Juan Manuel Marquez WINS the biggest fight of his career! An absolutely MASSIVE right hand ends the night.
Marquez KO 6 Pacquiao.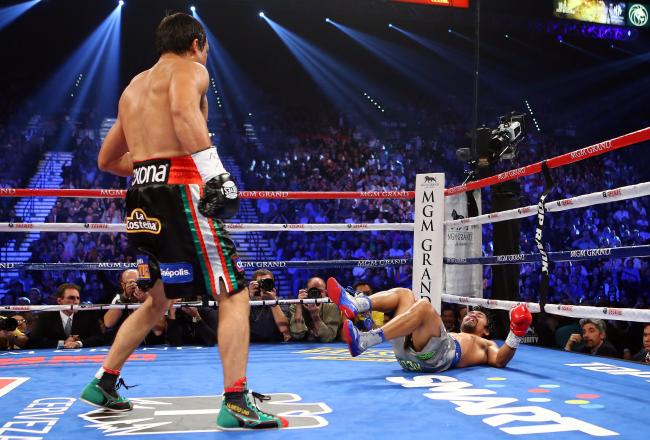 JUAN MANUEL MARQUEZ JUST KNOCKED OUT MANNY PACQUIAO!!!!
Manny Pacquiao is looking to make an absolute statement here tonight. That he CAN beat Juan Manuel Marquez.
Marquez might have a broken nose. A lot of blood. This might need to be stopped soon.
Pacquiao BLITZED him in the fifth. We've NEVER seen that kind of action in the three prior fights.
Both guys with knockout intentions on all their shots.
Manny takes a 10-8 round.
He leads 4-1 in rounds
48-45 on points.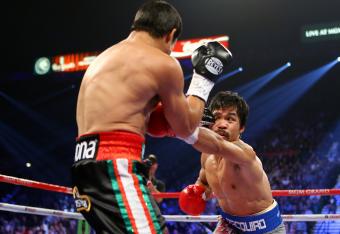 This isn't tactical. It's not boxing. It's a full-blown WAR.
Both guys going for the kill!
Marquez BADLY hurt at the end of the fifth!
Pacquiao going for the knockout!
And DOWN goes Marquez in round FIVE! We are now even on knockdowns. HIGH DRAMA.
BOTH GUYS GOING FOR IT!
Marquez responds with a HUGE RIGHT.
Very nice combination there from Pacquiao. And round four ends with both fighters landing solid shots. What else? Another tough one to score but I gave it to Pacquiao.
3-1 in rounds for Manny but only a 38-37 lead due to the knockdown.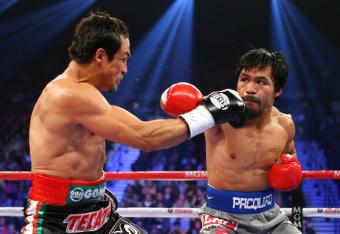 Marquez finding a home with that straight right again here in the fourth. He looks much more confident and comfortable. Pacquiao looks a little shaky. Not physically, but mentally.
That woke a lot of people up. Absolutely stunning moment in this fight. Big psychological turning point for both fighters. First time Marquez has ever dropped Pacquiao.
HOLY SH*T did the arena explode off of that shot. Marquez had to get one knockdown in in this four fight series.

— Boxing Scene (@boxingscene) December 9, 2012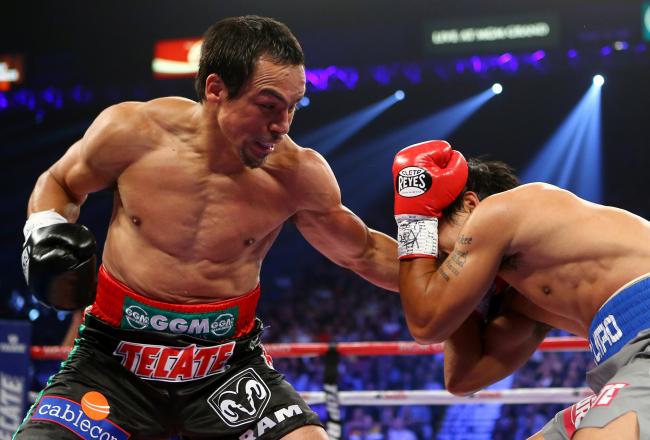 First time in their four fights that Marquez has deposited Pacquiao on the mat with a huge right hand!
Manny looking VERY defensive now. He's back on the attack in the final 20 seconds but what a shocker!
10-8 round for Marquez.
28-28 after three rounds!!
And Pacquiao is DOWN!! Third round knockdown for Marquez!
Pacquiao's straight left is bothering Marquez. A lot more feinting and head movement this time around from Manny.
Round 2 closer but Pac wins 10-9 because continues to attack. Both fighters landed twice, Pac to chin, Mar to body.

— Skip Bayless (@RealSkipBayless) December 9, 2012
Another very tough round to score. Marquez with some nice body shots but Pacquiao landed the harder, flashier left hooks that won him the round on my card.
20-18 Pacquiao after two.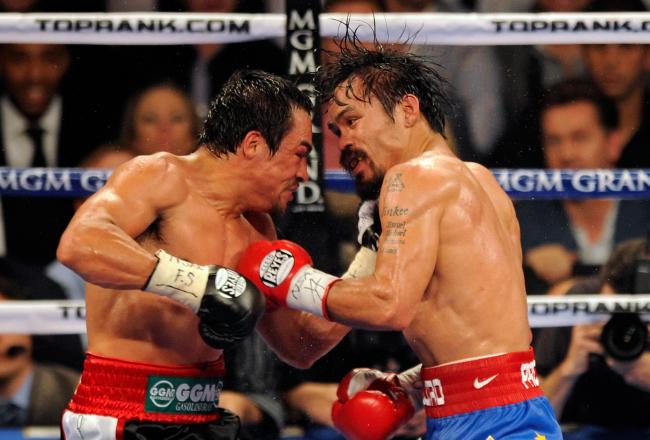 Marquez looks more cautious than normal...Pacquiao definitely more active in the early rounds. Marquez is digging some shots to the body when Manny comes in though.
Two big lefts from Pacquiao mid-way through the second round!
Marquez looked like he was just feeling him out in there. Pacquiao more active and takes another close, hard to score round.
10-9 Pacquiao after round one.
Can these two guys have just one round that's easy to score?
This article is
What is the duplicate article?
Why is this article offensive?
Where is this article plagiarized from?
Why is this article poorly edited?