UFC on Fox 5 Results: Scott Jorgensen and 9 UFC Fights That Ended at 4:59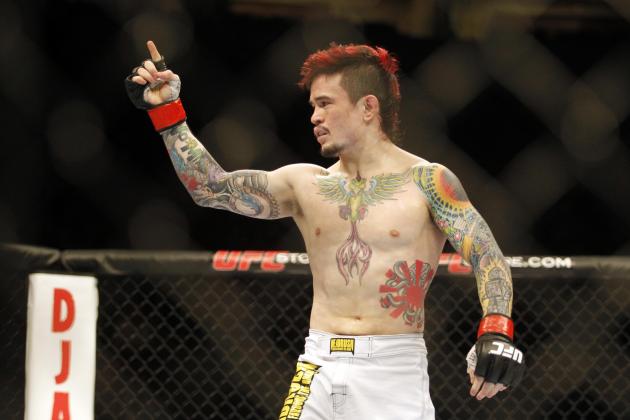 Joe Nicholson-USA TODAY Sports

A mixed martial arts bout is always in danger of being finished. Scott Jorgensen proved that on Saturday night when he submitted John Albert at 4:59 of Round 1 in the opening bout of UFC on Fox 5.
Jorgensen, a veteran of the sport, has finished many fights throughout his 20-fight career, but none came in quite as dramatic of fashion as his victory over Albert during the Facebook prelims.
The two bantamweights battled in what turned out to be a textbook grappling battle. Jorgensen landed from the top and began to open Albert up but ended up getting swept. In the scramble to get back on top, Jorgensen nearly got caught in a triangle and then an armbar.
In the final seconds, though, Albert gave up his back and "Young Guns" was able to lock up a rear-naked choke, flattening out his opponent in the process.
It's not known whether Albert didn't hear the wood clap signifying that 10 seconds remained in the round or if he just simply couldn't stay conscious because of the choke, but he tapped out with just a second remaining.
The win snaps a two-fight losing streak for Jorgensen, who will now begin his climb back up toward title contention at 135 pounds.
Begin Slideshow

»
Mike Kyle (Photo Credit: Esther Lin, Strikeforce)
Mike Kyle was originally scheduled to fight Wesley Correira at UFC 47, but a positive drug test from Tim Sylvia would change the fight card dramatically. Correira was promoted to a bout against Andrei Arlovski, leaving the UFC in a very tough situation.
The company would turn to Wes Sims, who was coming off of back-to-back losses to Frank Mir, to step in on very short notice to fight Kyle in his UFC debut.
Sims is a tough fighter, but he could not make it out of the first round, as Mike Kyle overwhelmed Sims and eventually knocked him out with a big punch.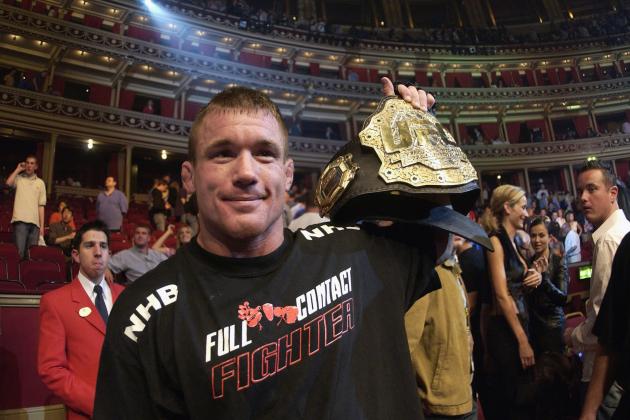 John Gichigi/Getty Images
UFC Hall of Famer Matt Hughes
Years before Georges St-Pierre would become the most dominant champion in UFC welterweight history, he would earn his first shot at the title against the man who was previously considered the best ever, Matt Hughes.
The two did battle for the vacant welterweight title at UFC 50 after BJ Penn was stripped of the title.
A competitive first round began with GSP landing a brutal spinning kick that landed on Hughes' ribs. Hughes battled back, though, taking St-Pierre down numerous times, including a highlight reel slam.
Hughes eventually earned the submission by armbar at 4:59 in Round 1.
St-Pierre later admitted that he was mentally unprepared for the bout. He was starstruck to be in the cage against Hughes, whom he considered an idol, and did not believe he could beat the former champ.
The Canadian would eventually battle his way back into title contention, taking the title from Hughes at UFC 65 and again at UFC 79.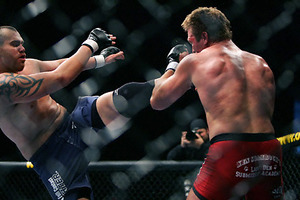 Tim Sylvia lands a head kick on Tra Telligman.
He doesn't always get the respect that he has earned, but for a time, former UFC champion Tim Sylvia was absolutely one of the top heavyweights in the sport.
"The Maine-iac" has won 20 of his 31 victories by way of knockout over the course of his career, but perhaps none came more impressively than the brutal head kick that knocked out Tra Telligman at UFC 54.
Sylvia, a 6'8" fighter that had trouble even making the 265-pound limit, was not known for being particularly agile, but he caught Telligman off guard and right on the button with the kick.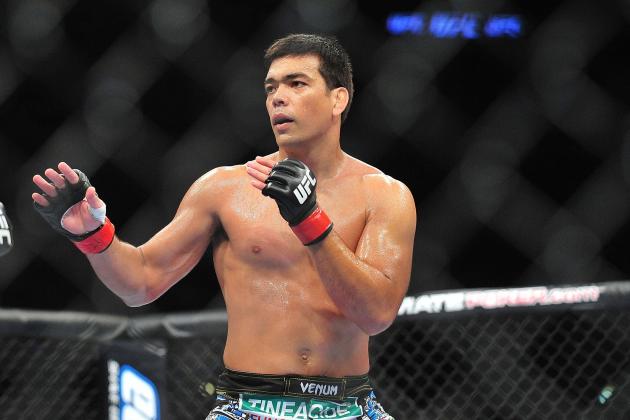 Gary A. Vasquez-USA TODAY Sports
Lyoto Machida
He might be the most unique striker in MMA today, and although he sometimes gets hate from fans for his "elusive" style, there's no denying that Lyoto Machida has some serious knockout power.
"The Dragon" proved that at UFC 94 when he caught Thiago Silva off guard, delivering one of the most violent knockout punches in UFC history.
The win was Machida's first by knockout in the UFC after winning three of his first four bouts by decision and the other by submission. It was also not only Silva's first knockout loss, but the first loss of any kind of his entire career.
Every so often, something comes along in MMA that completely shocks everyone.
That happened on March 26, 2011, when "The Korean Zombie" Chan Sung Jung became the first fighter in a major MMA show to pull out the submission dubbed the "twister." A stunned Leonard Garcia had no choice but to submit at 4:59 in Round 2, marking the end of what had been a very entertaining bout.
This extremely painful submission maneuver has been credited to jiu-jitsu coach Eddie Bravo, who shared videos of the move on YouTube, which is where Jung said that he learned it.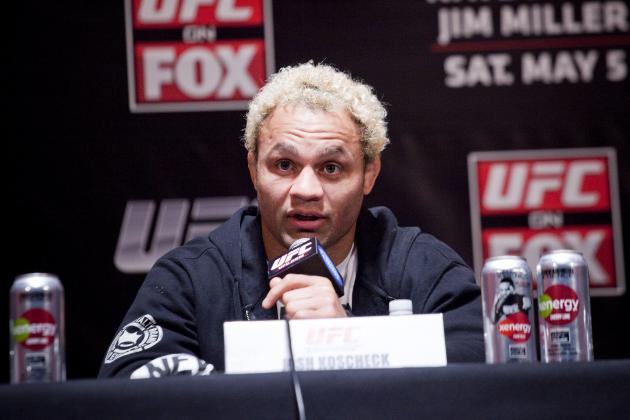 Michael Nagle/Getty Images
Josh Koscheck
Matt Hughes is the only fighter to be on this list twice, but the second time is not one that he will want to remember.
Hughes, who had been knocked out by BJ Penn in his previous fight, suffered his second straight KO loss when he got in the cage against Josh Koscheck.
Diego Sanchez was originally set to fight Hughes, but an injury forced him out of the bout, leading the way for his fellow The Ultimate Fighter castmate, Koscheck, to step in.
Although Hughes displayed improved stand-up, it was not enough to avoid the big punch from Koscheck, and he suffered the punishing knockout at 4:59 in Round 1.
The lighter weight classes aren't typically known for big knockouts, but Jose Aldo isn't exactly your typical fighter.
Aldo, who had not lost since 2005, was given the UFC featherweight championship upon his arrival to the company and many believed that the biggest challenge of his career would come against Chad Mendes at UFC 142.
Mendes, one of the best wrestlers in the sport, spent most of the first round trying to bring the fight to the ground. Aldo stayed on his feet, though, and eventually spun around, landing a crisp knee right to Mendes' chin.
The knockout came at 4:59 of Round 1 and was celebrated when Aldo bolted out of the cage into a sea of his fans in Rio de Janeiro, Brazil.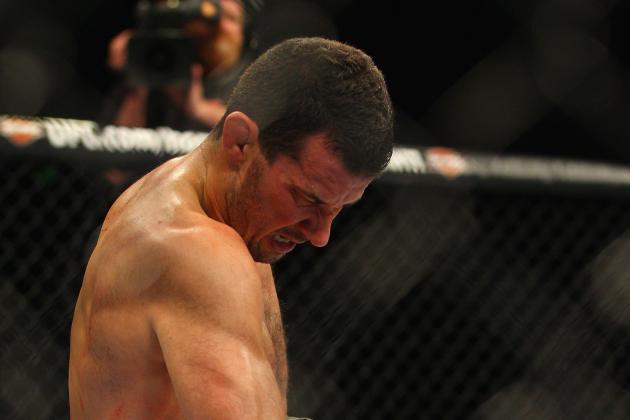 Mark Kolbe/Getty Images
Anthony Perosh rains down punches on Nick Penner at UFC on FX 2.
Australian star Anthony Perosh is someone who simply doesn't see the point in going to a decision. In his 13 MMA wins, Perosh has finished every opponent by either knockout or submission.
His most recent victory came against Canadian Nick Penner, when the two battled in March 2012 at UFC on FX 2. It was Penner's UFC debut after having gone 11-1 in his first 12 MMA fights.
Although Perosh is known primarily as a jiu-jitsu practitioner, then 39-year-old Anthony Perosh earned a TKO on Penner when he overwhelmed his opponent with punches. The referee finally had to step in, ending the fight with just a second left in the first round.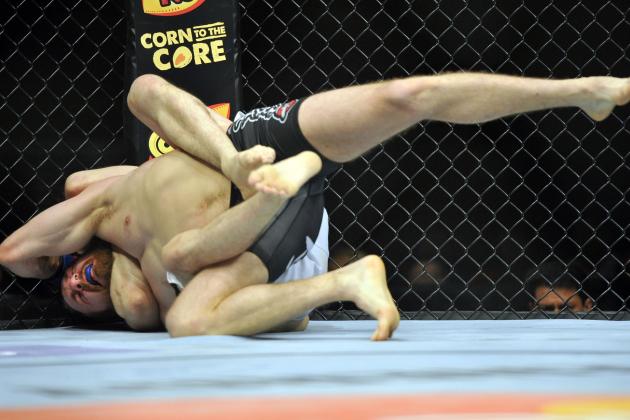 Joe Camporeale-USA TODAY Sports
Roland Delorme locks in the rear-naked choke on Nick Denis.
Prior to Scott Jorgensen's last-second victory over John Albert, the last time a fight ended at 4:59 in a round was actually at UFC on Fox 3, when Roland Delorme defeated Nick Denis.
Denis was originally set to fight Johnny Bedford, but an injury allowed Delorme to step in, marking what was the second fight of his official UFC career.
The fight was an intense back-and-forth battle that saw both men rocked before Delorme finally locked up a rear-naked choke, earning the submission at 4:59 of the first round.