UCLA vs. Texas: Live Score, Analysis and Reaction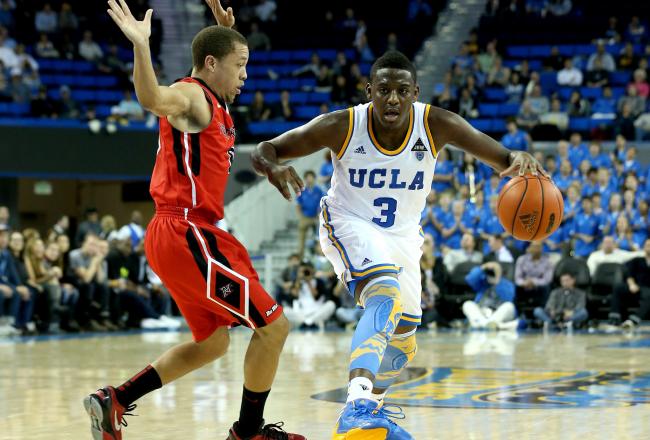 UCLA's top scorer, freshman Jordan Adams, led the Bruins to a last-minute victory over Texas.
Stephen Dunn/Getty Images
UCLA took down Texas, 65-63, in "The Showcase at Houston" at Reliant Stadium on Saturday.
The struggling Bruins, who would have been predicted to wipe the floor with the Longhorns in the preseason, stopped the bleeding of their tumultuous start to the season by bearing down on Texas with top-scoring freshmen Jordan Adams and Shabazz Muhammad.
The Longhorns have had their share of early-season struggles and disappointment, and have now fallen once again after a blowout loss against No. 15 Georgetown, falling to 5-4 on the season.
The Bruins improve to 6-3 after this afternoon's tight matchup and now look forward to their toughest nonconference matchup against No. 12 Missouri.
UCLA 65, Texas 63 FINAL Signing off now, folks. Thanks for following along. Hope you enjoyed. Enjoy your weekend!
#UCLA escapes the horns of defeat with a last-minute win over #Texas. Jordan Adams (@jordanadams1231) was clutch down the stretch.

— Robert Pace (@Robert_Pace) December 9, 2012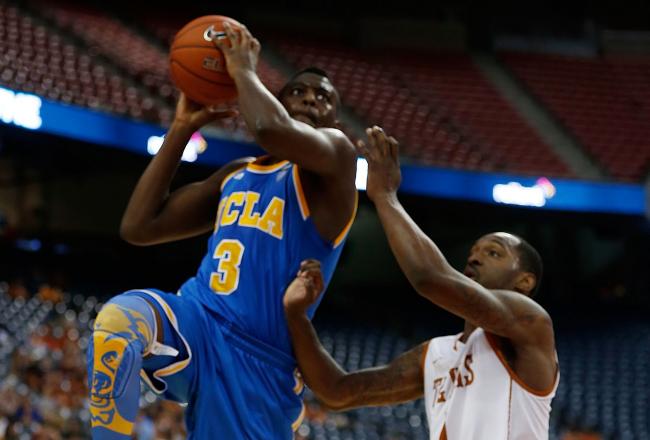 UCLA 65, Texas 63 FINAL UCLA's Jordan Adams posts a game-leading 18 points, including some big-time plays in the clutch. The Bruins don't win without him. The most valuable player on the team without a doubt.
Final score: UCLA 65, Texas 63. As bad a game between big-name programs as you'll ever see.

— Peter Yoon (@PeterYoonESPN) December 9, 2012
UCLA 65, Texas 63 FINAL Adams nearly pays the price for missing the second free-throw, but Texas' Jonathan Holmes' three-point heave caught nothing but air. Rick Barnes livid with the ugly effort
UCLA 64, Texas 63 (0:05, second half) Adams made 34 straight free-throws to start the season. Let's see if he can nail these two
UCLA 64, Texas 63 (0:06, second half) Texas opts to go for a layup instead of a three. Unless UCLA turns it over on the in-bounds play, this game is over.
UCLA 64, Texas 61 (0:20, second half) Larry Drew plays tough D, but nearly fouls Javan Felix. No call and UCLA converts on the other end. Texas better draw up something good here.
UCLA 61, Texas 61 (1:11, second half) Texas has to draw up a better in-bounds play from a timeout. Giving it to your big man is not ideal.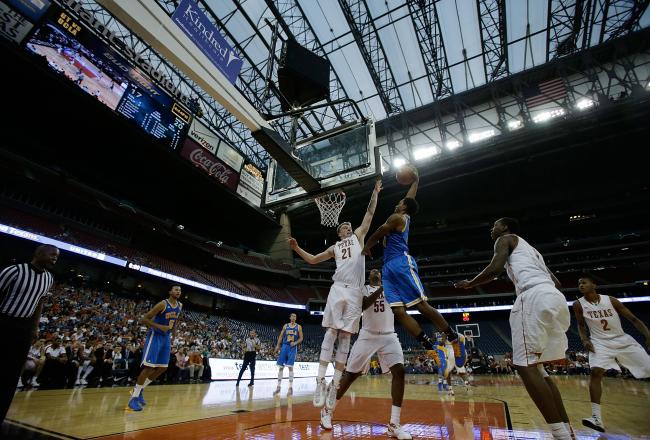 UCLA 61, Texas 61 (1:15, second half) Jordan Adams again with the three-point play! Tenacious player! UCLA ties it up with an 8-0 run. Texas falling apart.
UCLA 58, Texas 61 (1:59, second half) Texas just as poor on defense. Giving UCLA a chance to come back in the game.
UCLA 55, Texas 61 (2:19, second half) "Lot of frustration" is right, Dickie V. The Bruins are shooting themselves in the foot by turning the ball over this late in the game. Game's slipping away.
UCLA 51, Texas 58 (3:43, second half) UCLA looking fatigued and uninspired. They should be up by double digits, but defense has been atrocious today. Not to say it hasn't been this entire season.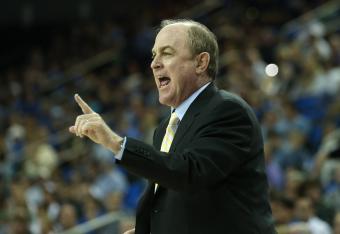 UCLA 51, Texas 56 (4:57, second half) Coach Ben Howland looks calm for the way UCLA has been playing. Change in coaching approach?
Am told the attendance here at Reliant Stadium is 2,797. Seems like a generous figure.

— Baxter Holmes (@BaxterHolmes) December 8, 2012
UCLA 49, Texas 56 (6:05, second half) Cameron Ridley is taking over for Texas. UCLA can't handle him. Anderson throws it away on the other end. UCLA's on the decline.
UCLA 47, Texas 50 (7:53, second half) UCLA starting to look like a high school team out there. Unrefined basketball. Texas is destroying them in the lane.
UCLA 47, Texas 47 (9:08, second half) Shabazz is heating up. He's keeping UCLA in the game. Now has 15 points.
UCLA 45, Texas 45 (11:08, second half) UCLA plays excellently with run-and-gun offense. If they could only uphold it all game, they'd be a top team.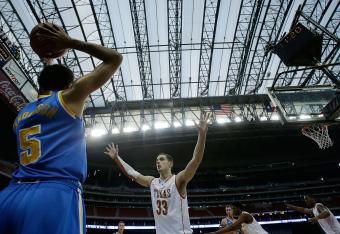 UCLA 40, Texas 43 (11:55, second half) Both teams now shooting a combined 3-for-22 from three-point range. UCLA still can't find a way to stop Texas from penetrating despite their poor outside shooting. The Bruins have some major work to do before Pac-12 conference play starts.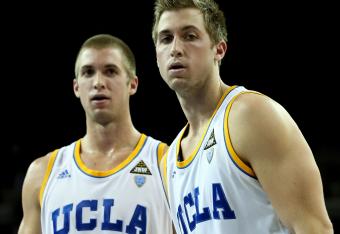 UCLA 39, Texas 40 (13:32, second half) The Wear twins both have a much more confident jumpshot this year, but they can't play defense. Have to be more physical than that without fouling.
UCLA 39, Texas 40 (14:28, second half) If Texas misses another layup, Dickie V might run on the court and grab the ball. Unbelievable, baby!
UCLA 39, Texas 40 (14:28, second half) Texas takes its first lead of the game thanks to poor defense from UCLA. Game is getting sloppy for both teams now.
UCLA 39, Texas 36 (15:18, second half) UCLA's Adams makes Julien Lewis pay for missing an open layup by draining a three. Money!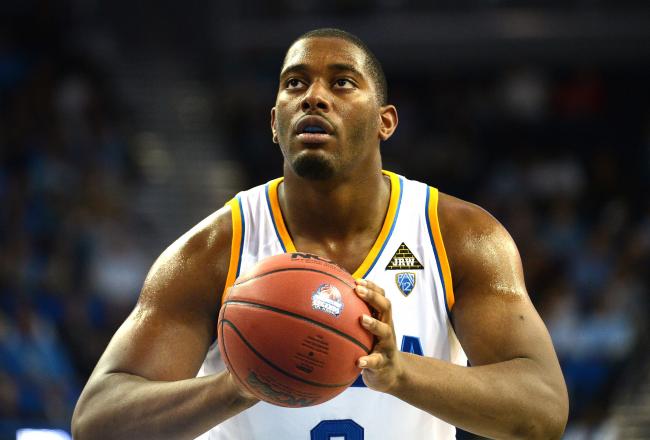 Bruins fan behind UCLA's bench holds up a sign that reads, "We Miss You Josh Smith"

— Baxter Holmes (@BaxterHolmes) December 8, 2012
UCLA 32, Texas 33 (19:14 ,second half) On cue, Sheldon McClellan makes a 3-pointer. Gets fouled and completes the 4-point play.
This article is
What is the duplicate article?
Why is this article offensive?
Where is this article plagiarized from?
Why is this article poorly edited?

UCLA Basketball: Like this team?