UFC on Fox 5 Results: Questions Answered and Lessons Learned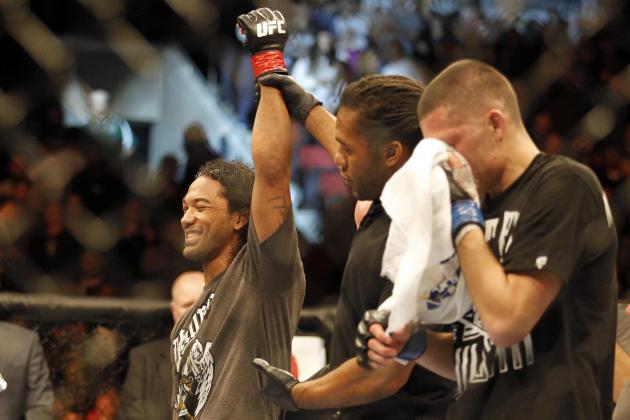 Joe Nicholson-USA TODAY Sports

The UFC's fifth venture onto Fox is over and done with. Benson Henderson defeated Nate Diaz and Rory MacDonald outclassed B.J. Penn in every sense of the word.
UFC on Fox 5 saw other fights happen throughout the night. Several of them taught the MMA world important lessons and answered lingering questions that fans and pundits had about certain fighters.
So what exactly did we learn?
Read and find out!
Begin Slideshow

»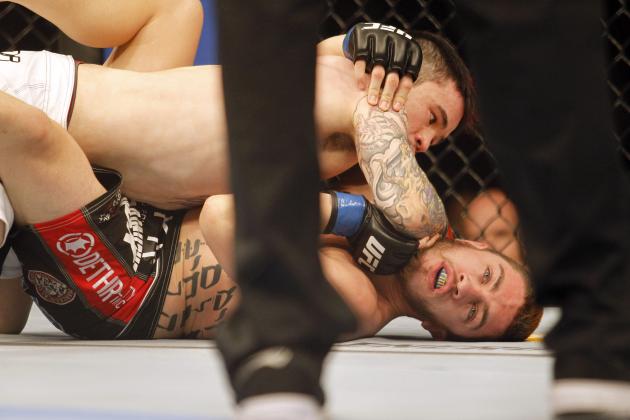 Joe Nicholson-USA TODAY Sports
Albert struggles beneath Jorgensen.
It's obviously easy to say this as a commentator rather than a fighter, but had John Albert known that there was literally one second left until the first round ended, he might of endured longer in order to live to fight another round.
Alas, he still tapped and now has another loss on his record for it, bringing his stint in the UFC to 1-3.
Steve Mitchell-USA TODAY Sports

Scott Jorgensen came out of his two-fight losing streak by defeating John Albert.
Jorgensen survived a nasty triangle choke attempt and eventually reversed his fortunes, taking Albert's back and locking in a rear-naked choke, forcing Albert to tap with only one second left.
The impressive fight has shown that Jorgensen, while maybe not in the top one percent in the division, is still "back" and is still a legitimate competitor in the bantamweight division.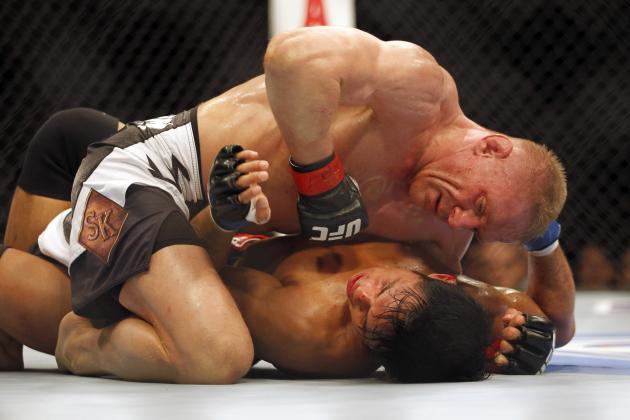 Joe Nicholson-USA TODAY Sports
Siver bashes Phan.
Dennis Siver put on one of the most one-sided beatdowns in recent memory on Nam Phan. However, in Phan's defense, he did take the fight on short notice.
On paper, the fight was a good matchup that promised to be a good contest. Unfortunately for Phan, though, he wasn't competitive for one minute of the fight. But should we have expected differently? Upon closer scrutiny, Phan doesn't have the greatest record at 18-11.
Once Siver beats a better fighter at 145, we'll know that he's a true contender for Aldo's title.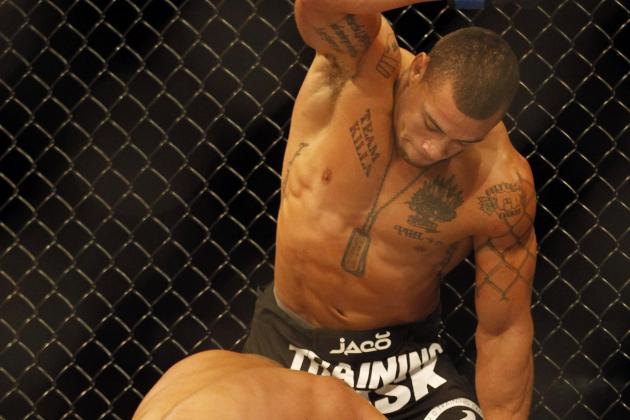 Joe Nicholson-USA TODAY Sports
Trujillo about to smash LeVesseur.
The unheralded Abel Trujillo put himself on the map with an impressive thrashing of Marcus LeVesseur.
Trujillo landed some unbelievable strikes from the "wall walk" position that stopped LeVesseur in his tracks. He also took LeVesseur off his feet with one single punch that will be part of MMA highlight reels for some time to come.
Although he's still somewhat unproven (this was only his first fight in the UFC), he's still a guy to watch.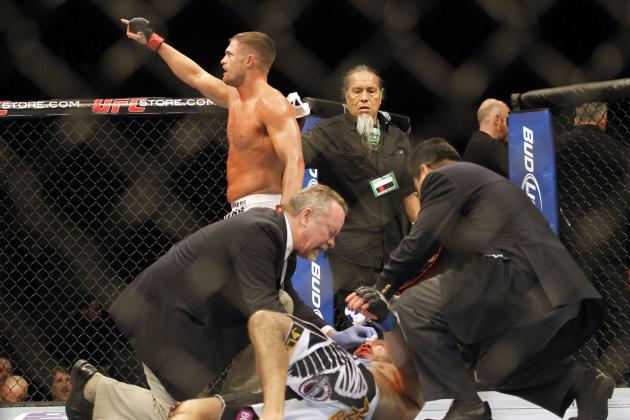 Joe Nicholson-USA TODAY Sports

Daron Cruickshank's spectacular head kick knockout of Henry Martinez will be remembered for years to come. It was picture perfect, reminiscent of Gabriel Gonzaga vs. Mirko "Cro Cop" Filipovic.
The other facets of Cruickshank's skills seemed up to par as well; keep him on your radar screen.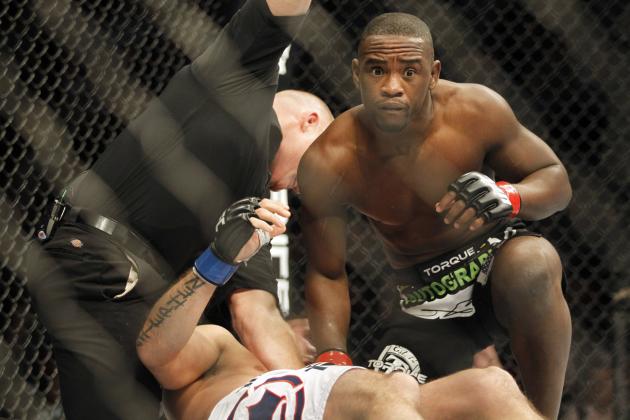 Joe Nicholson-USA TODAY Sports

At age 36 with a 1-2 record in his previous three fights, there were questions about whether Yves Edwards should still be competing in MMA.
However, with a stunning KO over Jeremy Stephens—a man who has never been KO'd before—Edwards proved that he still has a place in MMA, age be damned.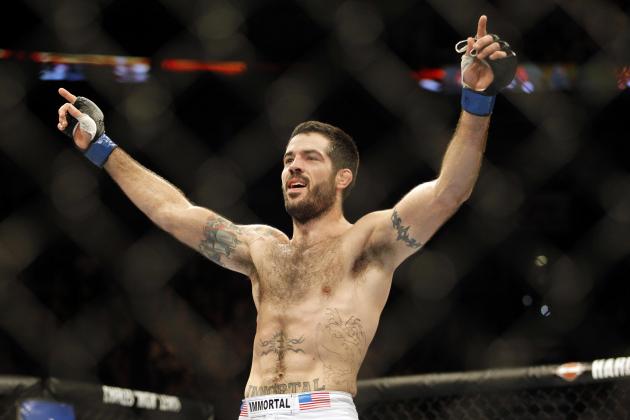 Joe Nicholson-USA TODAY Sports

Matt Brown has lived up to his namesake, "The Immortal," by constantly avoiding the death of his UFC career by always picking up wins at crucial times.
His vicious KO of Mike Swick on UFC on Fox 5 was no exception. Many fans and pundits (including myself) thought that Brown was supposed to be a highlight-reel KO for Swick; Brown was merely cannon fodder to provide the rapacious casual fan with a quick, brutal knockout. Technically, this was the case, but the roles were reversed.
Brown dominated Swick in all facets of the game in the first round and then, in the second, beautifully separated Swick from consciousness.
Brown is now on a four-fight winning streak. A high-profile opponent is likely in his future.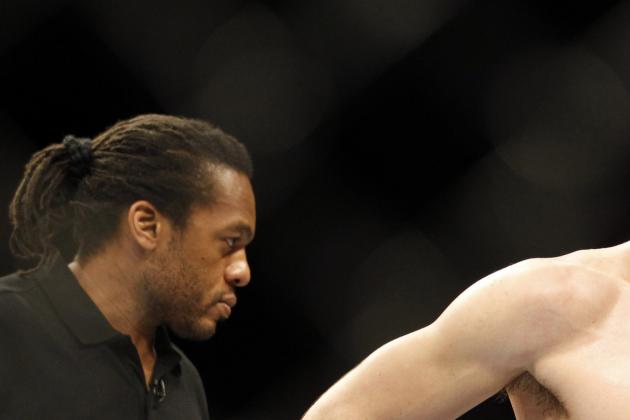 Joe Nicholson-USA TODAY Sports

B.J. Penn never had Rory MacDonald in any danger, while MacDonald had Penn in danger several times and nearly finished the Hawaiian in the second round with body shots.
The fight wasn't close to being competitive; Penn didn't belong in the cage with the younger, faster, stronger, more-skilled MacDonald.
With great wrestling, striking, physical abilities and top-tier training partners, MacDonald is the future of the welterweight division and perhaps the sport itself.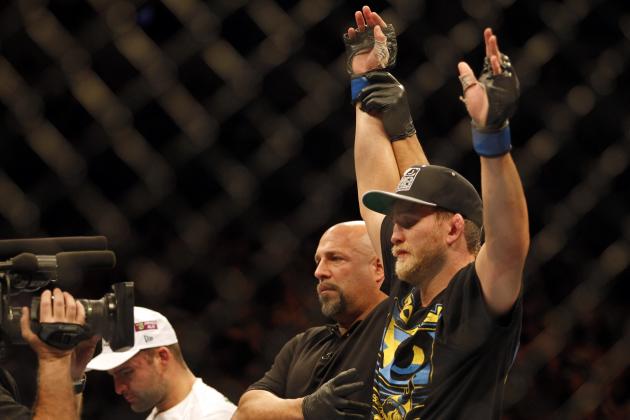 Joe Nicholson-USA TODAY Sports

The fight between Alexander Gustafsson and Mauricio "Shogun" Rua was arguably the most entertaining scrap on the main card, as well as the most competitive.
But those who are saying that Gustafsson is the man to beat UFC light heavyweight champ Jon Jones are mistaken. If Gustafsson couldn't finish and was at times threatened by an older, slower Rua, how can he really be expected to beat a monster like Jones?
Perhaps he should fight the winner of Henderson vs. Machida or some other accomplished light heavyweight? Because if he fought Jones now, he'd lose—badly.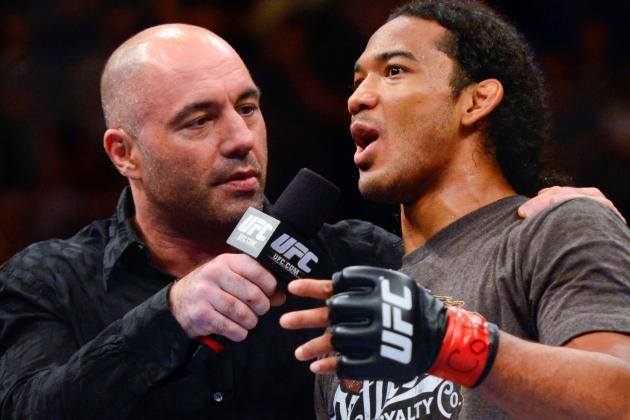 Ron Chenoy-USA TODAY Sports

Nate Diaz was outstruck and outwrestled against Benson Henderson. He threatened the champ a few times with leglocks but, generally, he got dominated; the fight wasn't close.
Henderson took Diaz down at will and, for the most part, avoided adverse situations en route to a decision victory.
Henderson was a bigger, stronger man, a faster athlete and more talented fighter than Diaz, who needs to go grow as a mixed martial artist rather than just continue to use his typical strategies. His current ways will get him to title fights, sure, but they won't win those title fights; Diaz needs to evolve his game.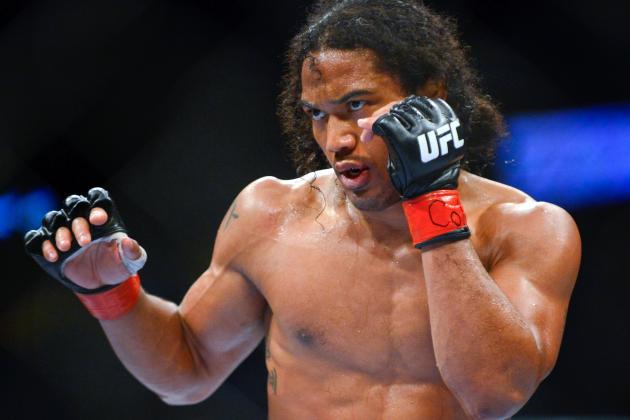 Ron Chenoy-USA TODAY Sports

In case you missed it, Benson Henderson apparently had a toothpick in his mouth during his fight.
He dodged giving definitive answers to questions about this topic at the post-fight press conference. However, a recent screen-capture that has surfaced clearly shows the toothpick in his mouth.
Why anyone would do this is beyond me, but it's a hazard to the fighter and it should be stopped.