UFC on Fox 5 Results: Grades for All Main Card Fighters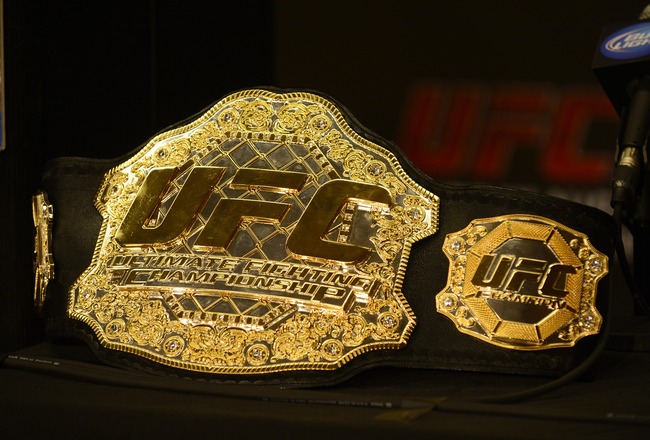 Ron Chenoy-USA TODAY Sports
As I type this I am still trying to get my blood pressure down. From the first fight to the final bell on Saturday night, UFC on Fox 5 will be remembered as the card that puts the UFC on the network television map.
Sitting several feet from the cage, I had one of the best vantage points for tonight's action. And it didn't disappoint. I don't know what UFC President Dana White told the fighters before the card went live, but everyone put it all on the line and went for it.
In fact, I don't envy White at this point, as he needs to figure out which of the fights deserves the coveted Fight of the Night Bonus.
Anyway, I'm going to try and digest what I saw. Go read the grades.
Mike Swick: D+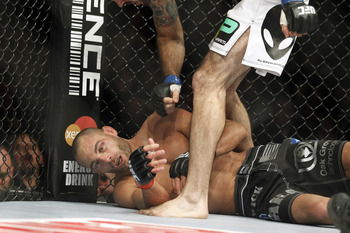 Joe Nicholson-USA TODAY Sports
Sometimes you're the hammer and sometimes you're the nail. Tonight, Mike Swick was on the business end of a serious knockout.
It's been a rough couple of years for Mike Swick, who was sidelined for two and a half years because of numerous injuries. He was successful in his UFC return at UFC on Fox this past August when he picked up a major win over DaMarques Johnson.
In pre-fight interviews, Swick spoke about this being the start of a new chapter of his career. After tonight, I'm not sure where this knockout puts him.
I'd like to see him come back, but he had absolutely nothing for Matt Brown on the feet or on the ground.
Matt Brown: A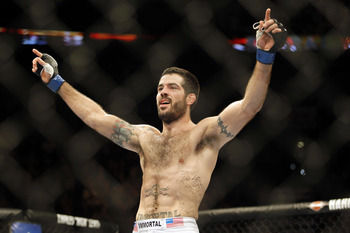 Joe Nicholson-USA TODAY Sports
I guess I'll join the countless others who felt that we've seen the ceiling of Matt Brown's potential. I've always viewed him as a fun fighter who has never been able to put it together. It was like he was willing to fight his opponent's fight instead of stick to his own game plan.
Tonight was the best performance of his UFC career. It's not even arguable. He was a step ahead of Swick the whole time. He beat him up on the feet and threatened with numerous submissions. He was close to finishing the fight with a triangle.
That knockout? Holy AWESOME, BATMAN!
Hoping this is the start of big things for Matt Brown, who is one of the nicest guys in the welterweight division.
BJ Penn: D+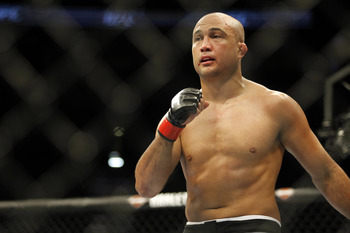 Joe Nicholson-USA TODAY Sports
Well, I was totally wrong. Like not even slightly. I mean 100 percent and completely wrong. I blame the fact that sometimes I think more with my heart than my head. It literally happens EVERY TIME that BJ Penn fights. I just get caught up in the "best camp of my career" rhetoric.
Penn had nothing for Rory. The crowd would erupt whenever he landed but those times were few and far between.
He got worked. Actually that's not even a good enough word. He got trucked.
I'm pretty sure this is the last time we've seen BJ Penn in the Octagon. I'm bummed that's how he went out.
Rory MacDonald: A+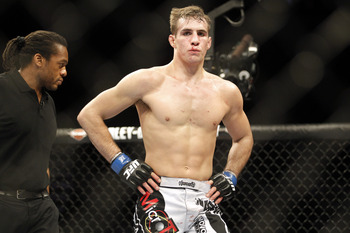 Joe Nicholson-USA TODAY Sports
Rory MacDonald is the truth. That's all there is to say about that.
Long story short, he completely dominated BJ Penn. As in he had the legendary UFC veteran look like a complete amateur. The body work? Awesome. The leg kicks? Awesomer.
I'm sorry I doubted you, Rory MacDonald. I won't do that ever again. Like ever.
Mauricio Rua: C-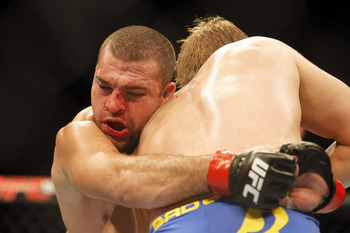 Joe Nicholson-USA TODAY Sports
I think it's safe to say that Shogun's best day's are behind him. I don't know if it's a matter of motivation or just an accumulation of damage from countless wars, but he just doesn't have it anymore.
I hate writing that too. Like so much. I'm a fan of his and have been since his days in PRIDE. His run through the PRIDE Middleweight Grand Prix turned him into a star.
But he's just not that guy anymore.
It almost seems like he knows it too. He starts so fast and tries to finish the fight as quick as possible. But after the first round it was obvious that he had nothing left in the tank.
He's always going to be a legend, but I think it's fair to say that he won't ever be challenging for a title again.
Alex Gustafsson: B+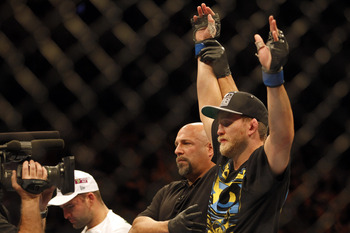 Joe Nicholson-USA TODAY Sports
That was as close to a perfect performance as Alex Gustafsson could have hope for in his bout against Mauricio Rua. Outside of those leg lock attempts in the first round, Gustafsson took the fight to the PRIDE legend for 15 minutes.
He put together a perfect game plan. Shogun is notorious for being a quick starter who fades in the later rounds. So Alex weathered the early storm and then used takedowns to drain the gas tank of Rua.
His punching looked crisp, but most impressive were his takedowns. He's obviously been training with Phil Davis and working on his wrestling.
I don't know if he is ready for Jon Jones, but if not he's just about there.
Nate Diaz: D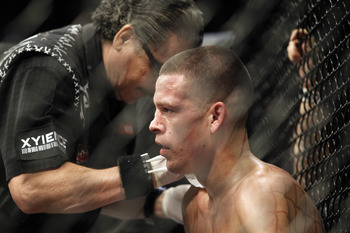 Joe Nicholson-USA TODAY Sports
Look, if you have paid attention to the careers of Benson Henderson and Nate Diaz, you would know that it's pretty much impossible to submit the UFC lightweight champion. Because of this really significant fact, I thought it was pretty obvious how the fight would play out.
Diaz's path to victory was if he could keep distance and land multiple punches each time he threw. That didn't happen. He got bullied in the clinch and absolutely bodied on the ground.
There's also the fact that he was dropped multiple times over 25 minutes.
He's still a great fighter. He's just not the guy to dethrone Benson Henderson.
Benson Henderson: A+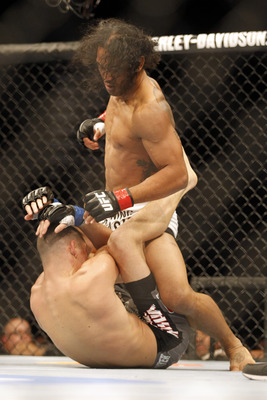 Joe Nicholson-USA TODAY Sports
The champ is HERE!
Benson Henderson is without a doubt the very best lightweight in the world. And though some may feel it's a bit too early, I'd go as far as to say he's the best lightweight ever.
I really don't see anyone in the lightweight division that can present any sort of challenge. He's just that dominant. Whether it's his wrestling or ridiculous pace, he is without peer, and he showed it tonight.
A+ performance. And he did it with a toothpick in his mouth. What a boss.
Joe Silva and Sean Shelby: A+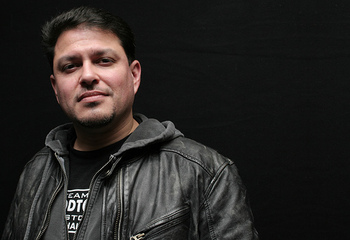 Via FightCove.com
Thanks for the awesome Hanukkah present, guys.
Keep Reading