Sun Bowl 2012: 10 USC Starters Better Than Their Georgia Tech Counterparts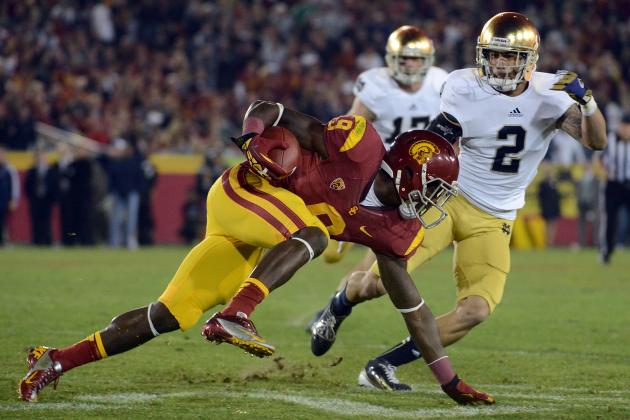 Harry How/Getty Images

For the 2012 USC Trojans, an appearance in this year's Hyundai Sun Bowl in El Paso represents a destination far removed from the lofty expectations that began this season's college football campaign.
After a free fall that removed them from the sports elite, the Trojans will take a 7-5 record into their match with a 6-7 Georgia Tech team that also fell well short of ambitions this year.
While on the surface this game doesn't appear very attractive, there is still much at stake for both of these teams.
A win here would build momentum going into 2013 for either team, and preparation time in the form of practices offer extra sessions for each coaching staff to work with their teams that otherwise would not be available.
For a young team such as the Trojans, time spent together is valuable, and the coaching staff is well aware of the benefits that will be derived with this bonus time spent with the team.
But the objective is to win this game, and in order for USC to accomplish this mission, they must take advantage of their better talent against their Yellow Jacket counterparts.
This slideshow will look at some of these positional comparisons and where USC may be better than its ACC opponent.
It should also be noted that because the Yellow Jackets are a triple-option offense, they don't employ a tight end. This position, as well as others, required a bit of creativity on this author's part.
So let's get started and see the positions where the Trojans should dominate in this game.
Begin Slideshow

»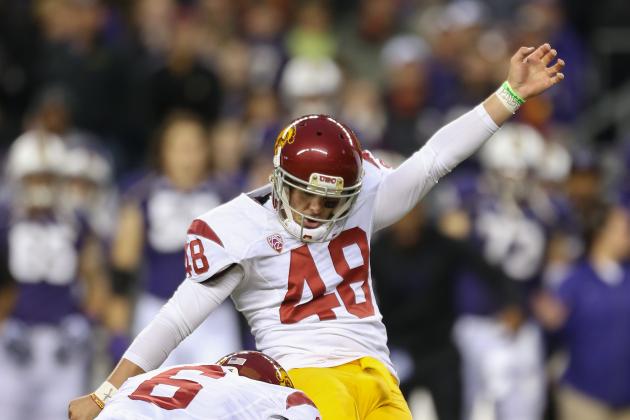 Otto Greule Jr/Getty Images

We begin this slideshow with a sometimes underappreciated component of a football team, and that is the position of kicker.
Though Trojan kicker Andre Heidari took a step backwards in 2012 after a very impressive true freshman campaign in 2011, he is still a far more dangerous weapon than Georgia Tech's David Scully.
This year, Heidari has managed to kick 10 of 15 field goals and all but two extra points.
Meanwhile, Scully has only been successful on four field goal tries while kicking 37 extra points.
Also, Heidari had surgery on his knee during the season and is getting stronger every day, which can only help by the time this game rolls around.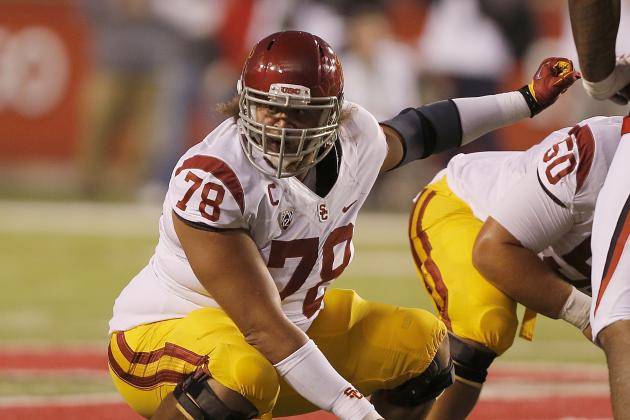 George Frey/Getty Images

In a position that is difficult to quantify, there is little doubt that there are very few centers in college football better than USC's Khaled Holmes.
Big, tough and incredibly cerebral, Holmes is the glue that keeps the Trojans' offensive line intact.
A first-team 2012 All-Pac-12 player, Holmes will take his considerable talents to the NFL next year, where he will make some lucky team very happy indeed.
This is not to say that Georgia Tech's Jay Finch is a slouch by any means.
An honorable mention for the ACC's all-conference team, Finch is a very good player in his own right, but pales in comparison against the USC senior.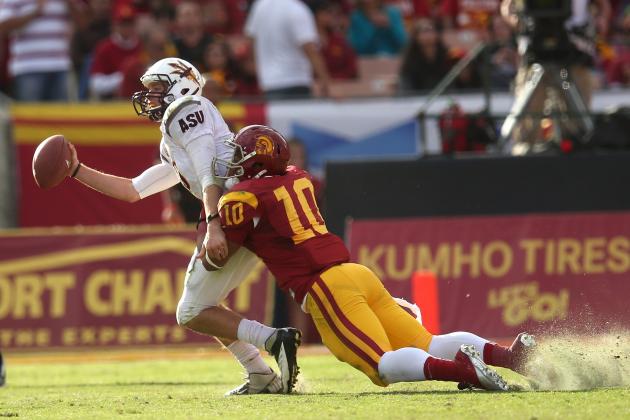 Stephen Dunn/Getty Images

In this comparison of linebackers, we find two very capable players, both of whom bring a lot to the table for their respective teams.
USC's Hayes Pullard, a freshman All-American a year ago, followed up that campaign with a solid 2012 that saw him finish second on the team in tackles with 91.
Combined with 6.5 tackles for loss, two sacks and an interception, Pullard played hard on a defense that often found itself on its heels despite his contributions.
For the Yellow Jackets, Quayshawn Nealy also had a nice year, in which he tied for third on the team in tackles with 74 and added 3.5 tackles for loss to go along with an interception.
Though close when they are compared, Pullard enjoys a distinct advantage when it comes to value to his team.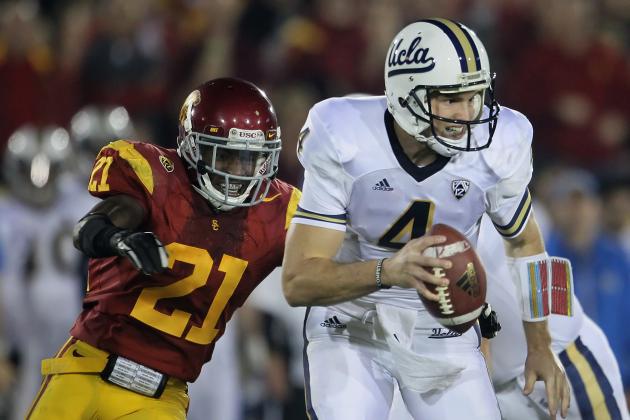 Jeff Gross/Getty Images

Sometimes the statistics don't always tell the story, and when it comes to assessing the value of Trojan cornerback Nickell Robey, this is certainly the case.
Robey, who was named Pac-12 second-team all-conference, didn't pile up the glossy numbers for one very good reason: No one would throw against him because, quite frankly, he was too good in pass coverage.
Despite this, Robey still found a way to make his presence felt by placing seventh on the team in tackles with 49.
Rod Sweeting also had a very nice year for the Yellow Jackets, as he accumulated 55 tackles along with a very impressive six tackles for loss.
Still, you can't overestimate the value a player gives his team when their opponents rarely test him, thus taking away half of the playing field in the passing game. That is why the Trojans enjoy an advantage when comparing these two players.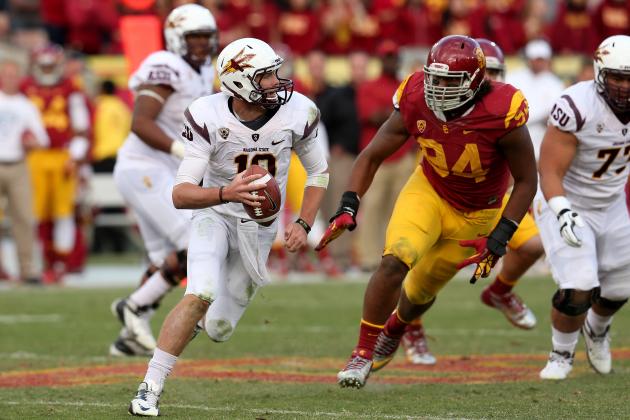 Stephen Dunn/Getty Images

In Georgia Tech's base 3-4 defense, the nose tackle is responsible for clogging the middle and freeing up space for the linebackers, and in this scheme, T.J. Barnes does an admirable job.
At 6'7" and 345 pounds, Barnes certainly looks the part, and although his stats (27 tackles, 5.0 tackles for loss along with 1.5 sacks) aren't overly impressive, in this scheme his effectiveness is not numbers driven.
Still, when it comes to a defensive tackle who does produce measurable stats, one needs to look no further than USC's true freshman, Leonard Williams.
Granted, in the Trojans' 4-3 base defense, the d-tackle does produce more numbers, but by any measure, Williams has had an eye-opening year.
Ranking sixth on the team in tackles with 50, Williams has also delivered 13 tackles for loss and a ridiculous 7.5 sacks as well.
Williams is getting better every time out, and that spells trouble for the Yellow Jackets in this game.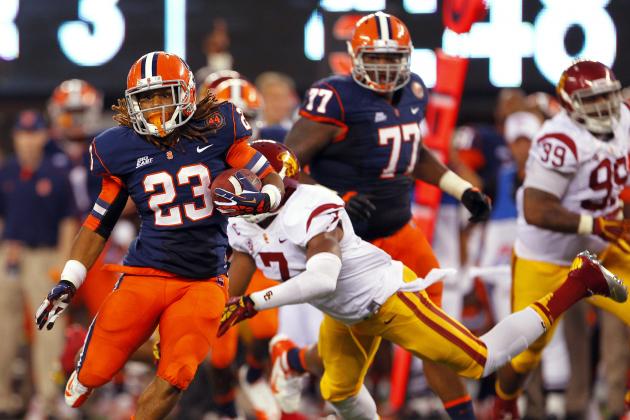 Rich Schultz/Getty Images

Another good position battle where the Trojans get the edge—but not by much.
Senior T.J. McDonald has been a fixture for USC at safety for some time, and this year he led the Trojans in tackles with 99.
A second-team All-Pac-12 conference choice, McDonald also added 6.5 tackles for loss, a sack and two interceptions in a impressive 2012 campaign.
The Yellow Jackets also have received a great effort from Jemea Thomas this year as well, where he was second on the team in tackles with 82 to go along with three tackles for loss and four picks.
Both of these players have had very nice years, but the nod goes to McDonald here.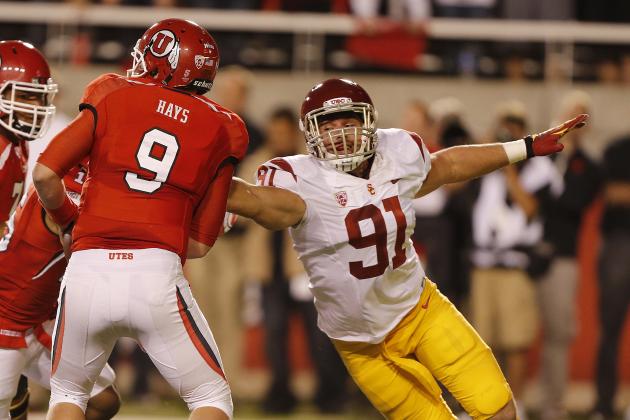 George Frey/Getty Images

Whereas the McDonald-Thomas comparison may be considered close, scrutiny of these two defensive ends is anything but.
Junior Morgan Breslin was simply electric for the Trojans, as he completely dominated throughout 2012.
With a ridiculous 18.5 tackles for loss to go along with 12 sacks, Breslin was pretty much unblockable all year long.
For good measure, Breslin even managed to wind up fifth on the team in tackles with 53 and, just for the heck of it, also recovered a fumble.
Georgia Tech's Emmanuel Dieke—a physical specimen at 6'6" and 270 pounds—couldn't quite keep up with Breslin in the stat department, as he was only able to accrue 23 tackles and a couple of sacks.
Advantage Trojans—big time.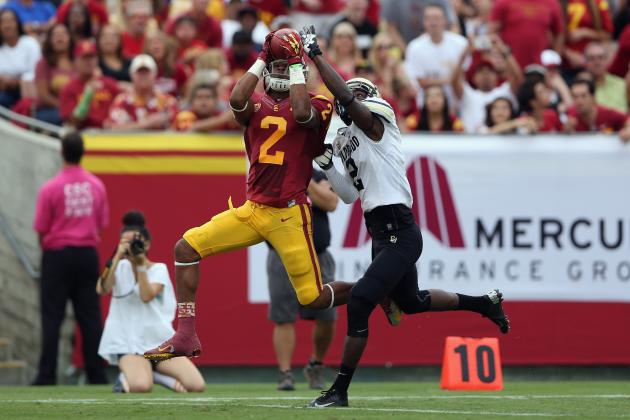 Jeff Gross/Getty Images

For the sake of full disclosure, it should be noted that triple-option teams don't offer much in the passing department.
So when it comes to comparing USC's starting receivers to their counterparts on Georgia Tech, it is like stacking a Ferrari up against a Ford Pinto.
Thus it is with no reservations that I say USC enjoys a tremendous advantage when comparing Robert Woods to Jeremy Moore.
Woods, who did have a comparatively disappointing 2012 season—especially when compared to his record-setting year last season—still outshines Moore by leaps and bounds when it comes to catching the ball.
After all, 73 receptions and 11 touchdowns are fine numbers by any estimation, but when you stack them up against Moore, who managed nine receptions and zero touchdowns in 2012, the disparity becomes all the more magnified.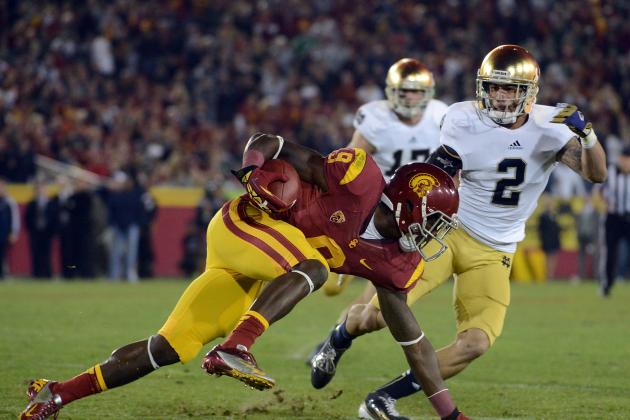 Harry How/Getty Images

If you thought the Woods vs. Moore comparison was a mismatch, wait until you get a load of how lopsided the Lee vs. Greene contest is.
Lee—recently named the Biletnikoff trophy winner as the best wide receiver in the nation—was as electric a player as there was in college football this year.
After setting a Pac-12 record with 112 receptions for 1,680 yards and 14 touchdowns, Lee set himself apart at the position. The only question remaining was why he didn't receive an invite to New York for the Heisman Trophy award.
Arguably the finest offensive player in the nation, Marqise Lee is a threat to go all the way every time he touches the football.
And then there is Jeff Greene.
Greene—Georgia tech's most productive receiver—caught all of 18 passes this year and had a couple of scores to go with it.
Though it is not Jeff Greene's fault that the Yellow Jackets don't pass much, it still doesn't change the colossal mismatch of this comparison.
Jeff Gross/Getty Images

Despite the fact that Matt Barkley has not had the kind of year either he or the fans had envisioned, he has still delivered some pretty big numbers.
With over 3,600 yards through the air and 36 touchdowns on the plus-side of the ledger, Barkley has produced statistics that would be envied by most college gunslingers, though he would tell you of the disappointment that has been 2012.
Part of the shortcomings statistically for Barkley would include 15 interceptions, and he is coming off of a shoulder injury that may preclude his effectiveness. But if 100 percent, Barkley is as good a college quarterback as there is in the game.
On the other hand, make no mistake about it, Tevin Washington is a very capable triple-option quarterback.
While on the surface neither his rushing (638 yards) or passing (1173 yards) statistics will wow you, what is impressive is his 26 touchdowns scored (seven through the air and 19 on the ground).
Still, it seems inconceivable that Barkley will deliver anything but a sterling performance in his final game as a Trojan, and if so, USC holds a tremendous advantage in this position.