Arkansas vs. Michigan: Live Score, Analysis and Reaction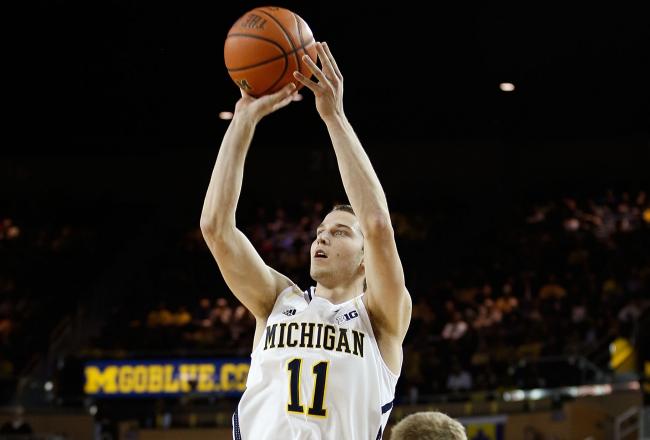 Gregory Shamus/Getty Images
Final Score - Michigan 80 Arkansas 67
The Michigan Wolverines knew the Arkansas Razorbacks were going to play fast, and John Beilein's crew proved it was up to the task of handling an up-tempo style of play in the Maize and Blue's 80-67 win at the Crisler Center on Saturday afternoon.
Glenn Robinson III led the Wolverines with 17 points, while the rest of the starting five also managed to crack double digits in the points column.
Junior power forward Jordan Morgan scored a season-high 12 points and pulled down 10 rebounds, including six offensive boards, which helped create numerous second chance opportunities for the Wolverines.
Marshawn Powell led all scorers with 18 points and sophomore power forward Hunter Mickelson scored 10 points on 5-of-10 shooting despite sitting out much of the first half due to foul trouble.
Michigan improved to 9-0 for the first time since the 1988-89 season, which ended with the Wolverines winning the national championship, while the Razorbacks fell to 4-4 and are now 0-2 against Top 25 opponents this year.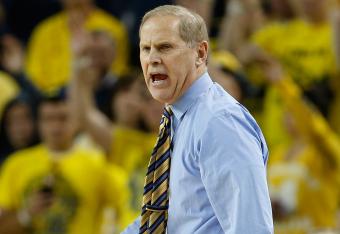 As for Michigan, sophomore point guard Trey Burke continues to be a consistent scorer for the Wolverines and everyone else in the starting five managed to eclipse the double digit mark today as well.
Jordan Morgan had his best game of the season with 12 points and 10 rebounds, while Glenn Robinson III found his shooting touch once again and knocked down 7-of-11 field goals for 17 points.
Michigan's role-players have also done their jobs coming off the bench and maintaining the Wolverines' dominant stretches. Freshman big man Mitch McGary provided a strong rebounding presence in the paint and showed off his athleticism with a couple of nice double moves in the post. McGary finished the game with six points on 3-of-6 shooting.
The Wolverines look like a Final Four contender, and have answered all of the critics with a 9-0 start to the season, which includes victories over N.C. State, Pitt and now Arkansas.
Michigan will take on Bingamton on Tuesday, which will serve as a tune-up for the Wolverines, who will travel to the Barclays Center in Brooklyn next Saturday to take on the West Virginia Mountaineers.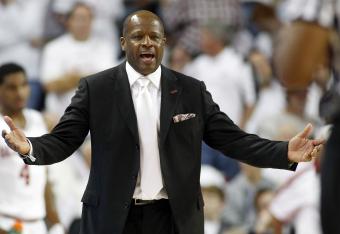 Arkansas has two great talents in BJ Young and Marshawn Powell, who scored the Razorbacks first 18 points and combined for 27 total points, but the rest of the team has to step up and help them out in order to become an NCAA tournament team.
The Razorbacks did not let Michigan run away with this game until late, which is impressive considering how well the Wolverines are playing this season.
Kikko Haydar came out of nowhere today to pour in 12 points on 4-of-4 shooting from behind the arc, and Rickey Scott contributed another 10 points.
The real problem for Arkansas today, though, was in the rebounding department. Michigan constantly out-muscled the Razorbacks in the paint. The Wolverines out-rebounded Arkansas 39-20 and had a 16-5 advantage on the offensive glass.
The talent and scheme is there for Arkansas to be a tough out in March, but the Razorbacks won't make it there if they don't do a better job rebounding, or get consistent efforts out of everyone not named Young or Powell.
Michigan 80, Arkansas 67 - Final Score
This one is officially in the books.
Stauskas took his job:
Matt Vogrich, who was a starter at the beginning of the season, now seeing his first action with 25.7 seconds left.

— Michael Rothstein (@mikerothstein) December 8, 2012
Michigan 80, Arkansas 67 - 19.1 seconds remaining in the game
Burke comes up with a steal and puts an exclamation point on this game for the Wolverines with a steal and two-handed dunk on the fast break.
Officials decided that Burke's mini pull-up was worthy of a technical foul, though. Not sure I agree with that call. That didn't really fit the definition of "hanging on the rim".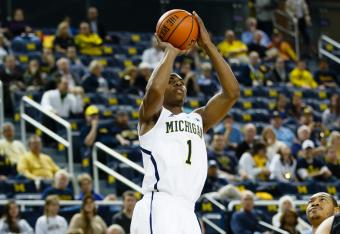 Michigan 76, Arkansas 63 - 1:00 2nd Half
Arkansas needed a big defensive stand, so naturally Hardaway dribbles by one defender and drops a dime to Robinson, who cut along the baseline for an easy lay-in and a three-point play.
Hardaway Jr. is a rebound away from a double-double.
Michigan 72, Arkansas 61 - 1:46 2nd Half
The Wolverines are starting to run away with this one now.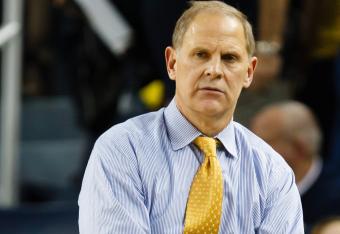 Once again, Michigan has proved it belongs in the top five. The Wolverines have handled Arkansas' frantic pace and style of basketball for much of this game and continue to get outstanding production from their star players.
Nik Stauskas and McGary are coming along quicker than expected, which is only helping Michigan's cause as a top five team.
It is time to start referring to the Wolverines as a Final Four contender.
Michigan's starting five today:
Burke w/ 10pts, 4 reb, 6 ast. Hardaway Jr. w/ 13 pts, 8 reb. Stauskas w/ 12 pts. Robinson III w/ 12 pts, 6 reb. Morgan w/ 12 pts, 10 reb

— Kyle Bogenschutz (@KyleBogie) December 8, 2012
Powell with four fouls, but there is no question he is going to stay on the floor.
Burke fouled shooting a three and will shoot free throws. Michigan up 7 with 4 minutes to play. U-M 66, Ark 59

— Michigan Basketball (@umichbball) December 8, 2012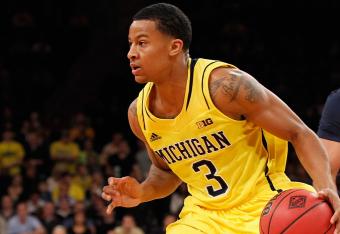 Michigan 66, Arkansas 59 - 3:54 2nd Half
Trey Burke got some separation with a nice crossover and step-back, but air balls the three-pointer. Michigan still in control.
Michigan 66, Arkansas 59 - 4:30 2nd Half
Hardaway has 13 pts now, with 8 rebs.

— Rod Beard (@detnewsRodBeard) December 8, 2012
Clarke going to the line for Arkansas' first free-throw attempts of the game.
That is Michigan's first team foul of the second half. The Wolverines have only committed five fouls this afternoon.
Arkansas is finally cooling down. The Razorbacks were making a lot of easy shots early in the second half, but are not getting as many of them to drop now.
Michigan 62, Arkansas 55 - 6:54 2nd Half
The pace continues to be frantic, and Spike Albrecht nails a wide-open three off a hand-off from Hardaway.
Morgan has season high in points (12) and tied his best with 10 boards...still 8 minutes left.

— Rod Beard (@detnewsRodBeard) December 8, 2012
Agreed:
No doubt best game of the year for Jordan Morgan

— Kyle Bogenschutz (@KyleBogie) December 8, 2012
All of Michigan's starting five has scored at least 10 points.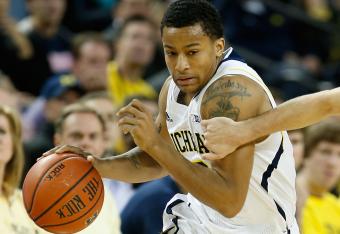 Michigan 59, Arkansas 55 - 8:08 2nd Half
It is easy to tell why pro scouts are drooling over Trey Burke. He gets to the basket and finishes in so many different ways. He can knock down the tear drop, or bank it off the high glass.
Morgan and Scott trade baskets, but Stauskas gives the Wolverines a four-point cushion with a wet three.
Michigan 52, Arkansas 50 - 9:54 2nd Half
Stauskas continues to prove he is a complete player. Nice drive and finish on the left side of the basket.
Haydar answers with a third three-pointer. What a game so far for the walk-on. He's got 12 points on 4-of-4 shooting.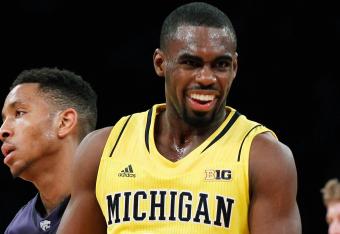 Michigan 50, Arkansas 45 - 11:37 2nd Half
What a three from Hardaway. Falling into the corner with a defender lunging toward him. Still finds a way to knock it down. Michigan needed that badly to end Arkansas' 13-5 run.
Michigan 47, Arkansas 45 - 11:56 2nd Half
Arkansas is pouring buckets in from everywhere now. Wade hits a deep three and Mickelson starting to make plays in the paint. The Razorbacks are back in this game thanks to a strong defensive effort and some good looks near the basket.
This article is
What is the duplicate article?
Why is this article offensive?
Where is this article plagiarized from?
Why is this article poorly edited?

Michigan Wolverines Basketball: Like this team?