UFC on Fox 5 Results: Questions Heading into the TUF 16 Finale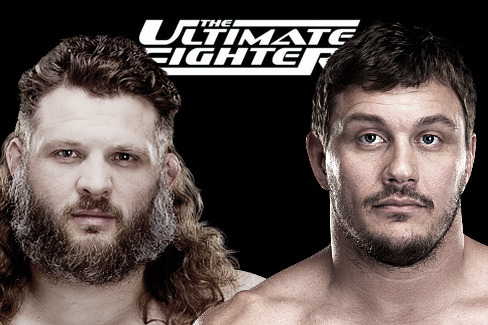 UFC on Fox 5 is in the books and we witnessed Rory MacDonald and Alexander Gustafsson continue their climbs up the UFC food chain, while Benson Henderson retained his lightweight title with a dominating performance.
Below are the full results:
Benson Henderson defeated Nate Diaz via unanimous decision (50-43, 50-45, 50-45)
Alexander Gustafsson defeated Mauricio Rua via unanimous decision (30-27, 30-27, 30-26)
Rory MacDonald defeated BJ Penn via unanimous decision (30-26, 30-26, 30-27)
Matt Brown defeated Mike Swick via KO (strikes) at 2:31 of Round 2
Yves Edwards defeated Jeremy Stephens via KO (strikes) at 1:55 of Round 1
Raphael Assuncao defeated Mike Easton via unanimous decision (29-28, 30-27, 30-27)
Ramsey Nijem defeated Joe Proctor via unanimous decision (30-27, 29-28, 29-28)
Daron Cruickshank defeated Henry Martinez via Knockout (head kick) at 2:57 of Round 2
Abel Trujillo defeated Marcus LeVesseur via TKO (knees to the body) at 3:56 of Round 2
Dennis Siver defeated Nam Phan via unanimous decision (30-24, 30-25, 30-26)
Scott Jorgensen defeated John Albert via submission (rear naked choke) at 4:59 of Round 1
The UFC will be back in Las Vegas on December 15, where the finale card for the 16th season of The Ultimate Fighter will take place.
What follows are some questions heading into that card, which will see Mike Ricci and Colton Smith battle for a UFC contract and will be headlined by a heavyweight scrap between Roy Nelson and Matt Mitrione.
Begin Slideshow

»
Josh Hedges/Zuffa LLC/Zuffa LLC via Getty Images)
Much attention is paid to fighters that reside in the top 10 of any weight division. Every month multiple rankings come out and endless debate ensues regarding who is too high, who is too low, who is missing from the rankings—and of course, who cares about fictitious rankings?

Let's face it, we're an obsessive bunch and we love to discuss the minutiae of the sport we obsess over. However one thing that only the hardest of the hard core dig into is: who's going to be the next fighter to make the big leap into the top 10 of any division.

Two fighters that may find themselves in that discussion in the welterweight division are James Head and Mike Pyle.

Pyle is 5-1 in his last six UFC bouts, with his only loss coming at the hands of the decidedly top-10 Rory MacDonald. In his last bout Pyle put Josh Neer out with four seconds remaining in the first round, earning "Knockout of the Night" bonus cash in the process.

As for Head, he was 7-2 at middleweight before deciding a drop to 170 would do him good. And the drop to welterweight did just that, as Head has gone 2-0 in his new division, defeating Papy Abedi and Brian Ebersole.

Now a move into the top 10 isn't a guarantee for either of these guys; actually it may not even be likely since the 170-pound division is looking pretty robust at this time, but a win on Saturday night in Vegas should at least earn the victor a shot at a top ten opponent in his next bout.

So, who will it be, Head or Pyle, Pyle or Head?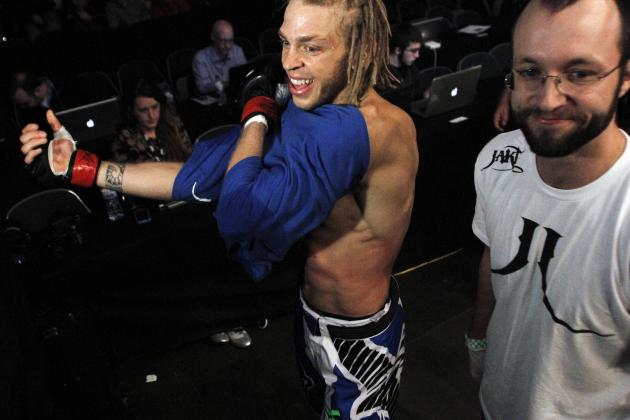 Matt Ryerson-USA TODAY Sports

Dustin Poirier caught the attention of the MMA world when he stepped in on short notice to face Josh Grispi at UFC 125. Grispi had originally been set to face UFC featherweight champion Jose Aldo on that card, so the insertion of the unheralded Poirier in his place came across a bit like giving Grispi a warm-up fight, while he waited for Aldo to regain his health.
The oddsmakers had Grispi as the 75 percent favorite to win the fight, but as we all know, fights are won and lost in the cage, not on a betting ticket.

Poirier took the fight via unanimous decision and then went on a three-fight winning streak. That streak was halted in his last fight, as Poirier tapped to Chan Sung Jung in a battle that is a candidate for 2012's "Fight of the Year."
Poirier, during a very compacted time frame, has gone from basically an afterthought to a fighter that could very well contend for the featherweight crown in the not-too-distant future.

Jonathan Brookins is kind of in the opposite boat. As the winner of the 12th season of The Ultimate Fighter, expectations were high that he could accomplish some great things in the UFC. However Brookins has underwhelmed since taking the TUF crown, putting together a record of 1-2.

This is an important fight for both of these fighters. Both lost their last bouts and both have to look at this fight as a must-win situation.

For Poirier he needs to show that he is the real deal and that he can compete with the best of the best in the featherweight division. As far as Brookins, he needs the win to show that he does indeed belong in the UFC.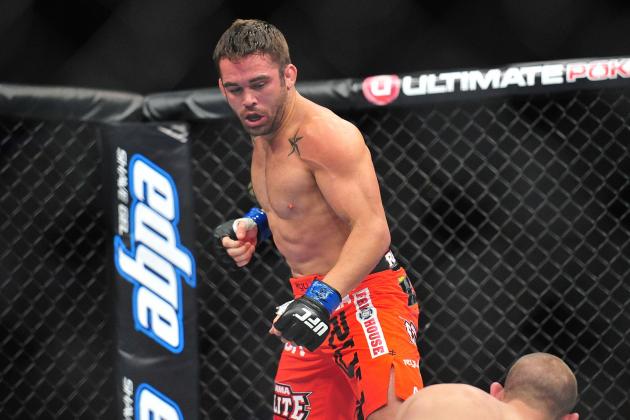 Gary A. Vasquez-USA TODAY Sports

When the UFC absorbed the WEC, the fact that Jamie Varner was a former champion for the WEC was not enough to get him an invite to the big show. Varner's record in his four fights prior to the merger was most likely to blame, as he had gone 3-0-1.

Instead of whining about his fate, Varner went out and put together a record of 3-0 with smaller promotions, and when Evan Dunham pulled up injured for his UFC 146 bout against the unbeaten Edson Barboza (10-0), Varner got the call. After 3:23, that unbeaten run came to an end as Varner knocked out Barboza.

Varner was not as successful in his next bout as he was tapped out by Joe Lauzon at UFC on Fox 4, but he did earn a "Fight of the Night" bonus and the chance to stay with the UFC.

Varner will face longtime UFC veteran Melvin Guillard in on December 15.
Guillard went on quite the run between 2010 and 2011, putting up five straight wins before running into Joe Lauzon at UFC 136 and tasting defeat via submission at 47 seconds of the first round.

Guillard struggled after that loss, dropping fights to Jim Miller and Donald Cerrone, while claiming a win over Fabricio Camoes.

Both of these fighters have been around long enough to know that this is a fight that could make or break their futures. A win and there's a chance to rise back up the division; a loss and it's gatekeeper status at best.

In short, "Fight of the Night" candidate.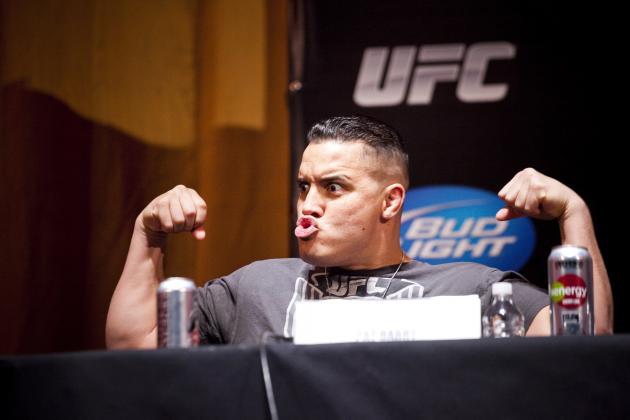 Michael Nagle/Getty Images

Slobberknocker alert!

Pat Barry will step into the Octagon to face Shane del Rosario on December 15. These two heavyweights have 24 fights between them, with 22 of those having ended early.

Del Rosario has won 11 of his 12 fights. Eight of those wins came by knockout, while the other three were via submission. Del Rosario's only loss came in his last bout, a second-round TKO from Stipe Miocic.

Barry hasn't been as successful as Del Rosario, but his fights will never be called snoozefests. Barry has seven wins to go along with five losses. Six of those wins have come by knockout; one was via decision. As for his losses, there's no playing it safe for Barry; two were knockouts and the other three were submission defeats.

The question here isn't if someone is going down in flames; it is who is going down and how spectacular a manner the fight will end.

If I was a betting man, my money would be on this one taking Knockout of the Night honors.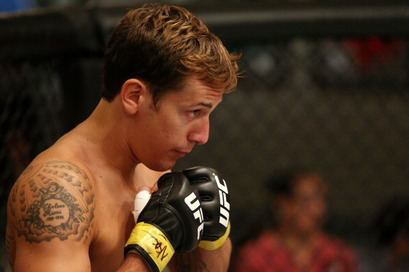 Josh Hedges/Zuffa LLC UFC via Getty Images
Mike Ricci and Colton Smith have earned a shot at a UFC contract, but will the winner of the bout be able to take advantage of that contract? Odds will be stacked against them from the start as they will enter the UFC's welterweight division, which right now is full of top talent.
History does not favor the winner of the Ricci versus Smith bout, as TUF winners have struggled over the last few seasons. When you add to the fact that they are being thrown into the 170-pound shark tank, the prognosis is not that good for the winner of Season 16 of The Ultimate Fighter.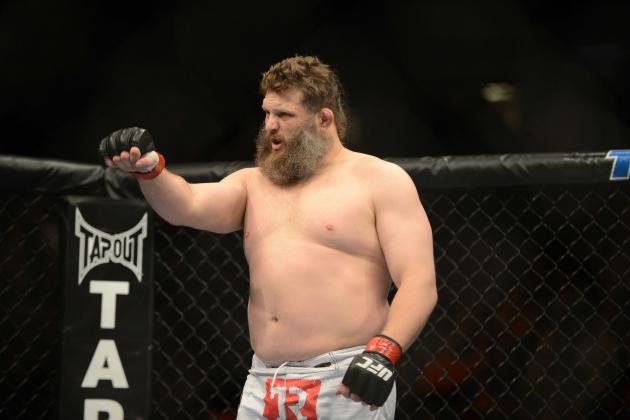 Ron Chenoy-USA TODAY Sports

Fans love Roy Nelson. He's outspoken, he does his own thing, he's the everyman of the UFC—a guy that doesn't exactly look like he belongs among the ranks of MMA's elite—but yet there he is, lurking among the top 20 fighters in the heavyweight division.

One could say the same about Matt Mitrione: he's not afraid to speak his mind and make waves. Remember his infamous spat with Tito Ortiz or how about turning down a fight with Daniel Cormier?

Right now it's safe to say that neither fighter is probably all that high on Dana White's Christmas card list. In fact, I would say coal in the stocking may be in the future for both fighters, but one way to get from White's naughty to nice list is a decisive victory in a main event.

Both fighters have the power to do just that. Nelson (17-7) has 10 career knockouts, while Mitrione (5-1) has won four of his six bouts by knockout. Nelson is also a threat on the ground with five submission wins to his name.

A memorable win will surely put a smile on the face of the UFC boss and maybe, just maybe, make him forget the headaches that the winner gave White in the past. The loser...well, that may be a different story.