5 Reasons the Portland Trail Blazers Will Not Make the Playoffs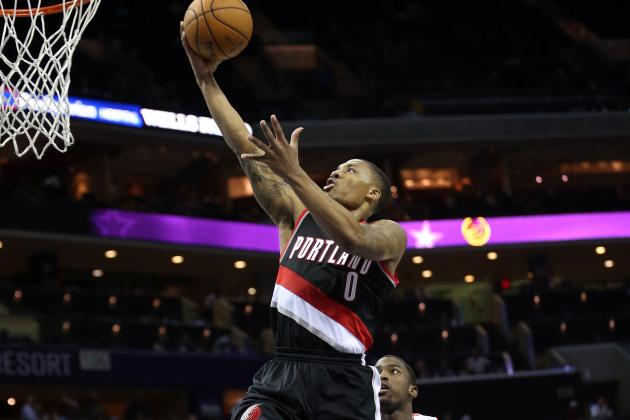 Streeter Lecka/Getty Images

The Portland Trail Blazers are without question a team on the rise. They have one of the league's best power forwards to go with a stud young point guard and their salary cap situation is far from a problem.
That being said, they are in the unenviable position of being not quite good enough to contend and not quite bad enough to secure a high lottery pick.
I went into this article trying to talk myself into why the Blazers could make the playoffs. Sure, growing up in Michigan, I am not a natural Blazers fan, but as a transplant in the Rose City for close to five years, it is safe to say that this team has grown on me.
The Blazers fans have a charm all their own. I encounter them on an everyday basis—the sweet, affluent soccer mom that I see every time I go to Zupan's, the punk girl that cuts my hair at Bishop's, the vendor for Tim's that grabs his coffee at the same Starbucks.
This city is thirsty for a winner and it is unlike any fanbase in the country.
Which is why it hurts me so much to know that the Blazers will most certainly go another year without a playoff berth. Here are five reasons this is so.
Begin Slideshow

»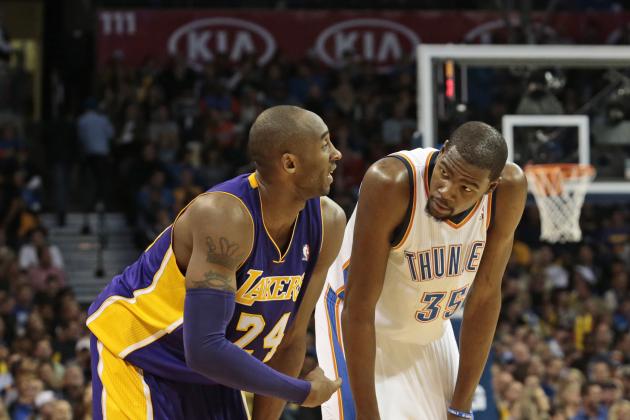 Brett Deering/Getty Images

It seems to me that the Western Conference has almost always been the deepest in basketball. Ever since I was a kid, the folks out West always have it all over the people in the East.
This year is no exception.
The Western Conference has the seven of the top 10 scorers in the league, the three teams with the highest winning percentage (Memphis, Oklahoma City and San Antonio) and only two of the league's truly bad teams (New Orleans and Sacramento)—even those two clubs can make the argument that they will be getting better very quickly.
The Western Conference has defensively dominant teams like San Antonio that know how to take the legs out from under young teams. The West is also home to teams like Oklahoma City that can run other squads right out of the gym.
The West is so stacked right now that the vaunted Lakers are the 11th seed in the conference!
The fact of the matter is that the teams that are doing well this year out West will remain good and the teams that are struggling will get better. The teams that are competing with the Blazers for the eighth playoff spot are going to improve at a faster rate than they are.
The Lakers will get Steve Nash back soon and get better. The Mavericks will get Dirk Nowitzki back eventually and get better. The Rockets will improve when Jeremy Lin and James Harden have more time to get to know one another and their young frontcourt gets more experience.
The Blazers have talent, but they aren't quite ready to compete with the likes of these teams.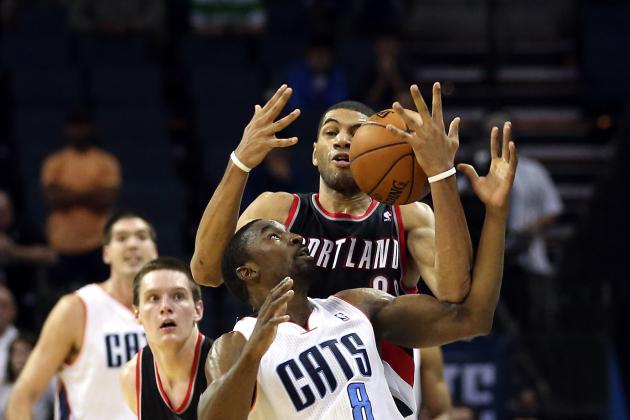 Streeter Lecka/Getty Images

The Blazers have been subtly figuring out how to play as a unit offensively.
Defensively, they are a mess.
LaMarcus Aldridge has never been an elite defender, yet he is essentially the first line of defense up front. That prospect isn't scaring anyone out West.
J.J. Hickson has been playing with reckless abandon, but he is still undersized to play power forward—let alone center. Until the Blazers have a big man up front that can send some shots packing, they will continue to be an incomplete squad.
On the perimeter, Damian Lillard is playing hard, but rookie point guards are notorious for giving up big points. They have so much on their plates that they generally will have one aspect of their game suffer, and for Lillard, it is defense. He has quick feet and good size, but the instincts aren't quite there yet.
Wesley Matthews is an underrated defender, but he has been giving up some questionable shots this year.
Overall, the Blazers' team offense isn't good enough to make up for their weak defense. This team is scoring 98 points per game, which is solid. But not when you figure that it is giving up 102 points every night.
Until they lock it up, the Blazers will continue to struggle on a nightly basis.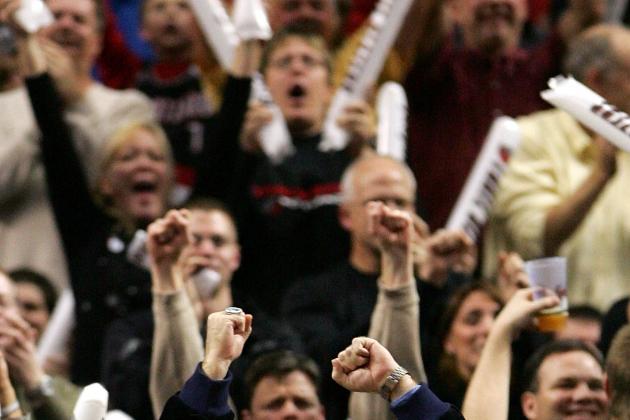 Jonathan Ferrey/Getty Images

The Portland Trail Blazers have one of the richest owners in sports. That being said, they have one of the weirdest front offices in sports.
This is the same team that fired general managers two straight years after each of said GMs had done some of their best work. In fact, the first GM they canned, Kevin Pritchard, was actually asked to stick around to help this team draft even after he was fired.
The Blazers have a payroll that is far from out of control. They are paying guys on their roster about $57 million this year. That doesn't seem like a whole lot and would seemingly make this team a prime landing spot for a potential trade.
But you need to also take into account Brandon Roy's contract, which is another $16 million or so. Though this doesn't count against the salary cap, it is still money that ownership has to pay this year and each of the next two seasons.
Additionally, the Blazers are not having trouble selling tickets. Portland is currently second in league attendance, drawing just north of 20,000 fans for each home game.
So where is the incentive to make the team better this year? If the Blazers execute a trade to bolster their frontcourt and they get a few more wins, it won't bring in more fans. Plus, the Blazers are the only basketball show in the region, so merchandising is probably doing just fine as well.
Paul Allen is not an overly frugal owner, but even he would understand why it doesn't make sense to throw too much more money at the team this season.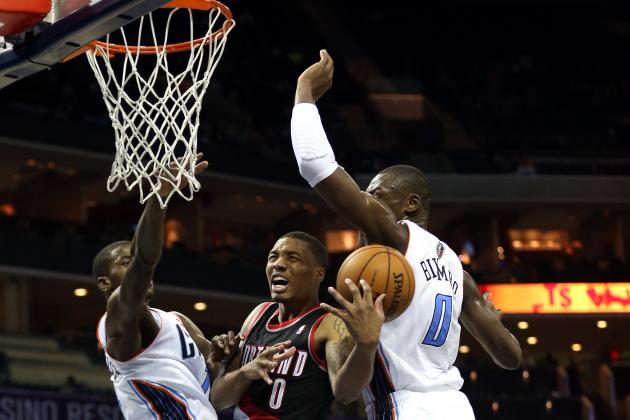 Streeter Lecka/Getty Images

NBA teams, especially those in mid-market cities, need the draft in order to get better.
Teams like Portland use the draft like a lifeline. Elite free agents don't generally view Portland as an ideal city. Sure, I think it is the best place to live, but a lot of NBA players probably don't. The skyline is not littered with skyscrapers and the weather is less than ideal for some people.
The draft is the one way for the Blazers to get on equal footing with the rest of the league.
But the Blazers have struggled mightily in this department.
With the exception of Damian Lillard this year, who appears to be the best rookie in the class, the Blazers have not drafted a significant member of their team since they traded for Nicolas Batum on draft night in 2008 (now technically that is not a draft pick, but we are getting into semantics).
In the last 10 years, the Blazers' draft board has looked like a horror film. Guys like Sebastian Telfair and Martell Webster flopped, guys like Greg Oden and Brandon Roy saw their careers cut short due to injury and guys like Derrick Byars and Elliott Williams never materialized.
In fact, you can argue that the best draft pick prior to Lillard in the last five years was Omer Asik, and he never played a game for Portland.
The Blazers have largely built their current roster through trades and free-agent signings. You just can't win in the Portland market without building through the draft and that is the biggest reason that team depth is nonexistent.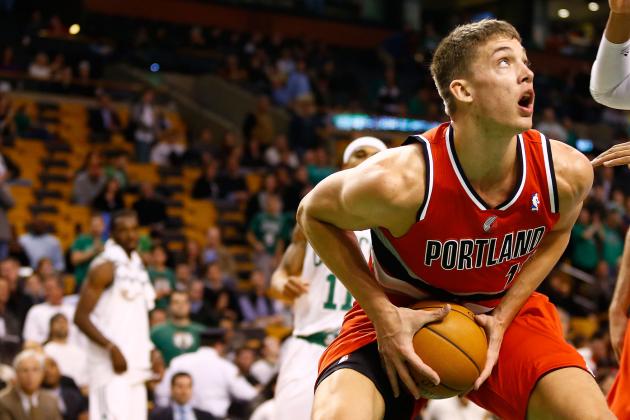 Jared Wickerham/Getty Images

Most NBA teams are one significant injury away from the lottery. It is just the nature of the game when you have rosters that are only 12-15 players deep.
But in the case of the Blazers, this is a drastic understatement.
The Blazers have literally no depth whatsoever. The frontcourt is being held together by tape and paperclips. Behind Aldridge and Hickson are tumbleweeds and dust.
Meyers Leonard may eventually prove worthy of a lottery pick, but so far he is way too weak physically to help this team out for extended minutes. Joel Freeland may eventually be ready to help this team, but he is far from it now. And Jared Jeffries and Luke Babbitt are far from strong replacements.
In the backcourt, Lillard and Matthews are a solid pairing, but behind them things get dicey. Ronnie Price is solid, but a career 39 percent shooter isn't going to keep the defense honest. The closest thing to a backup Matthews has is Sasha Pavlovic, who hasn't been good since, well, ever. Will Barton has potential, but a rookie second-round pick is hardly insurance.
This leads to your starting five playing way too many minutes (four guys are averaging 37.7 minutes per game or more), which in turn leads to injuries that the Blazers can't handle.
Right now, the Blazers are playing at full strength and they are three games under .500. Where exactly will they be when one of their starters gets a nagging injury due to too many minutes?