Curt Schilling Retires: The End of an Era
March 23, 2009
After sitting out for the 2008 season, Curt Schilling decided it was best to hang up the spikes for good.
Schilling will forever be remembered as one the most clutch pitchers of his generation.
Although as recently as a few weeks ago he said he would like to pitch for the Cubs or Rays in 2009, to help them win a championship, he decided it was time for him to take a bow after an emotional 20-year ride in the show.
"After being blessed to experience 23 years of professional baseball in front of the world's greatest fans in so many different places, it is with zero regrets I am making my retirement official," said Schilling on Monday.
"To say I've been blessed would be like calling Refrigerator Perry "a bit overweight." The things I was allowed to experience, the people I was able to call friends, teammates, mentors, coaches and opponents, the travel, all of it, are far more than anything I ever thought possible in my lifetime," continued the 42-year old Schilling.
In those 23 years, Schilling has collected three World Series rings.
Schilling was instrumental to the Diamondbacks in their improbable 2001 World Series victory, earning a co-World Series MVP with teammate Randy Johnson following a come-from-behind victory in Game Seven of the series.
If Schilling was instrumental to the 2001 Diamondbacks, it doesn't even begin to describe how immensely he helped the Boston Red Sox in 2004.
In the 2004 regular season, Schilling was new to Boston, and he emerged quickly as one of the best veteran pitchers on the staff. That year, Schilling notched 21 wins, six losses, 203 strikeouts, a 3.26 ERA, and a 1.06 WHIP.
Fast forward to the 2004 ALCS, Game Six, a game that will forever live in infamy. The comeback is starting in earnest, with the Red Sox earning their second win in Game Five. Schilling pitched this game at Yankee Stadium (RIP) with a torn tendon sheath in his right ankle, sutured together before the game by team doctors.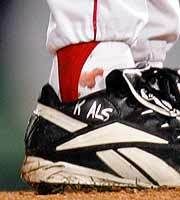 Schilling cruised through six innings scoreless, and then gave up a solo homer to Bernie Williams in the seventh. That was the only run the hapless Yankees could score off of Schilling in Game Six. By the end of the game, Schilling's clean white sock was soaked in blood from his ankle.
Schilling was pulled after the seventh, and the Red Sox went on to win the game, four runs to two. On a side note, this was the first time in American sports when riot gear-clad police officers were present on field to subdue the crowd.
Schilling got his third ring with the Red Sox in 2007. This was a year in which Schilling had to reinvent himself as a finesse pitcher. He couldn't blow hitters away like he used to and had to learn how to paint the corners.
He finished the year with nine wins, 101 strikeouts, and a 3.87 ERA.
Going out a great note, the final appearance of Schilling's career was in Game Two of the 2007 World Series against Colorado. Schilling earned the win in that game, holding the Rockies to one run on four hits through five and one third innings of work, striking out four.
2007 ended up being the final year of Schilling's illustrious career, that which included six All-Star appearances and three runner-up finishes to the Cy Young Award.
On his career, Schilling compiled a record of 216-146, 3,116 strikeouts, 3.46 ERA, and a 1.13 WHIP, pitching for Baltimore, Houston, Philadelphia, Arizona, and Boston.
Schilling has left a great impression on his Major League colleagues, as well as his fans.
"He was one of the best big-game pitchers that I know.  He certainly led his team to fantastic finishes. I wish him the best in retirement," said legendary John Smoltz, commenting on Schilling's retirement.
Red Sox star hitter David Ortiz also commented about Schilling, who spent four years in Boston with Big Papi. "When Curt was around here, he was one guy who would encourage you to do positive things. He did nothing but good things to help this ball club win championships. You can't ask for any more than that."
"He never backed down from a challenge. One of the thins people didn't realize about Schilling is that he was really motivated by a fear a lot, fear of failure. He did not want to fail. He worked himself up through his nerves to go out and dominate to the best of his ability every time he took the ball," said Red Sox General Manager Theo Epstein.
"I go back to '97, my first year as a Major League manager, he started the first game I ever managed in Philadelphia," said Red Sox manager Terry Francona. "It's been a long time, a lot of good pitching. He'd give you everything he had every time he pitched."
David Ortiz summed up the career of Schilling very well, saying "Just his name on the mound would make the hitter from the opposite team flinch, and he knew that. That's how he was."
Moving forward for the Red Sox, No. 38 will be a big one to fill.
Thanks for the memories, Curt.