Tennessee Titans vs. Indianapolis Colts: Live Score, Highlights and Analysis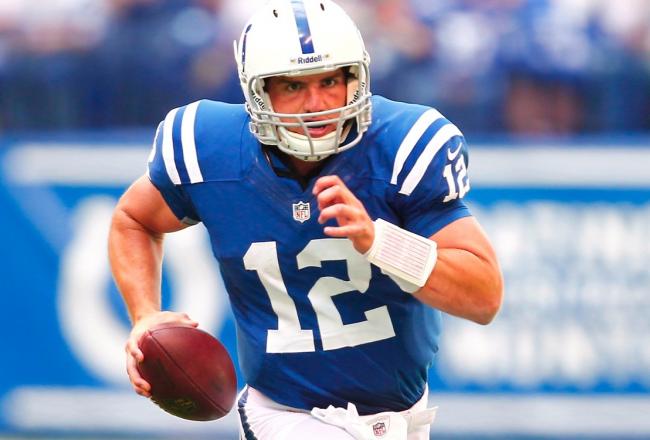 The Colts pick up another comeback victory, after trailing 20-7 at halftime. Andrew Luck wasn't the key to the team's second half scoring surge this time, instead it was the Indianapolis defense.
The Colts defense picked off two Jake Locker passes that spotted them 10 points and the rest was a heavy dose of the running game spliced with some timely pass completions.
The win not only gives the Colts some breathing room between themselves and the Steelers, who lost, but also puts them in control of their own destiny down the stretch if the Texans lose to the Patriots on Monday Night Football.
The Titans now fall to 0-5 within the division and officially means that the Titans are lowest on the totem pole within the AFC South.
The seats got to be getting pretty warm for coach Mike Munchak despite a solid overall showing from his team.
Final
Titans - 23
Colts - 27
While the Colts are now 9-4, I'd love to hear some honest opinions on how far they make it in the playoffs. Who would be a good matchup for them? Etc.
On a positive note: the Titans had a strong showing despite having 14 players on injured reserve. That includes four starting offensive linemen.
I still can't understand how the Titans think that continuously giving the ball to Chris Johnson on first down for one-yard gains was the call throughout the second half. Why not go to Britt after his 127 yard first half?
The Colts scored 10 points off of Locker interceptions, and that proved to be the difference in today's game.
That's going to do it folks. The Colts get the first down for the win after the second half scoring surge.
Q4 3:53 - TEN 23 - IND 27
Indianapolis misses out on an opportunity to put this game on ice and settles for another field goal to make it a four-point game.
As good as Locker was in the first half, he's been equally awful in the second after a second interception that never had a chance of being caught by his receiver.
Q4 6:28 - TEN 23 - IND 24
WR Donnie Avery lets an easy touchdown grab bounce off his face mask. Colts instead kick a 53-yard field goal.
The Titans are closing in on double digit penalties for the day. Plenty of time left to get it.
Q4 10:33 - TEN 23 - IND 21
Yet another drive stalls out short of a touchdown as the Titans are forced to settle for a 25-yard field goal to retake the lead.
Can anyone explain why the Titans continue to hand the ball to Chris Johnson?
These refs have been downright awful today.
Here's some brilliant playcalling from the Titans: Hmm ... Chris Johnson's longest run of the day is five yards. Let's give it to him on first and second down. Third and eight. Shocking.
Q3 5:40 - TEN 20 - IND 21
Jake Locker stares down Nate Washington for a quick hitch and promptly has it intercepted and returned for a touchdown.
Titans go three-and-out and the Colts are primed to take the lead after the punt.
Jake Locker's struggles with getting passes tipped rises up again.
Q3 8:39 - TEN 20 - IND 14
Indianapolis ran roughshod over the Tennessee defense to start the half, with some timely Luck passes to Reggie Wayne. Delone Carter punched it in from one yard out.
The Colts have come out here in the second half and taken the ball out of Luck's hands. Looks to be working for the most part.
As bad as the first half was for the Colts, they are still only down by two touchdowns. I think it's safe to say that lead isn't safe with Luck on the field.
The main beneficiary of Locker's big first half is Kenny Britt who has five catches on five targets for 127 yards. Still doesn't look like he's back in form, but it's exciting news for next season.
Surprising stat: Jake Locker is 15/20 for 213 yards 1 TD and it's only halftime.
The half ends in with an interception after a Luck hail mary pass.
The Colts are flirting with disaster after back-to-back throws were nearly intercepted. The drive is saved by a pass interference call against Tennessee.
Q2 0:40 - TEN 20 - IND 7
Colts do a good job of holding the Titans to a field goal to keep it a two-score game after the 31-yard field goal.
Kenny Britt just made an amazing on-hand 46-yard catch with the defender draped all over him.
This article is
What is the duplicate article?
Why is this article offensive?
Where is this article plagiarized from?
Why is this article poorly edited?