St. Louis Rams vs. Buffalo Bills: Live Score, Highlights and Analysis
The St. Louis Rams (6-6-1) picked up their second road win of the season against the Buffalo Bills (5-8) in what was a defense battle in nasty outdoor weather.
Read on for live analysis and commentary from the game.
Score
St. Louis Rams 15, Buffalo Bills 12
Final
Offensive Leaders
Passing
Sam Bradford (STL): 19-for-39, 209 Yards, 1 TD, 1 INT
Ryan Fitzpatrick (BUF): 25-for-33, 247 Yards, 1 TD, 1 INT
Rushing
Steven Jackson (STL): 19 Carries, 64 Yards, 1 TD
C.J. Spiller (BUF): 7 Carries, 37 Yards
Receiving
Brandon Gibson (STL): 6 Receptions, 100 Yards, 1 TD
Steve Johnson (BUF): 6 Receptions, 71 Yards
Sam Bradford put together one of the best comeback drives of his career and put the Rams ahead with a touchdown pass to Brandon Gibson.
The defense silenced Buffalo's attempt to tie the game with a field-goal after Robert Quinn recorded a sack and Jo-Lonn Dunbar picked off Ryan Fitzpatrick.
Rams will improve to 6-6-1 while the Bills will drop to 5-8.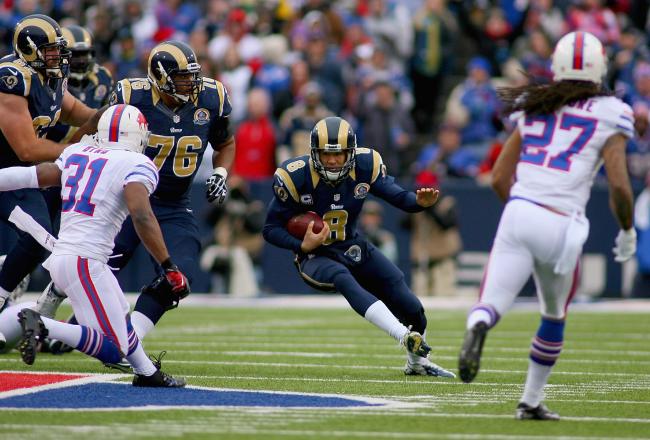 The Rams had one last chance to put a drive together and came away successful. Sam Bradford led the team 84 yards downfield in 14 plays and silenced Ralph Wilson Stadium with a touchdown.
It was fourth-and-one at midfield and Austin Pettis saved the day with a remarkable catch on a pass that was behind him.
Brandon Gibson had a drop on the drive but made up for it by securing the touchdown catch. Gibson has six catches for 100 yards and a score.
Chris Givens contributed a key two-point conversion reception.
Ryan Fitzpatrick took a third-down shot down field and was looking for the touchdown, which would have been the dagger in the Rams' heart.
The pass was incomplete and both defenses have covered the deep ball well this afternoon. In this game, there have been just three catches for over 20 yards and zero catches over 35 yards.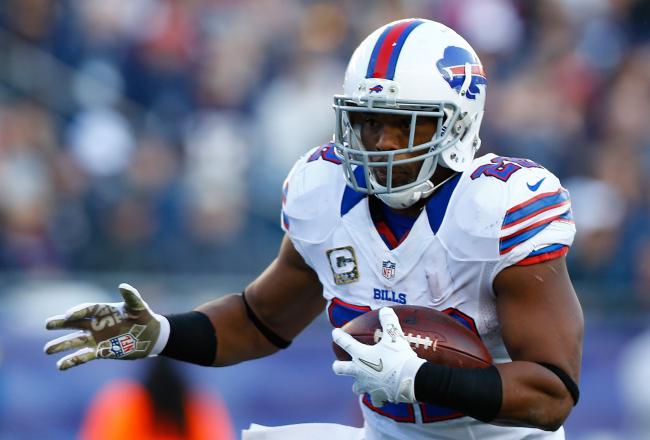 RB Fred Jackson is down and being looked over by the training staff. His knees got tangled up during his last carry and this could be a major loss for Buffalo.
It could be the C.J. Spiller show from here on out.
Sam Bradford and the Rams took back-to-back shots downfield but failed to connect. The Rams are running out of opportunities and we're beginning to see the desperation.
With just over six minutes remaining in the final quarter, it looks as though a big defensive takeaway is the best chance for St. Louis in this game.
It's hard to argue with Buffalo passing on the 52-yard attempt and punting the ball. A miss would have resulted in great field position for the Rams, which is not ideal in this tight game.
Now that the Rams are pinned inside the five-yard-line, it will be tough for them to march downfield. It's hard to imagine the Rams piecing together a 95-yard drive the way they've been playing today.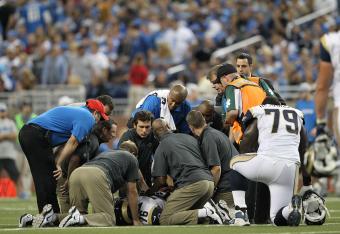 Rams LT Rodger Saffold is down on the field being checked out by the training staff.
Saffold suffered a frightening neck injury in Week 1, but managed to return the following week. In Week 2, Saffold injured his knee and missed the next six games.
Wayne Hunter replaced Saffold during that time and was surprisingly effective. He'll replace Saffold in this game, so the situation is not as dire as FOX commentator Ron Pitts claims.
Who thought we'd ever see back-to-back scoring drives in this game?
Following the Rams touchdown, Ryan Fitzpatrick quickly led the Buffalo offense downfield and managed to hit TE Lee Smith for a touchdown on a play action fake.
The botched extra point could be fatal for Buffalo. They now own just a five-point lead in this low-scoring affair.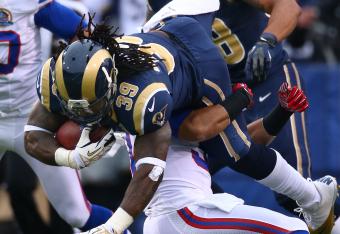 A Chris Givens reception put the Rams on the one-yard-line and Steven Jackson punched in the touchdown—his third of the year.
It's been ugly, but the Rams were finally able to piece together a scoring drive. As the FOX broadcast team pointed out, it was their first offensive touchdown in seven quarters of football.
The Rams has solid contributions from Givens, Brandon Gibson and even Brian Quick on that drive, and that was the difference. Finally, the receivers are beginning to step up and fill the void left by Danny Amendola.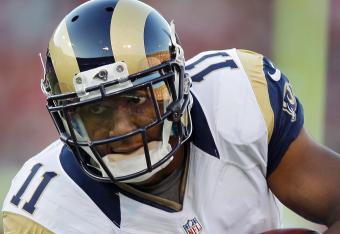 Rams are in scoring position for the first time today. A 22-yard catch by WR Brandon Gibson put them at the 25-yard-line, and a 16-yard catch by Gibson the very next play has them near the 10-yard-line.
Sam Bradford threw a pass that deflected off a defender and found the hands of CB Stephon Gilmore, who returned it for a touchdown.
Mario Williams was guilty of a penalty on the return, which wiped out the touchdown. Now the Rams defense will have a chance to make a stand with less than a minute left in the half.
The Buffalo weather has been forgiving up to this point, but the teams are hoping they can keep the duration of the game under three hours.
If the game is extended beyond three hours, these two teams will be hit by the showers that are predicted to arrive at 4:00 p.m. ET (according the Weather.com)
The St. Louis offense has been pitiful in the early goings, but it hasn't all been bad for the Rams.
The defense has three sacks and a turnover and has limited Buffalo to just three points. The Rams are fortunate to have just a three-point deficit, and they have their defense to thank for that.
If the Rams can start reaching field-goal range, the defense will keep them in this game.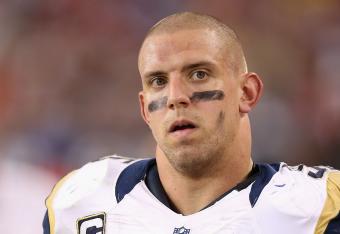 Just when it looked as though the Rams couldn't get a break, star LB James Laurinaitis came through with a key fumble recovery while the Bills were in scoring position.
The recovery is Laurinatis' second takeaway of the season. The fumble was forced by safety Quintin Mikell.
WR Chris Givens juggled and lost possession of what would have been a first-down reception. The Rams have zero first downs in three possessions.
The Rams managed to survive without Danny Amendola last week, but they are clearly struggling in his absence this week. Someone else needs to step up and start moving the chains.
Rian Lindell knocks through a 35-yard field-goal to give Buffalo a three-point lead in the first quarter. The Rams—with just eight total yards of offense after two possessions—need to get it together and answer back.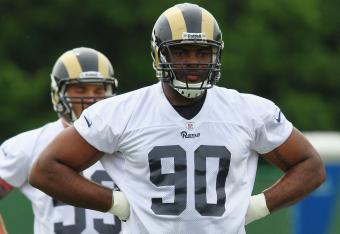 Michael Brockers—the Rams No. 14 overall pick in the draft last April—entered the game with 2.5 sacks and has 1.5 sacks already in this game.
His pass rush skills were in question entering the draft, but it appears he's improving every week.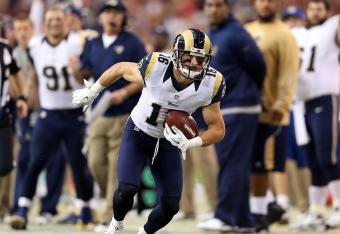 Rams WR Danny Amendola is out with a foot injury (according to ESPN via Twitter). The Rams got by without Amendola last week, but things were not pretty on offense.
NOTABLE INACTIVES: Jonathan Stewart, Danny Amendola, Brandon LaFell. ALSO OUT: Jordy Nelson, LeSean McCoy ... es.pn/12fuAWB

— SportsCenter (@SportsCenter) December 9, 2012
This article is
What is the duplicate article?
Why is this article offensive?
Where is this article plagiarized from?
Why is this article poorly edited?