Dallas Cowboys vs. Cincinnati Bengals: Live Score, Highlights and Analysis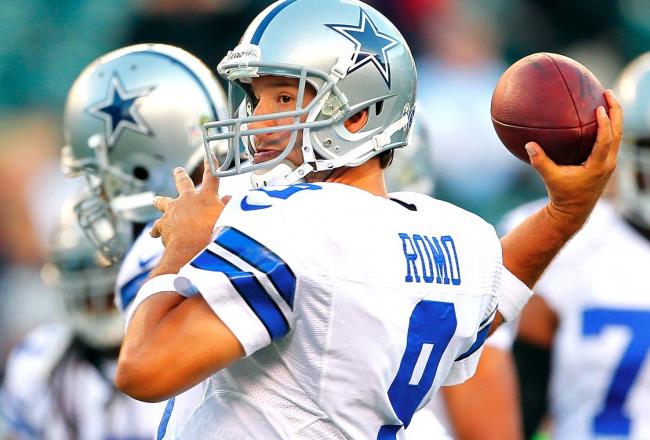 That's all, folks. The Cowboys were able to pull out a close win in Cincy after Dallas kicker Dan Bailey booted a 40-yard field goal as time expired.
Final: Cowboys 20, Bengals 19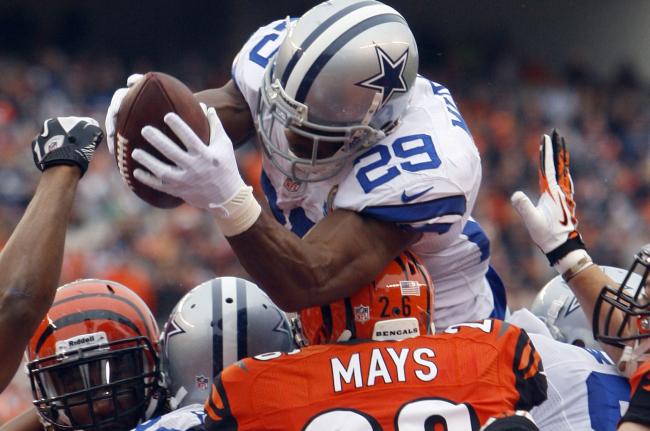 What a fourth quarter it turned out to be in Cincinnati, huh? After a terrible third quarter by the Cowboys and being down by nine in the fourth, Dallas was able to score 10 fourth quarter points to win the game.
The win sends Dallas and Cincinnati to 7-6, improving both teams playoff chances.
The Cowboys can keep pace with the Giants in the NFC East and the Bengals have a tie with the Steelers after Pittsburgh lost to the Chargers today.
The key for Dallas in the fourth quarter was their reliance on DeMarco Murray and trust in Tony Romo. Romo was able to maneuver his team down the field with short passes to Bryant, Murray, and Witten.
For the Cowboys, they face the reeling Pittsburgh Steelers next week in Dallas and for the Bengals, they travel to Philly to take on the Eagles.
4th Quarter :04
Dan Bailey is out on the field for a try of 43 yard to win the game for the Cowboys. If he misses, the Bengals win it.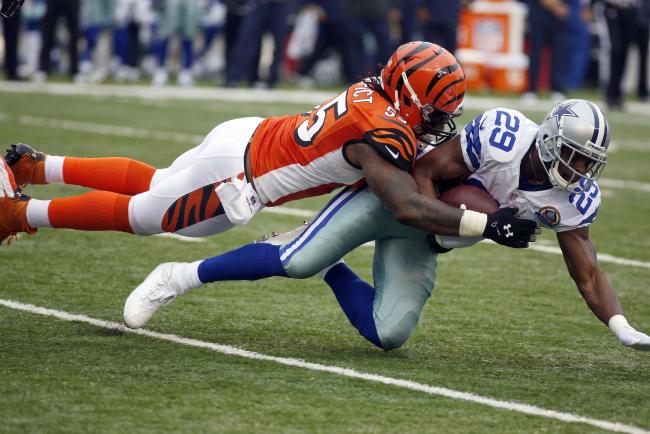 4th Quarter 1:00
Just a minute left in the Queen City and the Cowboys are in field goal range. Cowboys running back DeMarco Murray has just 51 yards on 20 attempts, but his play late in the game has been critical.
He has given his team two first downs on this current drive to get them closer to field goal range.
His presence has been important for Dallas today. Well, that and Bengal missed opportunities.
4th Quarter 1:43
To give you an idea of where it stands, the Cowboys just converted a third and one to get closer to Dan Bailey's leg range.
Remember, the Bengals cannot stop the clock.
A fantastic game going in D.C. right now. The Ravens and Redskins are headed to OT after the 'Skins scored and converted the two point conversion.
End of 4th Quarter
Ravens 28
Redskins 28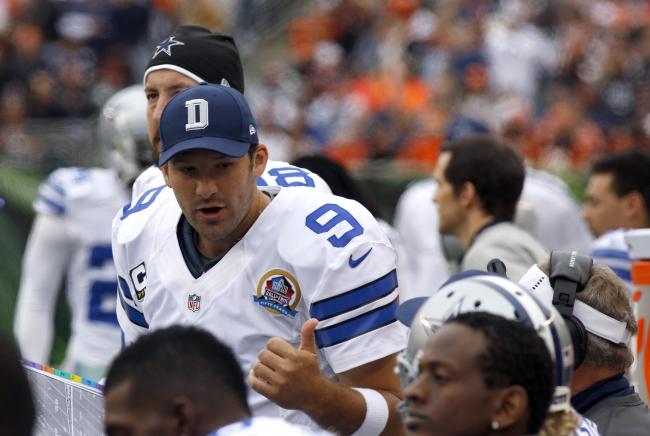 4th Quarter 2:11
Just over two minutes to go and the Cowboys are on the 40 yard line. They have two timeouts, the Bengals have none, and Romo is moving his team down the field.
Remember, Dallas just needs three points to win this game.
To give you an idea of how many opportunities the Bengals have left on the field, read this if you will.
Three dropped picks for Terence Newman today. I DON'T believe it!

— Josh Ellis (@josh_ellis11) December 9, 2012
4th Quarter 4:57
The Bengals were 4/8 on third down passing and were just faced with a third and five.
The Cowboys did a great job of putting pressure on the young quarterback as linebacker Anthony Spencer sacked him, forcing the Bengals to punt.
Now, can Dallas take the lead with so little time left in the game?
UPDATE: Robert Griffin III is out with an injury. Back-up Kirk Cousins is in to lead the Redskins comeback.
4th Quarter
Ravens 28
Redskins 20
4th Quarter
Steelers 34
Chargers 17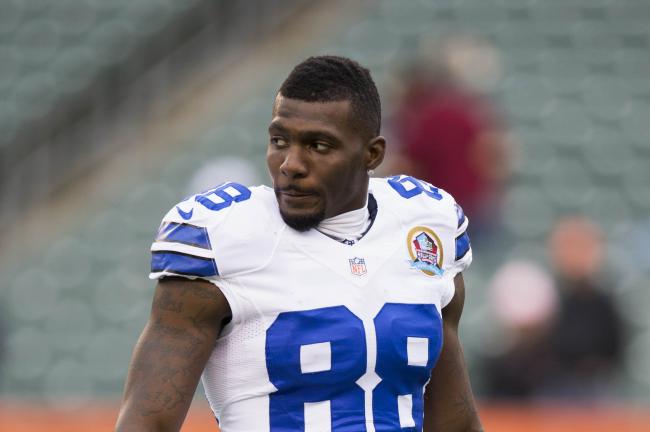 4th Quarter 6:35
Well, I guess I stand corrected about Dez Bryant. Maybe he read what I said about him being shut down?
He just scored a 27 yard touchdown to pull his team to within just two points of the Bengals. Not only that, the Cowboys drive took just eight plays and ate only a little over three minutes off the clock.
Dallas officially back in after Bryant's touchdown. Can Cincy respond to put the Cowboys away? This is where Dalton can show his worth.
4th Quarter 9:28
Bengals corner Adam "Pacman" Jones has shut Cowboys receiver Dez Bryant down.
So far, Bryant has just two catches for 14 yards.
4th Quarter 9:49
DeMarcus Ware just ended the Bengals drive with his first sack in three weeks. It is his 11th on the year, giving his team the ball back with just under 10 minutes remaining in the ballgame.
4th Quarter 12:14
The "law firm," Ben Jarvis Green-Ellis, just broke for 38 yards to set the Bengals up close to midfield. A.J. Green was flagged for a block in the back toward the end of the play, but with that run, Ellis is up to 89 yards on the day.
I'm going to ahead and call it and say that the Cowboys will not win if they cannot stop the bleeding.
Just as a note, the Bengals have used all three of their timeouts and the fourth quarter just started.
Two of their timeouts were due to substitution problems, which shows just how undisciplined they are as well.
End Of Third Quarter
This quarter can't end quickly enough for the Cowboys. They scored zero points, had injuries to key starters, and the penalties were just terrible with one coming by their defensive coordinator.
Not to mention the twenty something yard punts by Moorman.
Again--the Bengals couldn't extend their lead over Dallas by more after such a horrible quarter by the Cowboys.
Let's see how the final one shapes up for both teams.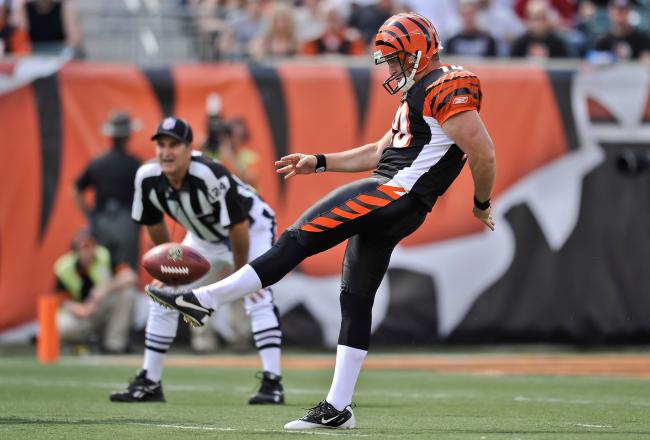 3rd Quarter 2:37
The Bengals just punted the ball for the first time all game, and it is the third quarter.
Dallas is pinned within their own five yard line after a gorgeous 47 yard punt by Kevin Huber.
23, 39, and two 27 yards punts by Cowboys punter Brian Moorman. Its been that type of day for the Cowboys.
It also goes to show just how many opportunities the Bengals have left on the field.
3rd Quarter 5:11
The pressure is finally starting to get to Romo. He saw pressure from the middle and was just barely able to escape it.
Dallas now faces a third and 10 from their own 47, but the Cowboys offensive line is having a hard time holding the Bengals pressure.
Here is an update on two games that Cowboy and Bengal fans are following.
3rd Quarter
Steelers 3
Chargers 27
3rd Quarter
Redskins 20
Ravens 21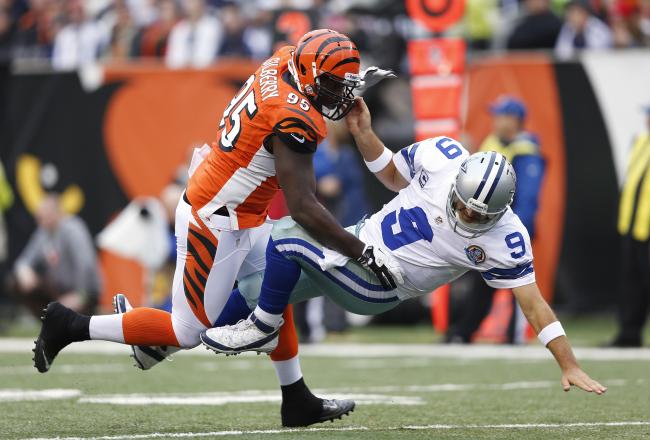 Cincinnati should probably be up by more points as they have been forced to settle for field goals. They have had dropped passes for touchdowns and third down attempts that could have given them a better chance to get more points on the board.
Dallas needs to score quick to keep pace because with so many players out with injuries, they may not the time or manpower to catch up.
3rd Quarter 7:43
Almost 20 third down attempts between both teams so far in this game. Dallas has the most with 11, but it goes to show just how close this game is as the score is 16-10.
The Bengals were able to convert due to a penalty on the Cowboys, but it shows how mess this game has been for both squads.
Oh, and the Cowboys have another injury. Cowboys linebacker Anthony Spencer is hurt and now safety Eric Frampton is down and out.
Cowboys CB Morris Claiborne has a facial laceration (bloody face) per press box announcement. Return questionable

— Ian Rapoport (@RapSheet) December 9, 2012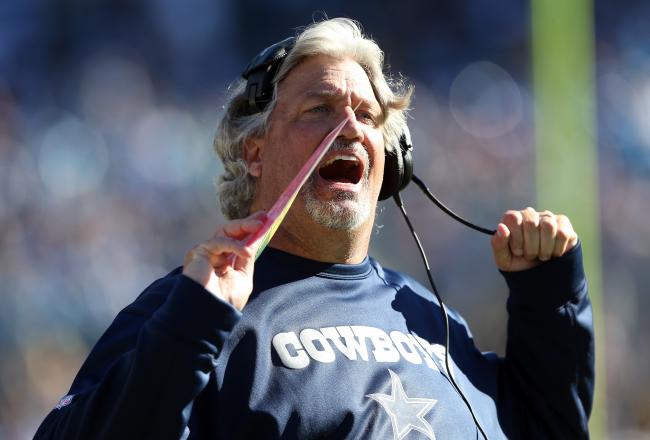 Going back to that last drive for the Bengals, the Cowboys tried to gift wrap a touchdown for them, but they were forced to kick a field goal.
What is most interesting to me is that the Cowboys defensive coordinator was penalized for unsportsmanlike conduct for jawing with Bengals offensive lineman Andre Smith.
The Cowboys are a team without a lot of discipline, so seeing your leader jaw with another player while standing on the field sends a great message of discipline I'm sure.
Oh, and A.J. Green dropped a touchdown pass.
Based on the play of both teams, does either deserve a shot at the playoffs?
3rd Quarter 9:22
Just a rash of unnecessary penalties for the Cowboys over the past few plays.
They were just flagged for not having enough people on the field, giving the Bengals the ball on Dallas' seven yard line.
But, Cincy couldn't convert. A.J. Green dropped a sure touchdown, forcing the Bengals to try for a field goal from 25 yards out.
A messy, messy third quarter for both teams.
3rd Quarter 10:20
Its a first and goal from the nine for the Bengals as Cowboys defensive coordinator Rob Ryan was just flagged for a personal foul.
The Cowboys are giving yards away.
This article is
What is the duplicate article?
Why is this article offensive?
Where is this article plagiarized from?
Why is this article poorly edited?