Bears vs. Vikings: Live Game Grades and Analysis for Minnesota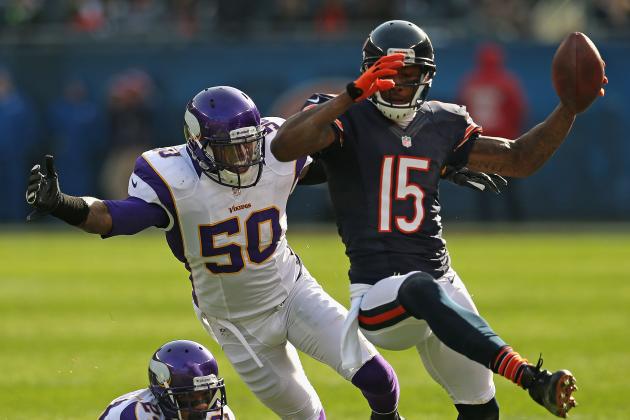 Jonathan Daniel/Getty Images
Brandon Marshall tied his season-high with 12 receptions vs. Minnesota in Week 12.
Final: Vikings 21, Bears 14
The Vikings pulled it out. It wasn't pretty. But they got the "W" they badly needed.
Adrian Peterson led the way with 153 yards and two touchdowns. The passing game generated under 100 yards.
Harrison Smith scored Minnesota's only other touchdown on a 56-yard interception return.
Third Quarter
Minnesota got lucky with Harrison Smith's 56-yard interception return for a touchdown. Because of that, the Vikings are up 21-7 entering the final quarter.
With the ball in Minnesota's hands to start the final frame, Adrian Peterson should get plenty of carries with a two-score game.
Check back throughout the final quarter for update and analysis. Check back for post-game grades, too.
Halftime
Chicago responded well in the second quarter and is down seven, 14-7, at the half. The Bears won the second quarter and slowed down Adrian Peterson in the second quarter. He has 125 yards at the half.
Minnesota had all the momentum after one quarter, but we're now on pace for a tight game.
Check back throughout the game for updates and analysis.
First Quarter

Minnesota is up 14-0 after one quarter, but the Chicago Bears are driving. Adrian Peterson had over 100 yards and two touchdowns after one quarter. It could be a huge day for him.
Continue to check back in here throughout for grades and analysis.
Pregame
The Minnesota Vikings (6-6) are playing for their playoff lives today. They need a victory over the Chicago Bears (8-4).
In the Week 12 matchup, it was all Chicago all day. The Vikings were outplayed and lost 28-10.
Minnesota needs a better effort at home today and, as Chad Greenway said, a very rowdy home crowd.
Check back here after each quarter and the end of the game for grades and analysis.
Begin Slideshow

»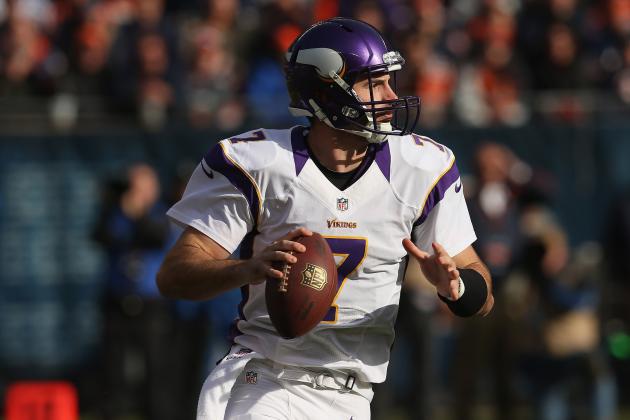 Jonathan Daniel/Getty Images
After a long stretch of poor performances, Christian Ponder needs a big game in Week 14 to keep Minnesota's playoff hopes alive.
Final grade: C-
Christian Ponder was the Christian Ponder Viking fans have come to expect in the last month. He was inaccurate, uncomfortable in the pocket and at his best on the shortest passes possible.
He finished the day 11 of 17 (64.7 percent) for 91 yards and an interception. It was the fourth game of the season he's gone without a touchdown pass.
Q4: C
Ponder made a good pass to Michael Jenkins on a third and 6 that gained 10 yards. He threw it up where only Jenkins could get it and the wide out did his job. It was an unusual play for Minnesota as both players did their jobs on a passing play.
He threw for just 16 yards on the series (3 of 5) but it was nice to see Ponder lead some sort of a drive for a change.
Q3: D
It is painful to watch this man quarterback an NFL team. He appears to have no business doing so. Fox analyst Jimmy Johnson called Ponder the worst starting quarterback in the NFL today. Ponder's living up to that billing.
Q2: D
Christian Ponder's last throw of the half was AWFUL. He threw off of his back foot and just floated it up there for whoever wanted it. Jarius Wright had the defense beat. Ponder just didn't/doesn't have the arm strength to get it to him.
Ponder threw a nice ball to Devin Aromashodu near the end zone but Aromashodu never put himself in a position to catch that pass. Ponder also worked well out of play-action passes.
He finished the half 6 of 9 for 54 yards and an interception. He's thrown a pick in eight of his last nine games.
Q1: B
This quarter was dominated by Adrian Peterson, but Christian Ponder looked OK when he had opportunities. He finished 2 of 3 for 24 yards.
He succeeded when Minnesota put him in passing situations off of play action and orchestrated a nice 13-yard completion with Jerome Simpson. But shortly after that play he had a three-step drop that culminated in a sack where he looked as uncomfortable as ever in the pocket. It's painful to watch him operate from there.
Pregame
It's getting to that time for Christian Ponder where it's do or die.
He has only completed over 55 percent of his passes in one of his last six games. He has gone interception-less in one of his past eight games and only thrown over one TD pass in one of his past six games.
Minnesota needs the quarterback from the first four games to resurface and resurface quickly. If he doesn't, the Vikings will fall to the Bears and likely finish the year 6-10 or 7-9.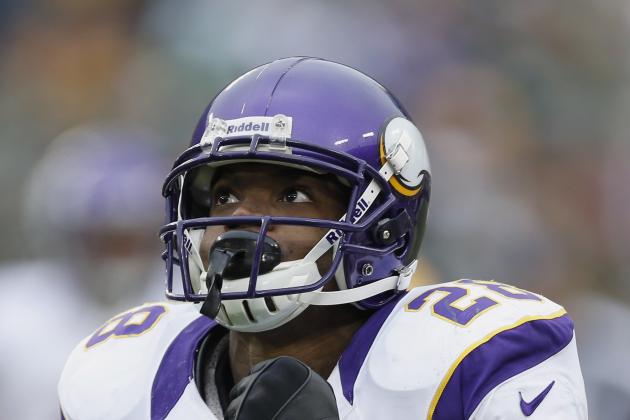 Wesley Hitt/Getty Images
With Percy Harvin officially out for the season Minnesota will continue to ride Adrian Peterson.
Final Grade: C
The only reason this grade isn't lower is because of that magical, Adrian Peterson led first quarter. He rushed for over 100 yards in the opening frame with two touchdowns. Luckily for Minnesota's offense, the defense added a touchdown of its own.
Without Peterson busting off big gainers, the offense was lifeless. Christian Ponder struggled just as Viking fans have expected him to. Kyle Rudolph went without a reception and the offensive line had a hard time opening up holes once the defense knew it could focus on stopping the run.
This unit needs a dose of creativity.
Q4: C
After failing to record a drive of over 40 yards since the opening drive, Minnesota opened the fourth quarter with a 58-yard drive (the drive started in the third quarter with 48 seconds left). It didn't end with points, but did put the Bears inside their own 5-yard line.
Chicago has shut down Adrian Peterson since the first quarter, which has shut down the offense.
Q3: D
Once again, without Adrian Peterson this offense shows it can do nothing. And that's because Christian Ponder can do nothing without Peterson opening up play action.
As the defense sits on the run, the run becomes less effective (even with a back like Peterson). There is no passing game at this point. It's not a recipe for success.
The offensive line hasn't helped Peterson's cause. It's tough when the defense sits on the run, but the O-line can do better.
The Vikings are lucky that the defense got that touchdown.
Q2: C
Without Adrian Peterson going off the offense got stagnant in this quarter. He has 125 yards in the half.
Jarius Wright had a good showing early in the quarter and had the Bears defense beaten on Christian Ponder's interception. Wright finished with two catches for 29 yards in the half.
The passing game will continue to struggle as Christian Ponder does, regardless of the limited talent he has to throw to.
It was nice to see Toby Gerhart involved in the offense. Minnesota has given up on him too quickly.
Q1: A

It's been Adrian Peterson early, and it's been Adrian Peterson often. Rightly so. He had 103 rushing yards after one quarter and is on pace for a historic day (412 yards rushing and eight touchdowns). He won't keep that up, but he's clearly in a league of his own right now.
The passing game has shown signs of life as Jerome Simpson has a 13-yard reception and Michael Jenkins has an 11-yard reception. But it's early.
Christian Ponder still struggles to succeed without play-action.
Pregame
The play of the offense is officially all on the very capable back of Adrian Peterson.
Peterson has rushed for over 100 yards in his past six games and rushed for at least one touchdown in five of his past six games.
Minnesota's wide receivers have to find some way to make contributions to the offense to help out the unreliable Christian Ponder.
Kyle Rudolph has to keep doing what he's doing in the red zone and make himself available to Ponder in the mid-range passing game.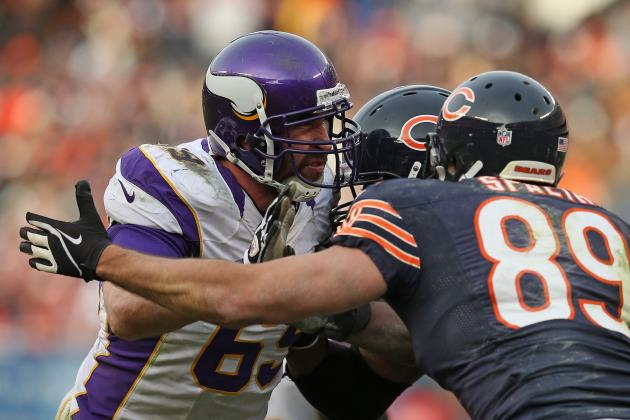 Jonathan Daniel/Getty Images
Jared Allen had zero sacks vs. the Bears in their first meeting. Minnesota needs him to get after Jay Cutler to have success.
Final Grade: B
The defense did what it had to do to win this game. It embraced the bend but don't break mentality.
It allowed over 100 yards rushing (118) for the seventh time in eight games. The Bears' passing game was very potent at different stages of the game but thanks to inaccuracy from Jay Cutler the defense mustered two interceptions, including the crucial Harrison Smith 56-yard touchdown return. The Bears finished with 320 yards passing.
Minnesota was only officially credited with four quarterback hits and two sacks, but the defense was on Cutler throughout the game making life difficult for him. The secondary struggled mightily to cover Brandon Marshall (10 receptions for 160 yards and a TD).
Q4: B
With the Bears pinned inside of their 5-yard line with just under 10 minutes, the Vikings couldn't contain Chicago. Jay Cutler found Alshon Jeffery for over 30 yards. Making matters worse for Minnesota, it came after Jamarca Sanford dropped an interception.
The defense held strong and helped secure the victory. The pass rush did a good job of making Cutler uncomfortable throughout that possession and helped stop that drive.
Q3: B
Opening the second half, Chicago orchestrated a nice 41-yard drive to open the half where Minnesota couldn't stop the passing attack until Jay Cutler's accuracy did in Chicago. The secondary is on warning, as is the open-field tackling.
Harrison Smith is making major plays in this game and will be a star in the future. He didn't make a special play on his pick, as Cutler gift-wrapped the pick for him. Kudos to him for getting it into the end zone and the defense for setting up strong blocks.
The Bears can have whatever they want if they make their plays. They've been there, they just haven't converted.
Q2: C+

There has been no answer for Brandon Marshall. Whatever he wanted this quarter he got. The back seven struggled big time this quarter after thwarting Chicago's aerial attack in the first quarter. It's not setting up well for Minnesota.

The pass rush has been there in this contest unlike in Week 12.

The Bears were driving on Minnesota early in the quarter until a holding penalty negated a 23-yard gain by Brandon Marshall, which would have put the Bears inside Minnesota's 20-yard line. The back seven was struggling, but once it had that 20-plus yard cushion it settled in.

Q1: A-

The mid-range pass defense is still has putrid as ever. Jasper Brinkley bit pretty hard on play-action and he continues to struggle in pass coverage.

Josh Robinson may have gotten away with some contact with Alshon Jefferey on his interception, but the Vikings will take it. Jared Allen has been active in the run defense early.
Pregame
Jared Allen went without a sack against the Chicago Bears in Week 12. That's inexcusable for Allen regardless of his health status against an inadequate Bears front.
Jay Cutler didn't light up the world last time out (23 of 31 for 188 yards a TD and an interception) but did enough to lead Chicago to victory.
The run defense for Minnesota is in full free-fall and was against Chicago in Week 12 (114 rushing yards and two touchdowns allowed).
The Vikings have to get after Cutler and limit the ground game to win this one.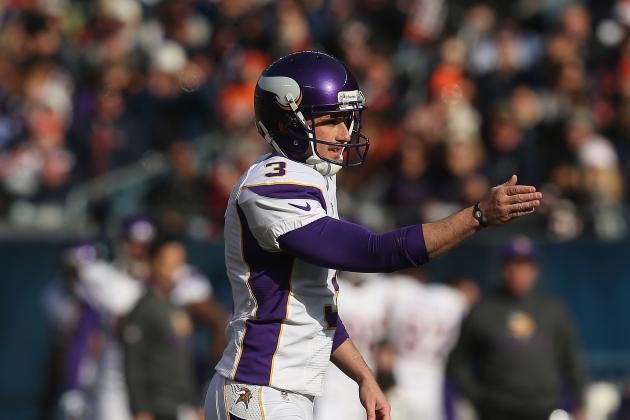 Jonathan Daniel/Getty Images
Blair Walsh has been sensational this season entering Week 14. He has made 24 of 27 field goals.
Final Grade: B
The unit had its ups, like pinning the Bears inside their 5-yard line with under 10 minutes to play, and it had its baffles, like the fumbled kickoff return and poor coverage on a Devin Hester punt.
There was plenty of good to go round and plenty of bad.
Q4: A
With just under 10 minutes left in the game Minnesota's punting unit pinned the Chicago offense inside of its 5-yard line. It led to a 13-play, 72-yard drive by the Bears that ate up 4 minutes 46 seconds of clock.
Q3: C
Marcus Sherels failed when he let the Bears' final punt of the quarter get downed near the goal line. Above and beyond that not much of note happened in this quarter.

Q2: C
Watching A.J. Jefferson on his fumbled kickoff return was painful. His ball security was poor, at best. He showed little care at all. Dangerous for Christian Ballard to return it like he did. He showed little ball security too.

It was amazing to watch as Devin Hester had plenty of room to work with on Chris Kluwe's punt with just under 6 minutes left in the quarter. Hester mustered just a 17-yard return, and Minnesota was lucky he didn't burst out sooner.

Q1: A
There's nothing that's noteworthy after one quarter of play on special teams.
Blair Walsh was 2 of 2 on extra points and Chris Kluwe booted a 50-yard punt.
That all sounds pretty ship-shape to me.
Pregame
Blair Walsh has missed field goals in each of the past two weeks after missing just one in the first 10 games. He is a very respectable 24-of-27 on the season, which is much better than many expected.
His misses came outdoors and on the road. Coming back inside to Mall of America Field should help.
Without Percy Harvin the rest of the way, the kickoff return unit isn't as dangerous, but Marcus Sherels is an adequate kickoff man.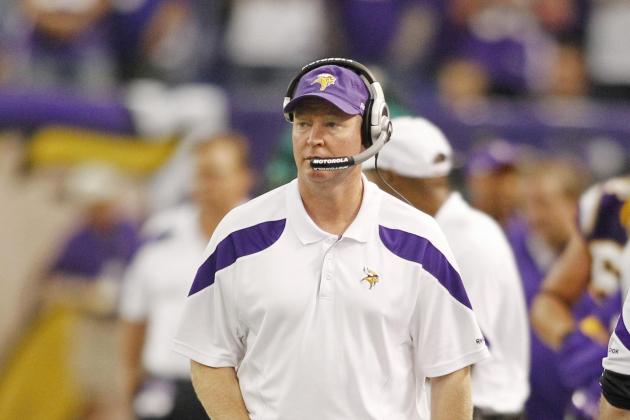 Bruce Kluckhohn-USA TODAY Sports
Offensive coordinator Bill Musgrave has to help Christian Ponder find his comfort zone in Week 14.
Final Grade: B
The Minnesota coaching staff had its players ready to go. The Vikings went hard from the beginning and played a phenomenal first quarter.
It was after that quarter where things went downhill.
The defense held its own, with plenty of ups and downs. But the offense needs a lot of help.
Offensively, Bill Musgrave has to get more creative with his play calling on passing plays. The running plays are fine. The offensive line is a very cohesive unit. The aerial attack needs some help.
I'm shocked Minnesota doesn't do any running back screens anymore. Shocked. With Toby Gerhart, Peterson and that line it should be a golden play. More quick slants would be a welcomed addition, too.
Q4: B-
Well, the offense put together A DRIVE for a change and the defense held strong when it had to.
The offense needs to get creative somehow on non running plays. The ground game is all Minnesota's offense has. Bill Musgrave: Do more.
The defense bent a whole heap, but it didn't break (when it mattered). That was huge for Minnesota to lock up this victory.
Q3: C
The offense has been as stagnant as I've ever seen it. Bill Musgrave has to find a way to get Kyle Rudolph involved in the short passing game.
And one thing I want to know, whatever happened to the running back screen play? With this offensive line and Adrian Peterson in the open field, that should be a good play.
Defensively, there haven't been much change this half to last. The only difference is that the Bears haven't been executing. They should be closer than 21-7.
Q2: B-
The offense is doing a good job of getting the play action involved in the offense. Christian Ponder doesn't look totally comfortable on traditional drops but does on play-action plays. Kudos to Bill Musgrave and Leslie Frazier for making that happen.
It'll be interesting to see how the defense adjusts to the Chicago aerial attack in the second half. Chicago got whatever it wanted in the second quarter through the air.
Q1: A
The Vikings offense came out firing on all cylinders and the defense as some energy about it. The Vikings are ready to play.

It was refreshing to see the Minnesota offense stick with Adrian Peterson after Josh Robinson's interception return to the 5-yard line. Fox analyst Daryl Johnston was clamoring for Minnesota to do something "creative" to catch the Chicago defense off guard.
Johnston obviously didn't watch Minnesota "get creative" against the Green Bay Packers last week inside of the Packers' 10-yard line when Christian Ponder threw an interception. With Minnesota's Offensive line and the best back in the game you stick with Peterson.
Pregame
Leslie Frazier and Bill Musgrave have to find a way to get Christian Ponder out of his thick funk. They stuck their necks out for him on draft day in 2011, and now it's time to get him to where he needs to be.
Alan Williams has to find a way to fix the hole in Minnesota's run defense, as the Vikings have allowed 100-plus yards rushing in six of the past seven games.
Minnesota has home-field advantage in this one, but it's important that the coaching staff has its team ready to play. Everyone remembers the stinker Minnesota put up at home against the Arizona Cardinals in Week 7.
This is for all the marbles for Minnesota. So if the team doesn't show up to play today, then there is a legit reason to call for Frazier's job.